The UFC has seen its fair share of injuries over the last few years. Some of these injuries have come with plenty of time to spare before the event, while others, like the recent one to Alexander Gustafsson, have come darn close to fight night.
The Gustafsson injury is a hot topic among MMA fans right now, and who can blame them? When you go from looking forward to a bout that could have title-shot implications to one that you have to do some deep digging to find out anything at all about the fighter, tongues are going to wag.
And that's the situation we find ourselves in here. Gustafsson is out of Saturday's UFC on Fuel 9 main event against Gegard Mousasi, and the pretty much unknown Ilir Latifi is in, according to MMAJunkie.com.
The reason that Gustafsson is out is simple: The Swedish MMA Federation ruled that the cut the fighter suffered while training would not allow him to be cleared for the fight and ruled him ineligible to compete on Saturday. In stepped Latifi on short notice.
MMA being MMA, things are never that simple.
On the April 2 edition of Fuel TV's UFC Tonight, hosts Kenny Florian and Rashad Evans were discussing the incident when the question was raised if Gustafsson made the right call by talking to the SMMAF. Evans replied:
Whenever you fight, whatever the case may be, you want to make sure you are the best that you can be going into the cage, but I mean, you have three stitches. You don't have to tell the commission about it, you're volunteering information that you shouldn't be. I know guys that had stitches going into it and as long as they make it past the physical on Friday before the fight then they're good to go, but I mean, three stitches? Maybe it's deeper or worse than it looks and he wouldn't have been able to fight. I don't know.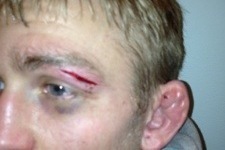 In short, Evans was saying roll the dice and hope for the best. I think this is dangerous and reckless advice coming from a former UFC champion.
Gustafsson's cut wasn't one of those nagging little injuries that almost every fighter has going into a bout—this was a cut on his face that needed medical attention to be closed. To think that the physicians wouldn't notice some fresh, raw scar tissue on Gustafsson's eyebrow and inquire about it is foolish. There's no way a credible physician doesn't look at that, question it and seriously debate whether or not to let the fight go on, judging by where the damage was.
The best-case scenario is that Gustafsson passes the physical and can fight, and everyone breathes a sigh of relief, but what if the best-case scenario doesn't play out?
Did Gustafsson handle things correctly?
What if Gustafsson had rolled the dice and got caught, and the fight is then cancelled the day before the event? Does the UFC have a contingency plan?
Nope, because essentially no one knew he was hiding a potentially fight-ending injury. Does the UFC let Gustafsson slide with a "hey, you were trying to do the right thing, no worries"?
That's doubtful. The reality is, had Gustafsson tried to get away with something and got caught, all blame would have been focused on him. Don't think that's the case? Ask Jon Jones about that one.
Gustafsson did the right thing, he did the safe thing and no one should question that—especially not another fighter who knows how swift and ugly the repercussions can sometimes be if you mess with the UFC.