2013 Stanley Cup Playoff Predictions: Post-Trade Deadline Edition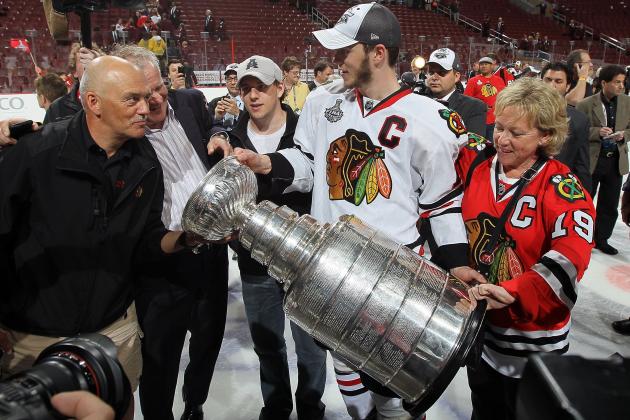 Jim McIsaac/Getty Images

Now that the NHL trade deadline has passed, every team's roster will not change very much for the remainder of the season.
This gives us a better idea of which clubs have the depth, talent and experience required to be successful in the playoffs. To win the Stanley Cup, you need a balanced team, strong goaltending and a little bit of luck.
Which teams have the best chance to lift the best trophy in sports in June? Let's look at a complete playoff preview: post-deadline edition.
Note: First-round matchups and seeds are based on how I think the playoff race will unfold over the final weeks of the season.
Begin Slideshow

»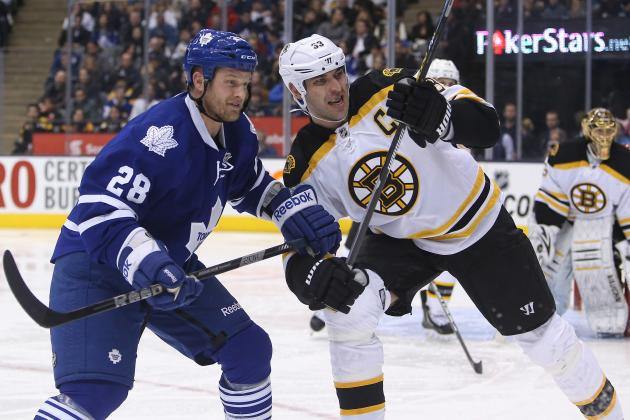 Tom Szczerbowski-USA TODAY Sports

No. 1 Montreal Canadiens Defeat No. 8 New York Islanders, 4-1
The Montreal Canadiens will complete their journey from worst to first by passing the Pittsburgh Penguins for the top spot in the Eastern Conference. Montreal has the fewest regulation losses among all East teams and one of the most balanced rosters in the NHL.
In a first-round matchup with the Islanders, Montreal's fifth-ranked scoring offense would not have much trouble lighting the lamp on a regular basis. New York ranks 27th in goals against and does not have an elite shutdown defenseman to prevent the Canadiens' top-six forward group from dominating offensively.
As long as the Canadiens don't beat themselves with foolish mistakes, expect them to easily eliminate the Islanders in five games.
No. 7 New York Rangers Defeat No. 2 Pittsburgh Penguins, 4-2
This may be a bold prediction, but it's no secret that the New York Rangers are a bad matchup for the Penguins. New York has more size, toughness and defensive talent/depth than Pittsburgh, plus a huge advantage in the goalie matchup with reigning Vezina Trophy winner Henrik Lundqvist.
As long as Lundqvist plays well and the Rangers are healthy, they will defeat the Penguins in a seven-game series. With their additions made at the trade deadline, the Blueshirts are a deeper team than they were at the start of the season with the right balance of offensive skill and grit.
Injury concerns involving Sidney Crosby, Kris Letang and Paul Martin should also worry Pittsburgh, because without these three stars, this team has no chance to make a deep playoff run.
As one of the best defensive teams in the NHL (ranked fifth in GAA), expect the Rangers to win this matchup because their roster is built for the intensity of the NHL playoffs. The Penguins lack of the defense and goaltending needed to beat a quality team like the Rangers in the postseason.
No. 6 Ottawa Senators Defeat No. 3 Winnipeg Jets, 4-1
The Ottawa Senators added additional scoring depth at the deadline by trading for Lightning winger Cory Conacher (h/t Craig Custance, ESPN.com), and he will play an important role in Ottawa's success during the playoffs. Winnipeg will barely win the Southeast Division, and there are genuine concerns about the team's goaltending. The Jets rank 23rd in goals against, 23th in goals scored and their special teams have also been poor (28th in power-play success and 24th in penalty killing).
If the Senators get strong goaltending from Robin Lehner or Craig Anderson, expect them to reach the second round of the playoffs for the first time since the 2006-07 season.
No. 4 Boston Bruins Defeat No. 5 Toronto Maple Leafs, 4-1
The Boston Bruins are 3-1 against the Toronto Maple Leafs this season and have dominated the special teams battle in each matchup. Boston ranks first in penalty killing, third in goals against and has much better defensive depth/talent than Toronto.
The Leafs have just 206 games of playoff experience on their roster, while the Bruins have 980 games and a roster full of Stanley Cup champions.
Many of the games in this series would be decided by one or two goals, but the strength of the Bruins' goaltending and their impressive playoff experience would help them eliminate the Leafs in five games.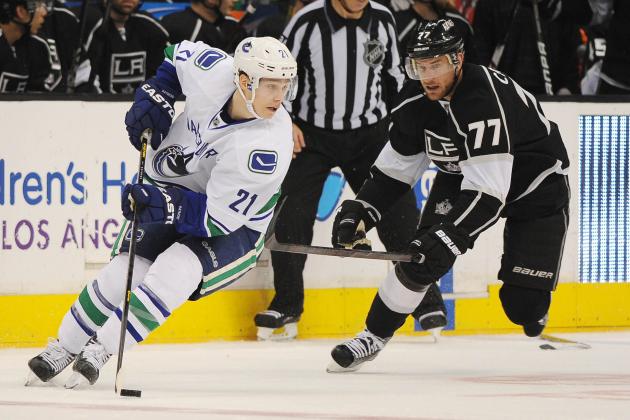 Jayne Kamin-Oncea-USA TODAY Spor

No. 1 Chicago Blackhawks Defeat No. 8 San Jose Sharks, 4-1
The San Jose Sharks are an aging team that doesn't have the scoring depth to match the Chicago Blackhawks' high-powered offense. San Jose ranks 28th in goals scored, and its lineup was weakened at the trade deadline with the losses of veteran winger Ryane Clowe and defensive defenseman Douglas Murray.
These two teams last met in the 2010 Western Conference Finals when Chicago swept San Jose because of its impressive special teams and strong goaltending. Expect a similar outcome if these two teams meet in the playoffs this season.
The Blackhawks will reach the second round of the playoffs for the first time since the 2009-10 season because they have the advantage over the Sharks in goaltending, special teams and scoring.
No. 2 Anaheim Ducks Defeat No. 7 St. Louis Blues, 4-3
The St. Louis Blues strengthened their blue-line depth by acquiring Jay Bouwmeester and Jordan Leopold at the deadline, which will help them secure one of the final playoff spots in the West. However, beating the Anaheim Ducks four times in a seven-game series will not be easy for St. Louis because Anaheim has too much scoring depth, power-play skill and the goaltending advantage.
The Ducks are one of the most balanced teams in the NHL (ranked sixth in goals scored, eighth in goals against) and they have plenty of Stanley Cup-winning experience. Expect them to win a competitive and exciting series with the Blues.
No. 3 Minnesota Wild Defeat No. 6 Detroit Red Wings 4-1
The acquisition of Buffalo Sabres captain and star winger Jason Pominville at the deadline has made the Minnesota Wild a top contender in the West this season (h/t Associated Press, USA Today). Minnesota has an elite goaltender in Niklas Backstrom who is playing the best hockey of his career, a strong penalty kill and one of the best top-six forward groups in the NHL.
The Detroit Red Wings didn't make any major additions at the deadline, and lack the scoring depth and defensive talent needed to beat the Wild in a seven-game series.
No. 4 Los Angeles Kings Defeat No. 5 Vancouver Canucks, 4-2
These two teams met in the playoffs last season when the Los Angeles Kings defeated the Vancouver Canucks in five games as the eighth seed in the West en route to their first Stanley Cup championship. Vancouver ranks 21st in goals scored and 29th on the power play, which makes them a great matchup for the Kings because Los Angeles has two No. 1 goaltenders in Jonathan Bernier and Jonathan Quick.
With a stronger offense (LA ranks eighth in goals scored) and a more efficient power play than they had last season, expect the Kings to eliminate the Canucks in the first round for the second consecutive season.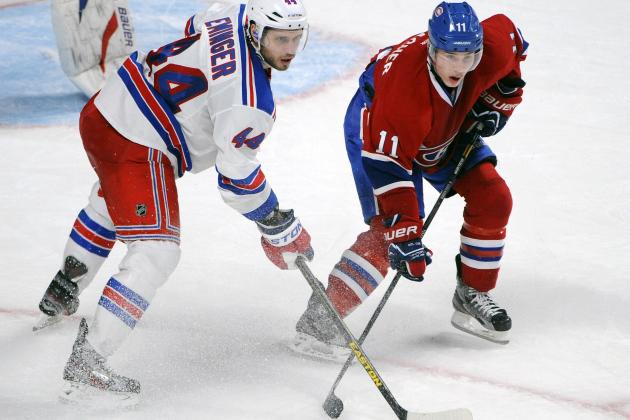 Eric Bolte-USA TODAY Sports

No. 1 Montreal Canadiens Defeat No. 7 New York Rangers, 4-2
The Canadiens are 3-0 against the Rangers this season (have outscored NYR 9-1) and cause a lot of problems for New York with their speed, scoring depth and transition game. Special teams would play a major factor in this series, and Montreal has the edge in this area.
| | | |
| --- | --- | --- |
| Team | PP% | PK% |
| NYR | 14.3 (25th) | 81 (18th) |
| MTL | 21.3 (9th) | 81.1 (16th) |
Montreal is also one of the few teams with an elite goaltender in Carey Price who is capable of out-dueling Lundqvist in a playoff series. Price has an 18-6-4 record, a .916 save percentage and a 2.22 GAA this season and should be a Vezina Trophy finalist. He was also fantastic in his most recent playoff series against the Bruins in the 2011 playoffs (.934 SV% and a 2.11 GAA).
Not only are the Canadiens a more skilled team than the Rangers offensively, they are also capable of winning games playing a physical style of hockey.
With four quality lines, a deep blue line and a Vezina Trophy-caliber goaltender, Montreal would defeat New York in a playoff series in six games.
No. 4 Boston Bruins defeat No. 6 Ottawa Senators, 4-2
The Bruins are 4-0 against the Senators this season, but all four of those victories were decided by one goal. Ottawa plays a physical game that includes responsible defensive play and very few foolish mistakes. The Senators don't beat themselves and their goaltending has been fantastic this season.
However, with the home-ice advantage and a stronger blue line, you would have to give a slight edge to the Bruins in a potential series involving these Northeast Division rivals. Boston is one of the few teams in the East with four quality lines and an elite shutdown defensive pairing in Zdeno Chara and Dennis Seidenberg.
One of the Senators' strengths is their power play, but the Bruins' penalty kill had a 90 percent success rate against Ottawa this season.
This would be a competitive series, but the Bruins' playoff experience, penalty kill and forward depth would be too much for the Senators to overcome.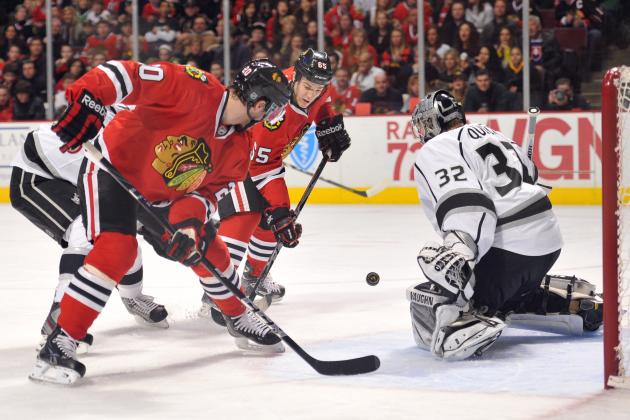 Rob Grabowski-USA TODAY Sports

No. 1 Chicago Blackhawks Defeat No. 4 Los Angeles Kings, 4-3
Blackhawks versus Kings would be a fantastic playoff matchup. Chicago won the season series 2-1 and has the scoring depth needed to beat a strong defensive team with good goaltending like Los Angeles.
This would be a pretty even series, but since the Blackhawks are the only team in the West that is ranked in the top five in goals scored and goals against, you would have to give them a slight advantage. Chicago also has a deeper blue line because of the injuries to important Kings defensemen Willie Mitchell and Matt Greene.
Since both teams play so well defensively, there would likely be a lot of close games in this series. The Blackhawks have consistently found ways to win these types of defensive battles this season with a league-leading 15 wins and a .714 win percentage in games decided by one goal.
If Corey Crawford plays well and doesn't allow any soft goals that ruin the confidence of his team, expect the Blackhawks to win a great seven-game series and prevent the Kings from repeating as Stanley Cup champions.
No. 2 Anaheim Ducks Defeat No. 3 Minnesota Wild, 4-1

The Ducks are 3-0 against the Wild this season and their scoring depth was a major reason for this success. Anaheim has three lines capable of producing offensively on a consistent basis and a total of nine forwards who have tallied 10 or more points this season.
Minnesota doesn't have a strong, shutdown presence on its second or third defensive pairing, and this team doesn't match up well with Anaheim's physical style of play. The Ducks out hit the Wild in two of their three meetings this season and won the majority of the puck battles in open ice and along the boards.
As long as the Ducks get a strong goaltending performance from 30-year-old rookie Viktor Fasth, they will win this series behind the strength of their offensive depth and top line of Ryan Getzlaf, Corey Perry and Bobby Ryan.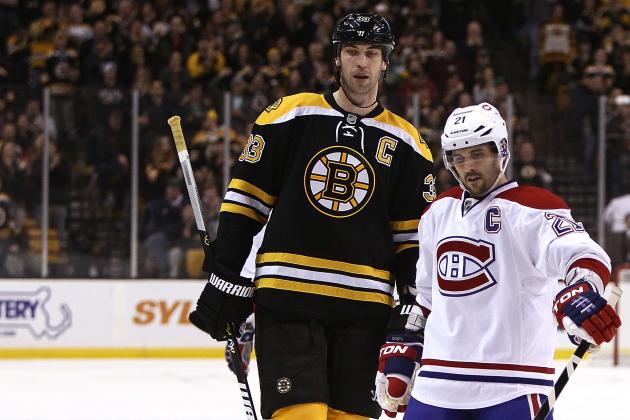 Alex Trautwig/Getty Images

No. 1 Montreal Canadiens Defeat No. 4 Boston Bruins, 4-2
The Canadiens are a bad matchup for the Bruins because of their speed, offensive skill and confidence that they can beat Boston after winning both of this season's matchups at TD Garden.
Montreal also does a tremendous job of causing Boston to lose its composure, which results in dumb penalties that put the Canadiens on the power play. The Canadiens have scored on the power play in each of their three meetings with the Bruins and have also earned two comeback victories on the road this season.
One difference between this Canadiens team from years past is their ability to play a physical game with the Bruins and not have to leave their comfort zone. Montreal is capable of having success in any style of play with four quality lines, a blue line that has size and grit, and impressive scoring depth that includes nine players with 15-plus points in 2013.
Another thing to consider is Bruins starting goaltender Tuukka Rask's struggles versus the Canadiens throughout his career. Rask has a lifetime record of 2-6-2 against the Habs and he is winless in his last two starts against them this year.
Unless the struggling Bruins offense makes a dramatic improvement as a result of adding Jaromir Jagr at the trade deadline and their power play (which ranks 24th in the NHL) is more consistent, it's hard to imagine Boston beating its archrival in a seven-game series, especially if Carey Price plays well in net for Montreal.
If these two rivals play, expect the Canadiens to win the Eastern Conference title and reach the Stanley Cup Final for the first time since 1992-93. This is a resilient Montreal team with fewer weaknesses than Boston.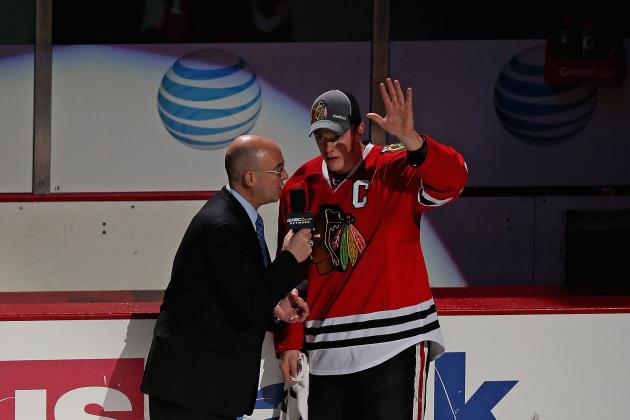 Jonathan Daniel/Getty Images

No. 1 Chicago Blackhawks Defeat No. 2 Anaheim Ducks, 4-2
The Blackhawks are one of the few teams in the NHL with the size and defensive skill to shut down the high-powered offense of the Anaheim Ducks.
No. 1 defensemen Duncan Keith and Brent Seabrook, along with top Frank J. Selke Trophy candidate Jonathan Toews, lead a defensively sound Blackhawks team that ranks second in goals against and has the third-best penalty kill in the Western Conference. One of Anaheim's biggest strengths is its power play, which ranks fourth in the league with a 22.7 percent success rate, but this unit scored on just one of its eight opportunities against the Blackhawks in 2013.
Chicago has held Anaheim below its scoring average of 2.9 goals per game over the three meetings between these teams this season, and even though the Blackhawks have an 0-2-1 record against the Ducks, top-six forwards Marian Hossa and Patrick Sharp missed the last two games because of injuries.
These two teams are so evenly matched, which means that Chicago's home-ice advantage could become an important factor. The Blackhawks are 13-3-3 at the United Center this season.
With a more impressive top-six forward group, a deeper and more talented blue line and a coaching staff that does a great job of making in-game adjustments, expect the Blackhawks to win the Western Conference for the second time in four seasons by defeating the Ducks in six games. This would set up a fantastic Original SIx matchup with the Canadiens in the Stanley Cup Final.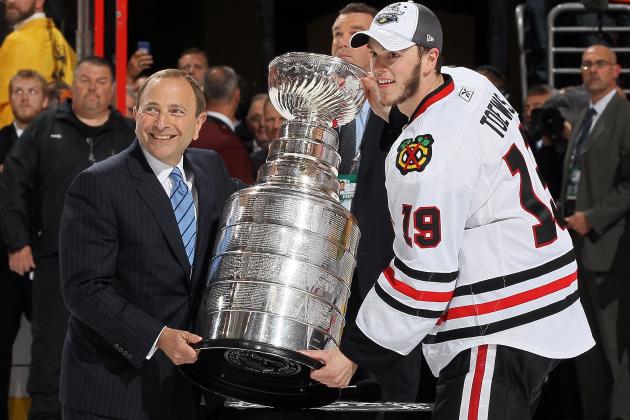 Jim McIsaac/Getty Images

Chicago Blackhawks Defeat Montreal Canadiens, 4-2
As the only two NHL teams ranked in the top five in goals scored and goals against, there aren't many weaknesses to exploit in this matchup of Original Six franchises.
| | | |
| --- | --- | --- |
| Team | Goals For | Goals Against |
| CHI | 3.3 (2nd) | 2.1 (2nd) |
| MTL | 3.1 (5th) | 2.3 (4th) |
The one thing that could work against the Canadiens in the Stanley Cup Final is their lack of experience in this kind of situation. Captain Brian Gionta and a few other Montreal players have Stanley Cup-winning experience, but this is a young team with a lot of players who have never been on a deep postseason run.
In addition to a roster that includes many Stanley Cup champions, the Blackhawks have several players, including captain Toews, who play their best hockey when the stakes are as high as possible.
Chicago's penalty kill would be able to limit the effectiveness of Montreal's power play, and force the Canadiens to excel at even strength, where they have scored 10 fewer goals than the Blackhawks this season. Chicago also has a shutdown defensive pairing in Duncan Keith and Brent Seabrook that is capable of preventing the highly skilled and speedy top-six Montreal forwards from creating a high amount of quality scoring opportunities.
The Blackhawks have more scoring depth, better defensive talent on the blue line, more size/toughness and a huge advantage in championship experience over Montreal, which cannot be underestimated in the Cup Final.
Chicago will win its second Stanley Cup in four years (fifth overall) by defeating the Canadiens in six games.