College Football's Best Doppelgangers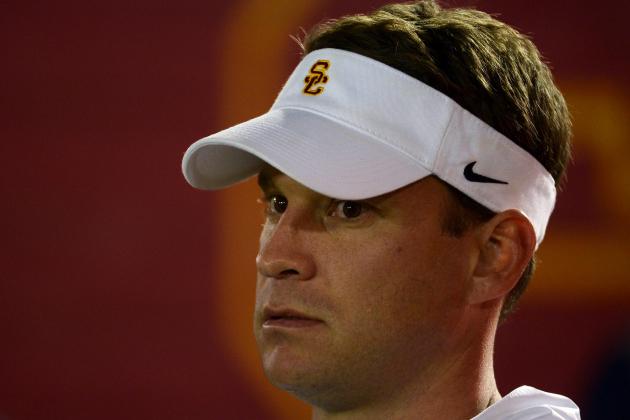 Harry How/Getty Images

At some point in your life, I'm sure you have been asked if you had a brother or sister. If the answer is "no," the person then goes on to tell you their life story and swears up and down that you look like somebody they know.
Or, the best part is when they start comparing you to a famous celebrity and mentions you could have a future as a possible stunt double.
There are no twins or brothers here, just a few college football doppelgangers. In other words, these are players and coaches who could pass as if they were related to somebody and you probably wouldn't think twice.
So the next time you see one of these guys, just walk up to them and tell them that they happen to look like so and so.
Begin Slideshow

»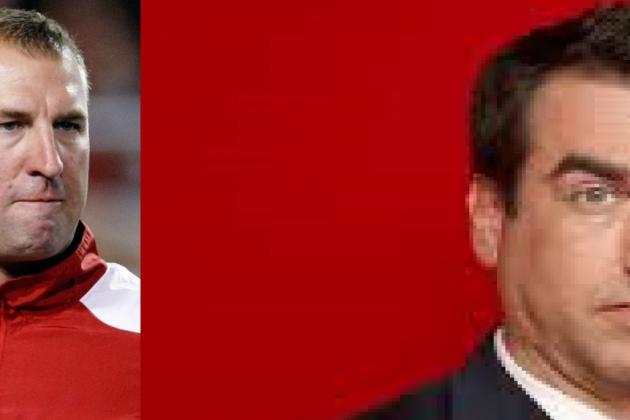 Photo Credit: nocoastbias.com and screeninvasion.com
Rob Riggle hosted the ESPYS last year and told a few funny jokes. But Arkansas head coach Bret Bielma could have also walked up on stage and you wouldn't have been able to tell who was who.
I'm pretty sure Wisconsin fans don't find the former head coach funny at all, but it would have certainly made the award show worth watching until the surprise was ruined.
Although that may take a little longer than expected.

Photo Credit: www.landgrantholyland.com and www.gotham-artists.com
How about this?
We have a look-a-like Michigan head coach and a Notre Dame graduate. Oh, this should go over well.
While the pudgy faces are likely to remain, one of these guys must grow out his hair or tattoo his face like Mike Tyson. Somebody must break the look-a-like cycle between these two. This can't possibly remain any longer.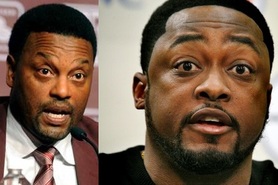 Photo Credit: www.dallasnews.com and wnst.net
Before long, Kevin Sumlin could be on the same level in college as Mike Tomlin is in the NFL. Two young head coaches kicking butt and taking names.
Sadly, these coaches don't have any history together and have yet to cross paths, but imagine Sumlin leaving Texas A&M at some point to test the waters in the professional ranks.
Seeing two guys who are identical in the face would be better than two brothers coaching against each other in the Super Bowl. Yeah, I said it.
Photo Credit: http://sportsillustrated.cnn.com and www.nbcnewyork.com
I would never tell Jadeveon Clowney to his face that he looks like Whoopi Goldberg.
In fact, if he ever finds out about this article, I may be forced to move out of the country. But since there is a computer screen and a few thousand miles of distance between us, I should be safe for now.
Even though Clowney would probably want to throw me through a screen door, you have to admit that you see the resemblance.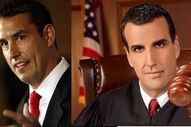 Photo Credit: www.toledoblade.com and blog.workingradio.com
Like many men across the country, I can honestly say I have never seen an episode of Judge Alex, but I do know brothers when I see them. These two guys have the same mother and father, and there is nothing you can say that will make me think differently.
I don't care that Alex has no football background and Fickell has been surrounded by the sport his entire life. These two need to reunite and have a lot of catching up to do.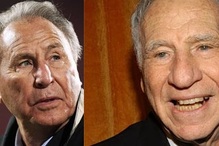 Photo Credit: Jamie Sabau/Getty Images and www.zillowblog.com
Now here are two guys you can't possibly hate.
Everybody loves Lee Corso for the work he does on College GameDay and how unpredictable he is whenever on television. You also have to love Mel Brooks for help providing us with classic movies such as Blazing Saddles and Spaceballs.
Did I forget to mention that their facial features are fairly similar?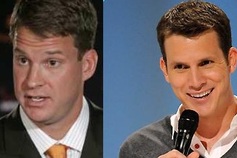 Photo Credit: latimesblogs.latimes.com and www.hennepintheatretrust.org
Besides looks, these two have many other things in common. They are both funny and both can really rub people the wrong way at times.
Daniel Tosh may be offensive to people, but you can't help but listen for the next comment to come out of his mouth. Lane Kiffin has driven college football fans nuts over the years, but you learn to accept him and know that the sport wouldn't be the same without his antics.
These seem to be two peas in a pod.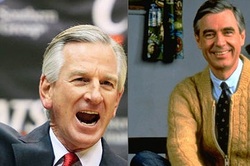 Photo Credit: msn.foxsports.com and www.inquisitr.com
From the hair style to the long bridge nose, Tommy Tuberville could easily bring back the classic television show that we all loved when we were children. I'm not sure Tuberville is as innocent as Mr. Rogers seemed, but he certainly has a future in kid's television once he decides to leave Cincinnati in a few years.
Oh, and you know it is only a matter of time before that happens.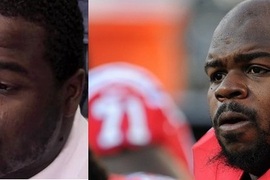 Photo Credit: videos.al.com and gossipy.co
What's funny about this is that Rivals actually compared Louis Nix to Vince Wilfork when he was coming out of high school.
Did they know something we didn't? Now surely they weren't talking about his looks, but now that the Notre Dame defender has matured a bit, he is slowly starting to develop into another Wilfork in more ways than one.
This seems a little too good to be true.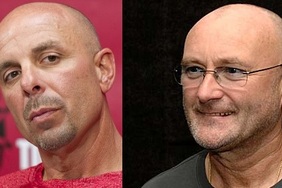 Photo Credit: journalstar.com and tekstovi-pesama.com
Carl Pelini has a long way to go before he is as successful as Phil Collins, but at least he can say he looks like one of the better artists of this generation.
The good thing is that Pelini has plenty of years left to turn the Florida Atlantic football team into a national powerhouse. That accomplishment would be good enough to surpass Collins in my eyes.