New York Knicks vs. Atlanta Hawks: Live Score, Results and Game Highlights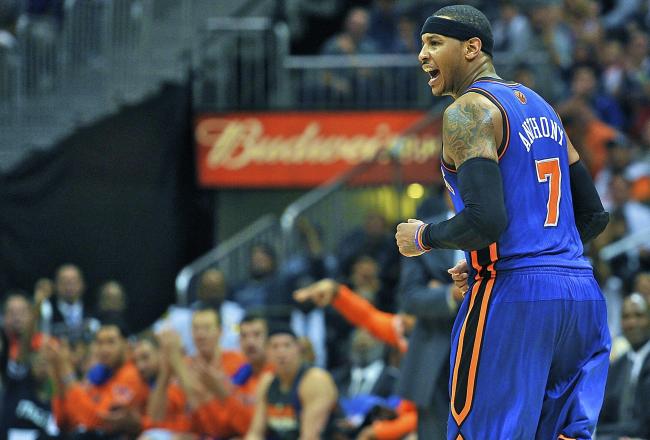 Carmelo Anthony scored 40 points and J.R. Smith took the New York Knicks home with a big fourth quarter, cementing a 95-82 win over the host Atlanta Hawks.
The victory was the 10th in a row for New York, while the loss meant Atlanta fell two-and-a-half games back of the Brooklyn Nets in the race of the No. 4 spot in the East.
Neither team put together more than a couple of quarters of consistent play in a game marked by missed defensive rotations, sloppy ball-handling and poor shooting from the foul line. Josh Smith missed all seven of his foul shots and committed a handful of head-scratching defensive mistakes.
Some of the Knicks' ugly play could rightly be attributed to the fact that they were playing the back end of a back-to-back set. The Hawks, though, have little excuse for their lackadaisical effort and baffling decision to utilize single coverage on Anthony all night long.
The Hawks are already locked into a playoff spot, but if they expect to make any noise in the postseason, they'll have to come with a more organized, committed approach than the one they showed against New York.
The Knicks will be happy to head home with a 2-0 road trip, thanks in large part to a combined 90 points from Anthony.
Knicks 95, Hawks 82—Final Score

Postgame Storylines
Atlanta Is Apparently a Knicks Town
Throughout the Knicks 95-82 win, the half-empty Phillips Arena in Atlanta echoed with "MVP" chants and sporadic bursts of applause. The house was hardly packed, but the attendees were rather vocal.
The only problem was that the cheers were in support of the visiting New York Knicks.
Sometimes, it seems like it's the personnel that makes the Hawks play with halfhearted effort. At others, it looks like coach Larry Drew can't motivate his players.
But after watching (and hearing) the embarrassing amount of fan support the Hawks receive at home, there might be another explanation.
To Double or Not to Double?
When it comes to Carmelo Anthony, that is the question.
The Hawks opted to use a single defender on Anthony for the vast majority of Wednesday's game, despite the fact that it was clear no individual Hawk could slow down the Knicks' hot scorer.
Strangely, though, the strategy seemed to work. The Knicks only pulled away in the fourth period as J.R. Smith started to heat up, and the lack of extra attention paid to Anthony helped Atlanta keep the rest of the Knicks in check.
On the surface it seemed like a poor idea to leave one man on Anthony, but Drew's decision to do so wasn't what ultimately cost the Hawks the game.
What Did Cost the Hawks the Game?
A combination of sloppy play and poor team defense doomed the Hawks. Of course, 9-of-19 shooing from the line didn't help either.
The Hawks made horrible rotations in their team defense all night, constantly leaving shooters open in the corners and failing to help the helper on the pick-and-roll. Part of the problem was schematic, but the larger share of the blame for the gaffes has to fall to the players, who either didn't understand the rotations or didn't feel like making the right ones with any urgency.
The Knicks should be happy about a road win against a playoff team, but the Hawks gave this one away.
Knicks 95, Hawks 82—Final Score
Knicks Leaders
Anthony: 40 points, 5 rebounds, 3 assists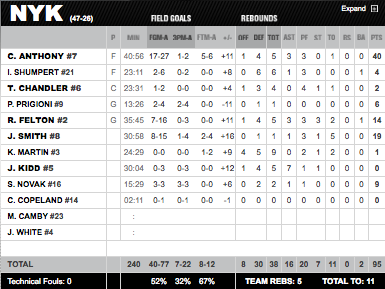 Smith: 19 points, 1 rebound, 1 assist
Felton: 14 points, 5 rebounds, 3 assists
Hawks Leaders
Smith: 10 points, 8 rebounds, 5 assists
Horford: 9 points, 7 rebounds, 5 assists
Korver: 25 points, 6 rebounds, 2 blocks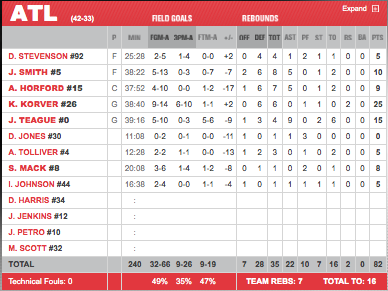 Knicks 95, Hawks 82—Final Score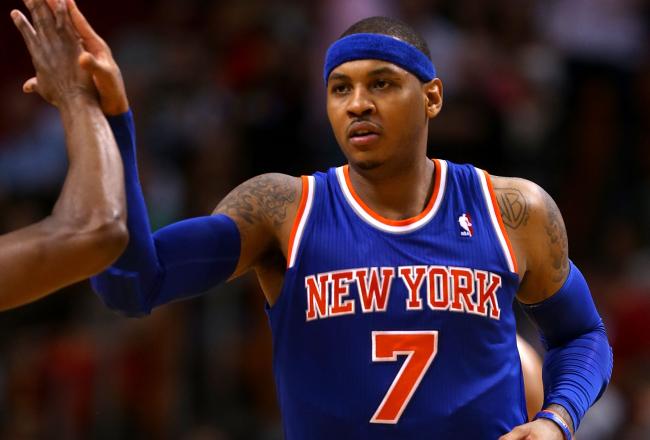 Melo gets his 40. He was clearly trying to do it on New York's final couple of possessions.
That makes it a total of 90 points over his last two.
Knicks 95, Hawks 82—Final Score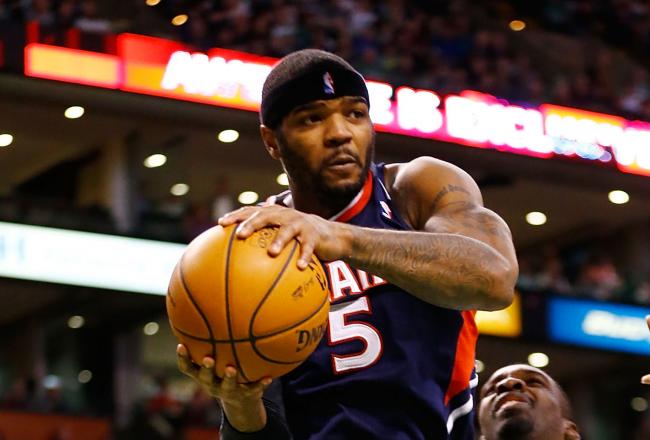 Kind of a shame that this isn't going to be close enough to see a potential Hack-a-Josh strategy from the Knicks.
New York up by a baker's dozen and the Hawks have thrown in the towel. Ugly loss for Atlanta.
Knicks 93, Hawks 80—:56 remaining in 4th quarter
#Knicks are on their way to their 10th straight win and Melo has 88 pts in the last 2 nights

— Adam Zagoria (@AdamZagoria) April 4, 2013
True, but it's been J.R. Smith who has taken control of the game in the fourth quarter. Smith's 19 have been huge.
Melo's 38 haven't been too shabby, either.
Knicks 91, Hawks 77—2:42 remaining in 4th quarter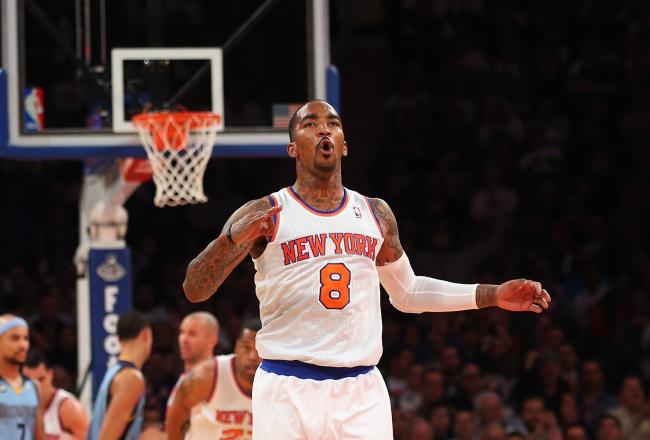 J.R. Smith goes right past a late-rotating Josh Smith for a dunk, and the crowd goes wild. Again, we're in Atlanta.
That was some awful defense.
Atlanta turns it over on the other end, making it seven giveaways in the final period—so far.
Knicks 89, Hawks 77—2:55 remaining in 4th quarter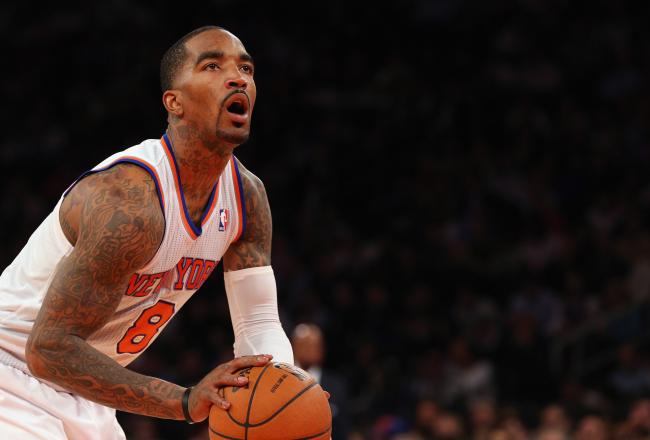 A corner three by J.R. Smith gives the Knicks their largest lead of the night.
Both of these teams have been horrible about allowing attempts from the corner. Tom Thibodeau and Frank Vogel would be losing their minds right now.
Knicks 87, Hawkd 77—4:05 remaining in 4th quarter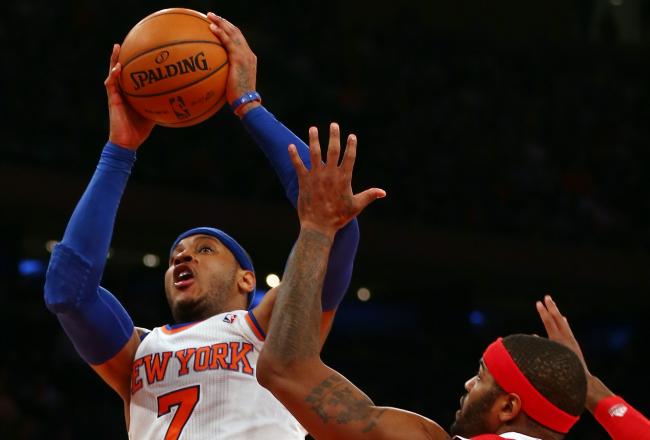 Good defense by Josh Smith on an Anthony post-up try. Clearly, the Hawks aren't slow in their rotations when it comes to Anthony—they're purposely not doubling him.
Anthony spins backdoor on Smith for a lob on New York's next possession. The pace is picking up.
Knicks 84, Hawks 76—5:10 remaining in 4th quarter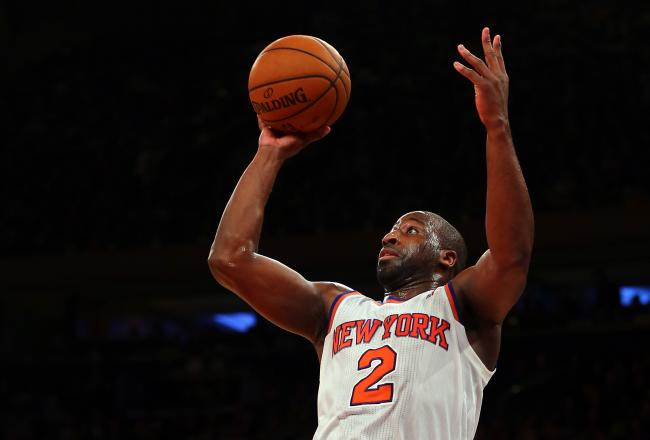 Felton scores again by keeping the ball on the pick-and-roll. If there's a better illustration of Chandler's importance on offense, I haven't seen it.
And now Felton gets another layup, this time nobody stops him as he brings the ball up.
Atlanta is suddenly down by eight. Horrible defense.
Knicks 82, Hawks 74—7:03 remaining in 4th quarter
Kenyon Martin has a sore right knee - he will not return.

— NY_KnicksPR (@NY_KnicksPR) April 4, 2013
Wait a minute—a veteran Knicks big man is hurt? Well, now I've seen everything.
Is Buck Williams available?
Knicks 76, Hawks 72—8:17 remaining in 4th quarter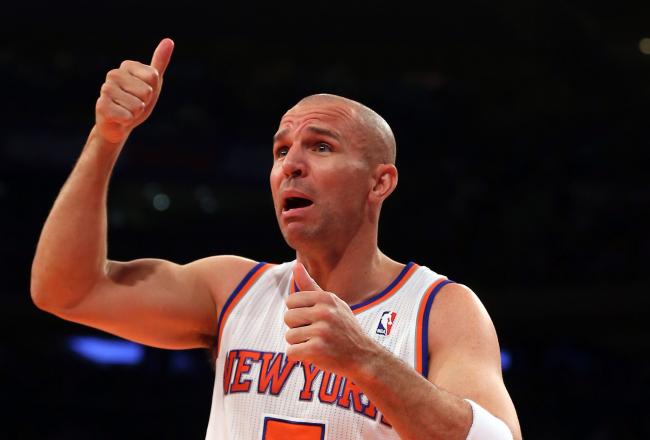 Novak three, Kidd steal, J.R. Smith draws a shooting foul.
I'd call that the ideal sequence of events for the Knicks to hang on in the fourth quarter. Anthony is still resting before he re-enters in search of his second straight 50-pointer.
Knicks 76, Hawks 72—8:47 remaining in 4th quarter
Regarding Melo, def fun to watch but #Knicks will need the healthy Chandler ahead. That pick-and-roll game is key & he's needed more on D.

— Jared Zwerling (@JaredZwerling) April 4, 2013
(Nodding vigorously).
Hawks 72, Knicks 72—9:34 remaining in 4th quarter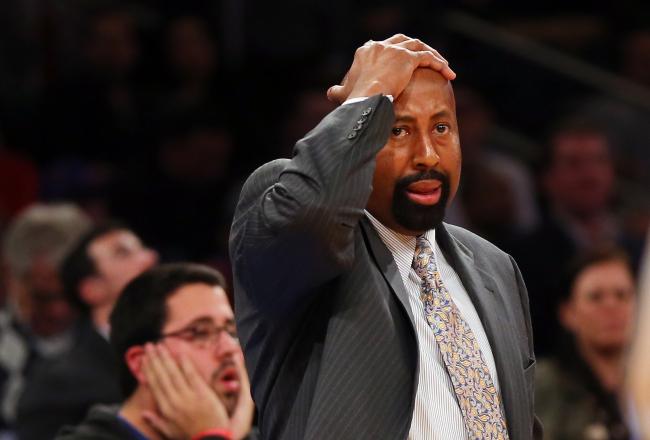 Woodson calls a quick timeout after the Knicks trade layups with the Hawks.
You get the feeling he's not all that excited about trying to match Atlanta in a running game down the stretch here. The Knicks are tired.
Hawks 72, Knicks 72—9:34 remaining in 4th quarter
Anthony Tolliver's jumper ties the game at 70. Anthony's resting to start the fourth, which leaves the offense in J.R. Smith's hands.
Let's see if he gets to the hole, which is where he's most effective.
Knicks 70, Hawks 70—10:10 remaining in 4th quarter
I realize that everyone is gaga over Melo, but despite his 10,000 points the game is tied going to the 4Q.

— Bob Rathbun (@BobRathbunTV) April 4, 2013
That fact is making me re-consider my criticism of the Hawks not doubling Anthony. Somehow, it seems to be working.
If Atlanta can keep beating the Knicks in transition, they've got a real shot to win this game.
Knicks 68, Hawks 68—11:40 remaining in 4th quarter
Knicks Leaders
Anthony: 36 points, 3 rebounds, 2 assists
Smith: 9 points, 1 assist
Shumpert: 4 points, 6 rebounds, 1 assist
Hawks Leaders
Smith: 8 points, 6 rebounds, 4 assists
Korver: 25 points, 6 rebounds, 2 blocks
Teague: 13 points, 8 assists, 4 rebounds
Knicks 68, Hawks 68—start of 4th quarter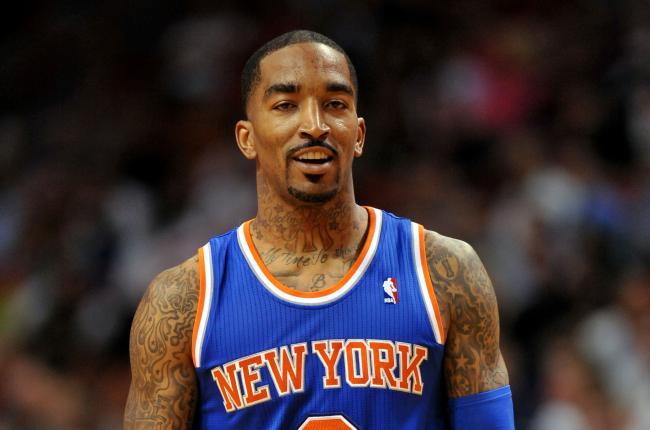 J.R. Smith hits a step-back jumper to tie the game at 68 as the third quarter buzzer sounds.
That gives him seven points, which is second on the Knicks. Melo has 36.
Knicks 68, Hawks 68—start of 4th quarter
RT @bochurney: This is Korver's 10th game this season with 2 or more blocks.

— Robby Kalland (@RKalland) April 4, 2013
From the unbelievable stats department.
Hawks 68, Knicks 66—:40 remaining in 3rd quarter
Shelvin Mack hits a runner to tie the game, and then JR Smith gets a T. 64-64 at Philips, and the atmosphere is playoff-like. #ATLHawks

— Atlanta Hawks (@ATLHawks) April 4, 2013
Except for the fact that there are 7,000 people in the stands and most of them are cheering for the visitors, yes; it's exactly like a playoff atmosphere.
Knicks 64, Hawks 64—1:34 remaining in 3rd quarter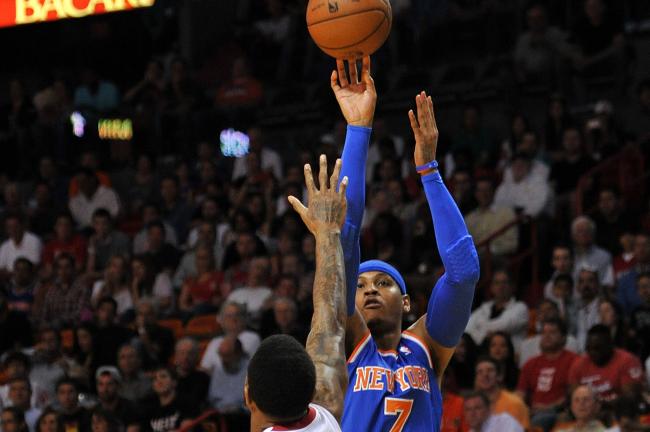 If there was a level beyond "on fire" in NBA Jam, Anthony would be at it right now. He's got 34 on 14-of-19 shooting.
And lots of them have been jumpers.
Knicks 64, Hawks 62—1:44 remaining in 3rd quarter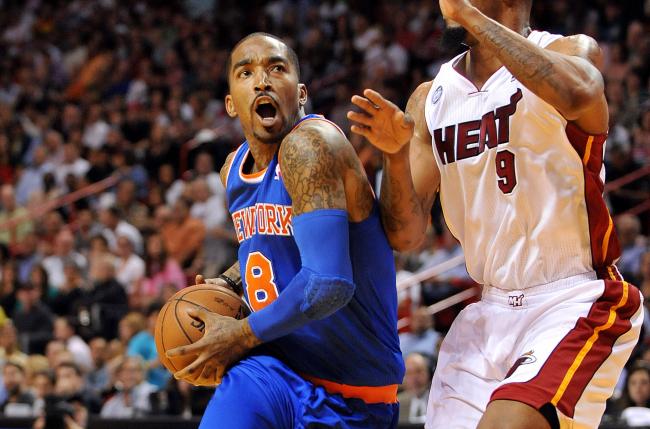 Teague's layup gives the Hawks a brief lead, but Anthony scores immediately to take the lead back for New York.
J.R. Smith just blew right by Josh Smith to draw a foul at the rim.
One thing that has been consistent all night: Atlanta's defensive rotations have been horrible.
Knicks 63, Hawks 60—3:30 remaining in 3rd quarter
The Hawks have played some really bad basketball in this one, yet Smith's great pass to Ivan Johnson in transition cuts the Knicks' lead to a single point.
Not sure if New York is going to feel very good about the outcome tonight, no matter what happens.
Knicks 59, Hawks 58—4:30 remaining in 3rd quarter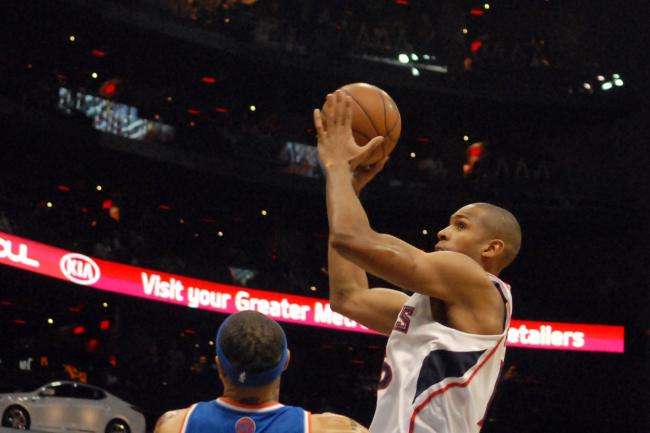 Horford with an incredible find all the way across the court to Korver for a three. Shumpert shouldn't have left Korver, but there's no way he could have expected Horford to make that pass.
Maybe that'll get Atlanta's center going.
Knicks 56, Hawks 53—5:41 remaining in 3rd quarter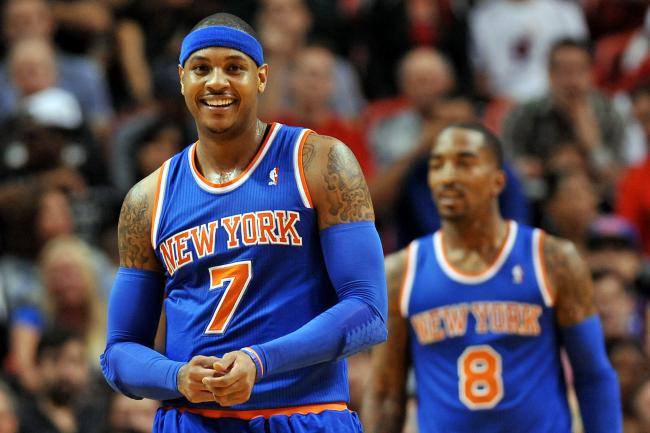 Melo is just drilling jumpers. If the Hawks aren't going to immediately trap him on every touch, Larry Drew is going to have some serious explaining to do.
He's got 30 points so far, and J.R. Smith decides to go full iso for himself on the next possession—because he's still J.R. Smith.
Knicks 54, Hawks 48—7:57 remaining in 3rd quarter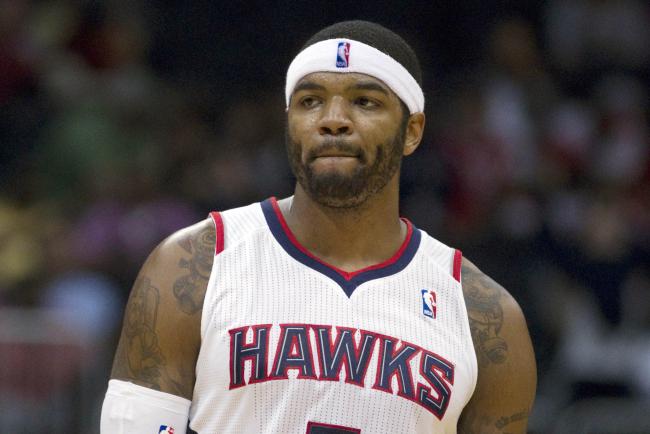 Smith bricks a wide-open three. The Knicks will be ecstatic if he continues to see touches from beyond the arc.
There's no reason for him to be waiting for the ball in that spot. He can't do anything with it there.
Knicks 49, Hawks 45—9:33 remaining in 3rd quarter
This article is
What is the duplicate article?
Why is this article offensive?
Where is this article plagiarized from?
Why is this article poorly edited?

New York Knicks: Like this team?