Draft Prospects Who Would Fit Perfectly with St. Louis Rams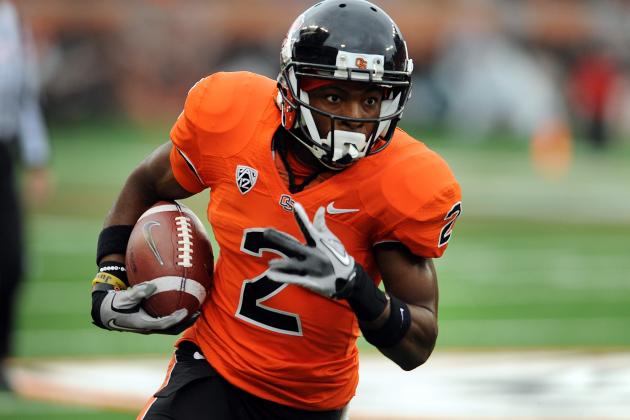 Steve Dykes/Getty Images

It is not a well-kept secret that the St. Louis Rams need to get a safety in the NFL draft.
There are some prospects at the position whose skill-sets match up perfectly with what the Rams will need from the newest member of their secondary, and others who would not be as well-suited to the task.
The draft is as unpredictable as Barry Sanders in the open field. With the 16th pick, the Rams may take a player whom most "draft experts" had being selected in the top 10. They could also go the other way—like they did last year when they selected Appalachian State wide receiver Brian Quick with the 33rd overall pick—and try for the smartest-guy-in-the-room tactic by selecting a player projected to go lower than their pick.
Whatever tactic they choose, the Rams will do their best to find the players best suited to help their team. Following is a look at the early-round prospects who would fit perfectly with the 2013 St. Louis Rams.
Begin Slideshow

»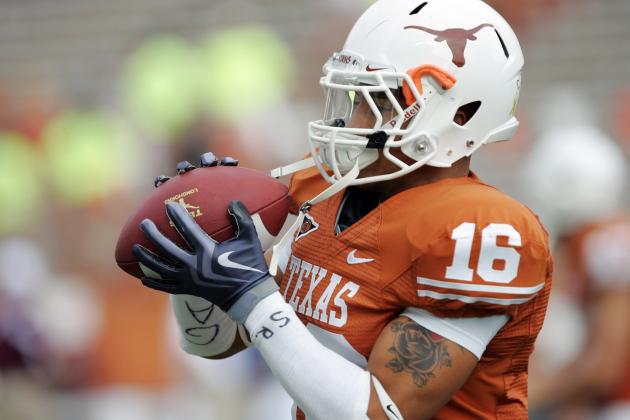 Brian Bahr/Getty Images

If Jeff Fisher still intends to have Darian Stewart fill one of the starting safety positions, he would ideally like to find more of a center fielder who excels in coverage to complement the hard-hitting "box safety" that Stewart is known to be.
Kenny Vaccaro is the perfect fit.
Scouts Inc. rated his coverage skills as "exceptional," and had this to say in support of the rating:
Versatile and doesn't have many limitations. Quick-twitch athlete that can stay with most slot receivers in man coverage. Fluid and smooth for a safety with his size. Good balance and body control transitioning out of breaks. Stays low in backpedal for the most part. Explodes off back foot and closes well when facing the ball. Can turn and run with tight ends and most slot receivers. Has a second gear and above average recovery speed. Covers a lot of ground and has enough range/length to play a centerfielder-type role. Can be more physical and fundamentally sound in press coverage. Also an effective pass rusher that closes well and flashes the ability to run through blocks in the backfield.
Vaccaro is also rated as "above average" in his coverage, ball-skills and run-support.
He is a complete safety who honestly would be a perfect fit with any team, but the Rams have need of a player with his skills more than most.
Not long ago, Eric Reid was unanimously ranked as the No.1 prospect at the safety position.
He has subsequently fallen behind the likes of Kenny Vaccaro, Matt Elam, Johnathan Cyprien and even Shamarko Thomas on some people's dratt boards.
In looking at Reid's game though, there is very little to not like.
Like Vaccaro, Reid has the speed, athleticism and ball-skills to be an excellent center-field-type safety at the NFL level.
He also has a willingness, even an eagerness, to fly upfield and attack a running back. The knock on Reid is that his aggressiveness can sometimes cause him to over-run plays or get himself out of position..
Still, if evaluating purely on physical skills and athleticism, there is no separation between Reid and Vaccaro.
As a cherry on top, Reid is an unquestionably intelligent player who is set to graduate from LSU after just 3.5 years and he was named to the 2011 SEC academic honor roll.
The Rams would love Vaccaro, but they might be just as happy with Reid.
Assuming the announcers in the related video know what they are doing, I've been pronouncing Johnathan Cyprien's name incorrectly for weeks now.
There is no mistaking his talent, though.
Cyprien (Sip-pree-en) is a big hitter with a definite ability to break up passes with his thunderous blows, but that can also be to his detriment sometimes, according to Scouts Inc.:
"Thumper that can separate receivers from the ball but looks for big hit more than big play. Ducks head and loses track of the ball."
The big hits are great, but the Rams need someone who can play the role of center fielder, too. Cyprien can adeptly oblige in that area, per Scouts Inc.:
Range is above average on film. Covers deep half with ease and effective center fielder when makes sound reads. Closes quickly and can deliver big hits when receivers catch the ball in front of him. Fluid, fast and strong enough to match up with tight ends.
He may not be as polished or complete as Kenny Vaccaro, but with the proper coaching, Cyprien could wind up having an even better NFL career.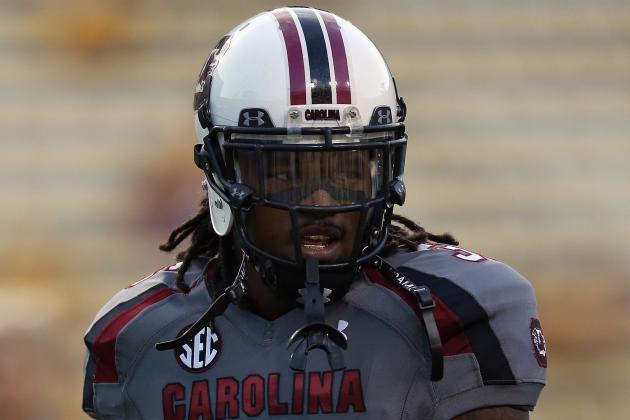 Ronald Martinez/Getty Images

I included a detailed look at D.J. Swearinger in my latest mock draft, which you can find here.
In short, he is similar to Jonathan Cyprien in that he can bring the wood and play the role of center fielder, too.
Swearinger's time in the 40-yard dash was 0.5 seconds faster than Cyprien's and Scouts Inc. has his ball skills rated higher.
Like the other safeties mentioned here, Swearinger could perform the duties the Rams need from their new safety.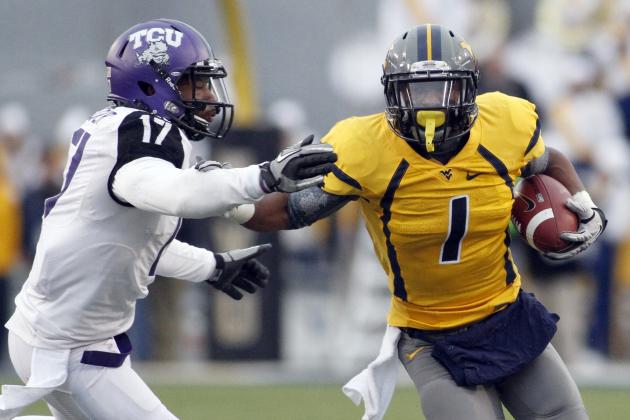 Justin K. Aller/Getty Images

If Brian Quick can be the player that the Rams had hoped for when they drafted him 33rd overall in 2012, their starting outside receivers are set with Quick alongside Chris Givens.
The addition of tight end Jared Cook, who will spend a lot of time working out of the slot, has softened the blow of losing Danny Amendola to the New England Patriots.
What the Rams need is a Swiss army knife of an offensive weapon, a player who can line up in the slot, backfield or even outside occasionally with the speed, agility and explosiveness to be dangerous wherever he gets the ball.
There is only one first-round prospect who fits that mold—Tavon Austin.
Austin, however, is climbing up people's draft boards faster than he blows by flat-footed cornerbacks. ESPN now has him rated as the No.1 overall receiver and NFL.com's Daniel Jeremiah projects the Tampa Bay Buccaneers to select him with the 13th pick.
Regardless, he is exactly what the Rams need.
Only one player ran the 40-yard dash at the combine as fast as Tavon Austin, and that was Ryan Swope.
Not only is Swope blisteringly fast in a straight line, he is also quick and shifty enough to be an excellent performer out of the slot or anywhere else on the field for that matter.
Swope was an all-state running back in high school so he is no stranger to lining up in the backfield. He would bring the same versatility as Austin, minus a bit of the explosiveness, but with a lot of size and strength (6"0,' 205 pounds)
The bottom line is that Swope is a tough-as-nails player with all the physical tools to be an excellent and versatile weapon at the next level, which is just what the Rams and quarterback Sam Bradford need.
Markus Wheaton is another prospect at wide receiver of whom the Rams are certainly aware.
Like Tavon Austin and Ryan Swope, Wheaton lacks ideal size (5'11" 189 pounds) to play as an outside receiver, but he has all the tools one would look for in a slot guy.
Wheaton's 40-yard dash time at the combine belied the speed he showed on the field in 2012 and as a track star in high school where he won 400- and 800-meter races at junior national track meets.
He did, however, earn "top performer" honors at the combine in the 20-yard and 60-yard shuttle runs, proving conclusively that the quickness he showed on tape was for real.
As a route-runner, he lacks the polish of Austin, but that can be coached up.
Wheaton will likely come off the board in the second round. If the Rams can't, or won't, take Austin in the first rond, Wheaton would be able to step in and fill that same role just as adeptly.
This one is a bit of a stretch as Stedman Bailey is not as great of a fit as the other wide receivers listed here.
His 2012 production (114 receptions, 1,622 yards, 25 touchdowns) was phenomenal, but he is not the incredibly explosive athlete that Tavon Austin and Markus Wheaton are, and he lacks the ideal size to play on the outside.
But you don't amass over 1,600 yards receiving without some serious skills.
Bailey is a smooth and efficient route-runner with great hands and body control. He is a reliable target who can consistently get separation and catch just about anything thrown his way.
He will not be as versatile as Austin, Wheaton or Ryan Swope, but he would be someone Sam Bradford could count on to get open and make almost any catch.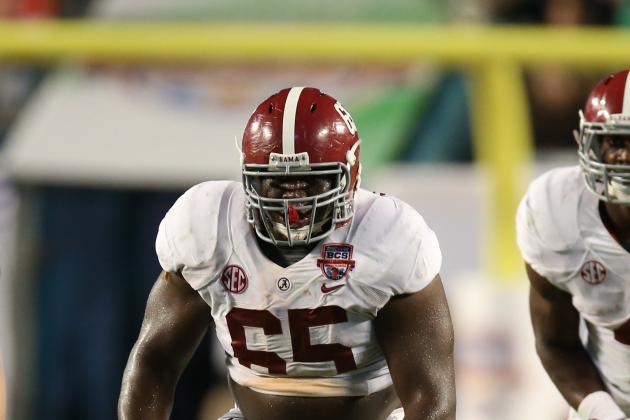 Matthew Emmons-USA TODAY Sports

The Rams are a little thin at guard now that Robert Turner has jumped ship to join the Tennessee Titans.
They still have 2012 fifth-round pick Rokevious Watkins, for whom head coach Jeff Fisher has high hopes, but Turner's departure has left the team one guard short. They won't find a better player or a better fit in the draft than Chance Warmack.
The Rams use a power-blocking scheme and Warmack is the best power-blocking guard in the draft.
It's a match made in heaven.
If the Rams miss out on Chance Warmack and Jonathan Cooper in the first round, they may choose Larry Warford in the second day of the draft.
Physically, Warford is exactly what St. Louis needs. At 6'3" and 332 pounds, he is constructed with a power-blocking scheme in mind.
While his massive size causes him to be less explosive out of his stance than one would like to see, he makes up for it with brutish power. Warmack's quick feet allow him to excel in pass-protection, and his eagerness to hustle downfield is something coaches love to see out of a big interior offensive lineman.
Warmack is the superior prospect, but Warford is just as good of a fit for what the Rams need.