Odds of Each Top 10 UFC Light Heavyweight Capturing the Title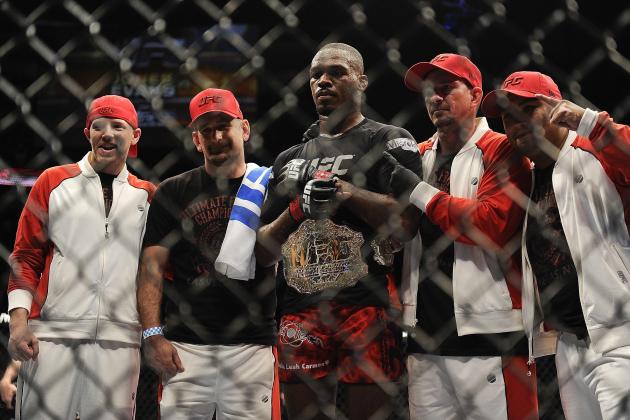 Paul Abell-USA TODAY Sports

The UFC currently finds itself in an era of dominant champions, and perhaps none have been so impressive as light heavyweight kingpin Jon Jones.
Though only 25, Jones has established himself as one of the best fighters on the planet, figuring comfortably into the top three of most pound-for-pound rankings.
He has shown no sign that he is anywhere near ready to relinquish his title, but the absence of weakness does not mean there is an absence of contenders lining up to challenge him.
Here we assess the UFC light heavyweight class' current landscape, examining the title aspirations of each of the division's top 10 fighters, as ranked by the UFC.
Each top 10 fighter has been tagged with a probability that identifies the likelihood of them ever gaining the strap. That probability is based on a number of factors, including ability, age and current station within the division.
Read on to see who is most likely to adorn light heavyweight gold before they call it quits.
Begin Slideshow

»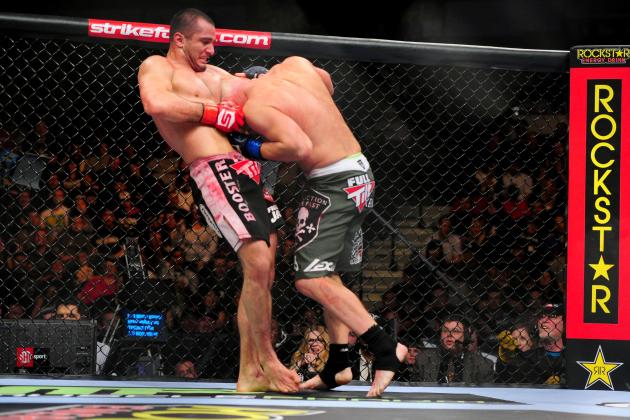 Mark J. Rebilas-USA TODAY Sports

Mousasi is a very well-rounded guy, and his potential is through the roof. The main obstacle between he and UFC light heavyweight gold—aside from a slew of tough contenders and a dominant champion—is inconsistency.
The Armenian has lost just once since 2007, but he has turned in a few ordinary performances over the past three or four years. Competing largely against mediocre competition has kept him in the win (and draw) column, but that may end as he transitions to the UFC.
The promotion's 205-pound weight class isn't all that deep, but its upper echelon is packed with talent, and one slip up can be devastating to a fighter's title hopes. That's especially problematic for a guy like Mousasi, who may have the talent to fit in, but might need a mulligan here or there.
If he can stay focused and put in a near-optimal performance every time he fights, his assigned percentage would be understated. But as it stands, I don't give much chance to a guy with a history of stumbling, to complete a run through such a long and dangerous gauntlet unscathed.
Luckily, he gets a little boost in his first fight with the UFC, competing against an unknown with four days to prepare, rather than Alexander Gustafsson with a full camp.
Chance of capturing UFC light heavyweight title: 8 percent
David Banks-USA TODAY Sports

Bader isn't over the hill by any means, but he may have peaked now, at 29 years old.
After initially finding success in the Octagon, the sky appeared to be the limit for Bader. But each time he's since been tasked with beating a contender, he's faltered.
An exception is Bader's 2010 victory over Antonio Rogerio Nogueira, though the Brazilian wasn't a serious contender at that time, and he now ranks higher than he probably should after upsetting Rashad Evans.
When I look at who Bader has beaten, and who he has failed to beat, I see a good-not-great fighter with a ceiling on his potential that is lower than the championship level.
He has good striking, but not good enough to match with the division's best. He's a good wrestler, but Jon Jones shut him down easily and he couldn't get in on Lyoto Machida. He's owns a handful of submission wins, but there is no mistaking him for a jiu-jitsu master.
All in all, Bader grasping a UFC is not very likely. What is likely is that his name remains near the back end of the Top 10 UFC light heavyweight list for several years to come.
Chance of capturing UFC light heavyweight title: 3 percent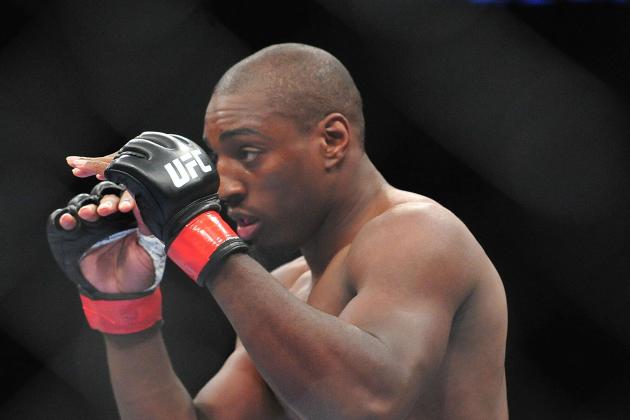 Gary A. Vasquez-USA TODAY Sports

Davis is a freak of an athlete, and he possesses some of the division's top wrestling. The only problem is, his striking just hasn't caught up to the rest of his abilities.
He'll almost certainly never be a great standup fighter, but he doesn't need to be to succeed. He does, however, need to be good enough that opponents cannot focus entirely on his wrestling attack.
That isn't to say Davis is one-dimensional, though. On the contrary, his advanced submission skills supplement his takedown ability very well.
The problem is, the light heavyweight division has several top fighters with staunch wrestling defense, which means rounding out his skills is a necessity for breaking into that top tier.
His athleticism and attitude towards growing give considerable hope for the future, but the sluggish progress he's made with his hands is somewhat concerning.
If you're wondering why Davis has been given a better chance of winning the title than some guys ahead of him, it's because he's still getting better while most have peaked, and his upside is as high as anyone not named Jon Jones.
Chance of capturing UFC light heavyweight title: 12 percent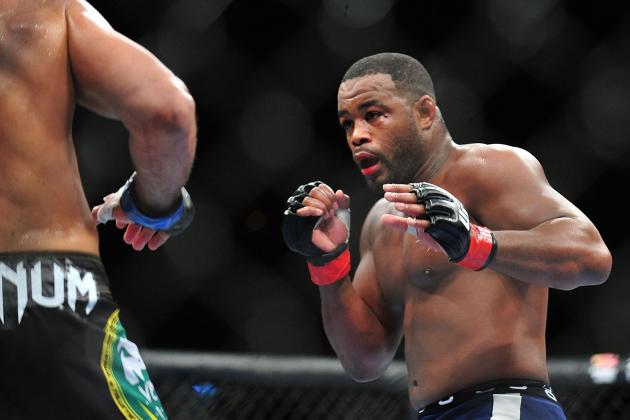 Gary A. Vasquez-USA TODAY Sports

Evans gave Jon Jones more of a challenge than he has received since becoming the UFC champion, and it was assumed that "Suga" would be able to circle around and take another stab at reclaiming the belt after failing the first time.
Only that scenario hit a major snag when Evans phoned in a decision loss to Antonio Rogerio Nogueira earlier this year.
Now, he's lost consecutive contests and faces the ultra-tough Dan Henderson in June. A loss there might be the final nail in the coffin of the the 33-year-old's title hopes.
Whether Evans is in decline, simply had a hiccup against Nogueira or is having a hard time overcoming the letdown he suffered against Jones is difficult to say. But whatever the reason for his poor performance, Evans is navigating thin ice.
A win over Henderson would go a long way for recovering his former position as the division's second-in-command, but even then, it would just be his first step on a long road back to the top.
Few fighters have a tougher agenda separating themselves from a title shot, which means Evans' title chances are not all that great.
Chances of capturing UFC light heavyweight title: 12 percent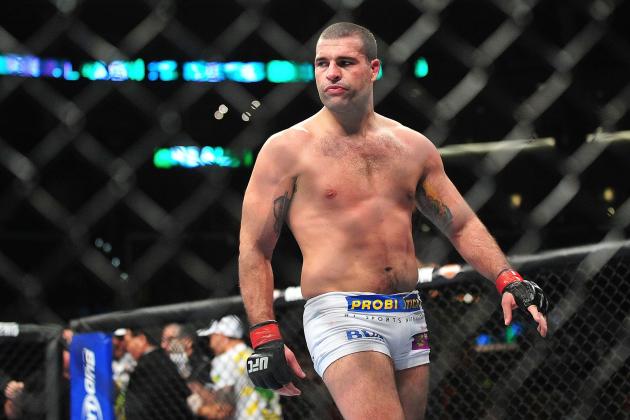 Gary A. Vasquez-USA TODAY Sports

Shogun, one of the most accomplished light heavyweights of all time, remains a tough out for any competitor aside from the champion, but the likelihood of him recapturing the strap are minimal.
Injuries and epic battles have compounded the miles on the 31-year-old's body to the point where he is not the fighter he once was. His through-the-roof fighting skills keep him at a high level, just not a championship one.
Even if Rua makes it past Antonio Rogerio Nogueira this June, and there is a very real chance he will, he's probably two wins from a rematch with Jones. And then even if he somehow pulls out those necessary wins, what reason has anyone to believe he could so much as threaten the champ, given the first outing between the two?
The Brazilian is a legend, and one of the best fighters to ever compete in MMA, but he's no longer a major title player in the UFC's light heavyweight division. Alexander Gustafsson recently confirmed that.
Chances of capturing UFC light heavyweight title: 5 percent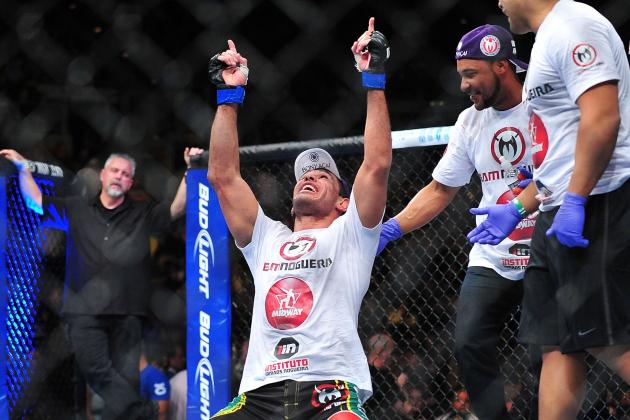 Gary A. Vasquez-USA TODAY Sports

Nogueira rocketed up the ranks by beating Rashad Evans in February, but he's still just 2-2 over his past four bouts.
And while he has been a terrific competitor for quite some time, his name at the five spot kind of jumps out as absurdly high.
For Nogueira to win the title he'll have to beat Shogun Rua in June, then likely defeat at least one more opponent, a top contender almost certainly.
I really don't see that happening, and not just because it's far from guaranteed he'll even take that first step past Rua.
Nogueira has never fared well with wrestlers, and that is troublesome for a 205-pound fighter in the UFC. Case in point, Nogueira already holds recent losses to two Top 10 guys behind him on this list (Phil Davis, Ryan Bader), and it only gets tougher nearer the top.
To me, that just doesn't spell legitimate threat to Jon Jones, who happens to be an outstanding wrestler himself.
Chance of capturing the UFC light heavyweight title: 5 percent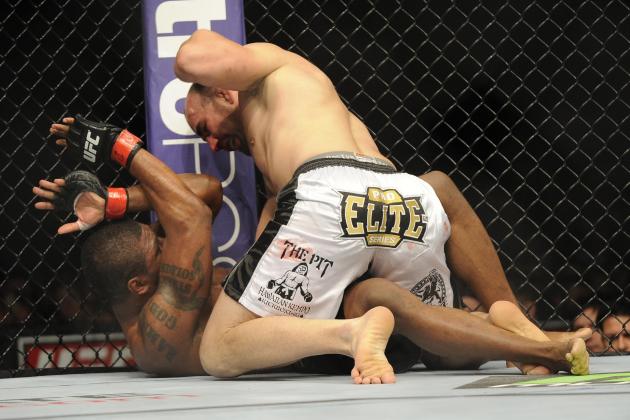 David Banks-USA TODAY Sports

Teixeira has clobbered all UFC competition thrown his way. The only reason to question his fourth-place ranking is that he hasn't really been thrown any of the division's better competitors.
The guy is a monster in the Octagon, utilizing vicious striking, solid wrestling and top-notch submissions. But whether or not all those attributes will look so pristine against Jon Jones, or Dan Henderson or Lyoto Machida, is very debatable.
Teixeira's next match will come against the hard-hitting James Te Huna this May. It's a dangerous fight for Teixeira, albeit one he should win, but how much closer does a victory really get him to a title shot? He still needs a victory over a Top 5 guy, let alone a Top 10 guy, and maybe more than one.
There is reason to like Teixeira's title chances, mainly because we haven't seen them stalled out yet like we have for everyone else save Alexander Gustafsson, but that doesn't mean he's a major threat to Jones' championship.
I give him a good chance to beat Te Huna, a fair chance in any subsequent title eliminator, but just a small one in a match with Jones. And at 33, I don't give him all too much time to recover if he loses once or twice.
Chances of capturing UFC light heavyweight title: 12 percent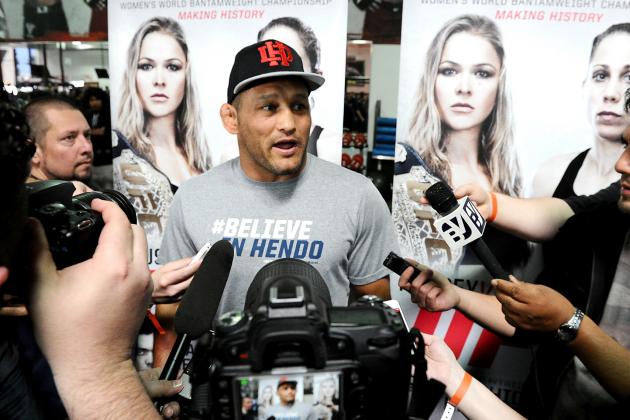 Jayne Kamin-Oncea-USA TODAY Sports

Boy, that Machida loss was hard to swallow. It's going to be hard to recover from as well since Henderson is 42. Yes, I know he is still a top fighter at 42, but the clock is ticking, and his time near the top can't be anything but short.
Henderson could make serious inroads on the title path by beating Rashad Evans this June, but that's no simple task. Evans looked ordinary last time he competed, but he could still take out Henderson without eliciting too much surprise from the MMA community.
With a win, Henderson could find himself a single victory away from a title fight. But that means he needs to beat Evans, then another contender, then Jon Jones. And again, at 42, he won't have time to recover if he fails any of those three challenges.
So what are his chances against Evans? Reasonably good, I'd say, though certainly not overwhelming. I'll give him a decent chance against the contender—maybe it will be Alexander Gustafsson—afterwards as well, though once again, not overwhelming.
Then comes Jones. I don't give him a great chance there. I give him a puncher's chance.
All compounded, Hendo's chances can't be considered too great.
Chances of capturing UFC light heavyweight title: 10 percent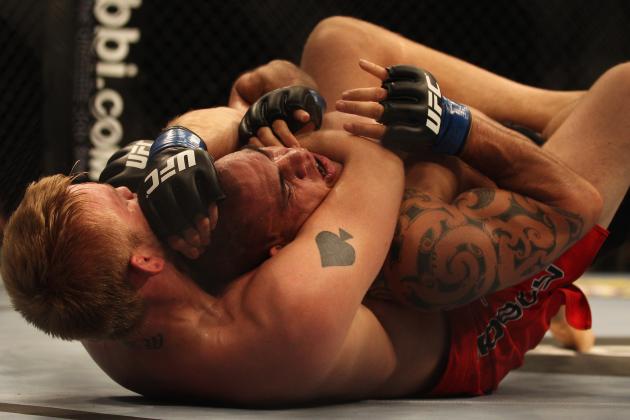 Mark Kolbe/Getty Images

It has got to be tough getting forced out of a main-event fight on your home soil, but at least Gustafsson will have plenty of time to resume his title run.
The other good news is that his title run is nearly at an end, requiring perhaps just one more victory over a contender.
"The Mauler" has really grown as a fighter since joining the UFC ranks. He came in as a power puncher and now wields a well-rounded striking arsenal, improved wrestling and a serviceable submission game.
Considering his talent, potential for further development and a generous allowance of time to acquire the strap, Gustafsson has to be considered the most likely title candidate of anyone on the list.
On the other hand, Jon Jones is even younger than Gustafsson, so he be might just be banging his head against a brick wall for longer than the others.
Chances of capturing UFC light heavyweight title: 25%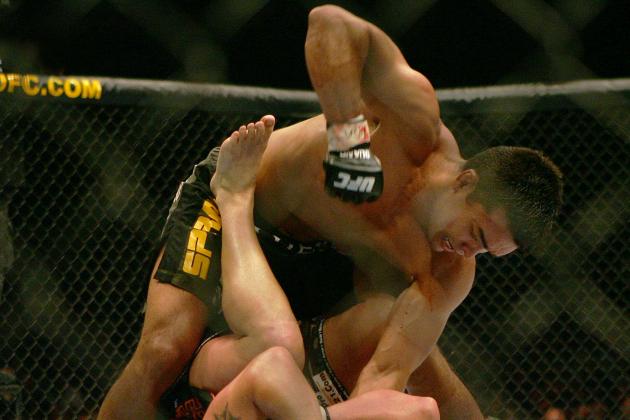 "The Dragon" once again stands on the precipice of a title shot. Odds are he'll get the opportunity after Jon Jones and Chael Sonnen settle their coaches' score later this month.
So given Machida's positioning in the light heavyweight ranks, his chances of adorning UFC gold for a second time are more or less akin to his chances of defeating Jones in a fight, adding in the time he'd have left over for another run in the event of a loss.
That all puts him in a pretty good position, except for the whole having to beat Jon Jones thing. I guess every one on the list has to deal with that.
But unlike Alexander Gustafsson, Machida, 34 years old, doesn't have all that much time. Granted, he has always been adept at avoiding damage, so his prime could extend beyond the norm, but that is far from guaranteed. Still, the likelihood of a run beyond this one only helps a touch.
So what chance do you give him in a rematch with Jones?
I say they aren't that great.
Chance of capturing UFC light heavyweight title: 20 percent