The Historical Counterpart for Every WrestleMania 29 Match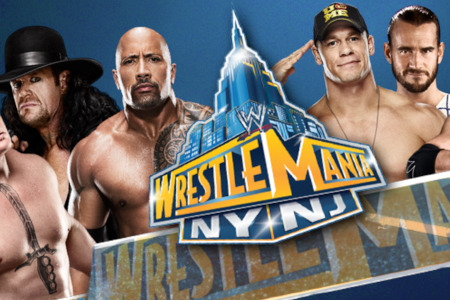 WrestleMania 29 is only a few days away and the card has been finalized.
While some of the matches are more than predictable, the card is one of the deepest in WWE history.
In the spirit of the Granddaddy of Them All, I have found a match that historically mirrors almost every match on the card.
So sit back, relax, and enjoy old school wrestling footage and feel free to comment your delight or displeasure with my selections.
Let's go!
Begin Slideshow

»
The WrestleMania 29 pre-show will feature an Intercontinental Championship match between two fringe main eventers.
The Miz has been to the top, but is much better suited in his current role as a babyface midcarder. Wade Barrett has had a decent run with the IC title, but hasn't really done anything noteworthy.
While Jericho and Regal had a much more entertaining build up for their 'Mania match for the IC championship, it was the first bout on the show and didn't really have any lasting impact following.
I believe The Miz will come out on top, which will allow Barrett to move into other feuds with top faces. He hasn't had a great opportunity to shine in the spotlight without a faction behind him, so now is the perfect time.
Before you chuckle too loudly, let me explain myself.
In no way do I expect this Mark Henry - Ryback encounter to leave the lasting impact the Hogan - Andre bout did.
And in no way do I expect Henry and Ryback to showcase such limited wrestling ability in their match.
But in the 1980s, the biggest, strongest man was the top guy in the company. If Ryback and Mark Henry were born 30 years earlier, they would have had their time at the top of the business.
The Hogan bodyslam passed the strongman torch. When Ryback shellshocks Mark Henry (who I believe is a borderline Hall of Famer as it stands), it will pass that torch, and put Ryback on the road to reaching the top of the company as it seemed he would do before the Shield entered the fray.
In 1988, two established headlining acts, Hulk Hogan and Randy Savage, came together to make a super team. Their biggest foes were the Twin Towers, who were Akeem and Big Boss Man.
The Mega Powers would have an iffy relationship at best, mainly because of Miss Elizabeth's involvement. Elizabeth aside, these two were top tier names and perennial main eventers, much like Sheamus, Randy Orton, and Big Show.
In a match against the heel team at NBC's Main Event in 1989, Elizabeth would be knocked out, and Hogan would abandon Savage to take her to the medics. Randy was beaten and beaten, but would survive long enough for Hogan to return at Elizabeth's command.
When Hogan reached for the tag, an angry Savage slapped him in the face and left for the locker room. After Hogan defeated the Towers by himself (shocker!), he confronted Savage in the back, leading to a brawl and a Savage heel turn.
Couldn't you imagine Randy Orton getting through this match with turmoil, only to lose his cool and attack Sheamus? Me too.
The Shield will again be victorious to set up the turn, but the fallout could very well lead to an Orton vs. Sheamus main event feud in the future.
In a very mid-card feud (with a very mid-card culmination), two top talents were featured in a mixed tag team match with no real consequences or fallout afterwards.
Randy Savage was in the midst of his "Macho King" character with Sensational Sherri at his side. He was challenged by Dusty Rhodes and a woman named Sapphire to a mixed tag match at WrestleMania VI. It was exactly the waste of time you would think it would be.
Same story this year with these eight competitors. Between Cody Rhodes, Damien Sandow, and Naomi, we have some legitimate talent on display. But it is a throwaway match in a throwaway feud to settle the crowd between main events.
I completely believe the faces will reign supreme much like in the Wrestlemaina VI bout, and this will be forgotten by next Monday unless we see something like a Cody Rhodes face turn.
On an unrelated side note, who agrees that the WM VI match has the worst combined attire for any single match in WWE history?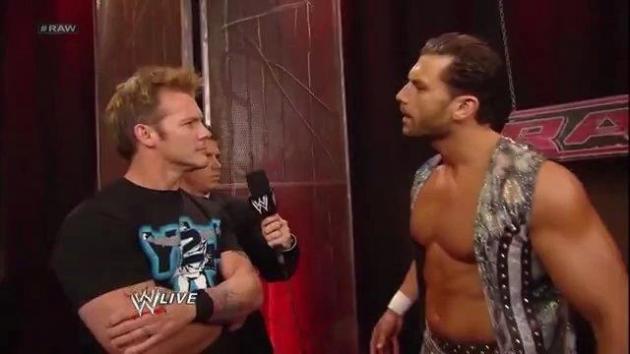 Chris Jericho has made history before, and he will be doing it again.
In the endless annals of professional wrestling history, it is nearly impossible to find any match with the following involved:
1. First pay-per-view match for a competitor
2. First match ever for a character
3. Future first ballot Hall of Fame opponent
4. On a big four pay-per-view
You can understand the difficulty of locating a match that involves at least 3 of these circumstances.
This one will hopefully be as good as our imaginations think it can. We all know Y2J is one of the best in the ring and could get a solid match out of anyone.
The intrigue of the debut of a Superstar at WrestleMania is a great idea for a slot that is usually a throwaway match.
In 1992, Razor Ramon (Scott Hall) made his WWE debut. His first storyline involved him helping Ric Flair win the WWE Championship from Randy Savage. This feud would find a way to include the Ultimate Warrior, which would set up a tag team match at Survivor Series 1992.
Well, Warrior got fired for the first time, which left a void. Savage lobbied Flair's former "executive consultant," Mr. Perfect (Curt Hennig) to be his partner. After some thought, Perfect accepted, turning face and setting up a much better wrestling match for the tag team affair.
We saw Razor in the ring with top Superstars for the first time in a match, much like we will see Big E Langston for the first time on Sunday. We will have three of the more established stars in the ring with him, which could either make Langston look really strong, or make him look really green.
The sheer talent that will grace the ring at WrestleMania 29 is very close to the talent assembled for the tag match at Survivor Series 1992. It will be exciting and intriguing, and although I believe Team Hell No will retain their titles, a nice little swerve of Ziggy and Big E winning could lead to their much awaited break up feud.
While my historic comparison doesn't remotely approach the great wrestling we could potentially see this Sunday, the buildup and characterizations are very similar.
In 1991, the United States was at war in the Gulf. Vince McMahon thought it was a great idea to have an icon from the 1980s turn heel and sympathize with our real life enemies.
It worked, and Sgt. Slaughter turned out to be a legitimate foe for Ultimate Warrior's WWE Championship for their match at the 1991 Royal Rumble.
Although the roles are reversed and the American in the contemporary feud is the heel, it was a confrontation fueled by national pride, morals, and values.
As the video shows, Randy Savage interfered to allow Slaughter to win, setting up a WrestleMania feud which leads us to...
Randy Savage had been a main event star in the WWE for about five full years by the time this feud culminated at WrestleMania VII. It wasn't like an 18 year career was on the line, but by 1991 standards, this was a very big deal.
The Ultimate Warrior had been pushed like a monster main eventer since he broke in 4 years prior to this match. It was a great one-on-one idea, but there was a catch: If Savage would lose, his career would be over.
Well, if you haven't watched that match, I suggest you do. It's a great story, and the ending is one of the classic moments in wrestling history.
This almost perfectly mirrors the Lesnar-HHH match due to the contract signing, the long term buildup, and the retirement match stipulation. Whether we have a nostalgic goodbye or another win for the good guys, it should still be an emotional matchup.
My current standing is that this should be Hunter's last match. He hasn't really been an important part of the roster for a couple years and it makes no sense for him to wrestle two matches a year anymore. This could push Brock Lesnar's legacy a little further, because we know he will have bigger feuds in the future. I'm looking at you, Dwayne.
I tried so hard to find a match that fit that wasn't an Undertaker 'Mania match, but I couldn't do it. It is the only thing that begins to do this one justice.
The buildup for this year's match was a little strange, but once it was settled, CM Punk began his legendary tear on the mic. As we are witnessing a heel becoming one of the best ever, the exploitation of Paul Bearer's death has made this one extremely personal. Perhaps more personal than any other 'Taker match outside of his first encounter with his storyline brother, Kane.
The Undertaker character was adapting to the Attitude Era in 1998. As we found out more about his past, the more we were frightened of the gimmick. I mean, as an eight-year-old, I would cry when he would walk down the aisle every week.
Imagine the horror I felt as his brother, who was presumed to be dead, shows up. It was brilliant, and the idea that Paul Bearer was the main link between the two was perfect as well.
Bearer hasn't played a bigger role since WrestleMania XIV than he is posthumously right now. I'm sure the streak continues, but this match could be a major feather in CM Punk's cap as his career continues to improve.
Now don't get to thinking that I expect the wrestling clinic this year that we got back in 1996.
The roles are extremely similar and that is the reason this is the perfect comparison.
Bret Hart had been carrying the ball for the WWE during it's very thin talent years of 1993-96. One of the up and coming performers who had mostly graced the mid-card divisions was Shawn Michaels. He hadn't really gotten a crack at the WWE title since becoming a fan favorite.
This 60 minute Iron Man match is one of the greatest matches of all-time and it solidified Shawn Michaels as a major star and passed the torch to him as "The Man."
Now, John Cena has been "The Man" for about eight years now. But whenever The Rock is around, it feels as though Cena isn't on his level. It would be bad for business to have your full time cash cow lose to the same guy in back-to-back 'Manias. I fully expect Cena to win in similar fashion to Michaels: With his finisher out of nowhere after a marathon match.
If they decide, however, to have Rocky retain, it could be the biggest swerve of all-time, and something that could start a new era in WWE History.