Gegard Mousasi vs. Ilir Latifi: Odds and Predictions for UFC on Fuel 9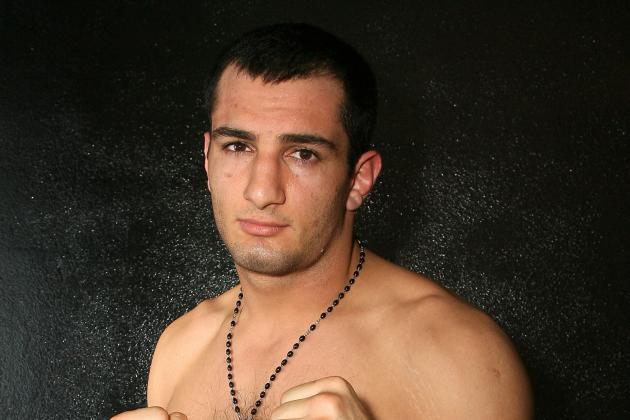 Valerie Macon/Getty Images

It took a little while, but the dust finally settled on the main event of UFC on Fuel 9. Gegard Mousasi has an opponent for his organizational debut, and it is Alexander Gustafsson's training partner Ilir Latifi.
An unfortunate accident caused a cut on Gustafsson and forced the potential no. 1 contender out of action. A string of April Fool's jokes and confusion left the main event in doubt. Latifi stepped up, and the show goes on.
Twelve more fights line the card in Sweden. What it lacks in name value, it surely makes up for in potential action. It will all come to you free via Facebook and Fuel this Saturday.
Here is a look at the odds and predictions heading in to the ninth installment of UFC on Fuel.
Begin Slideshow

»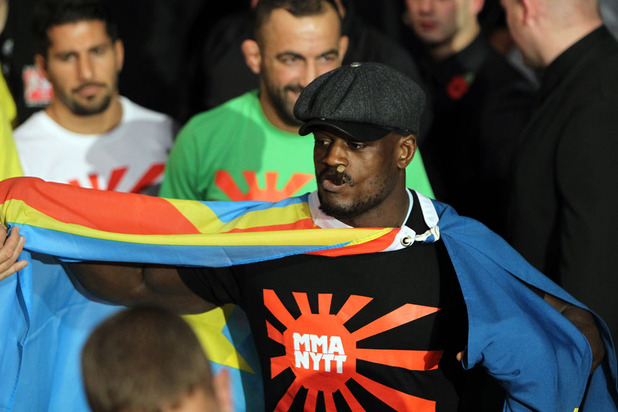 Photo Credit: Zuffa LLC via Getty Images
The opening bout between Papy Abedi (8-2) and Besam Yousef (6-1) will probably see the loser cut from the organization. Nothing is set in stone in that regard, but it is my best guess given their recent UFC performances.
Abedi made his UFC debut against Thiago Alves and looked quite good in the loss, but he followed it up with a poor performance against James Head to go 0-2 under the UFC banner.
Yousef's UFC debut was also a loss. He tapped out to a rear-naked choke from Simeon Thoresen.
These are two decent prospects in the welterweight division, but you cannot stay in the UFC with a losing streak.
Abedi seems like the more athletic fighter of the two, and I'll take him for that fact alone. If he can look well against Alves, then he has some talent that just needs to come to fruition in this fight. I think he can finish.
Betting Odds: Abedi (-140) against Yousef (+110) at www.bovada.lv.
Prediction: Papy Abedi defeats Besam Yousef by TKO in the first round.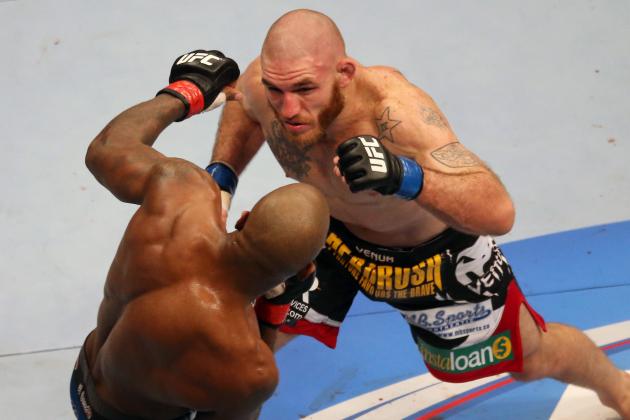 Tom Szczerbowski-USA TODAY Sports

For the second straight fight, Tom Lawlor (8-5, 1 NC) will be battling a highly touted prospect. Lawlor draws Michael Kuiper (12-1) in the second bout of the evening.
Kuiper, 23 years old, made his UFC debut against Rafael Natal at UFC 143. The tough debut resulted in a unanimous decision loss for the youngster, but he rebounded with a stoppage of Jared Hamman at UFC 150.
Lawlor has been a tough out for anyone in the middleweight division, and his results have been a mixed bag. He recently dropped a split decision against Francis Carmont at UFC 154. It was a contentious decision.
This fight will be telling of how much Kuiper has grown as a fighter. Lawlor won't go away in this fight. At this point in his career, I think Lawlor is a bit too much for Kuiper, and over the course of 15 minutes that will show.
Betting Odds: Lawlor (-185) against Kuiper (+150) at www.bovada.lv.
Prediction: Tom Lawlor defeats Michael Kuiper by unanimous decision.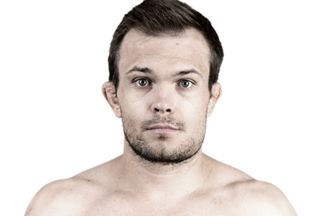 Photo Credit: Zuffa LLC
Most of the UFC community was introduced to Ben Alloway (12-3) with his knockout victory at UFC on FX: Sotiropoulos vs. Pearson. He gets a chance to continue to introduce himself to anyone who is still curious about him when he takes on Ryan LaFlare (7-0).
LaFlare makes his UFC debut. He enters with a perfect professional record.
This won't be one of the fights most looked forward to, but it could provide some decent action.
I think Alloway gets a second consecutive victory as LaFlare will battle with nerves in his UFC debut. The nerves will allow Alloway to get off first, and that'll be the difference in the eyes of the judges.
Betting Odds: LaFlare (-205) against Alloway (+165) at www.bovada.lv.
Prediction: Ben Alloway defeats Ryan LaFlare by unanimous decision.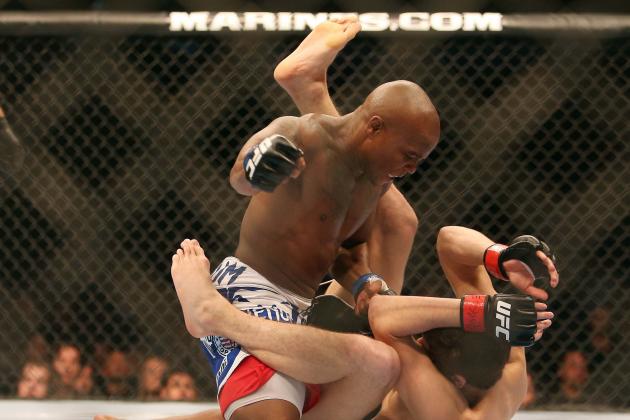 Tom Szczerbowski-USA TODAY Sports

A Fight of the Night contender will be the scrap between Marcus Brimage (6-1) and Conor McGregor (12-2).
It is a featherweight fight you should try to stream even if you are out and about on Saturday evening.
McGregor is making his UFC debut after picking up eight consecutive wins. All eight were finishes. He is another spectacular addition to the UFC's featherweight division, and he is being thrown in with another tough fighter.
Brimage recently toppled highly touted prospect Jimmy Hettes. He won't be unsettled by the introduction of McGregor.
These two men will want to throw leather, and that could lead to Brimage getting touched up. I expect Brimage to take this fight down and try to do work from the canvas, and it will be enough to take the fight.
Betting Odds: McGregor (-165) against Brimage (+135) at www.bovada.lv.
Prediction: Marcus Brimage defeats Conor McGregor by unanimous decision.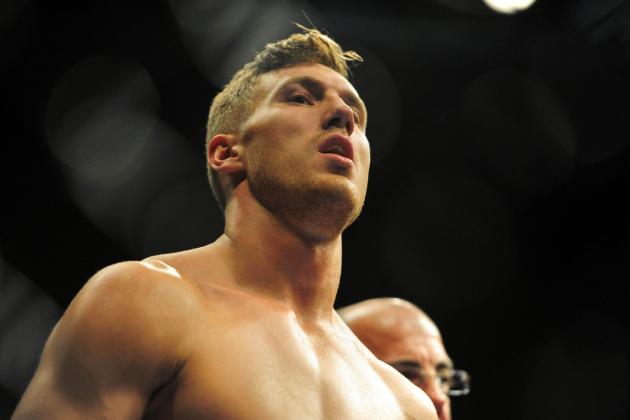 Kyle Terada-USA TODAY Sports

Two more Strikeforce alums will meet when Chris Spang (5-1) and Adlan Amagov (11-2-1) square off.
Spang went 2-1 under the Strikeforce banner, and Amagov posted a 3-1 record.
This could be a classic striker versus grappler matchup, and typically I would say go with the grappler. In this case, Amagov. However, I was really impressed by Spang in his last outing against Nah-Shon Burrell.
This is a pick 'em fight, and I'll take Spang.
Betting Odds: Amagov (-165) against Spang (+135) at www.bovada.lv.
Prediction: Chris Spang defeats Adlan Amagov by TKO in the first round.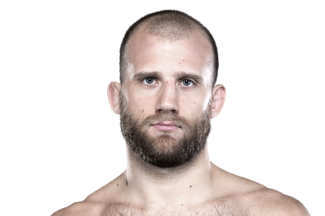 Photo Credit: Zuffa LLC
Tor Troeng (15-4-1) vs. Adam Cella (4-0) will be the first fight between The Ultimate Fighter: Team Jones vs. Team Sonnen cast members outside of the show. And I must confess to you, readers, I do not care about this fight in the slightest.
Neither man impressed on the show. Neither fighter showed anything to get excited about right now or in the future. Hopefully that will change with this fight.
Give me the more experienced fighter who is fighting in his home country.
Betting Odds: Troeng (-250) against Cella (+195) at www.bovada.lv.
Prediction: Tor Troeng defeats Adam Cella by unanimous decision.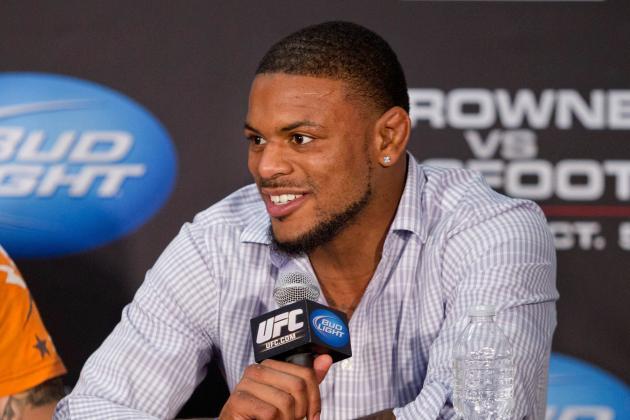 Bruce Kluckhohn-USA TODAY Sports

Reza Madadi (12-3) entered the UFC on a six-fight win streak and quickly picked up his seventh in a row with a submission over Yoislandy Izquierdo at UFC on Fuel TV: Gustafsson vs. Silva. He then dropped a split decision to Cristiano Marcello.
His opponent, Michael Johnson (12-7), had a fantastic start to 2012. He leaped up the divisional ladder with three impressive performances, but then lost his fourth fight of the year to Myles Jury.
This could be a fun fight, but I think the time away from the cage will serve Johnson much better. It is tough to keep as active as Johnson was against the level of competition he was facing. In his first three wins of 2012 he showed his tremendous upside, and he will stop Madadi.
Betting Odds: Johnson (-230) against Madadi (+180) at www.bovada.lv.
Prediction: Michael Johnson defeats Reza Madadi by TKO in the second round.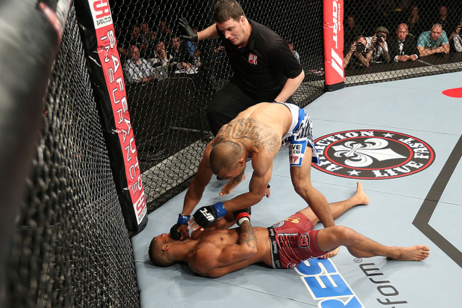 Photo by Josh Hedges/Zuffa LLC/Zuffa LLC via Getty Images
The opening bout of the main card will be a featherweight duel between Akira Corassani (10-3, 1 NC) and Robbie Peralta (16-3, 1 NC).
Corassani made his UFC debut after appearing on The Ultimate Fighter with a victory over Andy Ogle back in September. Peralta continued his unbeaten run in the UFC by knocking out Jason Young on the same card.
This bout seems more like a showcase fight for Peralta than anything else. Corassani is game, but Peralta has been lighting it up and improving in each fight. I expect another big performance out of the 27-year-old.
Betting Odds: Peralta (-365) against Corassani (+275) at www.bovada.lv.
Prediction: Peralta defeats Corassani by KO in the first round.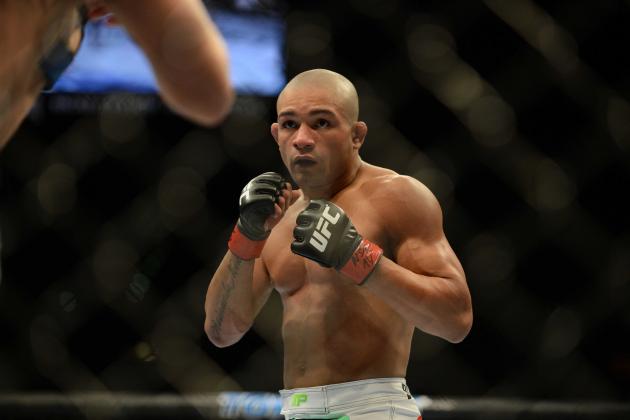 Ron Chenoy-USA TODAY Sports

This is another contender for Fight of the Night.
Diego Brandao (16-8) seeks his second consecutive victory, and Pablo Garza (12-3) will try to follow up his win against Mark Hominick with a second upset.
Out of the two, Garza has clearly fought the better competition. Yet, they do have a common opponent in Dennis Bermudez. Garza lost his scrap with Bermudez while Brandao finished him to win The Ultimate Fighter.
While sometimes common opponents can tell you about the matchup, I don't think that's the case here. With that said, I'll still take Brandao to win this fight. I don't see him losing via submission or two out of three rounds.
Betting Odds: Brandao (-225) against Garza (+175) at www.bovada.lv.
Prediction: Diego Brandao defeats Pablo Garza by unanimous decision.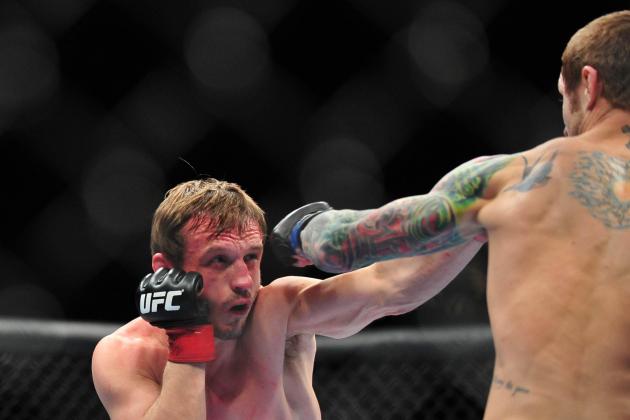 Gary A. Vasquez-USA TODAY Sports

Another Fight of the Night contender will happen when Brad Pickett (22-7) meets Mike Easton (13-2).
Pickett won two in a row before dropping a split decision to Eddie Wineland at UFC 155. He is currently ranked fifth in the official UFC rankings. Easton is ranked ninth.
Easton was riding an eight-fight win streak before being upended by Raphael Assuncao in December. The energetic bantamweight has had a few underwhelming outings in bouts, but that is unlikely to happen against Pickett.
"One Punch" brings the fight every time he steps inside the cage. That is why I think he wins this fight. He will push the pace and score on the feet. His aggressiveness will pay off on the scorecards.
Betting Odds: Pickett (-160) against Easton (+130) at www.bovada.lv.
Prediction: Brad Pickett defeats Mike Easton by unanimous decision.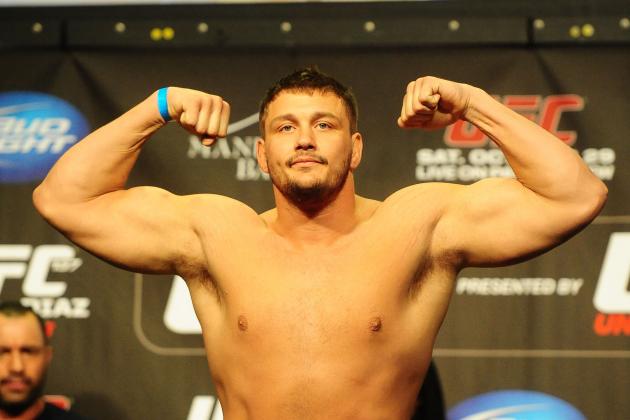 Mark J. Rebilas-USA TODAY Sports

Prior to the injury to Alexander Gustafsson, this fight was likely the biggest mismatch on the card.
Phil De Fries (9-2, 1 NC) is 2-2 in the division, but he is 0-2 against athletic heavyweights. Matt Mitrione (5-2) is one of the most athletic in the division.
Mitrione should get back on the winning side of things with a big KO or TKO performance. De Fries really does not have much to offer Mitrione in this fight.
Betting Odds: Mitrione (-335) against De Fries (+255) at www.bovada.lv.
Prediction: Matt Mitrione defeats Phil De Fries by TKO in the first round.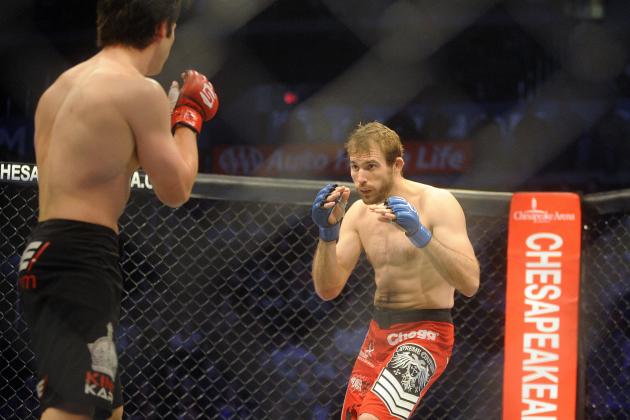 USA TODAY Sports

Ross Pearson (14-6) returned to the lightweight division in emphatic fashion by battering George Sotiropoulos in December. He will have the privilege of welcoming Ryan Couture (6-1) to the UFC in the co-main event of the evening.
Couture has been counted out in several of his recent bouts, but he continues to grind his way to wins. It's not always pretty, but he gets it done.
Pearson is the significant favorite in this fight, and for good reason. But my gut tells me Couture is going to shock the viewing audience.
I think Couture will be able to make this dirty like his father used to. Clinch work and takedowns will lead him to a decision victory.
Betting Odds: Pearson (-450) against Couture (+325) at www.bovada.lv.
Prediction: Ryan Couture defeats Ross Pearson by unanimous decision.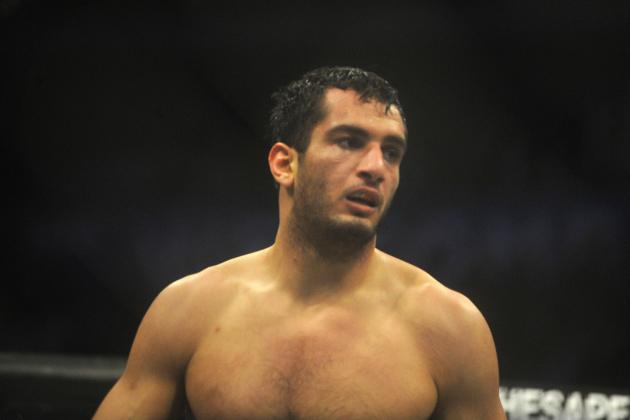 USA TODAY Sports

Ilir Latifi (7-2) makes his UFC debut by replacing Alexander Gustafsson on short notice. He will be in the main event against one of the best fighters in the division, Gegard Mousasi (33-3-2).
Latifi is in over his head. I am not sure what else to tell you.
While many will tell you this is a lose-lose for Mousasi, I don't believe that.
The general UFC audience does not know Mousasi, and this is a good chance for him to look ultra-impressive against an overmatched opponent. A spectacular finish will elevate him in the division very quickly and earn him fan support.
That will be what happens. Violence abounds in the main event.
Betting Odds: Mousasi (-1100) against Latifi (+650) at www.bovada.lv.
Prediction: Gegard Mousasi defeats Ilir Latifi by TKO in the first round.