New York Giants Mock Draft: Post-Free Agency Predictions for Every Round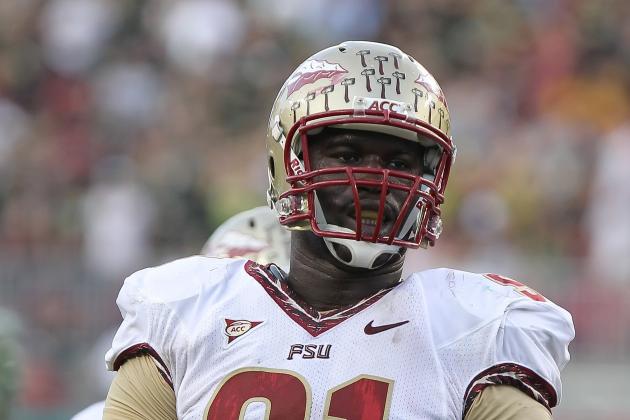 Kim Klement-USA TODAY Sports
Some experts are picking DE Tank Carradine as the Giants' first-round selection.
The New York Giants filled some big holes through free agency, picking up tight end Brandon Myers, defensive tackle Cullen Jenkins and linebacker Dan Connor, among others off the open market. While many of those free agents will end up being one-year stopgaps, the 2013 NFL draft, which begins on Thursday, April 25, will be where the organization really builds for the future.
Giants general manager Jerry Reese has a history of scooping the best player available on his big board, but his team has several emerging needs, with many key positions lacking youth or depth. This slideshow will provide full seven-round predictions, based on the Giants' needs and the players who are likely to be available.
Begin Slideshow

»
The Giants have a lengthy history of spending high draft picks on defensive ends, and it may be bound to repeat itself in 2013, given the talent that is expected to be on the board when the Giants pick 19th. In fact, seven draft experts have the Giants taking a defensive end out of Florida State in the first round.
While Bjoern Werner may be the more popular prospect, two of the seven experts (Eric Galko of Sporting News and Josh Norris of NFL.com) have the Giants selecting his counterpart, Tank Carradine. Both Werner and Carradine have tremendous upside, but lack of experience should be a very real concern for both prospects.
Carradine, who spent two very successful seasons at Butler Community College (JUCO), only became a full-time starter at Florida State when Brandon Jenkins was injured in 2012, Carradine's senior year. He was a productive backup as a junior and a tackling machine when he became a starter, but he lost most of his pre-draft preparation to a torn ACL he suffered against Florida.
Still, Carradine's strength and athleticism should warrant his selection if he is available at 19.
Many mock drafts have the Giants selecting Georgia linebacker Alec Ogletree in the first round. Other experts even suggest Notre Dame's Manti Te'o. New York, however, should be patient, as it will be able to snag a better value linebacker in the second round.
Everyone can agree that the Giants linebackers need a serious improvement, and Kansas State's Arthur Brown should be the perfect draft prospect to target. Like Carradine, an injury has limited Brown's pre-draft workouts. Also like Carradine, Brown possesses the unique athleticism for teams to take a risk on him.
Brown is familiar with a base 4-3 defense, playing primarily middle linebacker with exceptional ability to both stuff the run and cover the pass. The only knock on Brown is his size; he is only six-feet tall, 241 pounds and is a bit undersized for an NFL middle linebacker.
Brown is an otherwise ideal candidate for the Giants in the second round, especially considering his recent pro day in which he reportedly ran a 4.58 40-yard dash.
Unless superior talent falls to the Giants in one of the first two rounds, they will wait to bolster the offensive line until at least the third round. If that ends up being the case, the San Jose State offensive lineman would be an interesting third-round prospect.
Quessenberry, a Senior Bowl participant, was viewed as the college football all-star game's third best offensive lineman, after Eric Fisher and Lane Johnson. Quessenberry primarily played left tackle in his junior and senior seasons with the Spartans. At 302 pounds, he lacks ideal strength but possesses the versatility to slide into the interior line.
Quessenberry is not particularly mind-blowing athletically, but he is very sound at his position. He has great natural ability in pass protection.
Although the Giants pass defense was shaky in 2012, New York is only a couple steps away from fielding a premier defensive backfield. Cornerback Corey Webster stood out as the clear weak link last season, but the Giants can attempt to replace him with a solid cover corner in the 2013 draft.
New York can still nab a quality corner even if it holds off until the third or fourth round, much like the franchise did a year ago with Jayron Hosley. In 2013, the Giants should consider San Diego State's Leon McFadden.
McFadden was a first-team member of the All-Mountain West Team in 2012 for the third consecutive season. As a four-year contributor with the Aztecs, McFadden should be very well-prepared for his transition into professional ball. He recorded three interceptions and 10 pass breakups in 2012.
Left tackle Will Beatty had a surprisingly solid season in 2012, but the same cannot be said for his counterpart. Between veterans Sean Locklear and David Diehl, the Giants struggled to seal off the right side of the line all season.
It may be hopeful thinking to say Virginia's Oday Aboushi will be available in the fifth round, but his draft value is sinking quickly after a poor showing at the NFL combine. Once a sure second-round talent, Aboushi would be a steal if the Giants got their hands on him in either the fourth or fifth round.
Aboushi, a 6'6" gargantuan, earned first-team All-ACC honors for his performance in 2012. He is a very physical lineman who averaged 10-plus knockdown blocks per game, according to NFLDraftScout.com.
Fans often discuss the risk associated with taking Alec Ogletree in the first round, due to concerns about his off-the-field character issues. These types of red flags usually deter teams in the early rounds but entice them to take a risk in the later rounds. Such is the case for Tennessee-Martin defensive tackle Montori Hughes.
Originally a Tennessee Volunteer, Martin split ways with the SEC squad, landing instead with the Skyhawks after persistent poor behavior. It's unsure whether Hughes has the potential to become an every-down defensive tackle in the NFL or not, but his 329-pound frame should make him a solid situational run-stuffer, at the least.
Hughes' best fit may be at nose tackle, but he has the quickness and agility to make plays in the backfield. He only recorded 31 tackles in 2012, but 8.5 of them were for a loss, in addition to four sacks and 13 QB hurries. He also participated in the Senior Bowl.
David Wilson is set to become the Giants' featured running back in 2013, but it wouldn't hurt to add some late-round talent to this unit. Given Andre Brown's injury history, Arizona State running back Cameron Marshall could be useful as the Giants' backup bruiser.
Marshall is 5'11", 223 pounds, which is ideal size for an NFL running back. Marshall also has a strong burst of speed, helping him rush for over 1,000 yards and 18 touchdowns (4.6 yards per carry) in his senior season.
*Comp Pick: DT/DE Baker Steinkuhler, Nebraska
Baker Steinkuhler provides interesting potential as a defensive tackle, but he can also line up at defensive end. He is 6'6", 290 pounds, putting him in ex-Giant Chris Canty's range as far as size goes. He is very strong against the run but could afford to improve his ability as a pass-rusher.