PSG vs. Barcelona: Why Ancelotti Was Wrong to Pick Beckham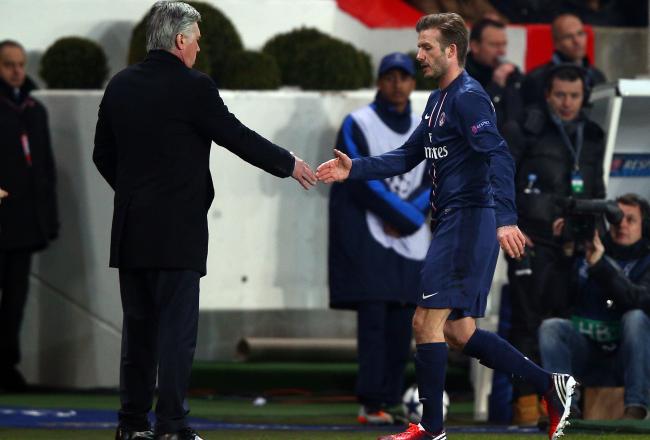 Ancelotti thanks Beckham for his efforts against Barcelona
Clive Rose/Getty Images
Paris Saint-Germain's 2-2 Champions league draw with Barcelona at the Parc des Princes is an immense source of "pride" for both Carlo Ancelotti and capital club President Nasser Al-Khelaifi.
However, the scoreline could and arguably should have been larger and in Les Parisiens' favour. Pre-match Ancelotti sprang a surprise by naming David Beckham in the starting lineup ahead of promising young midfielder Marco Verratti.
Carletto insisted that Beckham played a part because of his "experience," but the veteran midfielder's presence in the team was a big risk in the face of opposition from the likes of Xavi, Andres Iniesta and Sergio Busquets.
Although the Englishman was not out of his depth against the Spaniards, he actually contributed very little to PSG's play and instead was there as a guiding hand for some of his inexperienced teammates. The likes of Javier Pastore, Blaise Matuidi, Lucas Moura, Ezequiel Lavezzi (though he has played for Napoli in the competition before) and Christophe Jallet have relatively little experience at the top level of European football.
Heading into the second leg having conceded two potentially costly away goals, it begs the question why did Ancelotti field a passenger in the side on Tuesday and does he plan to do so again next week?
Beckham's contribution, whilst arguably a settling presence in the team from an experience standpoint, was still very little in terms of PSG's most enterprising pieces of play. The side from the capital looked most dangerous when Lavezzi, Moura and Ibrahimovic were linking up and Matuidi was moving forward to support the attackers.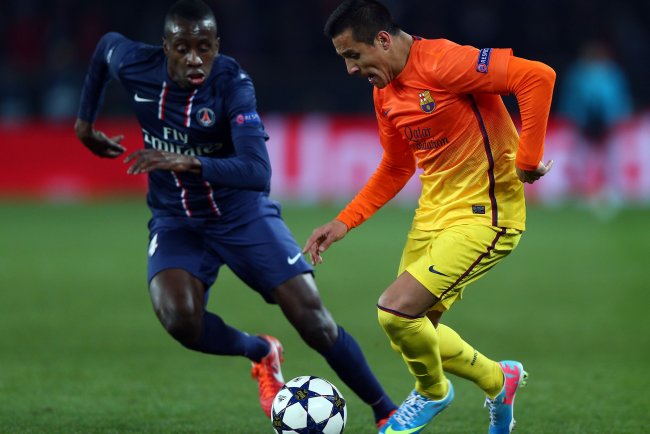 Clive Rose/Getty Images
Matuidi, over-worked all season long by club and country, had to put in a double shift to offset Beckham's presence on the pitch and will pay the price after picking up a yellow card that rules him out of the second leg next week.
Beckham, who arguably won't feature from the start next week should Thiago Motta be fit, still retains his technical abilities but was unable to run and fight like the rest of his teammates. Ancelotti would arguably have been better served playing Verratti from the start.
The diminutive Italian may still be ironing out the finer points of his game, but there is no doubting his superstar potential. The clash represented the perfect opportunity for the 20-year-old to garner some big-match experience, but his compatriot coach passed on the opportunity to utilise him, suggesting that he still sees him as "naïve."
He may well be that, but he will never come of age like the rest of the team if he is constantly shielded from this type of match at this crucial stage of his development.
Ancelotti's decision may come back to haunt him next week, and therein lies the mistake. With Matuidi suspended, the Italian now needs his young protégée to step up at the Camp Nou as he looks increasingly likely to start.
With pressure on him because of the fuss that was made over Beckham starting in his place at the Parc des Princes and his tendency to lose his head at times as well, the Italian international will be thrown in at the deep end in Spain.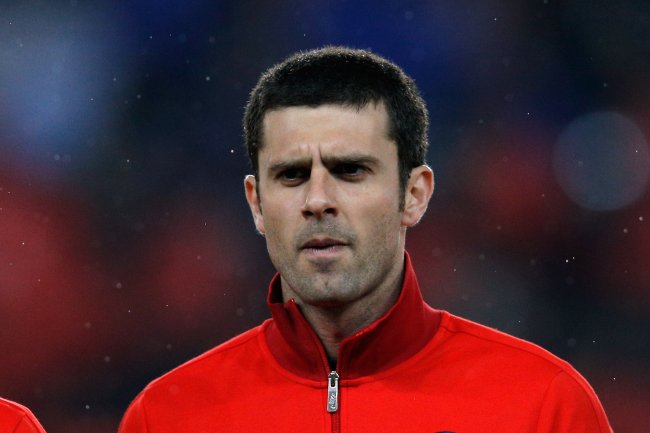 Dean Mouhtaropoulos/Getty Images
One way of deploying the tenacious midfielder could be to deploy him alongside Azzurri teammate Motta, but so much depends on the fragile former Barca man's fitness. With Ancelotti seemingly compelled to attack in the second leg following the result and Matuidi's suspension, he could take the risk of letting Verratti roam.
The Italian's creativity is a major facet of his game, and given that the midfield battle at the Camp Nou already appears lost thanks to Matuidi's absence, a bold statement of confidence from the two-time Champions League-winning coach could inspire him.
Verratti will be expected to complement the capital club's attacking talents in an effort to pummel Barcelona into submission, a responsibility that will be greatly amplified given Javier Pastore's continued ineffective performances for the team.
The 20-year-old will almost certainly start, but Motta now holds the key because of his history at the Camp Nou as a player and opponent. Verratti, though, will be just as important, as he could have been in the first leg, because of his mobility and direct passing ability over long and short distances.
Ancelotti now needs Verratti and the Italian had not banked on that, at least not at the expense of Matuidi. The youngster's role now comes under intense scrutiny and thus the pressure on player and coach are greater. Ancelotti could rue the decision to favour experience over youth with the midfield looking lightweight and lacking in defensive presence if Motta is not fit.
This article is
What is the duplicate article?
Why is this article offensive?
Where is this article plagiarized from?
Why is this article poorly edited?