The New Orleans Hornets paid Eric Gordon to be the face of their franchise. In the years to come, that's exactly what they'll see.
Injuries have stalled his career progression to this point, but there's no denying that the Hornets absolutely need him.
Head coach Monty Williams has a young group of core players who are desperate for a leader. When healthy, Gordon has shown he can be that piece to Williams' puzzle. His ability to create shots, attack the rim and excel in the pick-and-roll add to his value.
He's been tentative to explode off his knee this season, but in the games of late, Gordon is doing a much better job of penetrating, and getting to the free-throw line as a result.
According to Hoopdata, he's attempted 45 shots at the rim over the last 10 games, converting 60 percent (27-of-45) of those shots. Additionally, in the past six games, he's taken 32 free throws, converting a perfect 10-for-10 from the line against the Miami Heat on March 29, per ESPN.
This feat shows he is getting his explosiveness back. Couple that with his quickness to get to the rim, he's a gifted talent when he's healthy.
This shows Gordon's quickness to the rim.
He is the most important player on the team, attracting the defense and setting his teammates up for open looks. Even when the shots aren't falling, his presence alone changes the dynamic of the team.
Already looking at a bright future, the production—and more importantly—the commitment of Gordon, is crucial to the success of the franchise.
Rumors have swirled over the past couple of years concerning trade talks for the disgruntled former Indiana Hoosier. The NBA trading deadline came and went, with the Hornets highest-paid player staying put.
Though these trade talks are likely to resurface again come summertime, we have to be prepared for Gordon to don the Pelicans uniform next season. Because of his inconsistencies and inability to stay on the court, no team will give New Orleans what it will potentially be seeking in return.
Despite being unhappy with the organization after they matched the Phoenix Suns' max contract sheet of four years and $58 million, Gordon is slowly beginning to show he's invested in the Hornets for the long haul.
Sam Amick of USAToday.com reported earlier this year that Gordon had spent the first two months of the season rehabbing in Los Angeles, receiving specialized treatment from personal trainers.
In that same article, Gordon was quoted as saying,
I think we're in a pretty good place as far as the future; definitely the future is bright. It's all about having the right chemistry and core of guys that's going to be around and making sure (New Orleans) is the right place to be.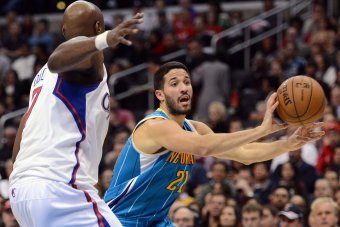 Harry How/Getty Images
Gordon sees what is developing. He knows the talent on this roster. This is his team. It's built around him. General manager Dell Demps has given Gordon a center (Robin Lopez), two power forwards capable of starting (Ryan Anderson and Anthony Davis) and a facilitator at the point (Greivis Vasquez).
The stage is set for Gordon to step in and show his worth. He has to prove he can stay on the court and has the durability to play over 70 games in a season.
In two seasons in the Big Easy, he's yet to reach 50 total games played. His surgically repaired knees are the main reason behind that, but a year to ease back into the speed of the NBA will work wonders for Gordon in the near future.
Williams and Demps have taken serious precautions with their star player to ensure his health for next season. He is still restricted in playing the second game of back-to-back sets, relieving the strain on his knee and giving him some needed rest.
Williams has handled this situation with the intentions of taking care of Gordon's body. He knows the time for the team isn't now. Gordon needs to look at the blueprint from Williams point of view and then he'll realize that New Orleans is headed in the right direction.
His production is way down this year, shooting 40 percent from the field and an atrocious 31.9 percent from beyond the arc.
The fact that he's played in less than half of the season's games, while still leading the team in points per game, is an indication of his true value. Clearly not playing up to his full ability, Gordon is averaging 16.7 points and 3.1 assists per game, slightly below his career average.
John Reid of the New Orleans Times-Picayune reported Williams expects Gordon to be at full health after a summer of rest:
The thing we have to do is manage his rest time and have a full summer with him. This summer is a summer for him to really healthy and get better, so that next year he's at full clip. That's what we anticipate, and that's probably why they put these restrictions on him, to get him to the summertime, so he can fully recover from the surgery.
You can't become a leader overnight, but he has to seize the opportunity to being the leader of a winning team. He needs to understand that there is a heavy burden on his shoulders with the New Orleans fanbase.
Is Eric Gordon going to emerge as a leader in New Orleans?
It will certainly help with a full offseason of workouts with his teammates. A season of maturity will be a big boost for the young talent on the roster, including Gordon.
As the season winds down, Williams isn't going to give his young team a break. He told John Reid of the New Orleans Times-Picayune, "I have a responsibility to get these young guys up to speed as far as the NBA level. That's how it's going to be around here."
This team is built for the future, and inevitably, to make some noise in the Southwest division.
The passion and will to win must be with Gordon on the court. He knows the Hornets front office is devoted to winning with him, now it's time to return the favor.
New Orleans is banking on Gordon to lead its team back to the playoffs. For that to happen, Gordon has to realize he needs the New Orleans Hornets as much as they need him. When he commits to the franchise, there are good things coming.