Closers Without Much Room for Error and Their Potential Replacements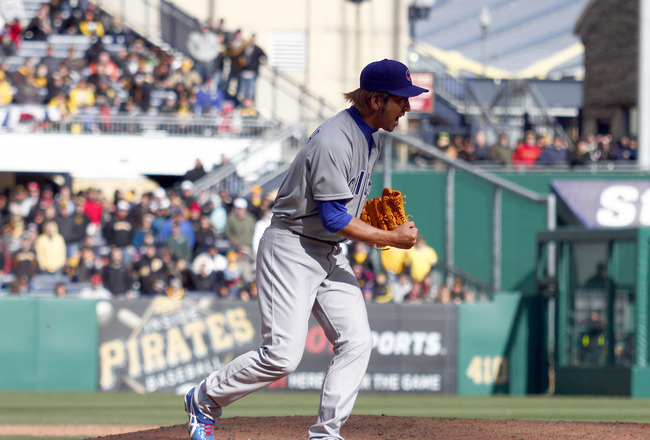 Fujikawa earned his first major league save on Opening Day.
Justin K. Aller/Getty Images
It may only be one game, but that's sometimes all it takes for a closer to enrage the fans enough to call for his replacement. Kind of like a kicker missing a last-second field goal.
In the case of John Axford and Carlos Marmol, a rough Opening Day outing only reminds us that both had lost their closing jobs for part of 2012 and had to finish strong to ensure they returned to the role in 2013.
Here's a look at the situations of Axford, Marmol and three other closers who might have a short leash early in the season...
John Axford, Milwaukee Brewers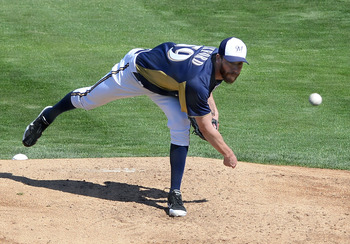 Jennifer Stewart/Getty Images
On his 30th birthday, Axford (pictured) made one bad pitch, and Dexter Fowler hit it out of the yard to tie the game with two outs in the ninth. He did strike out the three other hitters he faced. His team did win in the 10th inning. But it's not like he's coming off a terrific season, so he's not getting a free pass.
Axford blew nine saves in 2012, including seven in 15 chances between June 13 and August 10. He recovered, but the history of a bad season will be magnified with each blown save.
Next in line is Jim Henderson, a 30-year-old journeyman who debuted in the majors last season and surprised with a mid-90s fastball, 3.52 ERA, 13.2 K/9 and 15 holds in 30.2 innings. He saved three games in four chances for the demoted Axford last August before finishing the season in a setup role.
Greg Holland, Kansas City Royals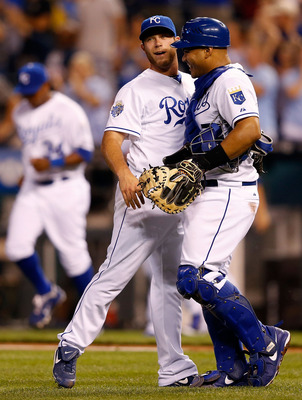 Jamie Squire/Getty Images
Entering his first full season as a big league closer, Greg Holland won't be sneaking up on anyone as he did last season when he took over the role as a relatively unknown reliever after Jonathan Broxton was traded.
He's still probably considered somewhat of a "sleeper" in some fantasy leagues, which is why it's interesting that I already have him on this "hot seat" list. It's probably even more interesting that he's on the list after two terrific seasons (12-5, 2.41 ERA, 3.8 BB/9, 11.7 K/9, 20 SV, 27 holds in 2011-12).
In what I call the "Javy Guerra set up to fail" scenario, the Royals have a deserving pitcher in the closer's role, but one who might be even better currently pitching in the eighth-inning role. That would be Kelvin Herrera.
Guerra started the 2012 season as the Dodgers closer after a strong second half in 2011. Kenley Jansen, who has been one of the more dominant relievers in the game over the past couple years, was his setup man and obviously just a couple blown saves away from claiming the job. No pressure, right?
How many saves will Holland have to blow before the Royals go with Herrera, who throws upper 90s with a plus-changeup? Probably not as many as if Herrera weren't there.
Casey Janssen, Toronto Blue Jays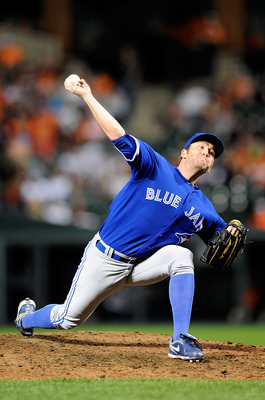 Greg Fiume/Getty Images
Casey Janssen was third in line for saves at the start of the 2012 season. A shoulder injury to Sergio Santos and three consecutive blown saves by Francisco Cordero put him in the driver's seat by early May, and he never looked back, saving 22 of 24 games the rest of the way.
Even with Santos back, Janssen remains in the role because he earned it with last year's performance. That doesn't mean that Santos, who has a mid-90s fastball and one of the filthiest sliders around, can't take the job back from him at some point.
He'll first need to show he's healthy and that he's regained his 2011 form when he had 30 saves and a 13.1 K/9 with the White Sox. Then Janssen's leash becomes extremely short.
Brandon League, Los Angeles Dodgers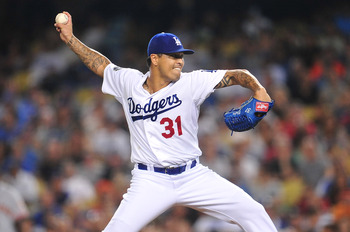 Gary A. Vasquez-USA TODAY Sports
The veteran Brandon League will have more room for error than Guerra did last season before Jansen took his job. But just like last year, Jansen is the more intimidating presence and the better pitcher. It's nice if you have that the ability to throw him out there in the eighth inning of a tight game, but he's the kind of pitcher you typically want out there to get the last three outs.
If the Dodgers get the post-trade version of League, who had a 2.30 ERA with six saves in six chances, he'll keep his job. Prior to his arrival in Los Angeles, however, League had a 3.63 ERA with the Mariners with six blown saves in 15 opportunities. It won't take that much mediocrity to get Jansen back in the saddle.
Carlos Marmol, Chicago Cubs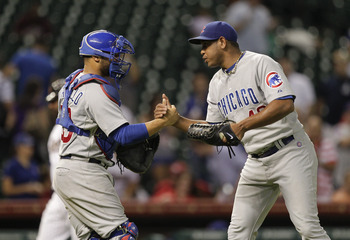 Bob Levey/Getty Images
Because he's been so inconsistent throughout his career, any bad outing Marmol (pictured) has is going to evoke the "oh no, here we go again" response. It's well deserved, though.
The 30-year-old can dominate, and he can be equally as frustrating to watch for Cubs fans. He was awful over the first two months of 2012, lost his closer's job in early May and then was nearly flawless after getting his job back a month later.
After being removed four batters into his first outing of 2013 with only out recorded on Opening Day in a 3-1 win, it's obvious his manager isn't going to mess around.
Kyuji Fujikawa, who retired the last batter of the game for his first major league save, is waiting in the wings and will likely take the job at some point. It could be soon if Marmol has another bad outing or two. It could be after Marmol is traded. Or it could come in 2014 when Marmol departs as a free agent. My money is on option No. 1.
Keep Reading