The 10 Best Draft Picks in Dallas Cowboys History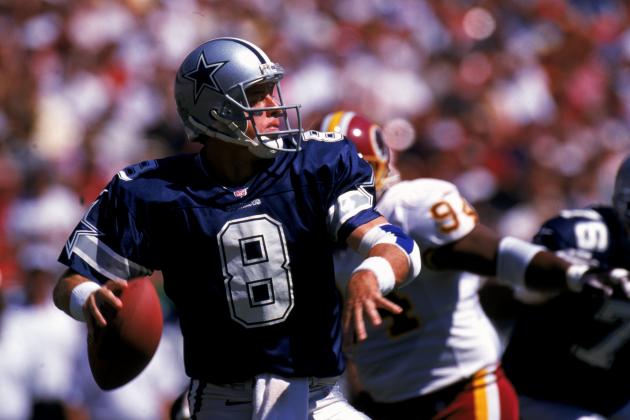 Doug Pensinger/Getty Images

The Dallas Cowboys did not become one of the most accomplished NFL franchises without having a few draft picks work out along the way. Given the Cowboys' years of success back in decades like the 1990s and 1970s, making a top 10 draft picks list is not the easiest task.
Ultimately, the deciding factors came down to both the individual success of the player and the team while the player was with Dallas. The round in which a player was drafted and how well they returned that value through production was also factored in.
With more than a few names to consider for this list, let's take a look at which illustrious Cowboys made the list.
Begin Slideshow

»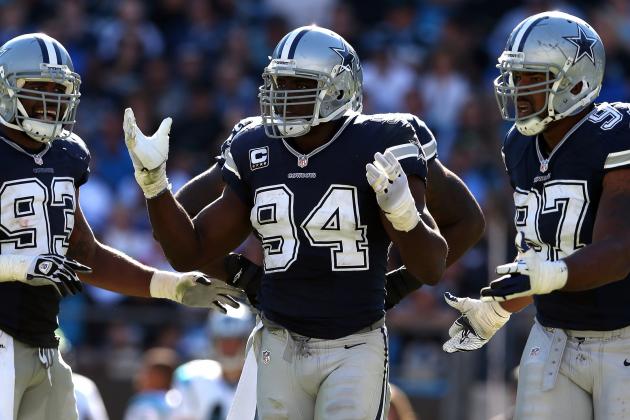 Streeter Lecka/Getty Images

DeMarcus Ware is an arguable future Hall of Fame player considering he's a seven-time Pro Bowler and a proud member of the 100 sacks club.
Ware has been a staple of the team's 3-4 scheme created under former head coach Bill Parcells since being drafted and a captain for almost as long. Ware has posted just one season with less than 11 sacks in his career and has totaled 416 tackles over his seven NFL seasons.
The Cowboys defense has not always been an elite unit during Ware's tenure as a Cowboy, but it was never due to a lack of performance from the Troy product. Without No. 94 lining up for Dallas, the defense would be a much shakier side of the football.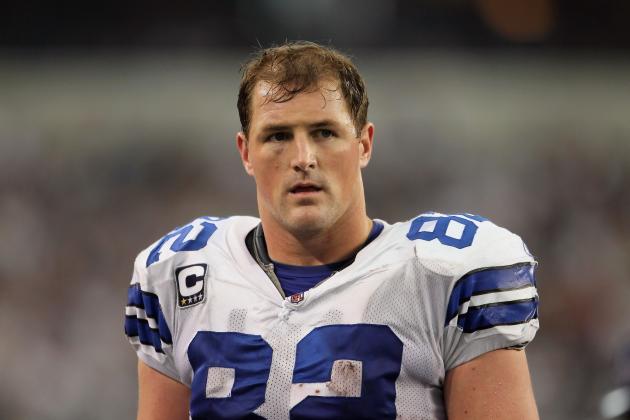 Jeff Gross/Getty Images

Falling into a similar category as DeMarcus Ware, Jason Witten makes this list more on individual performance than team accomplishments.
The former Tennessee Volunteer has recorded four seasons with more than 1,000 receiving yards and seven with at least 900 to his name. Seasons like this has Witten just 52 yards away from 9,000 for his career and flirtatiously close to getting a bust of himself in Canton, Ohio.
Unfortunately for the superstar tight end, if his career ended today, Witten would enter the Hall without a Super Bowl ring on his finger.
Given his individual importance and success with the Cowboys however, this fact likely wouldn't keep him out of the Hall of Fame and doesn't keep him off this list. Statistically speaking, Witten is the best tight end in Dallas history. He's also the team's best receiver statistically in terms of receptions with 806 entering 11th season.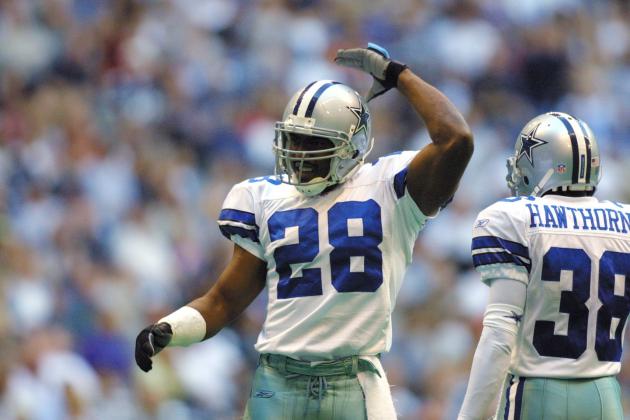 Ronald Martinez/Getty Images

Considering Darren Woodson is the Cowboys' all-time leader in tackles and arguably the franchise's best safety in its history, he was a shoo-in for this list.
Woodson was a member of Dallas' three Super Bowl-winning teams in the 1990s and earned each of those rings. The Arizona State product posted 23 career interceptions, 10 of which came in 1994 and 1996 combined.
Just like DeMarcus Ware is a staple of the current Cowboys defense, Woodson was one of the old Cowboys' biggest anchors during his 12 years with the franchise.
While he hasn't received the call from Canton yet, Woodson made the preliminary list for Hall of Fame choices in 2012 and should get that call in the years to come. Anytime you make or will likely make the Hall of Fame, it's safe to say you were a good draft choice.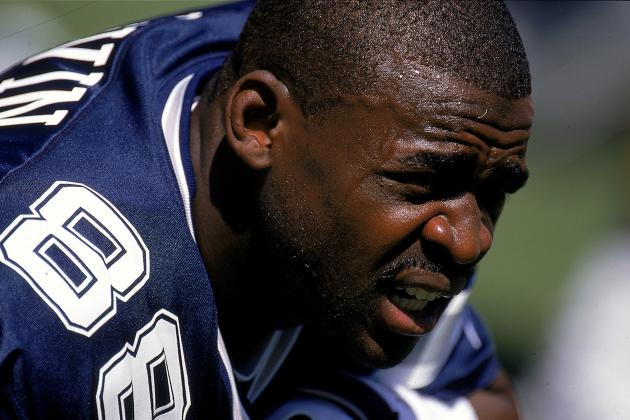 Doug Pensinger/Getty Images

A member of the historic "triplets", a Hall of Famer and a Cowboys Ring of Honor member. That's about as close to a figurative slam dunk to make this list as a player can get.
Michael Irvin is arguably Dallas' greatest wide receiver of all time next to fellow No. 88 Drew Pearson and was fellow franchise great Troy Aikman's favorite target during the two's playing days.
"The Playmaker", as Irvin was called during his playing days, was a lifelong Cowboy and could've had a longer career if not for injuries. There are few better players that have suited up for Dallas since 1960 and he was certainly a first-round pick that worked out pretty well for the Cowboys.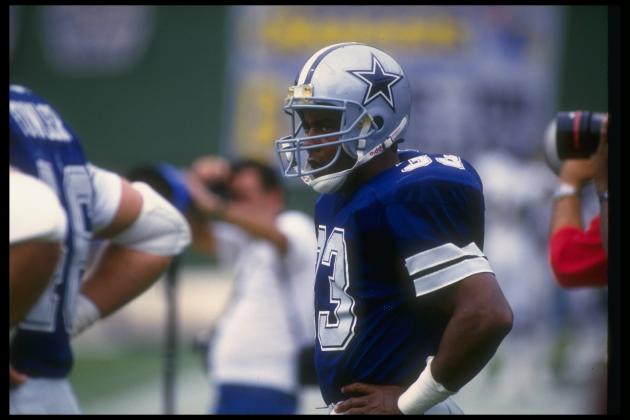 Ken Levine/Getty Images

Picking the 1976 Heisman Trophy award winner with the second overall pick might sound like a "sure-thing" pick, but that's not always the case.
Reggie Bush, Matt Leinart and Ron Dayne are just a few Heisman winners that were never able to live up to their college success in the NFL.
Pro Football Hall of Famer Tony Dorsett was able to do what some other Heisman winners have not and that's take his dominance to the pro stage.
The Pittsburgh product had just three seasons with less than 1,000 yards rushing during his decade in Dallas and helped the Cowboys win Super Bowl XII.
Before Emmitt Smith came to town in the 1990s, Dorsett was the best rusher to ever don the Dallas star and is still one of the best to ever do so.
Given his consistent production during his time with the Cowboys, there's no viable reason to leave Dorsett off this list.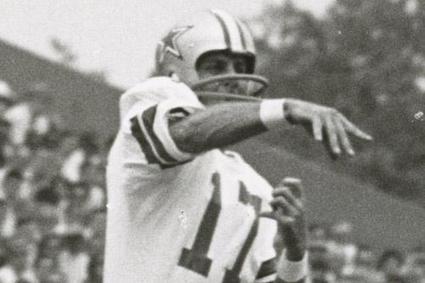 Photo courtesy of fanpop.com
Before there was Roger Staubach, Troy Aikman or Tony Romo, Don Meredith lined up under center for the Dallas Cowboys.
Dandy Don might not have the stats that some of the other Dallas quarterback greats posted over their careers, but that doesn't change his significance.
Meredith was a three-time Pro Bowler, a two-time All-Pro and helped bring the upstart Cowboys franchise onto the NFL scene.
Dallas went through the growing pains all NFL franchises do during Meredith's early days, but that changed later in his career.
The Cowboys made it to the postseason each of No. 17's last three seasons as a pro from 1966-1968.That emergence onto the pro football scene in the late 1960s thanks in large part to Meredith.
Considering Dallas was entering its first draft as a franchise, it couldn't have asked for more out of the third-round investment out of Southern Methodist.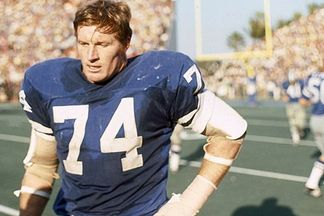 Photo courtesy of BobLilly.com
Known as the one and only "Mr. Cowboy", Bob Lilly is easily one of the most decorated Dallas players and one of the best draft picks in franchise history.
Lilly was taken just one year after the Dallas Cowboys came into existence and anchored the team's defense for over a decade.
Lilly only captured one Super Bowl championship when Dallas defeated Miami in Super Bowl VI, but his accomplishments go beyond that.
Mr. Cowboy made the NFL's 1960s and 1970s all-decade teams, received 11 Pro Bowl selections, is a Pro Football Hall of Famer and Cowboys Ring of Honor member.
In the first round of the NFL draft, teams are always afraid of drafting and paying a guy that ends up failing to live up to their hype. For being such a young franchise, the Cowboys did alright selecting Don Meredith and Bob Lilly in their first two draft classes.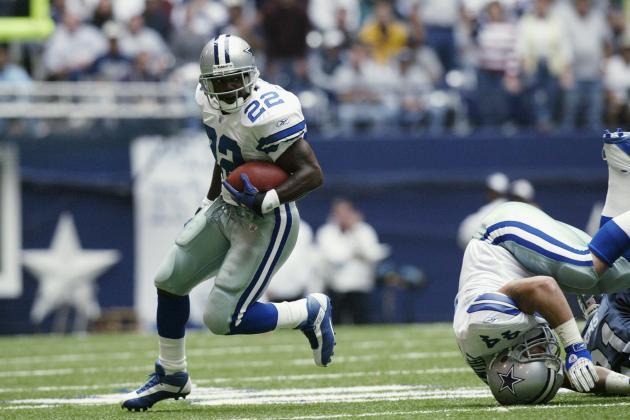 Ronald Martinez/Getty Images

He's a Hall of Famer, an eight-time Pro Bowler and the NFL's all-time leading rusher. It's safe to say Emmitt Smith was a first-round pick that worked out well for the Cowboys.
Smith once helped the Cowboys win their 1993 regular-season finale with their arch rival New York Giants with a broken shoulder. He had just two seasons without reaching the 1,000-yard mark and both those years he finished with more than 900 yards.
Emmitt Smith is as important to the history of the Cowboys franchise as any of the team's list of legendary players.
There's really no need to explain that Dallas hit the jackpot by drafting the former Florida back in 1990. Anyone who knows who Smith is understands just how historic a career he had in the NFL.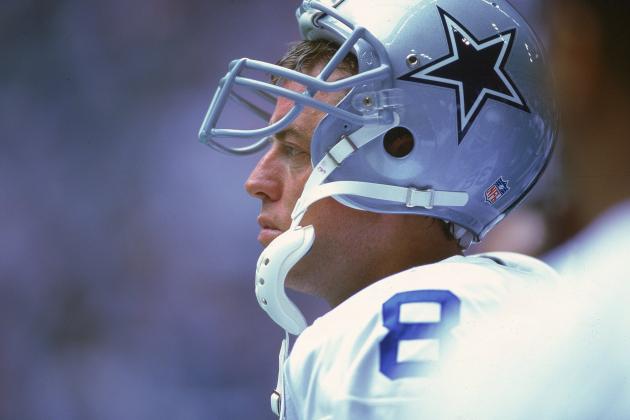 Ronald Martinez/Getty Images

The ring leader of the triplets, a Hall of Fame quarterback and one of the best to play his position in the 1990s, Troy Aikman was a No. 1 overall pick that worked out pretty well.
Just like drafting Heisman winners doesn't always work out, there are more than a few cautionary No. 1 overall picks through the years. Ryan Leaf, Alex Smith and Jeff George didn't work out for the teams who selected them despite the draft-day hype.
Luckily for the Cowboys, Aikman did nothing but live up to his No. 1 overall selection. He led the Cowboys out of some bad seasons to end the 1980s and into the dynasty years of the following decade.
Dallas became the first team to win three Super Bowls in four seasons with Aikman at the helm and the other triplets in Michael Irvin and Emmitt Smith helping along the way.
The UCLA alum went to six Pro Bowls, was selected to three All-Pro teams and won the Super Bowl XXVII MVP. There's plenty more accomplishments that Aikman racked up in his career, but the point is he's a Cowboys legend and a shining example of a first overall pick that worked out as planned.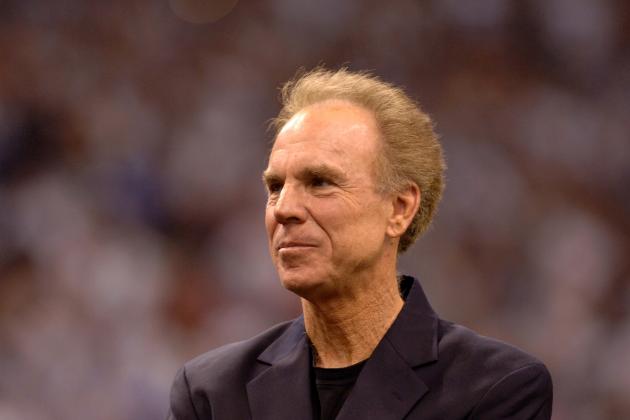 A. Messerschmidt/Getty Images

Roger Staubach did not get as much love as Troy Aikman did on his draft day, but the former set the bar for what it means to be the Cowboys starting quarterback.
Staubach was taken in the 10th round of the NFL draft but couldn't play with the Cowboys until 1969 due to his military obligations coming out of Navy.
In sports, there is a common feeling that being the shortstop for the New York Yankees and being the starting QB for the Cowboys are the most popularized positions in American sports. The reason for that feeling on the Cowboys side is thanks to the road that Staubach paved.
The Navy man brought the Cowboys to five Super Bowls, winning two of them and won the Super Bowl VI MVP award.
Staubach brought the Cowboys their first taste of what it means to be an NFL powerhouse in the 1970s, battling throughout the decade with Terry Bradshaw and the Steelers.
The game has changed plenty since "Captain Comeback" last put on a Dallas helmet, but he is still the greatest quarterback the Cowboys have ever and may ever see.