New York Knicks vs. Miami Heat: Postgame Grades and Analysis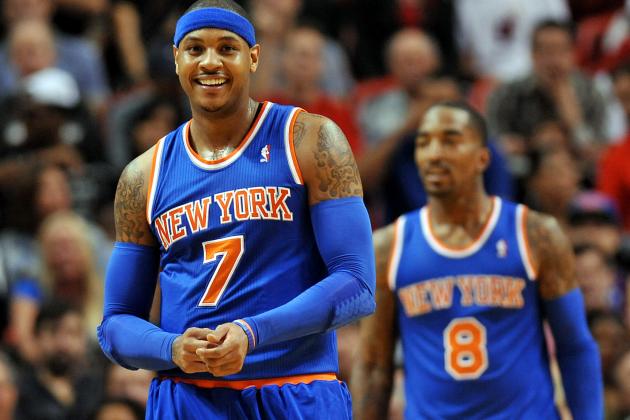 Steve Mitchell-USA TODAY Sports

Who needs LeBron James and Dwyane Wade?
The Miami Heat do.
LeBron (hamstring) and Wade (ankle) watched from the sidelines as Carmelo Anthony torched the Heat for 50 points, leading the Knicks to a 102-90 victory in Miami Tuesday night.
It was the Knicks' third win against the Heat, giving them the season-series edge. New York also moved back ahead of the Indiana Pacers (in terms of percentage points) for second place in the Eastern Conference.
Miami took an eight-point lead into the half, but Melo scored 15 in the third and the Knicks outscored the Heat by 10.
Chris Bosh and Co. put up some fight in the fourth, but the Knicks began to pull away in the final four minutes, ultimately holding Miami to just 32 second-half points.
Clearly, life without LeBron and Wade isn't all buzzer-beater victories over the San Antonio Spurs for the Heat.
Begin Slideshow

»
Raymond Felton, PG, Knicks: B
So many people are going to hate me, but I am not impressed with Raymond Felton.
The point man finished with 10 points, nine assists and one steal, but I find myself cringing every time he touches the ball.
Felton can get to the rim, I'll give him that. He's even a deft passer when he wants to be. But the man holds onto the ball for too long, and when he attacks, he's reckless. Not the good kind of reckless, but eyes-closed, ball-exposed kind of reckless.
He coughed the rock up four times and missed all three of his three-point attempts, every single one of which was a wide open look.
People continue to assert that Felton is a barometer for this Knicks team, but I disagree. He's of significance, but not as important as he was expected to be.
Norris Cole, PG, Heat: B-
I wanted to give Norris Cole a better grade, I really did, but he had seven turnovers. He made Felton look like Ball Protector of the Year.
Outside of those miscues, however, Cole played extremely well. He shot 6-of-12 from the floor and finished with 14 points.
He forced two steals as well and continued to hassle the Knicks on the perimeter; he, for one, was not the reason New York hit on 14-of-27 treys.
Even with Cole knocking down some shots, you could tell the Heat definitely missed the playmaking abilities of LeBron James and even Mario Chalmers. Cole had just three assists, and again, those seven turnovers.
You know you're in need of a primary distributor when you're turning to Ray Allen to run the offense down the stretch.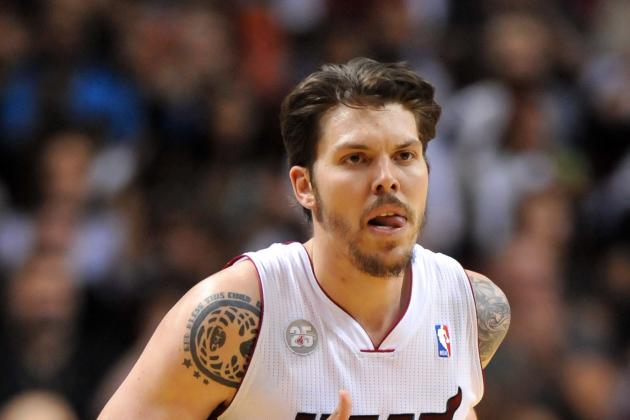 USA TODAY Sports

Pablo Prigioni, SG, Knicks: B
What can you say about a guy who saw just 13 minutes of burn?
In this case, acknowledging that he made the most of it would be a good start.
Pablo Prigioni knocked down his only shot, a three. That's a cause for celebration in itself. Not that he made it, because he can shoot, but because he hoisted one up in the first place.
I'm a big fan of Prigioni's full-court presses also. Few players press the way he does every time they're on the floor. It's just awesome.
Aside from his single deep ball, Pablo came up with an assist, rebound and steal. All in a day's work work, I suppose.
By "day's work," I of course mean quarter of an hour's worth of light labor.
Mike Miller, SG, Heat: A
It was Miller time! And then all of a sudden it wasn't.
Mike Miller scored 18 points in the first half, and then didn't score again. He came out firing in the third quarter, but missed three shots in a span of two possessions and never seemed to regain his offensive composure.
Why the generous grade? The dude played 37 minutes.
He's one of the most fragile players in the league and managed to hang tough. He also clawed his way to eight rebounds, four assists, one steal and two blocks in what was easily his best display since Game 5 of the NBA Finals.
LeBron James would have been proud...had the Heat not lost.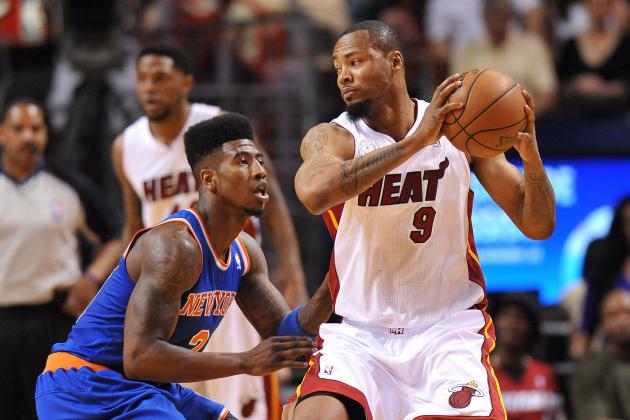 Steve Mitchell-USA TODAY Sports

Iman Shumpert, SF, Knicks: B+
Unlike some, I've been more than impressed with Iman Shumpert's performance since returning from injury.
His jump shot has more arc, and it shows. He continued his hot shooting from the outside, knocking down 3-of-5 from beyond the arc for nine points.
Shumpert's court vision when he gets into the paint has improved as well. Last season, he mostly relied on his athleticism, putting his head down and trying to force his way to the rim. Now, he's looking for cutters, more prone to dishing and boasts a tighter handle.
Defensively, Shumpert was solid as well. I continue to be amazed with how well he's moving laterally, and he's easily the best at fighting over screens on the squad.
The Knicks would like to see Shumpert attack the rim more, but his explosiveness will come. For now, just enjoy his continued two-way resourcefulness.
Rashard Lewis, SF, Heat: D
So, yeah. This seemed like the type of game Rashard Lewis could do some damage in, but it wasn't.
The stretch forward attempted just two shots in 28 minutes and was held scoreless. Why? He was too stationary on offense—more so than Steve Novak.
Lewis did come up with a pretty block and helped in forcing a turnover, preventing him from receiving a big fat "F." Unless you're glass is always way more than half full, that probably doesn't mean much.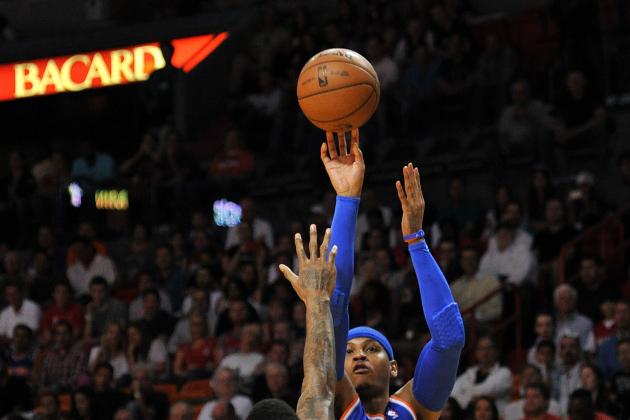 Steve Mitchell-USA TODAY Sports

Carmelo Anthony, PF, Knicks: A+
Carmelo Anthony should've went for 60-plus. And I'm only half-kidding.
Melo was simply outstanding on offense. He dropped 50 points on 18-of-26 shooting from the floor and connected on seven of his 10 three-pointers.
What you had to appreciate about this performance is that Anthony rarely forced anything.
There were a few questionable shots and trademark heat checks, but he kept the ball moving. He dished out just two assists, but he had no qualms about being used as a distraction on certain possessions. The dime he handed off to Steve Novak to end the third quarter was a thing of beauty as well.
If I had to nitpick (and I do), two rebounds isn't acceptable against a terrible rebounding team like the Heat.
Well, I guess I'm lying...it's perfectly fine if your team wins and you drop 50 or more in the process.
Udonis Haslem, PF, Heat: B
Udonis Haslem didn't do much, but then again, he didn't have the opportunity to.
Miami's all-time leading rebounder saw 20 understated minutes of action. He grabbed just two rebounds, but came up with a steal and went 3-of-4 from the field.
There's not really much I can say about his performance. It wasn't bad by any means, but it just didn't stand out.
Haslem did provide some nice weak-side defense early on, but he continues to be less than aggressive when closing out shots.
Most importantly, his role remains a bit undefined. It will be interesting to see how the Heat use him come playoff time.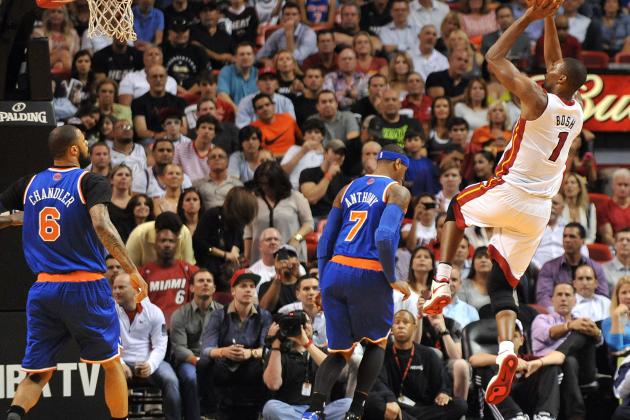 Steve Mitchell-USA TODAY Sports

Tyson Chandler, C, Knicks: C+
I almost gave Tyson Chandler an "A" just because I was so excited to see him on the court, but alas, it wasn't to be.
Chandler didn't have a good game by conventional standards, but he managed to log 24 minutes and block two shots.
His timing was off when it came to the defensive help, and he didn't seem to get up for rebounds as easily with that stiff neck. But he navigated the court well. He also didn't shy away from contact.
Plus, let's face it, the Knicks were just happy he was able to suit up.
Chris Bosh, C, Heat: B+
There were no late-game heroics in store for Chris Bosh here, but he still played well.
Bosh finished with 23 points on 6-of-13 shooting from the field and went a perfect 10-of-10 from the foul line. He also pitched in six rebounds and four assists.
Chandler and Kenyon Martin did a good job limiting Bosh's shot opportunities, though. They kept hacking him when he went up to the rim and constantly forced the ball out of his hands.
Personally, I would have liked Bosh to take over the game a little bit more with LeBron and D-Wade resting.
It becomes a whole lot harder to do that, though, when your teammates aren't really looking to run the ball through the post.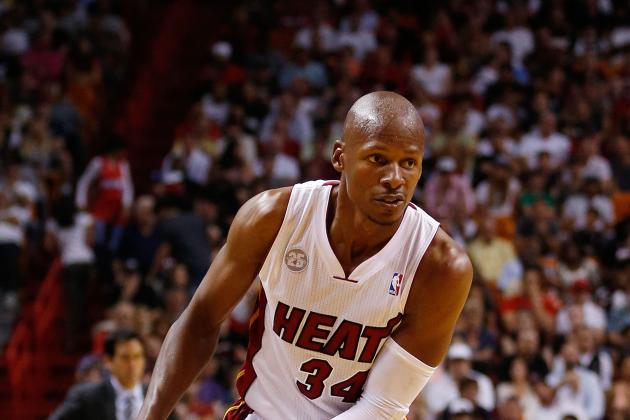 USA TODAY Sports

J.R. Smith, SG, Knicks: B-
Can you honestly say you're surprised?
J.R. Smith is notorious for toiling with our emotions. One game he's on fire, the next, he's ice cold. In this one, he was somewhere in between.
He finished with 14 points on 5-of-15 shooting. At more than one point, he was back to his old habit, settling for jumpers when he should have been attacking the basket.
What I've come to notice, however, is that Smith seems to be the Knicks' go-to man with the shot clock winding down, which would help explain his shot selection.
Knowing full well that I may be going too easy on Smith, I was impressed with other aspects of his game. He rebounded the ball well (six) and did a nice job defensively. He had some good hard fouls and provided better help defense than most of his teammates.
And hey, you know you've seen worse from him.
Ray Allen, SG, Heat: B+
What maintenance program?
As his two star teammates watched from the sidelines, Ray Allen was busy knocking down jumpers and (*gasp) even getting to the rim.
Allen finished with 16 points on 5-of-7 shooting and even picked up a couple of assists.
Though he provided a nice offensive spark off the bench, New York did a good job of locking him down in the fourth quarter. He was doubled and forced to defer to his teammates, who just weren't hitting shots.
Still, it was a solid performance from the second-oldest member of the Heat, who spits in the face of a rest and relaxation. For now, anyway.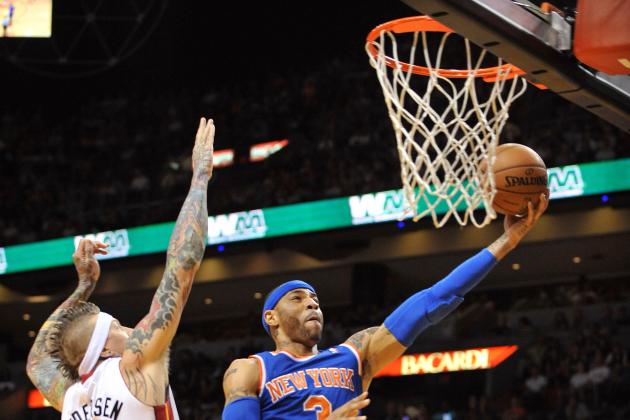 Steve Mitchell-USA TODAY Sports

Knicks: B
New York's bench wasn't all it's normally cracked up to be in this one.
Kenyon Martin provided some nice minutes off the pine, grabbing six rebounds and going 4-of-7 from the field for nine points. But outside of him (and, of course, J.R. Smith), no one was able to do much.
Steve Novak spent 13 minutes on the hardwood, mostly as a floating decoy on offense. He finished with just three points on 1-of-2 shooting from deep.
Jason Kidd struggled as well.
He tried almost too hard to facilitate the offense, deferring to Martin and others when he had a clear path to the basket. He missed the only two shots he took, but did come up with two steals.
Chris Copeland was mostly a non-factor as well, mostly because Mike Woodson used him less than sparingly. He saw just eight minutes and finished with three points.
Nothing too great from the second-highest scoring bench in the league, but luckily for the Knicks, it was enough.
Heat: C-
Miami's second unit didn't fare any better than New York's.
Chris Andersen played some stellar defense in the post. Though he played just 10 minutes, he was a big reason why the Knicks finished with just 18 points in the paint.
Shane Battier wasn't horrible, and he put forth some nice defensive sets, but he struggled on offense. He went just 1-of-5 from the floor for five points. He missed more corner threes than we're used to seeing.
Let's not even get started on James Jones. You'd think he would receive more than 10 minutes while the Heat are in the midst of their maintenance program, but he just couldn't grasp the flow of the game. He was held scoreless and got burned a time or five on defense.