Alabama Football: 4 Internal Issues That Could Threaten Tide's Dynasty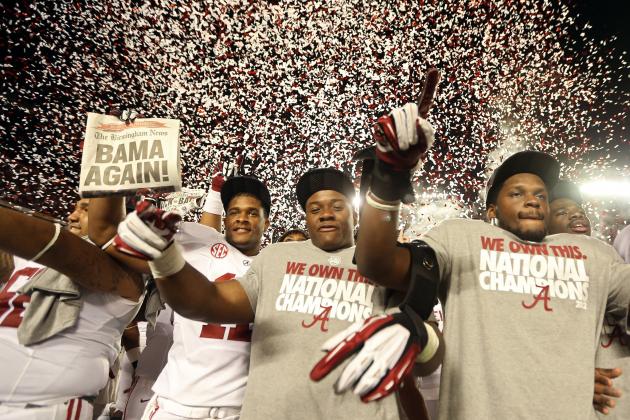 Streeter Lecka/Getty Images

They have won three BCS national championships in the last four years and will be among the odds on favorites to win another in 2013. Yes, the Alabama Crimson Tide are definitely in the midst of a college football dynasty.
Unfortunately, dynasties do not often last for long and they most certainly do not last forever.
While it appears that head coach Nick Saban has the Tide primed to dominate the college football world for years to come, there are a few things that could derail Alabama's magical ride.
As much as the 'Bama nation wishes not to think about it, sometimes the little things are the ones that can trip up a dominant program.
Then again, sometimes it's the big ones.
Since it doesn't look like there is another program ready to knock the Tide off it's stoop, here are four potential internal issues that could slow the Tide's roll.
Begin Slideshow

»
Marvin Gentry-USA TODAY Sports

The unfortunate resignation and passing of longtime Athletic Director Mal Moore last month left a huge hole in the Alabama athletic department.
With help from a strong endorsement from Moore, former Tennessee head coach Bill Battle was quickly hired on to replace him.
Battle is a 'Bama man who played under coach Bear Bryant and later served as an assistant under him, but he's not Moore.
As reported by al.com, Saban was quoted as saying that "Mal was the No. 1 reason we decided to move to Tuscaloosa". That's a pretty strong endorsement coming from a man like Saban.
While there is no reason to believe that Battle will upset the apple cart and totally change the way that the Alabama athletic program operates, the status quo has changed. Thus the threat.
Again, Moore would not have targeted Battle if he were concerned about it becoming a problem.
Still, Saban had surely become accustomed to working for Moore in his seven years with the Tide and all indications are that the two had a very healthy relationship. The unavoidable interruption to that relationship leaves Saban with no choice but to adapt to a new boss.
Even though Battle may be a stand up guy and a proven winner, the wrong kind of personality clash between him and the coach that brought us here could be extremely detrimental to the future of the Tide dynasty.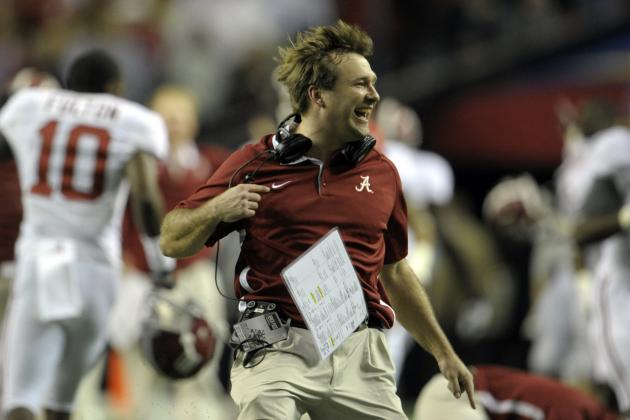 USA TODAY Sports

In his tenure with the Tide, Saban has seen no less than 11 assistant coaches leave his program for what they hoped would be better opportunities.
One of the ramifications of extended success is that every athletic director and head coach in the land wants to know how it came to be. They want a piece of the winning pie and will pay good money to tear away a quality assistant coach if they can get him.
So far, Saban has been able to replace the departed pieces of his staff with comparable coaching talent that has been able to blend in to the program with little more than a hiccup.
But how long can that last? In five of the last six years, Saban has lose at least two coaches at season's end.
The most coveted, defensive coordinator Kirby Smart, has yet to be pulled from his grasp. But that won't last.
If Smart were to leave, and it won't be long until he does, he could take a few others with him. That kind of depletion could be difficult to fill and may be a loss that cannot be overcome in one short offseason.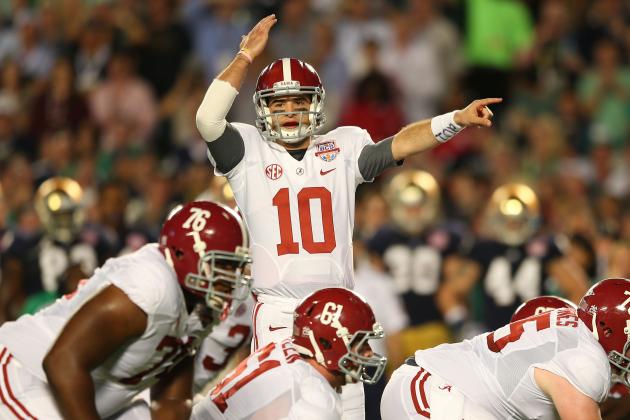 Mike Ehrmann/Getty Images

If current quarterback AJ McCarron is not the best Alabama has ever seen, he is certainly on track to be.
If McCarron had suffered a season ending injury last year, we all know that Alabama would not have won the national title.
Throughout the Tide's run, there have been injuries. Last year, receiver Chris Black and running backs Dee Hart and Jalston Fowler were all lost for the year early on. Kenny Bell went down for the count in the second half of the season.
Fortunately, Alabama is so deeply stocked with talent that it was able to overcome these losses. But at quarterback there was no option behind McCarron who would have been equipped to lead the Tide offense like McCarron did.
Sure, there is talent backing him up, but that talent is raw, unproven and untested right now.
The case will be the same in 2013. If McCarron goes down, the Tide will be in big trouble. It won't be enough to remove them from the national scene, but it will put an end to any thoughts of a three-peat.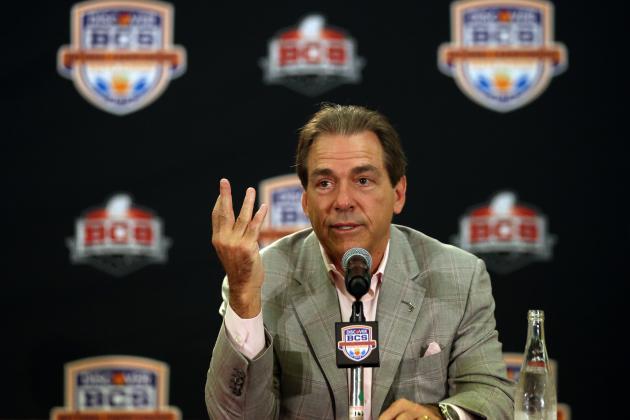 Streeter Lecka/Getty Images

It seems to happen every year. Alabama wins a national title and suddenly the rumors start to fly.
Saban's name comes up virtually every time a top college job comes up and every time any NFL position becomes available. Last year it was the Cleveland Browns.
To date, Saban has shot down all of these rumors. He has stated repeatedly that his home is in Tuscaloosa and that this is his last stop.
Still, even for the one coach who seems to be incapable of becoming complacent, one would think that eventually the quest for another challenge would get to him.
Saban is a true genius. Geniuses have historically struggled to remain comfortable after conquering their dreams.
My guess is that Saban is here for the long haul and that he has no desire at this point to start over again.
He has built his masterpiece in Tuscaloosa and would surely never want to leave it only to see someone else mess it all up, right? Right?
The Alabama family continues to tell itself this year after year with believable confidence in their voices. But deep down the majority of them secretly have their doubts. It's only natural.
Let's face it. When Saban goes, the dynasty will go with him.