Brad Pickett vs. Mike Easton: Head-to-Toe Breakdown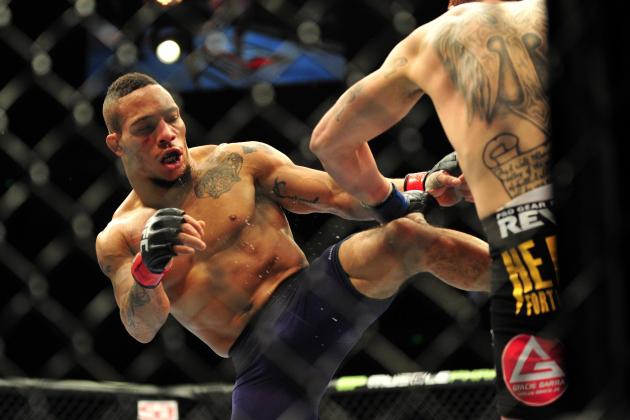 Don McPeak-USA TODAY Sports

With the removal of Alexander Gustafsson from UFC on Fuel 9's main event, Saturday's most intriguing matchup very well may be Brad Pickett vs. Mike Easton.
It's a bout that has the potential to dazzle and features one of the night's most competitive pairings. Perhaps it's not main-event material, but it's probably more deserving of that status than any other match from the event.
Here we will take a look at the fight between Pickett and Easton, and examine how it is likely to play out. We will assess which fighter has an edge in each of the striking, wrestling and submission areas of the game, and use those assessments to project the fight's probable winner.
Begin Slideshow

»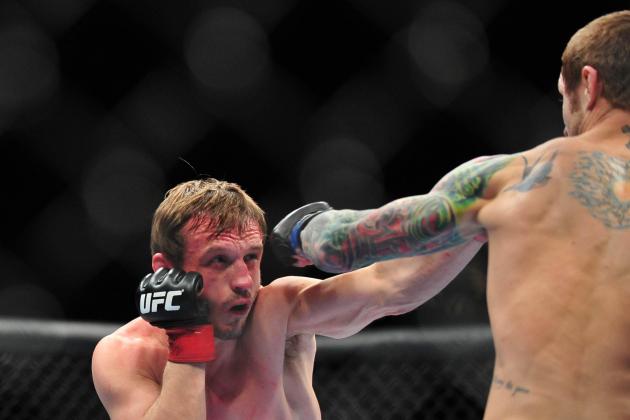 Gary A. Vasquez-USA TODAY Sports

Brad Pickett
Pickett is a well-rounded fighter, but striking has to be considered his primary weapon. Though he's nicknamed "One Punch," Pickett tends to reply more on landing combinations to accumulate damage than he does on haymakers, even if he is capable of ending a fight with one blow.
His striking defense isn't terrible, but he does get hit perhaps a little too much. Helping matters in that regard is that he owns a pretty solid chin.
Mike Easton
Easton favors an in-your-face style of striking offense, which sees him swing and miss a lot, as well as getting hit every now and then. But, it also allows him to prevent opponents from getting comfortable.
Last time out Easton was outclassed on the feet by Raphael Assuncao, who countered him all night, and that will be something Easton has to watch out for against Pickett. If he hasn't figured out what to do with an opponent that won't be bullied or directly engage, he may be in trouble.
Edge: Pickett
Both guys can do damage on the feet in this matchup, but I side with Pickett as the more experienced, more fluid striker.
Finishing the job via strikes will be a tall order for the Brit, but scoring points is something that he should be able to do for the majority of the bout.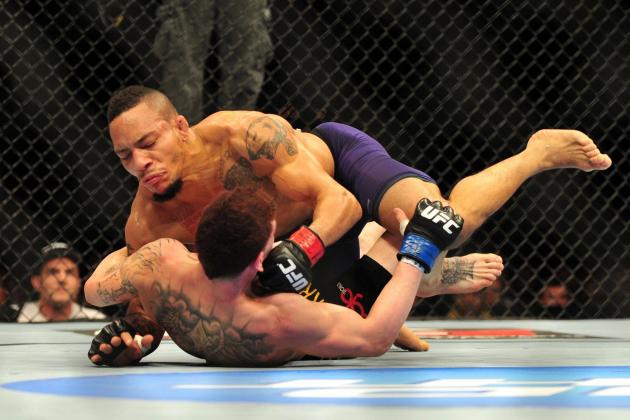 Don McPeak-USA TODAY Sports

Brad Pickett
Pickett's wrestling is deceptive. He doesn't rely too heavily on the takedown, but he is often successful when he goes for it.
He is also fairly solid in fending off his opponent's shot, though particularly strong wrestlers are usually able to get him down.
Mike Easton
Easton is a strong guy and is pretty good at bullying opponents on the feet, but getting them down he isn't. For his UFC career, he has only succeeded 25 percent of the time he's sought to land a takedown.
Defensively, it quite another story, as Easton is as tough to bring down as it gets. In fact, he's never been taken down by any of his UFC opponents.
Edge: Easton
I have to give the nod to Easton because I can see him scoring a takedown, but I can't see Pickett getting one on him.
That said, the edge here isn't particularly significant.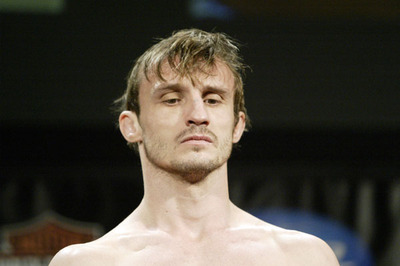 Photo by sherdog.com
Brad Pickett
Pickett's "One Punch" moniker implies that he is a striker, and while that is largely true, he's actually very dangerous on the ground. In fact, he has won more fights by submission than he has by knockout.
He has been submitted three times during his career, but the only one to make him tap since 2008 was Renan Barao, and that's hardly shameful.
Mike Easton
Easton is a black-belt in jiu-jitsu, but he rarely looks for the submission inside the Octagon. That's partly because he spends most of his time on the feet, but also in part because he prefers ground-and-pound to chokes and arm-locks.
His submission defense has yet to fail him as a professional fighter, and it's unlikely that Pickett will end that trend. Still, it's not as though he'll want to be on his back at any point during the match.
Edge: Pickett
This is another slight edge. Easton probably has better ground control, but Pickett is the more dangerous guy in terms of actual submissions.
It's unlikely this bout will end with a tapout, but if it does, chances are that Pickett is the winner.
Photo by mmaweekly.com
Brad Pickett
If Pickett takes a methodical approach to the fight, he should be in good shape. Easton is the stronger man, and if Pickett lets him close the distance, he may end up being taken out of his comfort zone.
He should look at Easton's last fight and model his game plan on Raphael Assuncao's example of making Easton chase him. If he does that, his quick hands should carry him to a decision win, or possibly even a stoppage.
Mike Easton
Easton has historically been a slow starter and that hampers his chances here. He needs to be aggressive early and stay that way for as long as he can.
He would be well-served to close the distance whenever possible and not allow Pickett to dance around in the pocket, pelting him with punches.
Throwing in a takedown attempt here and there would also be a good idea, even if they do nothing but keep Pickett guessing.
Projected winner: Pickett
This should be a competitive fight, but I see Pickett outscoring Easton on the feet, earning himself at least two rounds. A stoppage isn't out of the question, but I think over-aggression would doom Pickett, so he'll keep cool, content in winning a victory by landing in large quantities, rather than in singular explosions.
Pickett def. Easton via unanimous decision