UFC on Fuel 9: Predicting the Fight Night Bonuses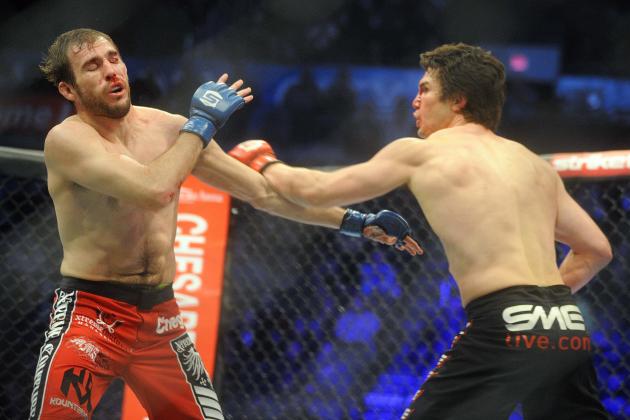 USA TODAY Sports

The UFC's return to Sweden has been a roller-coaster ride as of late, with the pull out of headliner Alexander Gustafsson rocking the MMA world. Nevertheless, the show must go on. Teammate Ilir Latifi will take his spot and scrap with Gegard Mousasi instead.
Also on the card are a number of European prospects, seasoned veterans and exciting fighters that will make this must-see television. Fuel TV cards always bring exciting action and a great look into the future of the UFC.
Here are the predictions for the bonuses come fight night.
Begin Slideshow

»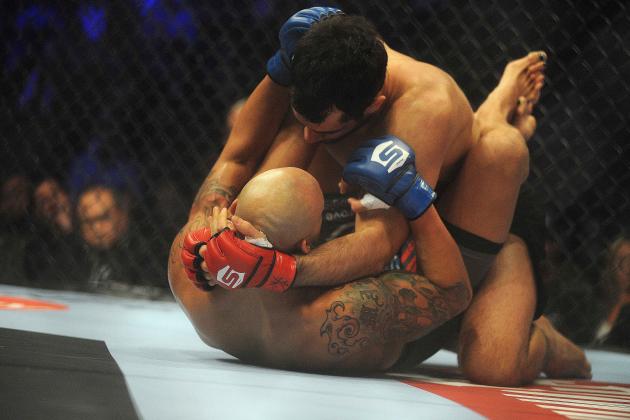 USA TODAY Sports

Most of the fights on the card don't look like bouts that will end by submission. In fact, if they do get finished, they will likely be by knockout.
With that being said, in the main event, seasoned mixed martial artist and headliner Gegard Mousasi has all the tools to earn a tapout. He is taking on Ilir Latifi, who took the fight on short notice for teammate Alexander Gustafsson.
Three of Mousasi's last four finishes have been via submission. If he drags Latifi down, look for him to soften the Swede up with ground strikes and potentially tap him out for the win.
Also in the running: Tor Troeng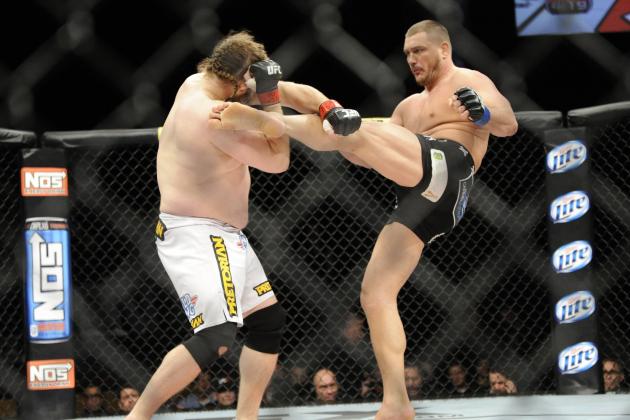 Josh Holmberg-USA TODAY Sports

Fans love heavyweights. More than that, they love heavyweight knockouts.
Matt Mitrione is known for his hands, speed and athleticism. He packs a solid punch and has mean intentions with every strike he throws.
Phil De Fries, Mitrione's opponent, has fallen twice in his UFC career by knockout. His striking is suspect at best, but his defense on the feet is even more questionable.
Mitrione will touch De Fries early and often. It will lead to the best knockout of the night and a nice bonus check for the former NFL defensive lineman.
Also in the running: Robbie Peralta, Adlan Amagov, Conor McGregor-Marcus Brimage winner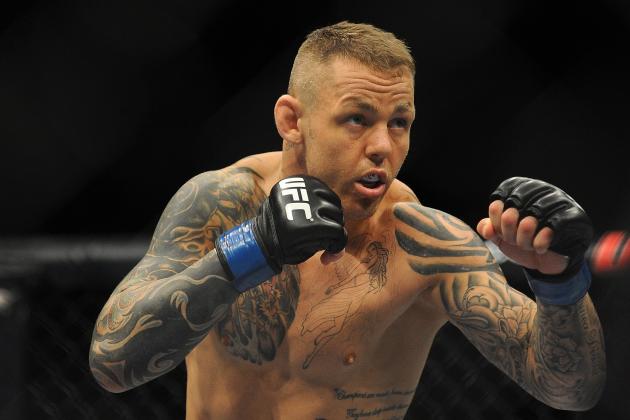 Matt Roberts/Getty Images

Ryan Couture may still be a little green in the cage, but his fights do not lack excitement.
In his brief MMA career so far, Couture has made a habit of testing his skills on the feet before utilizing his wrestling. In his bout against KJ Noons, Couture decided to test his boxing against a dangerous striker and walked out the winner (albeit in controversial fashion).
Ross Pearson is an aggressive power striker who looked great in his return fight to 155 pounds. He favors an on-the-feet brawl with his opponents, which is a style that could create fireworks against Couture.
I expect this fight to be one of the most exciting of the night, assuming they stay aggressive throughout.
Also in the running: Diego Brandao-Pablo Garza, Akira Corassani-Robbie Peralta, Marcus Brimage-Conor McGregor