Should Franck Ribery Have Been Sent off for Studding Arturo Vidal?
Use your ← → (arrow) keys to browse more stories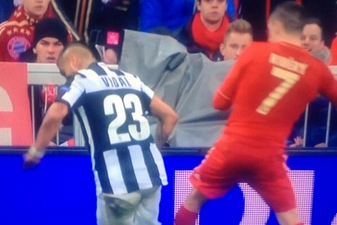 An ugly mistimed tackle from Bayern Munich's Franck Ribery left Juventus midfielder Arturo Vidal left in a crumpled heap during the Champions League quarterfinal on Tuesday. In the 82nd minute, and with Bayern cruising 2-nil over the Bianconeri, Ribery grated his studs down Vidal's calf as the Bayern forward tried to win possession for his team.