New York Knicks vs. Miami Heat: Live Score, Results and Game Highlights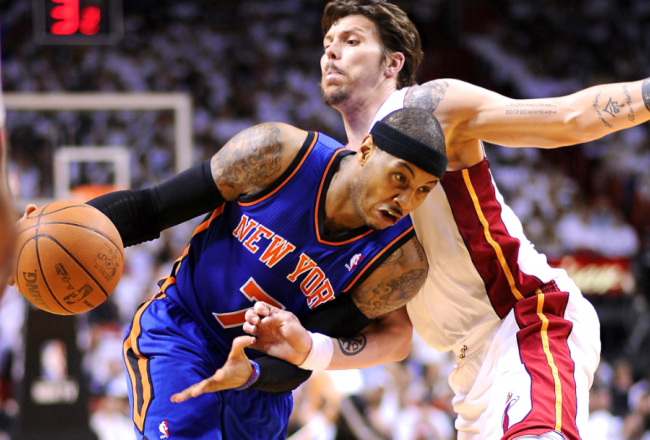 Led by Carmelo Anthony's career-high 50 points, the New York Knicks took the season series against the Miami Heat with a 102-90 win Tuesday, and moved into second place in the Eastern Conference.
Anthony scored 50 points for the third time in his career—the first as a Knick—to help down the defending champs sans LeBron James and Dwyane Wade. J.R. Smith added 14 points and six rebounds, Raymond Felton scored 10 points with nine assists, and Kenyon Martin dropped nine points, grabbed six boards, and committed three hard fouls on Miami in the paint.
Chris Bosh led the way for Miami with 23 points to go with six boards. The unlikely trio of Mike Miller, Norris Cole and Ray Allen led the way for Miami in the first half but fizzled down the stretch.
Tyson Chandler returned for the Knicks and scored a single point but played clutch defense to close Miami out down the stretch.
New York moves to 21 games over .500—their high-water mark on the season. They seem to be peaking at just the right time, after a midseason mini-stretch of futility.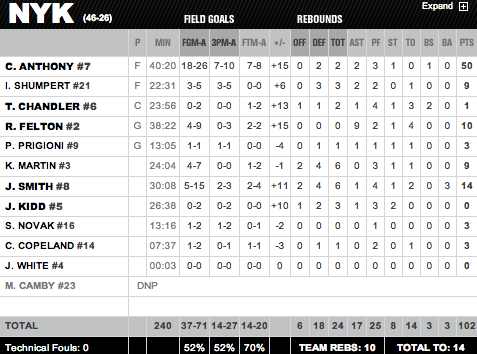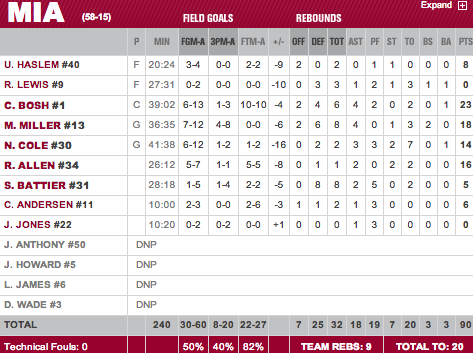 Carmelo drains one last jumper to tie his career-high of 50 points, and the Knicks win the game 102-90, and the season series 3-1.
The Heat had four scorers in double-digits led by Chris Bosh with 23 points.
Down 11 with two minutes left, the Miami crowd has predictably emptied out. Pencil this one in as a Knicks W.
JR Smith tells the crowd to pipe down.

— Darius Soriano (@forumbluegold) April 3, 2013

45 minutes into the game, Tyson Chandler is finally on the board. He splits a pair of free throws and has one point and two boards.
And before I can finish typing the above paragraph, Chandler comes up with a swat leading to a potential dagger three-ball from J.R. Smith.

The Knicks come up with a stop, forcing Cole to chuck an airball as the shot clock buzzer sounds. The Knicks will take their time now, up seven with under three minutes left.
'Melo has 47, Felton has 10 points with nine assists, Smith has 11 and Martin's scored nine points to go with six boards.
Bosh has taken over in the second half for the Heat, converting on 10-of-10 from the free-throw stripe.

Miami getting sloppy with the ball, as Battier dishes a bounce pass to Spike Lee courtside. 'Melo promptly sinks another mid-range jumper for his 43rd and 44th points.
Timeout #Knicks as they are clinging to a 90-88 lead w/ 5:30 left in the gm. Melo has 42pts & Bosh has 23 for MIA.

— NBA New York Knicks (@nyknicks) April 3, 2013
It's been a struggle for New York on the defensive end.
Our D-Eff is at 117.3.And that's only because we've picked up our defense this half.Ugh.

— Tony (@TweetKnick) April 3, 2013

Anthony eats up a Cole layup attempt off a drive, but coughs it up on the next possession. No matter for New York though, as Shane Battier blows an open three that would've put the Heat up for the first time in the 4th.

Chris Bosh blows by Martin off the dribble, but K-Mart lays the hammer and gives up a foul. Bosh gets both to fall. Buckle up.

Miami just won't let the Knicks pull away. Chris Bosh sneaks behind the last line of Knicks' defenders, and sinks the bucket and the foul. We're all tied with seven-and-a-half left in South Beach.
Andersen gets clobbered again under the rim for a second time, and for a second time it's during a pass, so no free throws for Birdman.
No worries for Miami, though. Bosh drills a three off the in-bounds pass.
KNICKS 86, HEAT 81 —8:25 LEFT IN THE 4TH QUARTER

Miami is letting the game slip away even without Carmelo Anthony playing a part. With 'Melo sitting, the Knicks have gone up six but with 10 minutes left to play.
Felton sinks a nice stepback jumper, possibly the best part of his 3-of-8 shooting night. He has settled down a bit on offense, adding nine assists.

Kenyon Martin throws down a vicious slam, and puts Birdman on a poster. The jam was followed by a few words between the former teammates.

Anthony needs eight points in the final 12 minutes to tie his career-high in scoring, but the Knicks have more important things to worry about—the basketball game.
Regarding 'Melo's otherwise empty stat line:
I understand criticizing Melo's game as one-dimensional but it kinda doesn't work when that dimension is 42 points on 19 shots.

— netw3rk (@netw3rk) April 3, 2013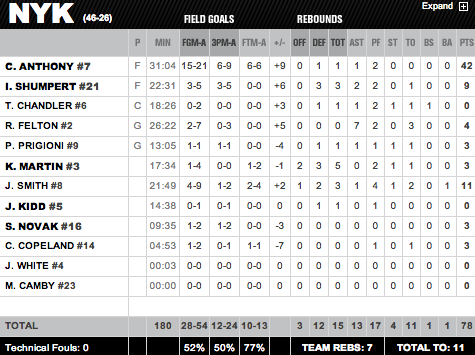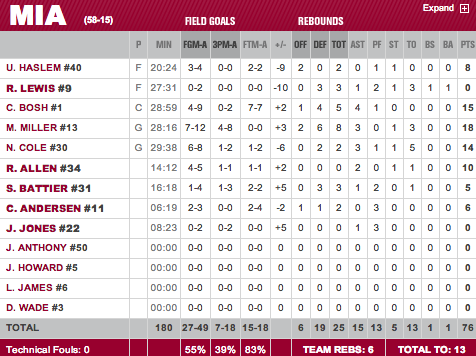 New York closes the quarter with a nice defensive possession followed by a Steve Novak three from the corner as time expires—his first points of the night. The Knicks manage to grab hold of the lead heading into the final period of play between these two teams.
'Melo's at 42 leading the way, and Miami has four scorers in double-digits.

'Melo's at 42 after a tough fadeaway that landed him on the ground. One rebound, zero assists, zero steals for Anthony aside from his scoring.
@jadubin5 "He crushes clavicles with the force of eight baseball bats!"

— Seth Rosenthal (@seth_rosenthal) April 3, 2013

After a blown Jason Kidd-to-Kenyon Martin oop, Norris Cole gets an easy layup in transition. The Knicks keep the lead though after a J.R. fader.
Both teams shooting over 50 percent from the field, and the Knicks are at 48 percent from three.
Most points ever scored against Heat were 56 by Michael Jordan in a 1992 playoff game.

— Ira Winderman (@IraHeatBeat) April 3, 2013

Something just happened for the Knicks in transition. Ray Felton took a shot (I think) that was thrown directly into the base of the rim, but J.R. Smith followed for an easy layup. The Knicks will take it.
Melo has 40 already. Just out of his mind tonight. 2.35 points per shot.

— Tony (@TweetKnick) April 3, 2013
FWIW: #Knicks single game record is 60 points. Melo has 40 with 6:48 left in the 3Q.

— Alan Hahn (@alanhahn) April 3, 2013
This article is
What is the duplicate article?
Why is this article offensive?
Where is this article plagiarized from?
Why is this article poorly edited?

New York Knicks: Like this team?