The Ultimate Fighter 17, Ep. 11 Live Play-by-Play: The Return of Uriah Hall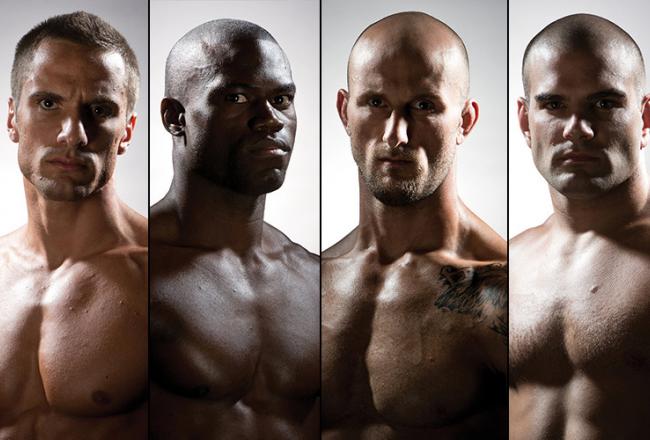 Uriah Hall, Bubba McDaniel, Josh Samman and Jimmy Quinlan will round out the second batch of TUF 17 quarterfinals.

Season 17 of The Ultimate Fighter continues Tuesday (9 p.m. PT/ET on FX) with the middleweight tournament between Team Jones and Team Sonnen, and the quarterfinals will come to end as four of the season's top picks square off.
With Dylan Andrews and Kelvin Gastelum winning their way to the semifinals in Episode 10, Uriah Hall vs. Bubba McDaniel and Josh Samman vs. Jimmy Quinlan are next up to bat.
(Check out the team rosters and the list of quarterfinalists.)
Both winners of those matches will join Andrews and Gastelum in TUF 17's final four.
UPDATE: Check out the full episode recap and results right over here, with full impressions and thoughts on the Hall vs. McDaniel and Samman vs. Quinlan quarterfinals matches.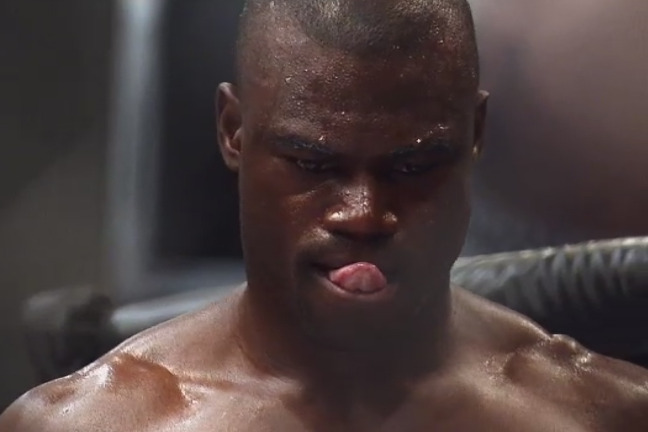 'See you guys next week.
Man, I feel bad for Dylan Andrews.
SPOILER ALERT! TUF semifinalist Josh Samman is taking over this acct for the next half hour. Tweet him your questions with #TUFTalk — UFC (@ufc) April 3, 2013
Chris Weidman TKO'd Urijah Hall a few years ago. Not down on Hall, but Weidman's fuckin' scary. — pdl (@pdlmma) April 3, 2013
So, 4 guys who ALL finished their last fight, will be fighting next Tuesday on #TUF That's what we call Can't Miss TV! — TUF on FX (@TUFonFX) April 3, 2013
Show's over, folks.
We'll have a full episode recap shortly, so stay tuned.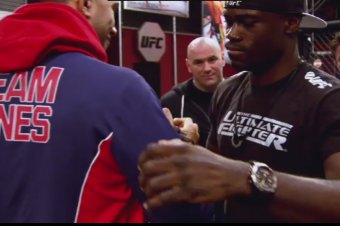 Next semifinal bout is called.
Uriah Hall vs. Dylan Andrews.
Dana says that he thinks Josh Samman and Uriah Hall are the best, and he think they'll both move on to the finals.
Man, I hope so.
It's a good thing Dana's the boss.
That leaves no guesses to the next match.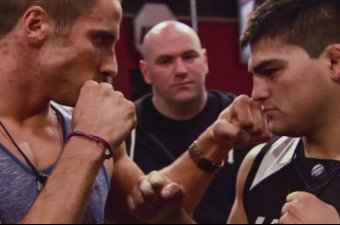 We're at fight picks for the semifinals.
First up, Josh Samman vs. Kelvin Gastelum.
Dana White sits down with Chael Sonnen and Jon Jones, and calls this the most interesting semifinals in TUF history.
Samman walks in and says it's clear that the TUF 17 Finale is for him and Uriah Hall.
Dana White likes it.
Dylan Andrews doesn't care who he fights, and he sounds pretty depressed.
Uriah Hall says he wants Josh next, but leaves it up to Dana and the coaches.
Kelvin Gastelum asks for Dylan Andrews, and that seems set.
Jon Jones says he wants Uriah vs. Samman and Andrews vs. Gastelum, and Chael Sonnen agrees.
That's kinda weird, and Dana White says so.
Here's a picture of Bubba's eye.
Meh, it doesn't look that bad—he'll walk it off.
Bubba is up, and the doctor's check him out.
He says he doesn't even feel like it was a fight, and he's sent off in an ambulance.
Hall is back in the locker room, and tells Kelvin Gastelum that he was trying to get the fastest KO in the season.
Good Lord.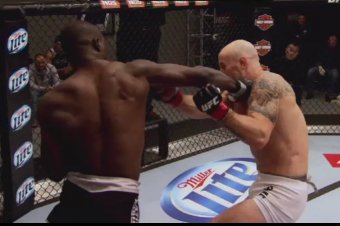 Bubba was face down on the mat for a looooog time.
Hall hit him clean with a straight right punch, and Bubba says that he can't move. Something's wrong with his eye and there's blood.
Dana White didn't even see what happened.
That whole thing took less than half a minute.
DAMN.
Dana: "This guy is the nastiest guy in Ultimate Fighter history."
Uriah Hall vs. Bubba McDaniel
Round 1 - DEAR GOD IT'S ALREADY OVER.
HALL BY KO.
Bubba tries to rush Uriah Hall and eats a BIG counter-punch right to the eye. Bubba goes face down on the mat and Hall hits him a few more times to the side of the head before referee Herb Dean saves him.
Dana White leans next to Carlos Condit and tells him that Hall has been doing this all season.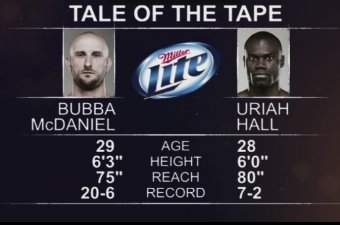 Here's the tale of the tape.
Fight updates in just a second.
Both fighters prep to walkout to the ring.
Jones is doing everything he can to reassure Bubba, and Sonnen is drilling basic defenses into Hall's head.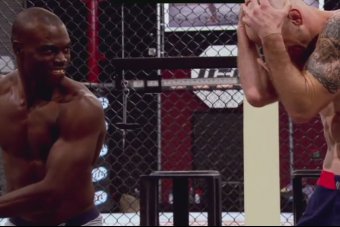 Jon Jones doesn't like Bubba's attitude at the weigh-in, as Bubba mocks fear in the staredown.
Dana White is practically drooling at the thought of the match.
Dana: "Every punch, kick, knee this kid throws is with bad intentions. It's going to be a rough night for Bubba."
Dana's probably not wrong.
Back at the TUF house, a calm Uriah Hall says he's not really feeling like he's going to fight anyone and remembers Sonnen telling him that emotions are fake.
Bubba says that he's his own worst enemy, and that his nerves are the only thing that can beat him.
Huh.
I'm pretty sure that a more talented fighter with a vicious striking game can beat him, too.
We're at the official weigh-ins.
NSAC head Keith Kizer gets his previous camera time, and the rest of the TUF guys opinine about the fight.
Cella says that Bubba is a "head case" but can still do this.
Samman says that Hall will be "lost" when the fight hits the ground.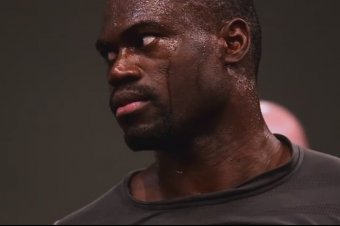 Uriah Hall learns that Bubba is scared of fighting him, and has a cagey response.
According to Hall, a scared fighter is just as likely to have a wild punch or kick that he won't see coming.
Chael Sonnen says that Uriah is just plain sharp.
Although he's not invincible, Hall is "better and faster" and more talented than the rest of the team, and Sonnen has no shortage of praise for him, saying that even his own teammates are thinking about future fights with him down the road.
Hall says he's going to just keep positive and confident, and he'll be fine.
Sonnen sits with Hall and tells him that he's "chosen" to be confident and succeed, and that's why he's going to keep being a winner.
We're back at the TUF gym, and Bubba says that there's no problem with his kidneys.
Bubba complains about back aches, and laments that he's gotten too beaten up during the course of the TUF 17 tournament.
Bubba: "I still have pain, but it's a pick-me-up to know that nothing's going to stop me from fighting."
He doesn't sound too confident.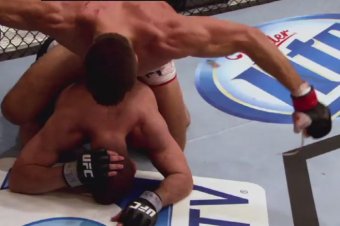 Result:
Josh Samman def. Jimmy Quinlan via TKO, Round 1
Team Jones leads 6-5 on Team Sonnen
Jones: "Not a move I recommend, but it works for him."
Even Dana White can't argue about the win, and says he didn't think Quinlan would break.
Huh.
Josh Samman vs. Jimmy Quinlan
Round 1 - Quinlan rushes out punching, but Samman grabs him and pummels Quinlan to the ground. Quinlan gut-wrenches Samman into a HUGE lift and slams him to the mat.
Samman gets top position after landing some hard punches from the bottom and reversing. Quinlan tries to flip Samman and gets him on his back with a hard shove.
Samman throws up his guard and tries a modified triangle hold. Quinlan slows down, panting hard.
Jon Jones asks the referee to stand them up while Quinlan digs into Samman's open guard. There's a lot of blood on Samman, but it seems to be coming from Quinlan.
Samman still striking from the bottom, and Quinlan hits a small slam. Samman's wraps are coming loose.
Samman landing lots of small punches to the side of Jimmy's as Quinlan tries to find space. Quinlan stands up briefly and drops a knee, then goes into side control on Samman.
There's a minute left, and Samman is wedged up against the cage. Quinlan gives Samman too space, and Samman gets to his feet.
SAMMAN LANDS A HARD FLURRY! Samman pushes Quinlan back with knees and punches, and QUINLAN DROPS. Samman takes his back and dishes out those weird, double-fisted punches. It does the job, and the referee stops it!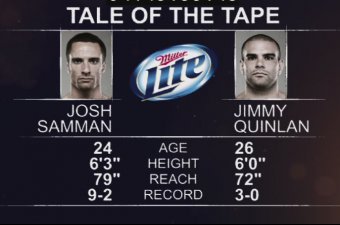 Here we go.
For the record, Team Jones and Team Sonnen are still deadlocked at 5-5 in the tournament.
Back the TUF house, Samman and Quinlan are getting ready.
Samman says that Quinlan "rubbed him the wrong way" early in the season, but he likes him now.
Both men get tapped up and do their final interviews.
Quinlan states the obvious and says that the fight is his as long as he gets it to the ground.
Samman says that he wanted to fight Quinlan since Day 1 of the season, and that this fight is the best style match-up for him.
Samman: "Confidence to me is one of the strongest things you can have. You have to be really special and damn good to stop me. Jimmy's not that person."
This article is
What is the duplicate article?
Why is this article offensive?
Where is this article plagiarized from?
Why is this article poorly edited?