After a long college basketball season and five rounds of the NCAA tournament, we have finally reached the Final Four.
The four teams remaining have very different styles, very different stories and took very different paths to reach this point. However, the one thing they have in common is that they all have a chance to win a national championship.
With two more wins, any one of these squads can move from very good to legendary. A title would allow people to forget about any negative moments from the entire season.
Still, things are only going to get more competitive from this point forward. Here is a look at everything you need to know about the Final Four.
Who will win the national championship?
When: Saturday, April 6
Where: Georgia Dome, Atlanta
Watch: CBS
Bracket
Follow along with Bleacher Report's live bracket. For a printable bracket, click here.
Teams (with odds courtesy of Vegas Insider)
No. 1 Louisville Cardinals (2-3)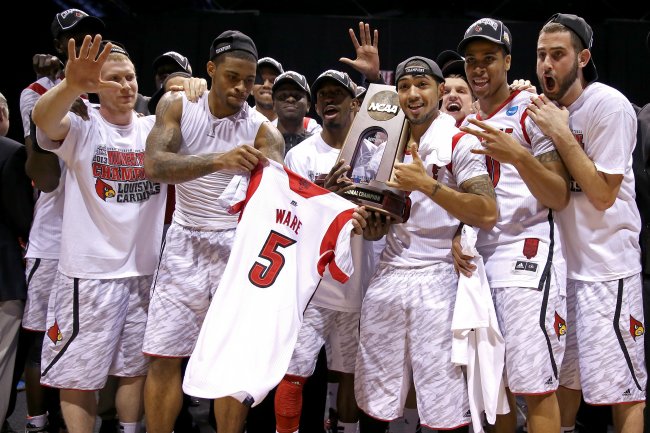 Andy Lyons/Getty Images
Reaching the Final Four seemed way too easy for the Louisville Cardinals. The outstanding press defense and deep offense allowed the squad to beat a tough Duke team by 22 points in the Elite Eight.
The Cardinals have now won 14 straight games while keeping every opponent under 70 points during the streak. They force plenty of turnovers and make it almost impossible for opponents to get into an offensive rhythm.
In addition, Russ Smith has been red-hot offensively and is averaging 26 points per game in the NCAA tournament.
The overall talent, plus the coaching experience of Rick Pitino, is why this is the odds-on favorite to win it all.
No. 4 Michigan Wolverines (13-4)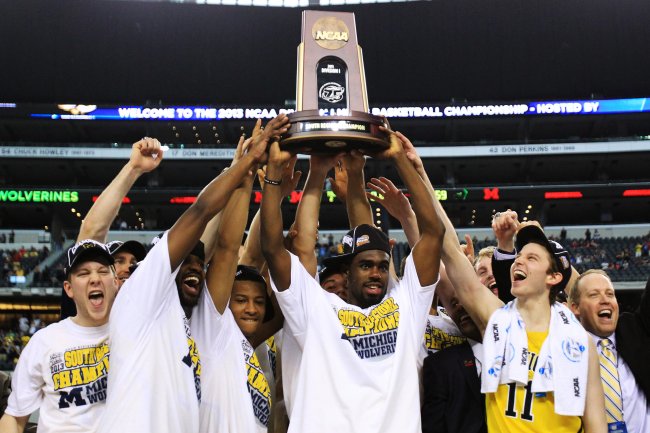 Ronald Martinez/Getty Images
Michigan has had an up-and-down season, but the young team is playing as well as it has all season at this point of the year.
The Wolverines easily handled popular Final Four picks VCU and Florida, beating each by at least 20 points. In the Sweet 16, point guard Trey Burke led an amazing comeback to help his team beat Kansas in overtime.
With great guard play and a number of good shooters, this has been one of the top offenses in the country all year. However, the recent play of Mitch McGary (17.5 points and 11.5 rebounds per game in the NCAA tournament) has created plenty of balance up front.
This will make it very difficult for any of the four remaining teams to knock out the Wolverines.
No. 4 Syracuse Orange (4-1)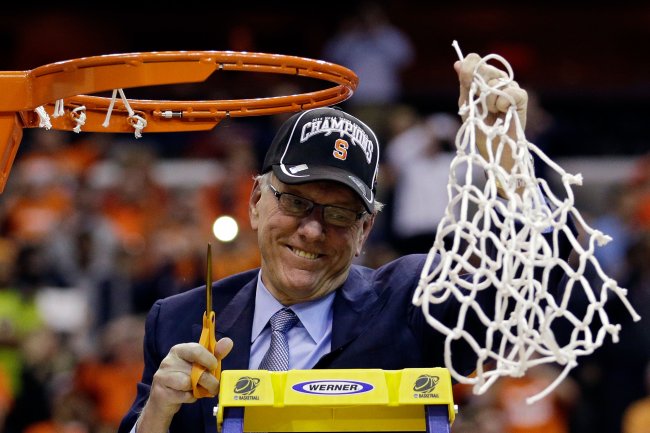 Rob Carr/Getty Images
The reason Syracuse is still playing basketball is their improved version of the 2-3 defense. Jim Boeheim has used this style of defense to reach three other Final Fours in his career, but this might be the best version we have ever seen.
With a backcourt that features 6'4" Brandon Triche and 6'6" Michael Carter-Williams, the length at the top of the zone makes it almost impossible for opponents to remain comfortable.
Smaller guards cannot get open three-point shots like they do against a normal zone, and it is very difficult to make entry passes.
After allowing only 45.8 points per game in the NCAA tournament, scoring will be at a premium in the next two rounds.
No. 9 Wichita State Shockers (12-1)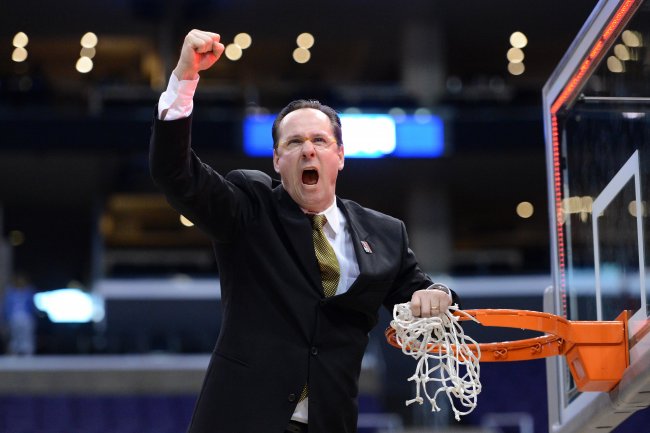 Harry How/Getty Images
Everyone likes to make puns about the Shockers "shocking" the world to reach the Final Four. However, a true study of this team should make this run much less surprising.
The squad is incredibly deep, with usually around 10 players seeing time in any game. This allows coach Greg Marshall to match up differently against any opponent.
Against Ohio State, the Shockers used a physical frontcourt that was able to get rebounds on both ends of the court as well as make every shot difficult for the Buckeyes. In the upcoming matchup against Louisville, expect a quicker lineup with plenty of shooters.
It will not be easy to upset the Cardinals, but don't rule out this squad in the next game.
Predictions
Louisville vs. Wichita State
Wichita State point guard Malcolm Armstead went 6-for-21 from the floor against Aaron Craft and Ohio State. There is little chance that number improves against Louisville's tough team defense.
However, Carl Hall and the rest of the big men on the Shockers will make it difficult for Russ Smith and Peyton Siva to score around the basket like they are used to doing.
This will keep the game close and low-scoring, but Wichita State won't be able to keep up on the scoreboard in this one.
Prediction: Louisville 67, Wichita State 60
Michigan vs. Syracuse
Indiana was unable to score against Syracuse due to its lack of size in the backcourt. Yogi Ferrell and Jordan Hulls couldn't get shots off or get the ball to the talented players down low.
Marquette also struggled because the Golden Eagles kept taking contested jump shots, which is not the strength of the team.
While Michigan doesn't have much more size, the Wolverines have guards who have the ability to penetrate to the middle of the zone and make things happen from there. Glenn Robinson III will also be huge as a player who can either score or pass from the free-throw line.
Unless the Orange get very hot from the outside, they will go down in this one.
Prediction: Michigan 72, Syracuse 68
Louisville vs. Michigan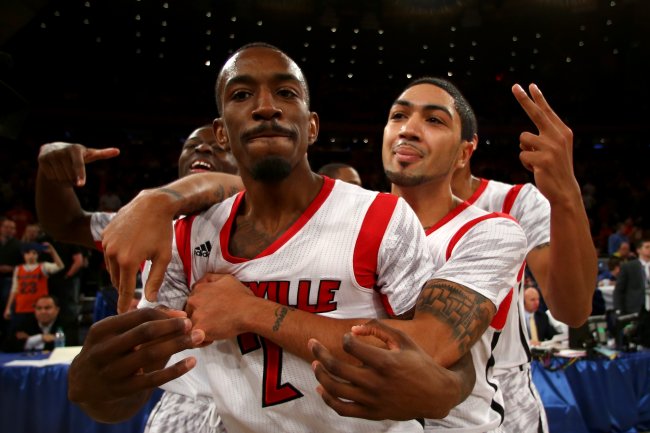 Elsa/Getty Images
If these teams meet in the finals, college basketball fans will be very fortunate, as this should be an extremely exciting game.
Louisville's guards can score around the basket as well as anyone in the nation, while Michigan is much better at shooting from the outside.
However, the difference is the Cardinals defense, which will cut out any open shots the Wolverines are used to getting. Duke is one of the top shooting teams in the country, but the Blue Devils were only able to hit 25 percent of outside shots against Louisville in the Elite Eight.
Tim Hardaway Jr. and Nik Stauskas will struggle to make shots and Louisville will end the year as national champions.
Prediction: Louisville 78, Michigan 70
Follow all the exciting NCAA tournament action with March Madness Live.