20 NBA Stars That We Shouldn't Have Forgotten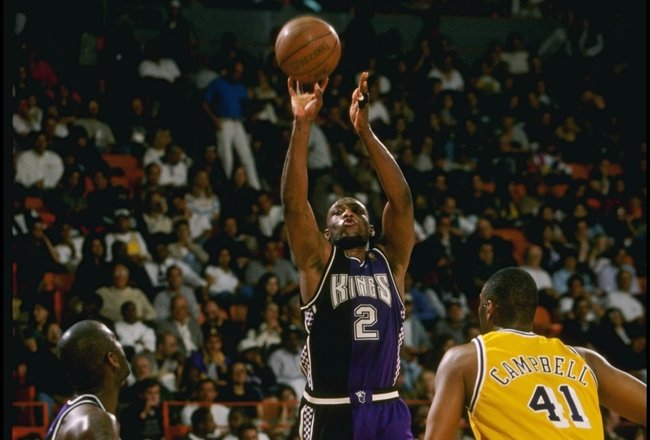 Mitch Richmond is one of the players who dominated in his time.
Jed Jacobsohn/Getty Images
Michael Jordan, Magic Johnson and Wilt Chamberlain are names of stars that people will never forget, but what about some of the names of NBA stars that we shouldn't have forgotten? The names of players like an Elgin Baylor, Alex English or even a Mitch Richmond fall into the category.
These players dominated in their time, but people often forget their name until someone says something about that player. The token response is usually, "oh yeah, that guy was great back in the day" or "I completely forgot about that guy."
Players can have dominating impacts on teams and eras, but with the passage of time, their luster fades. There are at least 20 guys who might want a pat on the back for all of the hard work they put in during their day.
Elgin Baylor

Elgin Baylor has his way with NBA legend Bill Russell.

Elgin Baylor was the heart and soul of the Los Angeles Lakers organization and the one player who helped it rise to prominence. He was extremely agile as a player, and his moves were similar to today's free-wheeling stars.
Baylor was the bridge between the dominant teams of the Minneapolis Lakers that starred George Mikan and the new dynasty that started in Los Angeles with Jerry West. He was an offensive force who averaged 27.4 points and 13.5 rebounds per game in his 14-year career.
He started his career winning the Rookie of the Year Award for the 1958-59 NBA season and logged some monster numbers over his tenure in the NBA. He scored 71 points on November 15, 1960 at the New York Knicks and electrified the crowd with 61 points in an NBA Finals game versus the Boston Celtics on April 14, 1962.
Baylor had his number retired by the Lakers, as he led his team to the NBA Finals eight times, was an All-Star 11 times and was a 10-time All-NBA First Team selection. Baylor never won a championship during his career, but he was an easy choice for the Hall of Fame.
Alex English

Alex English lit up the scoreboard in Denver.

Alex English was a pure shooter who could light up the scoreboard during his heyday with the Denver Nuggets in the 1980s. He was the NBA's top scorer during that decade and retired with 25,613 points. He won the 1982-83 NBA scoring title by posting a 28.4 PPG average.
He commanded the high-scoring and explosive Denver Nuggets offense and led the team to nine consecutive playoff appearances, while making the All-Star team in eight seasons. He was never one to boast about his abilities or his superb shooting, as he let his play speak for himself.
English shot 50.7 percent during his 15-year career and was the first NBA player to score 2,000 points in eight straight seasons. He finished his career with a scoring average of 21.5 points per game. During his career, he also played for the Milwaukee Bucks, Indiana Pacers and Dallas Mavericks.
His No. 2 jersey was retired by the Denver Nuggets, and English was elected to the Hall of Fame.
Jack Sikma

Jack Sikma was a gritty, hard-nosed player in his time with the SuperSonics.

Jack Sikma was selected eighth overall in the 1977 NBA draft by the Seattle SuperSonics and earned his way onto the 1977-78 All-Rookie team. He help the Sonics win the NBA title in his second season with the help of Dennis Johnson, Gus Williams and Paul Silas.
He never failed to score less than 10 points in his career and averaged a career-high 19.6 PPG during the 1981-82 NBA season. Sikma was also a solid rebounder and averaged a career high 12.7 RPG in the same season.
He was one of the most accurate shooting centers in NBA history and was a rare standout at the free-throw line. He averaged 84.9 percent from the charity stripe, so he was the guy defenders stayed away from in the final minutes.
After playing nine seasons for Seattle, Sikma played his final five seasons with the Milwaukee Bucks. In his career, he averaged 15.6 PPG and 9.8 RPG.
Although Sikma never made it into the Hall of Fame, his No. 43 jersey was retired by the SuperSonics during a halftime ceremony on November 21, 1992.
Mitch Richmond

Mitch Richmond did most of his damage wearing a Sacramento Kings jersey.

Mitch Richmond made an early NBA impact by winning the Rookie of the Year award after the 1988-89 season and combining to form one of the most exciting trios in the history of the NBA: Run TMC of the Golden State Warriors.
Richmond was traded to the Sacramento Kings in a move that stunned Warriors fans, but he quickly took the Kings to the next level.
Richmond was known for his scoring and three-point shots, but he also filled the lanes well and was very fluid without the ball. He was so smooth that he could make defenses fall asleep and sneak up for monster jams. He made six All-Star teams and was crowned the All-Star game MVP in 1995.
Richmond averaged over 20 points per game in every season of his 14-year career, except for two seasons (19.7 PPG with the Washington Wizards in 1998-99 season and 4.1 PPG in the 2001-02 season with the Los Angeles Lakers).
The Sacramento Kings retired Richmond's No. 2 jersey, but he is still waiting on word if he will make the Hall of Fame.
George Gervin

George Gervin was known for his finger roll.

George "the Iceman" Gervin was known as a pure shooter who was smoother than the waters of Lake Tahoe. He won four NBA scoring titles and was the first guard to win three titles in a row.
Gervin started his career with the Virginia Squires in the ABA and then moved on to the ABA's San Antonio Spurs. When the Spurs joined the NBA in 1976-77, he showed that his ABA success wasn't a fluke.
He averaged over 20 points per game in nine out of his 10 years in the Association, maxing out at 33.1 PPG during the 1979-80 season. He made impossible shots look easy, and his effortless play is one of the reasons that he doesn't stand out among the likes of Michael Jordan or Larry Bird.
Gervin could score with the finger roll, the silky-smooth jumper, the reverse layup or adjust mid-air and make a difficult shot look routine. He had his No. 44 jersey retired by the Spurs and is a member of the Hall of Fame.
John Havlicek

John Havlicek won eight NBA titles in his career with the Celtics.

John "Hondo" Havlicek was a foundation for the Boston Celtics and their 1960s dominance. He was a 13-time All-Star and won eight NBA titles during his career in Boston.
Havlicek was best known for his perpetual-motion style of play, where he would continue running around until he tired the opposing defender out. He was also one of the first sixth men of the game, where he would come off the bench to start a game and be in the final minutes to close it out.
He defined today's guard-forward position and was known for his clutch performances when the game was on the line. In his career, he averaged 20.8 PPG, 6.3 RPG and 4.8 APG. He is the all-time leading scorer in Celtics history, which says a lot, as he amassed a total of 26,395 points.
Havlicek,a 13-time NBA All-Star, had his jersey retired by the Celtics and is a member of the Hall of Fame.
Jerry Lucas

Jerry Lucas won a championship in his years with the New York Knicks.

Jerry Lucas is remembered for being a dominant rebounder, even though he wasn't the biggest guy and didn't have the greatest leaping ability. The 6'8" forward averaged a career total of 15.6 boards per game during his 11-year NBA career.
Lucas showed off his talents while playing for three teams during his career: the Cincinnati Royals, the San Francisco Warriors and finally, the New York Knicks. He was also a good scorer as he averaged 17.0 PPG, with three years above 20 points when he was with the Royals.
He was a seven-time NBA All-Star who won the All-Star Game MVP in 1965. He was also the NBA Rookie of the Year in 1964 and added an NBA championship with the Knicks during the 1972-73 season.
Lucas won an Olympic Gold Medal in Rome (1960), a NCAA championship and an NBA championship. Championships were in his blood.
Dennis Johnson

Dennis Johnson found a creative way to pass it to Larry Bird.

Dennis Johnson was known as a defensive guard who would constantly cherry-pick opposing ball-handlers. He was elected to nine straight All-Defensive teams (six First-team and three Second team selections).
He was primarily recognized for his time with the Boston Celtics later in his career. However, he built his foundation in Seattle with the SuperSonics and later with the Phoenix Suns. He was instrumental in giving Seattle its first NBA championship by winning the Finals MVP in 1979. He was also a fundamental member of the Celtics championships in the 1980s.
Johnson won two championships with the Celtics and was remembered for the famous playoff steal by Larry Bird, who passed to Johnson for the game-winner against the Detroit Pistons. Johnson had his No. 3 jersey retired by the Boston Celtics before he passed away from a heart attack in 2007.
Johnson finished his career with an average of 14.1 PPG, 5.0 APG and 3.9 RPG.
Moses Malone

Moses Malone had a long and dominant NBA career.

Moses Malone came straight from high school to the ABA and was a dominant big man his entire 21-year ABA/NBA career. He played for nine different teams in his professional career and was known as both a rebounder and a scorer.
Malone's accomplishments are astounding as he won three NBA Most Valuable Player Awards (1978-79 with the Houston Rockets; 1981-82 and 1982-83 with the Philadelphia 76ers) and an NBA Finals MVP in 1983, when the Sixers won the NBA championship. He also racked up six NBA rebounding titles and was a 12-time NBA All-Star.
Malone was known for his quickness, strength and his ferocity around the boards. He got to the charity stripe a lot as he shot 11,090 NBA free throws. He averaged 12.2 RPG during his NBA career and 20.6 PPG. He also swatted away 1.3 balls per game.
The Hall of Famer had his No. 24 jersey retired by the Houston Rockets and his No. 2 jersey retired by the 76ers. He was a true impact player.
Tom Chambers

Tom Chambers was one of the first new style power forwards.

Tom Chambers was a standout playing with six different NBA teams. He was one of the first players to help define the new role of the power forward position and was probably most recognized for his play with the Phoenix Suns.
Chambers could rebound, but he could also shoot like a guard and was known for his finishing. He didn't have a great post presence, but he was very difficult to guard because of his offensive skills. He earned four trips to the NBA All-Star game, and he came away with the MVP in the 1987 contest.
During his 16-year NBA playing career with the San Diego Clippers, Seattle SuperSonics, Suns, Utah Jazz, Charlotte Hornets and the Philadelphia 76ers, Chambers averaged 18.1 PPG, 6.1 RPG and 2.1 APG.
The Phoenix Suns retired his No. 24 jersey on April 18, 1999.
Elvin Hayes

Elvin Hayes was one of the most dominant power forwards in NBA history.

Elvin Hayes was one of the most dominant power forwards in NBA history who played for a total of 16 years in the NBA. He played with two teams (San Diego/Houston Rockets and the Baltimore/Capital/Washington Bullets) and won countless awards.
The first draft pick of the 1968 NBA draft contributed to the 1977-78 Bullets' NBA championship by averaging 19.7 PPG, 13.3 RPG and 2.0 BPG. He was aggressive on defense and used his turnaround jumper to flex his offensive presence.
He made 12 NBA All-Star teams and won the scoring title in the 1968-69 NBA season. He amassed 27, 313 points in his illustrious career, which currently ranks him eighth all time. In his career, Hayes averaged 21.0 PPG, 12.5 RPG and 2.0 BPG.
The Hall of Famer had his No. 11 jersey retired by the Washington Bullets.
Bernard King

Bernard King had his greatest success in New York.

Bernard King was an explosive scorer who went through significant off-court problems before he resurrected his game. After starting his career with two strong seasons when he was playing for the New Jersey Nets, he was traded to Utah, where he was at the low point of his career.
A trade to Golden State changed his fortunes as he averaged 21.9 PPG, shot 58.8 percent from the floor and garnered the 1981-82 NBA Comeback Player of the Year Award. He continued his hot shooting for the rest of his time with the Warriors and made a name for himself with the New York Knicks.
King won the scoring title with the Knicks during the 1984-85 season where he averaged 32.9 PPG and looked like he was the hottest player in the NBA. On March 23, 1985, he tore his ACL in a game against the then-Kansas City Kings.
King eventually recovered from the injury, but sat out the entire 1985-86 season and all but the last six games of the 1986-87 season. King was a four-time NBA All-Star and ended his career with averages of 22.5 PPG, 5.8 RPG and 3.3 APG.
Mark Aguirre

Mark Aguirre had a lot of success in Dallas.

The former first pick of the 1981 NBA draft by the Dallas Mavericks was a top-notch scorer and built the Mavs into a perennial Western Conference power. He was the face of the franchise who averaged over 20 points every year in Dallas except his rookie season.
Aguirre would move on from Dallas as the franchise's leading scorer when he was traded to the Detroit Pistons in 1989. He was reunited with his childhood friend, Isiah Thomas, and was the missing piece to the "Bad Boys" championship runs.
Aguirre was a great all-around player who adjusted his game to make the Pistons more successful. He came off the bench for Dennis Rodman and maximized his effort in the more limited time he had on the court.
He averaged 20.0 PPG, 5.0 RPG and 3.1 APG during his 13-year career that also included his final year with the Los Angeles Clippers He was a three-time All-Star, who had the ability to post up and score from his small forward position.
Kevin Johnson

Kevin Johnson went highlight reel over Hakeem Olajuwon.

Kevin Johnson was a great all-around point guard who led the Phoenix Suns during the late '80s and '90s. He was drafted seventh overall in the 1987 NBA draft by the Cleveland Cavaliers, but he was traded because All-Star guard Mark Price was the starter.
Johnson was a very quick guard who could feed the ball to all of his surrounding talent or pull up for a shot on his own. He was one of the better assist men in the league, as he averaged over 10 assists in four straight seasons (1988-1992), while he put up nothing less than 19.7 PPG in the same span.
His leadership showed through the tight-knit unit he created with the Suns. When Charles Barkley came over in the trade from Philadelphia in 1992, Johnson let Chuck be the big name in town and still drove them to a Western Conference Championship in 1992-93.
Johnson's list of accomplishments include going to three NBA All-Star games, winning the NBA Most Improved Player in 1989 and having his No. 7 jersey retired by the Phoenix Suns. His final averages were 17.9 PPG, 9.1 APG and 3.3 RPG.
He is currently the mayor of Sacramento and is fighting to keep the Sacramento Kings in their current home.
Mark Price

Mark Price was a deadly shooter during his career.

Mark Price was an outstanding point guard for primarily the Cleveland Cavaliers who was overshadowed by the likes of Magic Johnson, Isiah Thomas, John Stockton and Kevin Johnson. Price was just as good and was one of only two point guards to shoot at least 50 percent from the field, 40 percent from behind the arc and 90 percent from the free-throw line in a season.
He was such a clean shooter that he was invited to the NBA Three-Point contest four times and won it twice. He also shot 90.4 percent for his career at the charity stripe, giving him the highest career percentage shooting free throws.
Price was primarily known for being one of the first players to split the double-team when he had the ball. When teams started attacking the pick and roll, he would roll under it and shoot a runner in the lane or dish it to an open teammate.
Price made four NBA All-Star teams and was selected All-NBA First Team in 1993. His career averages were 15.2 PPG, 6.7 APG and 2.6 RPG. His No. 25 was retired by the Cleveland Cavaliers.
Nate "Tiny" Archibald

Tiny Archibald led the league in assists and scoring in 1972-73.

Nate "Tiny" Archibald was a quality distributor and a guy who could light up the scoreboard. He led the league in assists per game and points per game during the 1972-73 season when he was a Kansas City King. Archibald was a very quick guard and used his speed and elusiveness to make him difficult to guard.
Tiny played for the Cincinnati Royals/Kansas City Kings, New York Knicks, Boston Celtics and Milwaukee Bucks during his career. He was a member of the Buffalo Braves (now the Los Angeles Clippers), but he tore his Achilles tendon before the 1977-78 season and never played a game in their uniform.
The Hall of Famer won an NBA championship with the Celtics during the 1980-81 season, was a six-time NBA All-Star and the 1981 All-Star game MVP. He was also a three-time All-NBA First-Team selection and the Sacramento Kings retired his No. 1 jersey.
Larry Nance

Larry Nance was an accurate shooter with an inside presence.

Larry Nance was a 13-year veteran who spent his entire career with the Phoenix Suns and the Cleveland Cavaliers. He was a dominant big man who was very athletic and consistent.
He was the first winner of the NBA Slam Dunk Contest in 1984, but he was known primarily for his scoring and rebounding ability. During his last full season with the Phoenix Suns, he had a career-high 22.5 PPG.
Nance was a very accurate shooter who averaged 54.6 percent shooting throughout his career. He was an excellent mid-range shooter and had the size for an inside presence. He helped the Cavs contend in the East with frontcourt partner Brad Daugherty.
During his career, Nance was a three-time NBA All-Star and he was selected to the 1988-89 NBA All-Defensive Team. His No. 22 jersey was retired by the Cleveland Cavaliers.
Bob McAdoo

Bob McAdoo was a five-time NBA All-Star.

Bob McAdoo was a talented big man, who could step out and hit shots from the perimeter. He created a lot of mismatches with opponents because he was deadly from all over the court.
McAdoo hit the Association by storm by winning the NBA Rookie of the Year Award after the 1972-73 season with the Buffalo Braves (now the Los Angeles Clippers) and parlayed that into winning the Most Valuable Player Award two seasons later.
He was the last player to average more than 30 PPG and 15 RPG over the course of a season when he put up 30.6 PPG and 15.1 RPG. He led the league in scoring three consecutive seasons (1973-1976) and made five NBA All-Star team appearances.
He was the boost to the Los Angeles Lakers and their "showtime" style. He helped them win two NBA championships as their sixth man during the 1981-82 and 1984-85 seasons.
The Hall of Famer played for the Braves, New York Knicks, Boston Celtics, Detroit Pistons, New Jersey Nets, Lakers and Philadelphia 76ers during his career. His career averages were 22.1 PPG, 9.4 RPG and 2.3 APG.
Artis Gilmore

Artis Gilmore was strong, but he was also an efficient shooter.

Artis "The A-Train" Gilmore was a dominant center who started his career with five years in the ABA as a member of the Kentucky Colonels. He was picked in the NBA dispersal draft by the Chicago Bulls where he demonstrated his skills as a big man.
Gilmore was a great shooter, as he still holds the all-time NBA record for career field-goal percentage (59.9 percent). He scored in double figures every year of his career, except for his last season, and he peaked at 23.7 PPG in the 1978-79 season. To counterbalance his great shooting, he was also a lockdown defender.
Gilmore was regarded as a rock in the middle of the court, as he was one of the NBA's strongest men to play the game. He made the All-Star team six times and was selected to the NBA All-Defensive Second after the 1977-78 season.
The Hall of Famer played for the Bulls, San Antonio Spurs and the Boston Celtics during his 12-year NBA career. His finished his career with NBA totals of 17.1 PPG, 10.1 RPG and 1.9 BPG.
Adrian Dantley

Adrian Dantley averaged over 30 points per game for four straight seasons.

Adrian Dantley started his career with the Buffalo Braves (now the Los Angeles Clippers) in 1976-77, won the NBA Rookie of the Year Award and was traded to the Indiana Pacers before the start of the next season.
After a brief stint with the Pacers and the Los Angeles Lakers, Dantley settled down and showed the Association that he was a top notch scorer. He led the league in scoring in the 1980-81 and 1983-84 seasons. During that four-year span, he averaged over 30 points a game.
Dantley was later shipped to Detroit in 1986 and helped set up the "Bad Boys" team that would later win two NBA championships. He would also play for the Dallas Mavericks (1989-90) and the Milwaukee Bucks (1990-91).
The Hall of Famer was a six-time NBA All-Star and had his No. 4 jersey retired by the Utah Jazz. His career averages were 24.3 PPG, 5.7 RPG and 3.0 APG.
Keep Reading