UFC Contenders and Pretenders That Will Be Revealed in April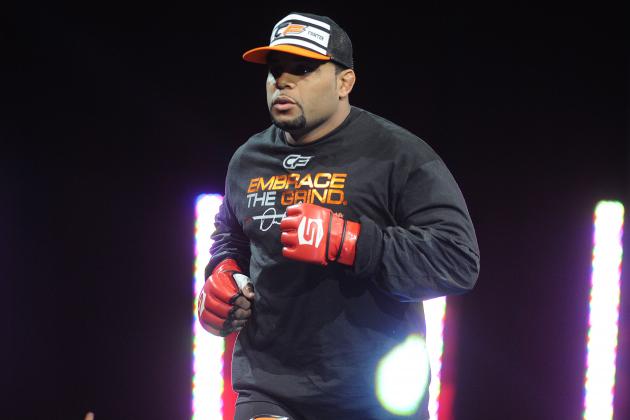 USA TODAY Sports

The UFC has had a rare break in action over the past few weeks, but things are about to heat back up in a hurry as the organization prepares itself for a busy month of April featuring four events.
Sweden will welcome the promotion back to Europe on Saturday, when Gegard Mousasi will meet replacement opponent and Alexander Gustafsson teammate Ilir Latifi.
Then, The Ultimate Fighter 17 will be wrapped up in Las Vegas. At the season finale, Miesha Tate and Cat Zingano will battle for a title shot and coaching spot opposite women's bantamweight champion Ronda Rousey on The Ultimate Fighter 18.
The UFC will return to network television on April 20, when Benson Henderson and Gilbert Melendez will square off for the lightweight title in the UFC on Fox 7 main event.
Finally, light heavyweight king Jon Jones will attempt to continue his dominance against former top middleweight contender Chael Sonnen as the month comes to a close.
There are plenty of fights that will impact the official UFC rankings this month, so let's take a look at which fighters will mark themselves as contenders and pretenders in April.
Begin Slideshow

»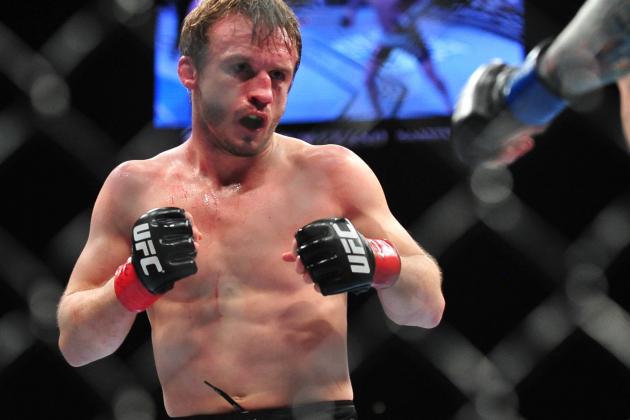 Gary A. Vasquez-USA TODAY Sports

UFC on Fuel TV 9 features two separate bouts featuring top-10 fighters.
In the main event, No. 10 light heavyweight contender Gegard Mousasi will attempt to hold on to his spot in a matchup with Ilir Latifi, who unfortunately had to fill in for injured teammate Alexander Gustafsson on short notice.
Additionally, No. 5 bantamweight contender Brad Pickett and No. 9 135-pound challenger Mike Easton will attempt to bounce back from losses in their most recent outings.
Gegard Mousasi vs. Ilir Latifi
This fight will get Latifi's foot in the UFC door, but he's not likely to mount a monumental upset against former Strikeforce champion Mousasi.
Unfortunately, this matchup won't do much for Mousasi, who would have had a chance to make a big splash were his UFC debut to come against Gustafsson.
Still, he should pick up a highlight-reel finish against Latifi, who can't really even be considered a pretender until we see more of him against high-level opponents.
Contender: Mousasi
Pretender: Neither
Brad Pickett vs. Mike Easton
Since joining the UFC roster, Pickett has only lost to interim champion Renan Barao and top bantamweight contender Eddie Wineland. Despite losing in a split decision to Wineland, Pickett showed off his toughness and well-rounded game at UFC 155.
Easton burst onto the UFC's bantamweight scene with a knockout win in his Octagon debut, but he followed that victory with three straight closely contested bouts, losing his past one to Raphael Assuncao.
As a training partner of 135-pound champion Dominick Cruz, Easton has gotten a lot of media recognition, but he's still got some work to do before he can be considered a serious title threat.
Contender: Pickett
Pretender: Easton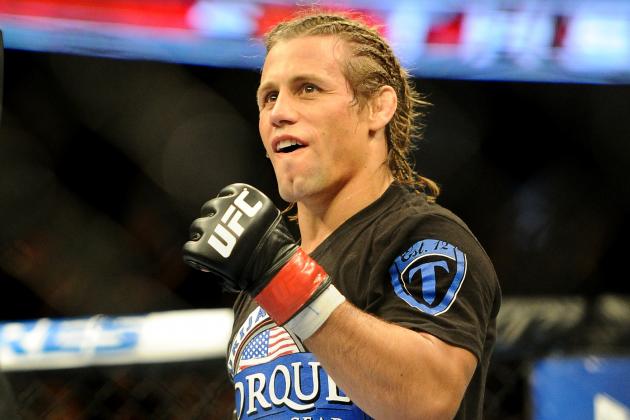 Jayne Kamin-Oncea-USA TODAY Sports

Though the focus of the TUF 17 finale will be the finals of the reality series, there will be plenty of other significant fights on the card.
The main event of the finale will be a bantamweight bout between No. 2 135-pound fighter Urijah Faber and No. 7 bantamweight contender Scott Jorgensen. Faber has lost to both champion Dominick Cruz and interim champion Renan Barao, but an impressive win over Jorgensen would put "The California Kid" back in the running for another title shot.
Also, a women's bantamweight contest between No. 1 Miesha Tate and No. 4 Cat Zingano will determine Ronda Rousey's next title challenger and the second coach on The Ultimate Fighter 18.
The main card will also be bolstered by a heavyweight tussle between fringe contender Travis Browne and former title challenger Gabriel Gonzaga.
Urijah Faber vs. Scott Jorgensen
Despite all his troubles in title fights over recent years, Faber is still unarguably an elite bantamweight.
Faber is still the only fighter with a win over Cruz and was hardly embarrassed in his rematch with the long-reigning champion, or in his interim title shot against Barao.
Jorgensen, on the other hand, appears to be headed in the wrong direction.
The former WEC title challenger has lost two of his past three fights. In his lone win during that time frame, Jorgensen had to fight off several submission attempts before securing his own rear-naked choke on John Albert with less than one second remaining in the opening round.
Contender: Faber
Pretender: Jorgensen
Miesha Tate vs. Cat Zingano
Though she suffered the same fate as all Rousey's opponents in a first-round armbar loss, Tate gave the women's bantamweight champion one of the toughest fights she's had during her undefeated run to the top.
The undefeated Zingano will be no stepping stone on Tate's way to a rematch with Rousey, though.
No matter the winner of this fight, these women should put on a show. And considering the current lack of depth in the UFC's 135-pound women's division, the loser won't be far from re-entering the title picture again.
Contender: Tate and Zingano
Pretender: Neither
Travis Browne vs. Gabriel Gonzaga
Browne suffered a setback against Antonio Silva his last time out, but that fight could have gone much differently had the Jackson's MMA product not injured his knee early on.
One of the more physically gifted athletes in the heavyweight division, Browne has the potential to become a contender and will put himself back in position to do that with a win over Gonzaga.
Gonzaga's return from a temporary retirement has been impressive, but Browne simply has more weapons than the likes of Ednaldo Oliveira and Ben Rothwell.
Contender: Browne
Pretender: Gonzaga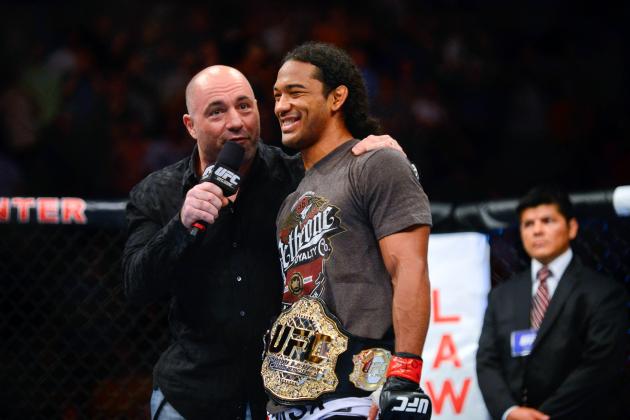 Ron Chenoy-USA TODAY Sports

As would be expected from a network-televised fight card, UFC on Fox 7 will make huge waves across several divisions.
Most notably, the lightweight title will be on the line in a fight between UFC champion Benson Henderson and former Strikeforce champion Gilbert Melendez. Also at 155 pounds, No. 4 lightweight contender Nate Diaz will welcome Josh Thomson back to the Octagon.
Currently ranked No. 1 in their respective divisions, Team Alpha Male fighters Chad Mendes and Joseph Benavidez will attempt to hold their ground against dark horses Darren Elkins and Darren Uyenoyama.
Strikeforce Heavyweight Grand Prix champion Daniel Cormier will make his long-awaited UFC debut against No. 5 heavyweight contender Frank Mir.
Moreover, rising welterweights Matt Brown and Jordan Mein will attempt to make a statement when they meet as the opening bout on the main card.
Benson Henderson vs. Gilbert Melendez
While his hope of breaking Anderson Silva's record for consecutive title defenses is a bit lofty at this stage, Henderson is on his way toward becoming one of the more dominant champions the lightweight division has seen.
Melendez knows a little something about defending championships, having won seven straight Strikeforce title fights heading into this matchup. However, the former Strikeforce champion has not been meeting the same level of competition as Henderson, and that could show at UFC on Fox 7.
Henderson is a more diverse striker than Melendez and has the wrestling to potentially shut down his challenger's ground game.
Champion: Henderson
Pretender: Melendez
Daniel Cormier vs. Frank Mir
Undefeated in his eight fights under the Strikeforce banner, Cormier will finally have a chance to put his talents on display on MMA's biggest stage.
Mir is a tough test for Cormier's UFC debut, but "DC" has the world-class wrestling to avoid the former champion's submissions and has shown striking prowess in knocking out top contender Antonio Silva.
While Mir does still deserve to be called a top-10 heavyweight, his only truly flawless performance of the past three years came against Roy Nelson. His title shot against Junior dos Santos very well could be the last of his UFC career.
Contender: Cormier
Pretender: Mir
Nate Diaz vs. Josh Thomson
Though not ranked as highly, Thomson does present Diaz with some problems.
The former Strikeforce champion has the wrestling and submission defense to shut Diaz down on the ground should he be able to score takedowns with frequency.
However, one thing Diaz has going for him in this matchup is the help of Melendez, who has won two out of three fights against Thomson. Since Diaz also has experience fighting Henderson, it's likely he'll work closely with Melendez in the lead-up to UFC on Fox 7.
That, along with Diaz's reach and boxing, should make the difference.
Contender: Diaz
Pretender: Thomson
Matt Brown vs. Jordan Mein
Though Brown is on one of the best runs of his career with four straight wins, he's about to run into one of the toughest tests he's had in the more youthful and athletic Jordan Mein.
Even at 23 years old, Mein is not lacking in experience as a competitor, with 35 fights under his belt. While Brown is known as one of the tougher fighters to finish in the welterweight division, Mein recently became the first person to stop Dan Miller inside the Octagon.
Mein has had some setbacks here and there, but those have mostly come against high-level wrestlers, which Brown is not.
Contender: Mein
Pretender: Brown
Chad Mendes vs. Darren Elkins
It required accepting a fight on late notice as an injury replacement, but Elkins is finally getting the big step up in competition he has been hoping for after winning five straight bouts.
Elkins may be biting off more than he can chew in this matchup, though. Due to opponent injuries, Mendes has had to take a slow road back toward facing elite featherweight competition, and he's been taking out his frustration on his overmatched opponents.
While Elkins has shown he has what it takes to have a long career in the UFC, he's about to be shown how far he is from being a legitimate contender in the 145-pound class.
Contender: Mendes
Pretender: Elkins
Joseph Benavidez vs. Darren Uyenoyama
Unlike Team Alpha Male teammate Mendes, Benavidez has decided to take the long road back to a title shot by choice. After beating Ian McCall recently, Benavidez appeared in line for a rematch with flyweight champion Demetrious Johnson.
Instead, Benavidez shrugged off questions of another title shot and was admittedly open to taking some more fights before competing against "Mighty Mouse" again.
That has given Uyenoyama a golden opportunity to compete against one of the best 125-pound fighters in the world. Even though Uyenoyama's undefeated inside the Octagon, his somewhat one-dimensional jiu-jitsu style isn't going to cut it against the well-rounded Benavidez.
Contender: Benavidez
Pretender: Uyenoyama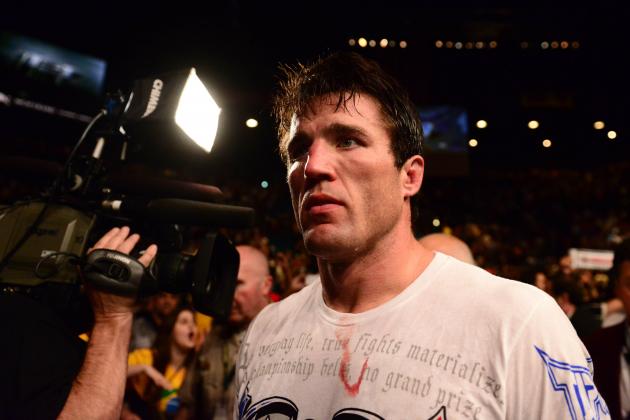 Mark J. Rebilas-USA TODAY Sports

The UFC will wrap April up with what is sure to be one of its biggest pay-per-view events of 2013.
The Ultimate Fighter coaches Jon Jones and Chael Sonnen headline the UFC 159 fight card in a light heavyweight championship bout. While Jones is considered a heavy favorite, Sonnen is sure to make things more interesting as the fight approaches.
Coming off of disappointing losses as they were nearing title shots, middleweights Michael Bisping and Alan Belcher will attempt to get back on track.
Additionally, No. 8 contenders in the heavyweight and light heavyweight divisions Roy Nelson and Phil Davis will attempt to remain in their divisional rankings by beating respective opponents Cheick Kongo and Vinny Magalhaes.
Also, No. 5 lightweight contender Jim Miller will welcome Pat Healy to the Octagon, while women's bantamweight fighters Sara McMann and Sheila Gaff will try to impress in their UFC debuts.
Jon Jones vs. Chael Sonnen
Coming off of a loss to Anderson Silva, Sonnen was far from the most deserving of a light heavyweight title shot, but he'll be getting one anyway.
While this will be another nice cash grab for the UFC and the outspoken title challenger, the fight isn't likely to be very competitive.
Jones' size and ability to match Sonnen's wrestling should turn this fight into another one-sided beatdown for the dominant champion.
Champion: Jones
Pretender: Sonnen
Michael Bisping vs. Alan Belcher
This matchup is going to put one fighter right back into the race for a middleweight championship fight. However, the losing fighter shouldn't completely fall out of the picture.
Bisping's underrated offensive wrestling could give him a slight edge if he gets in trouble in the striking department, but Belcher is going to be around for a long time no matter the outcome of this bout.
Contender: Bisping and Belcher
Pretender: Neither
Roy Nelson vs. Cheick Kongo
Kongo's most recent wins have been lackluster to say the least. However, Nelson isn't going to be leaned against the cage like Shawn Jordan was and won't be backed into corners like Matt Mitrione was.
Nelson has the power to hurt Kongo and the chin to not end up like Pat Barry.
Though he may never win a UFC title, "Big Country" is much more of a contender than Kongo these days.
Contender: Nelson
Pretender: Kongo
Phil Davis vs. Vinny Magalhaes
This should be everything the fight between Jon Fitch and Demian Maia was supposed to be.
Davis is a much more decorated wrestler than Fitch, while Magalhaes doesn't have the takedown ability that Maia does.
Magalhaes is going to make things interesting off of his back, but Davis is the more well-rounded grappler and should keep his spot among the top 10 UFC light heavyweights.
Contender: Davis
Pretender: Magalhaes
Jim Miller vs. Pat Healy
Miller has alternated wins and losses over his past five fights, but he'll have a very realistic chance of picking up a second straight win against Healy.
Though Healy was considered one of the better lightweights under the Strikeforce banner, he has not beaten anyone of Miller's caliber throughout his career.
In a fight between two scrappy fighters with similar styles, an edge has to go to the more proven commodity.
Contender: Miller
Pretender: Healy
Sara McMann vs. Sheila Gaff
A fellow Olympian, McMann is one of Ronda Rousey's biggest threats.
Though Gaff is well-rounded, she's never faced a wrestler like McMann and could very easily be shut down offensively for three rounds.
Gaff may have a brighter long-term future than the 32-year-old McMann, but the Invicta FC veteran is closer to the top right now.
Contender: McMann
Pretender: Gaff