6 Key Premier League Battles to Watch This Weekend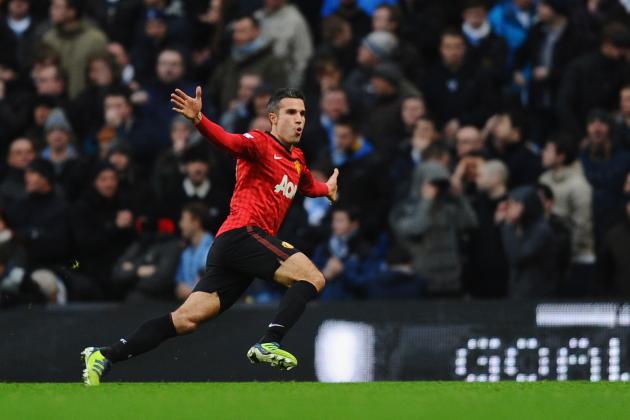 Laurence Griffiths/Getty Images

After a midweek full of Champions League and Europa League fixtures, the Premier League takes centre stage once again this weekend.
It's the business end of the season now, and almost every result will have an impact at both ends of the table.
The marquee fixture is undoubtedly Monday night's game between Manchester United and Manchester City at Old Trafford. When these two giants met back in December, Robin van Persie (pictured) scored a late winner to earn a 3-2 victory for United.
Since then, Sir Alex Ferguson's side have never looked back, and if they win on Monday, their lead atop the table will be a massive 18 points, which should virtually guarantee them the title.
There's plenty more to discuss than just the Manchester derby though. There are key games across the country, so join me as we look at six of the key Premier League battles to watch this weekend.
As usual, my predictions will be at the bottom of each slide.
(Note: This article was written before Thursday's set of Europa League quarterfinals)
Begin Slideshow

»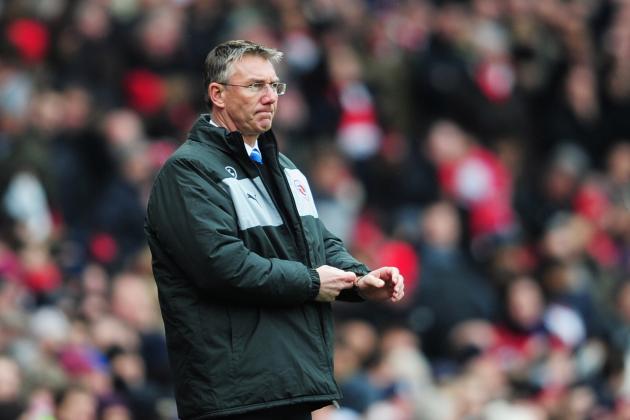 Jamie McDonald/Getty Images

Saturday's opening match comes at the Madejski, where Reading host Southampton. Neither side is yet free of relegation, with Reading in deep trouble at the bottom of the league.
Nigel Adkins had a baptism by fire last weekend in his first game in charge. He was in the dugout as he saw his new Reading side lose 4-1 to Arsenal.
Realistically, Adkins probably knew there was little chance of an upset. He hadn't had enough time to get to know his players, but with another week under his belt, he'll have had enough time to analyse his squad and get his ideas across.
Of course, Saturday will be the first time that Adkins has come face to face with his former employers, Southampton, since being ruthlessly sacked in January.
The Saints, meanwhile, couldn't come into this match on the back of a better result.
Southampton beat Chelsea 2-1 last weekend—thanks, in part, to a stunning free kick from Rickie Lambert. Lambert is now the top English goalscorer in the Premier League this season with 14 goals. When you consider the English talent in the league, that's no mean feat.
You can argue about Chelsea's squad selection all you want, but they still had a side full of top-class internationals, and the Saints deserved their victory.
For the Saints, this game is just as important as last weekend's match against Chelsea. If Southampton play the way they did last weekend, they should win comfortably.
Reading have home advantage, and my gut feeling is that they'll earn a point on Saturday, but it doesn't look like that will be enough to haul them any closer to safety.
Prediction: Score draw
Chris Brunskill/Getty Images

Saturday's contest between Stoke and Aston Villa features two sides coming off of losses—against Everton and Liverpool, respectively.
Stoke's year so far has been horrendous. Last weekend's 1-0 loss to Everton means that they've won just once in their last 12 league matches, drawing three and losing eight.
In March, Stoke only scored one league goal, courtesy of Jonathan Walters (pictured), and even that was a penalty kick.
You have to go as far back as Feb. 9 for Stoke's last Premier League goal from open play. That record, coupled with their recent run of form, has seen Stoke tumble down the table. They're currently only four points away from the drop zone.
Speaking of the drop zone, Aston Villa are one of the sides currently occupying a relegation place. Despite their 2-1 loss to Liverpool on Sunday, manager Paul Lambert still believes his side won't be relegated.
"We are playing well enough to win and I certainly have the belief that we will be fine," said Lambert (via BBC Sport). "We had chances and didn't look like a team down at the bottom."
In part, Lambert is right.
For large parts of the game last week, Villa were more than a match for Liverpool. The problem was that, just like the rest of the season, defensive mistakes cost them dearly. Nathan Baker's foul on Luis Suarez led to Steven Gerrard scoring the winner from the penalty spot.
But if it wasn't for a goal-line clearance from the Liverpool skipper, Villa might have earned a point. It's hard to say that they didn't deserve at least something from the game.
But football doesn't work like that. You make your own luck, and right now, Villa need a large slice of it to avoid relegation.
There's no doubt in my mind that they'll play well against Stoke, but defensive mistakes will cost them a couple of points.
Prediction: Score draw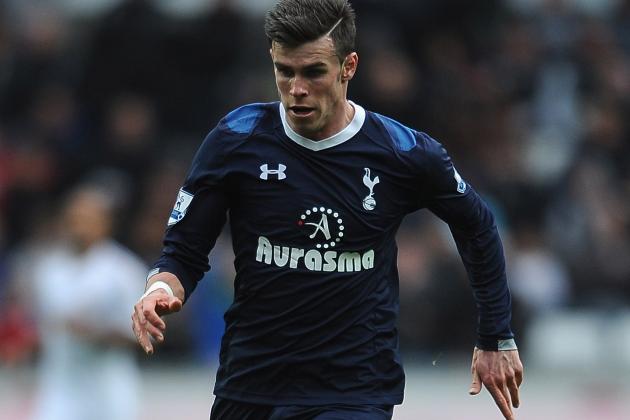 Christopher Lee/Getty Images

One of Sunday's early games is an intriguing contest at White Hart Lane between Tottenham and Everton. Both sides won last week to keep up their hopes of playing European football next season.
Tottenham have an eye on qualifying for the Champions League, as well as finishing in third place, and last week couldn't have gone better for them. At the same time as Chelsea (currently just two points behind Spurs) were losing 2-1 at Southampton, Spurs were beating Swansea by the same scoreline.
Once again, Gareth Bale (pictured) added to the list of incredible goals this season with this stunning effort. The Welshman will be a vital player for Spurs in the run-in, and Everton will need to keep an eye on him this weekend.
Everton are actually one of only a handful of sides to have beaten Spurs since the start of December. They come into the game on the back of a couple of very decent home wins against Manchester City and Stoke. Both matches resulted in clean sheets, which will please manager David Moyes, especially in the absence of the experienced Tim Howard.
Moyes had a lot to say after their win over Stoke, particularly about his own future. His contract expires in the summer, and speaking to BBC Sport, he said:
The only thing I am interested in is managing winning teams that are regularly in Europe... That is big for me, as I want to know if there is a chance that Everton in the future can continue to compete at this level and if anything, get better...
Basically, he's asking the board to match his ambitions.
On a relatively shoestring budget compared to other clubs at the top end of the league, Moyes has worked wonders. Everton consistently finish at the top end of the table, and with investment, there's no reason they can't challenge for a Champions League place in the future.
This match will be one of the best of the weekend, but Spurs should just shade it.
Prediction: Tottenham win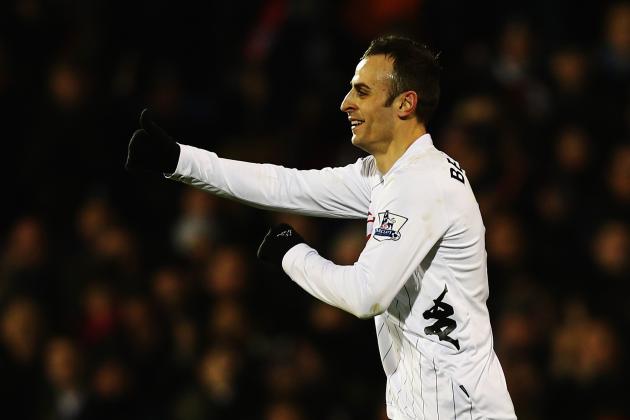 Clive Rose/Getty Images

This game sees another two sides that are not yet clear of relegation go head-to-head at St James' Park.
Newcastle lost 4-0 to Manchester City last weekend. The Magpies played well enough for most of the first half, but four goals in 30 minutes put paid to their hopes of getting anything from the game. They were simply outplayed for long stretches.
Despite only being three points above the drop zone, defender Steven Taylor thinks Newcastle can avoid relegation, if they play with confidence.
"If everybody around us can be confident, I think we'll be OK," said Taylor (via BBC Newcastle). "Our form has been good since January since the new signings have come in, we need results on the board."
Taylor is correct to an extent. Newcastle have had some quality performances from their new signings, but they've only won four league games since the start of January. They need another two or three wins to be sure of safety, and they have a tough task ahead of them on Sunday when Fulham come calling.
The Londoners have won three of their last five games to almost guarantee their safety. They followed up their fine win over Tottenham a couple of weeks ago with a thrilling 3-2 win over QPR on Monday night.
Dimitar Berbatov (pictured) has been in imperious form of late, scoring three goals in his last two games. He's definitely talented, and without him, Fulham might have found themselves in deep, deep trouble.
Martin Jol's side took full advantage of QPR's defensive mistakes on Monday night, and if Newcastle do the same on Sunday, it wouldn't be a surprise if Fulham travelled back south with all three points.
Prediction: Fulham win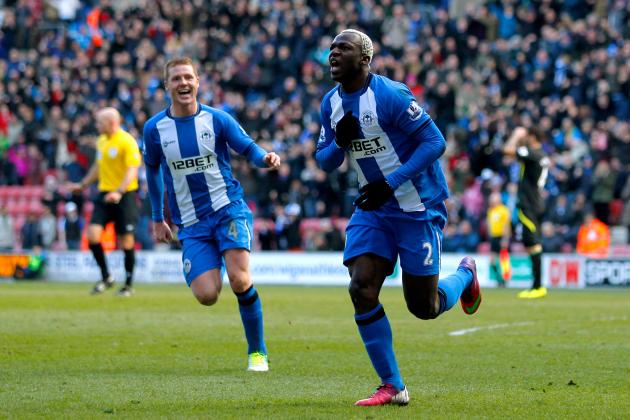 Paul Thomas/Getty Images

The late kickoff on Sunday comes from Loftus Road, where, to be blunt, anything other than a win for QPR against Wigan will surely see them relegated.
That's surely stating the obvious. QPR are seven points from safety with seven games left, and it's going to take something special for them to stay up.
Monday's 3-2 defeat at Fulham saw Harry Redknapp give yet another frank and honest assessment of his side's problems.
"A disastrous first half cost us," said Redknapp after the game (via Mirror Football). "They were the worst goals I've seen in my life... They were scandalous goals. It was an absolute disaster."
Christopher Samba had a nightmare as two of his mistakes led to two Fulham goals. If QPR couldn't afford any mistakes before the game, they certainly can't afford any now. It looks an impossible task for Redknapp to keep QPR in the league.
His opposite number, Roberto Martinez, continues to work wonders at Wigan. With relatively little money, Martinez has crafted a group of players who refuse to sacrifice their footballing principles in search of results.
Wigan have won their last two home games, with Arouna Kone (pictured) scoring the winning goal on both occasions. They've also won three of their last four league games and have a game in hand over the other sides in the bottom half of the table.
Roberto Martinez will have every faith that, once again, his team can avoid relegation.
Ahead of this game, one team has confidence while the other needs a reaction. Given the respective sides' current form, it seems that Wigan will be up for the fight more than QPR.
Prediction: Wigan win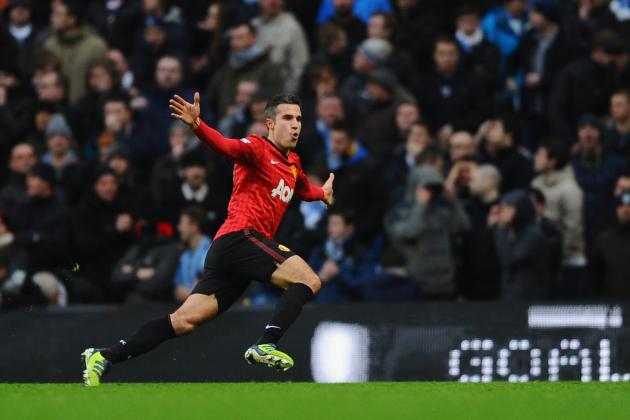 Laurence Griffiths/Getty Images

Without a doubt, this will be the match that almost every casual fan will watch on Monday. It's a game between two of England's richest clubs, with bragging rights on the line for the fans in attendance.
However, the result of this match won't define which team wins the Premier League title—that's already been decided. At this point, it's not a matter of if, but when United are crowned champions.
They haven't lost in the league since November, and they've only dropped points to Swansea and Tottenham since. Even then, Swansea and Tottenham only picked up a point each.
Robin van Persie (pictured) scored the winner the last time these two titans went up against each other, and although the Dutchman is without a goal in his last nine games, he's one to watch on Monday.
If United win this match—and their form since Nov. 17 suggests they will—then they go 18 points clear of City. Even if they don't and City either win or draw the match, City would still need United to drop more points in their last six games than they have for almost the entire season.
I just don't see it happening.
Yes, City have been decent of late, winning three of their last four league games, but it's not going to be enough.
For a variety of reasons, Roberto Mancini's biggest players haven't performed this season. Carlos Tevez and David Silva have been inconsistent, and injuries have hindered Sergio Aguero and Vincent Kompany at key points during the year.
Edin Dzeko and Yaya Toure have done well, but two players can't pull a team through.
Samir Nasri might have had an excellent game in City's 4-0 win over Newcastle last week, but more often than not, the Frenchman fails to deliver. He's clearly talented, but sometimes when you watch him, it doesn't look like he wants it enough.
It wouldn't surprise me in the slightest if Nasri doesn't start the game on Monday. Mancini may choose to go with solid rather than spectacular players to try to keep United at bay, then hit them on the counterattack.
The form book points to a United win here, but then again, City winning wouldn't be a shock given the tension between these two clubs.
Prediction: Manchester United win