Wisconsin Football: Biggest Strength and Weakness of Every Badgers QB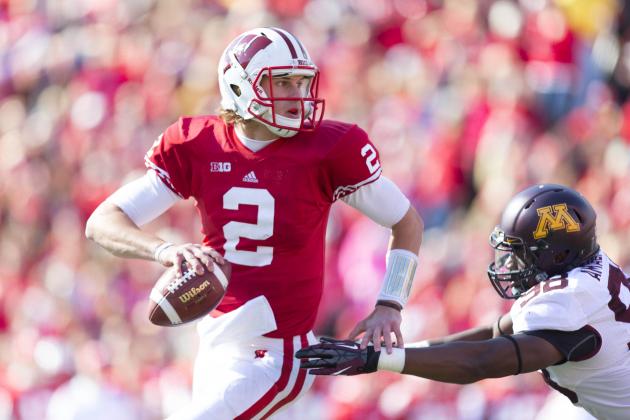 Jeff Hanisch-USA TODAY Sports

Now in the third week of spring practice after getting spring break out of the way, Wisconsin football head coach Gary Andersen continues to evaluate what he has at the quarterback position.
This will continue to be the most scrutinized and publicized battle throughout spring practice and beyond as the Badgers have as many as five quarterbacks competing for the starting job leading into the 2013 season.
Right now, there are four signal callers receiving the majority of the reps under center, with a fifth set to arrive this summer in junior college recruit Tanner McEvoy.
No knock on Thad Armstrong or Chase Knox, but we will evaluate the quarterbacks who have a chance at winning the distinction of starting quarterback and break down their biggest strength and weakness.
Begin Slideshow

»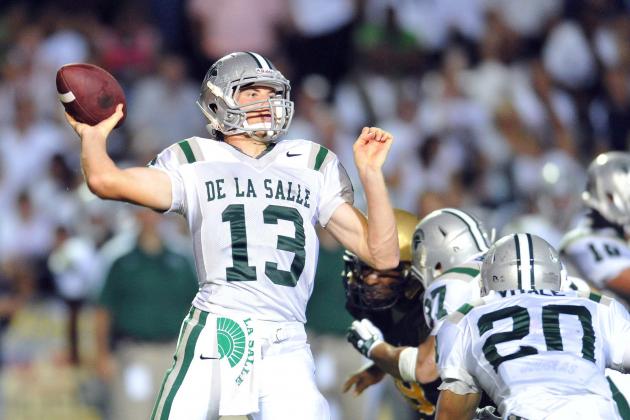 Steve Mitchell-USA TODAY Sports

Biggest strength: Arm strength
What makes redshirt freshman Bart Houston such a tantalizing prospect is what he was able to do in limited opportunities at De La Salle High School in California. Forced to redshirt last season due to a shoulder injury, Houston is deemed a pocket passer that has excellent arm strength and accuracy.
He was rated as a 4-star recruit by ESPN, which is impressive considering he didn't get many offers out of high school. Ironically enough, current offensive coordinator Andy Ludwig recruited Houston at San Diego State, so that has to play in his favor moving forward this spring.
Biggest weakness: Inexperience in passing offense
Just like several high school football programs across the country, Houston played in a veer based scheme offense, which features a lot of read options, hence his limited chances to throw the football.
That means Houston has plenty of upside since he doesn't really know the intricacies of the passing game, but that also may limit him in the position battle that is sure to start heating up. Then again, his experience running the option may actually benefit Houston considering Andersen's desire to implement some spread option looks at Wisconsin.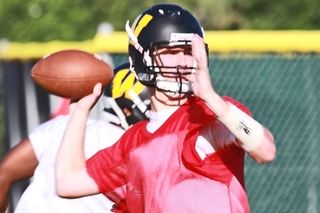 Photo courtesy of 247sports.
Biggest strength: Mobility
Another intriguing prospect, Tanner McEvoy was recruited out of Arizona Western College by Andersen and was a surprising commit for Wisconsin. He has three years of eligibility remaining and has an advantage in the quarterback battle because of his connection to Andersen.
He appears to fit the mold for the spread option because of his dual-threat ability, and at 6'6", he is deceptively quick and mobile. We're not sure just how much option Andersen will use in his inaugural season at Madison, but the more the merrier for McEvoy.
Biggest weakness: Down field passing
McEvoy can make a lot of throws, but it's the deep ball that could hinder his development and odds to win the starting job. His throwing motion is a bit unnatural, and that may contribute to his inability to muster enough strength behind his throws.
His low release also somewhat negates his height, so we'll see if coaches work on his mechanics once he arrives this summer. Some scouts believe that McEvoy should be playing another position, such as wide receiver. Maybe that's where he'll eventually wind up based on the lack of talent the Badgers have there.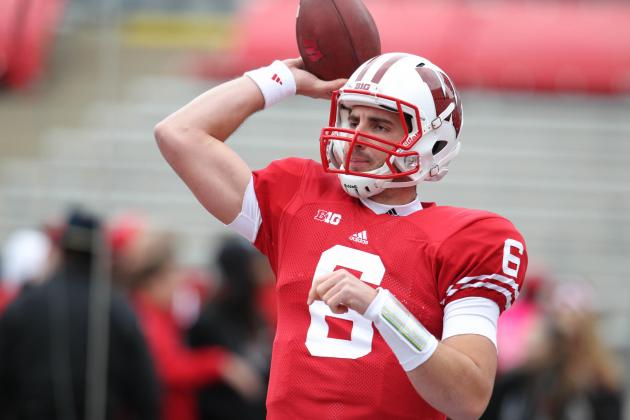 Brace Hemmelgarn-USA TODAY Sports

Biggest strength: Experience
It's difficult to say with a straight face that Danny O'Brien, who is entering his final season of eligibility, has a legitimate shot at winning the job. But O'Brien does have three seasons of starting experience, and this isn't his first rodeo as far as competitions go.
In his freshman year at Maryland, O'Brien threw 22 touchdowns and just eight interceptions while going for 2,438 yards. He has shown he has the ability to be successful, but the whereabouts of that ability currently is unknown.
Biggest weakness: Recent History
What makes O'Brien such a long shot to be the Badgers starting quarterback in 2013 is how quickly that distinction was yanked last season. At halftime of Wisconsin's third game of the season, O'Brien was replaced.
If that weren't enough, he was inserted in the final two minutes of the game against Nebraska, as well as in the second half against Michigan State, failing miserably on both occasions and solidifying his spot on the bench for the remainder of the season.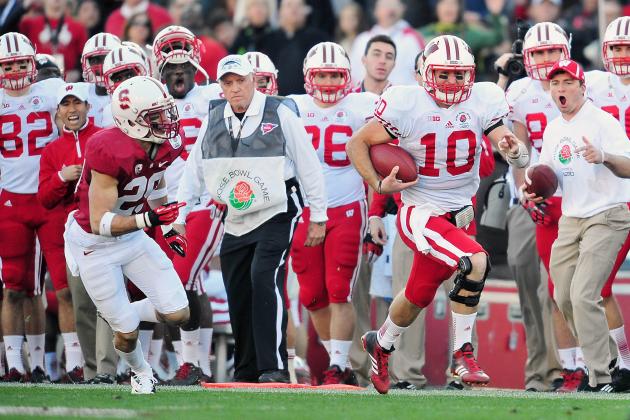 Gary A. Vasquez-USA TODAY Sports

Biggest strength: Mobility
Yes, even after three ACL surgeries during his five-plus years at Wisconsin, Curt Phillips' legs remain a weapon. The sixth-year senior ended the season as the starting quarterback, and although he didn't take off running often, he picked his spots and was effective when doing so.
Coming out of high school, there was plenty of hype surrounding Phillips because of his dual-threat ability. If he were able to emerge from the crowded group of quarterbacks, it would just add to what has already become an inspiring story.
Biggest weakness: Injury prone
The question may not be if Phillips will sustain another serious injury in his final season at Wisconsin, but when. As noted above, Phillips has had his fair share of knee issues and must wear a knee brace that hinders him a bit when he wants to run.
Phillips put up respectable numbers in his five starts last season, both in the air and on the ground, and he enters the spring as the No. 1 quarterback. But he can't afford to miss time with an injury considering the amount of competition he faces.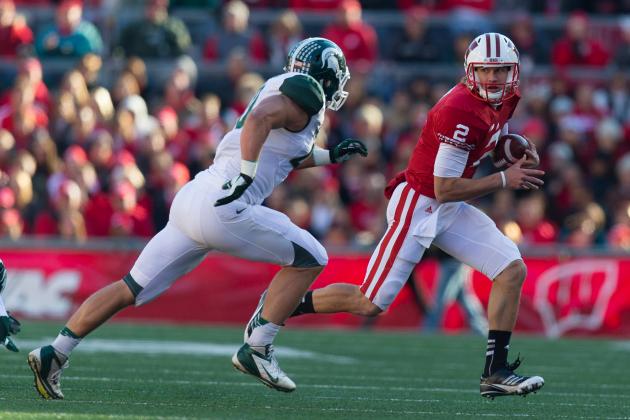 Jeff Hanisch-USA TODAY Sports

Biggest strength: Poise
Joel Stave came on as a former walk-on redshirt freshman last season and turned Wisconsin's season around. The Badgers didn't lose a game that he finished and nothing appeared to affect Stave when he was under center—that is, until he went down with a broken collarbone against Michigan State.
It's not as if Stave can't make all the throws—he can. But his effect on the rest of the team and his calm demeanor led to a dramatic turnaround, and that needs to be taken into account just as much as his ability to throw the football by Andersen and his staff.
Biggest weakness: Immobility
Now we're not saying that Andersen will make his decision based off of who can run the option the most effectively, but Stave is the definition of "pocket passer." In other words, he doesn't really move around well.
This won't cost Stave a chance at winning the job. It will come down to who is able to have the biggest impact on the game, whether that means being efficient in the passing game or making plays with their legs. Just don't expect to see Stave to do the latter.