Louisville vs. Wichita State: NBA Comparison for Starters in Final Four Showdown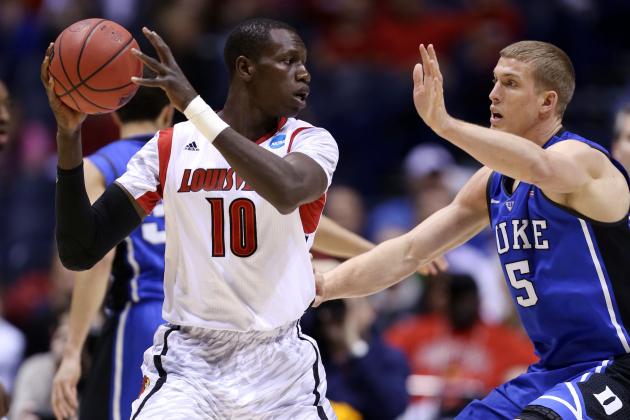 Brian Spurlock-USA TODAY Sports

Louisville and Wichita State meet in the Final Four Saturday in a matchup where the most of the NBA prospects will be playing for one team.
The Cardinals have several players who will move on and play in the NBA. Gorgui Dieng is a likely first-round draft pick, and Russ Smith has improved his draft stock with his play during March.
Meanwhile, the Shockers might be lucky to have one of their players play at the next level. They are a team primarily of upperclassmen who win because of toughness and grit.
Even though several of these players will never make it to the league, it's still fun to compare their games to those who currently play in the NBA.
Here are NBA comparisons for all the starters from Louisville and Wichita State.
Begin Slideshow

»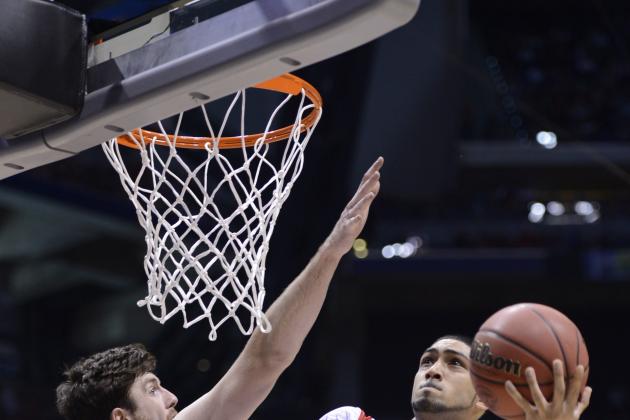 Jamie Rhodes-USA TODAY Sports

Measurements: 6'0", 175 pounds
Positives: Peyton Siva has been a solid college point guard in his four years at Louisville. He is a good athlete who plays excellent defense. Offensively, Siva is a good passer who can make plays in the open floor.
Negatives: Siva will have a tough time breaking into the NBA. He lacks the size needed to check a lot of the point guards in the NBA. Siva also struggles with his outside shot, shooting just 30.4 percent from beyond the arc this season.
NBA Comparison: Avery Bradley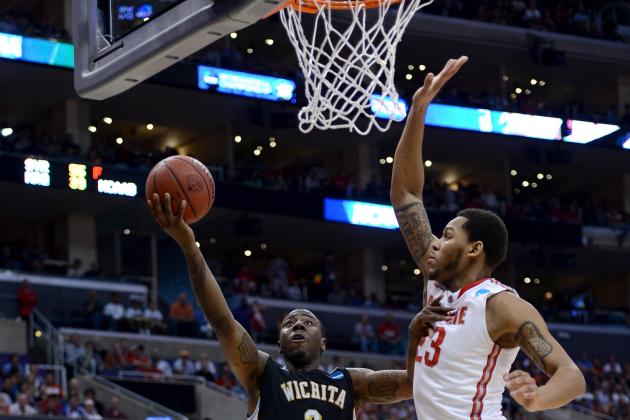 Harry How/Getty Images

Measurements: 6'0", 205 pounds
Positives: Malcolm Armstead embodies the toughness that has carried Wichita State all the way to the Final Four. He is physical and fearless, never shy in a big moment. At 205 pounds, he is able to push around a lot of college point guards.
Negatives: Armstead's confidence can get the best of him, as he has a tendency to hoist a lot of bad shots. In the Elite Eight game against Ohio State, Armstead shot the ball 21 times, making just six of those attempts.
NBA Comparison: Toney Douglas
Jamie Rhodes-USA TODAY Sports

Measurements: 6'0", 165 pounds
Positives: Russ Smith might be the fastest player with the ball in his hands in all of college basketball. He is a relentless scoring guard who has seen his stock improve over the first two weeks of the NCAA tournament, averaging 26 points per game in Louisville's march to the Final Four.
Negatives: Smith is a shooting guard in a body that is considered small for an NBA point guard. He has a tendency to force the issue on offense, putting up bad shots and turning the ball over.
NBA Comparison: Lou Williams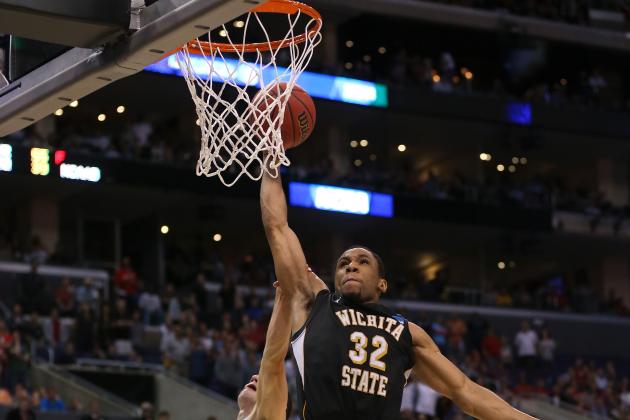 Jeff Gross/Getty Images

Measurements: 6'2", 202 pounds
Positives: Tekele Cotton is in the starting lineup for his physicality and defense. In Wichita State's first tournament game, Cotton held Pittsburgh's leading scorer, Tray Woodall, to 1-of-12 shooting. Cotton has also shown he can hit shots in big moments, making a three late in the second half to give Wichita State a six-point lead as Ohio State was making a comeback.
Negatives: Cotton is not a good free-throw shooter, making just 53.7 percent from the line this year. He also is the size of an NBA point guard but does not have any experience running a team at the college level.
NBA Comparison: Thabo Sefolosha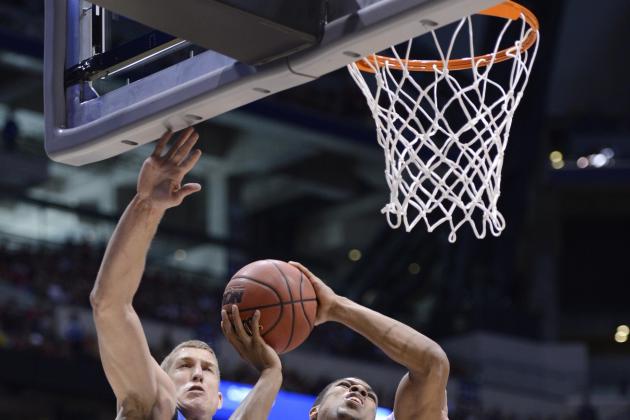 Jamie Rhodes-USA TODAY Sports

Measurements: 6'5", 230 pounds
Positives: Physically, Wayne Blackshear is ready for the next level. He has an NBA body and elite athleticism. Defensively, Blackshear is versatile, able to guard on the perimeter and down low.
Negatives: Blackshear's numbers have not matched his potential. That is, in part, because Louisville is Peyton Siva and Russ Smith's team. Next year, he will have an opportunity for a breakout season. To do that, he'll need to improve his outside shot, as he made just 31.9 percent from three this year.
NBA Comparison: Wesley Matthews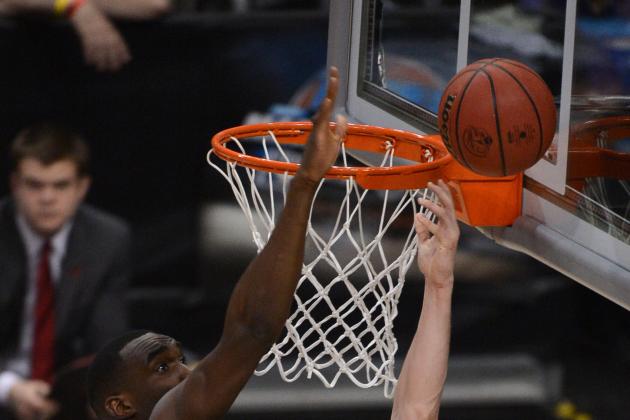 Jayne Kamin-Oncea-USA TODAY Spor

Measurements: 6'3", 218 pounds
Positives: Ron Baker is a redshirt freshman who does not looked fazed in the least by the big stage that is the NCAA tournament. He put in 16 points against Gonzaga in the round of 32. Baker is a smooth athlete with a nice shooting stroke.
Negatives: He can be a little streaky from the outside, and Baker does not get many easy buckets. Of his 104 shots this season, 78 have come from three.
NBA Comparison: Gordon Hayward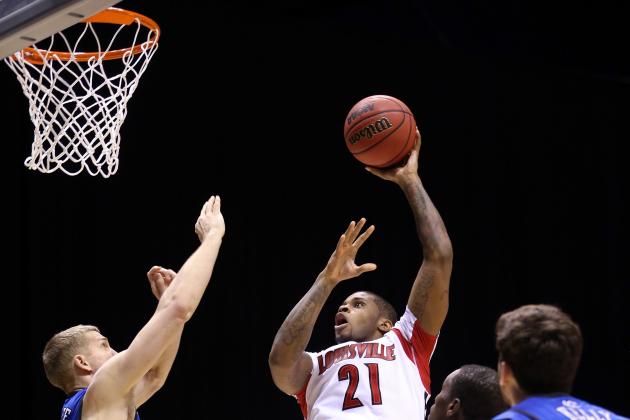 Streeter Lecka/Getty Images

Measurements: 6'6", 250 pounds
Positives: Chane Behanan is incredibly physical and makes up a bit for his height with good athleticism. He is able to finish above the rim and shoots a nice percentage—50.5 percent from the field this year. Behanan is also a very good rebounder, especially on the offensive glass.
Negatives: Behanan is an undersized power forward, and that certainly comes with its issues in the NBA. He needs to work on his free throws. He made just 52.7 percent from the free-throw line this season.
NBA Comparison: DeJuan Blair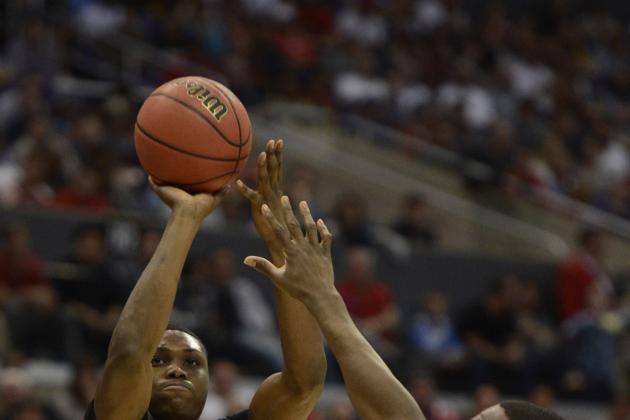 Richard Mackson-USA TODAY Sports

Measurements: 6'8", 215 pounds
Positives: Cleanthony Early is Wichita State's leading scorer, averaging 13.7 points per game. He can score from all over the court, whether it is from three or down low. Early is a solid rebounder, pulling down 5.3 rebounds per game.
Negatives: Early has an issue with consistency. He scored a total of 15 points over three games in the Missouri Valley Conference tournament, including scoring just two points in the title game against Creighton.
NBA Comparison: Al-Farouq Aminu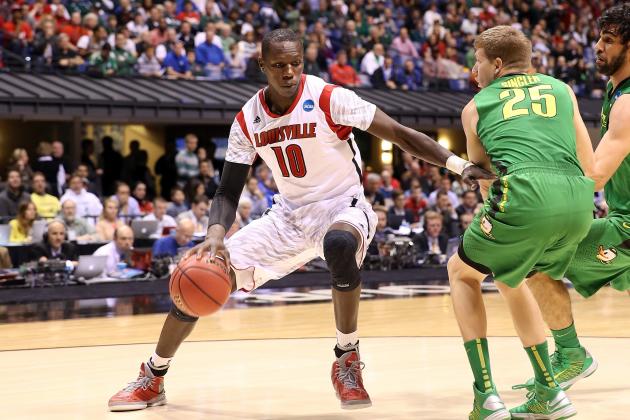 Andy Lyons/Getty Images

Measurements: 6'11", 245 pounds
Positives: Gorgui Dieng is a likely first-round NBA draft pick. He is a force on the glass and on the defensive end, using his length and athleticism to protect the rim. For the year, Dieng is averaging 9.5 rebounds and 2.5 blocks per game. He has also made strides on the offensive end, converting around the rim and even showing a nice touch with his shot.
Negatives: Dieng will have a place in the NBA thanks to his contributions on the defensive end, but he will need to further refine his offense in order to make a big splash at the next level.
NBA Comparison: Marcin Gortat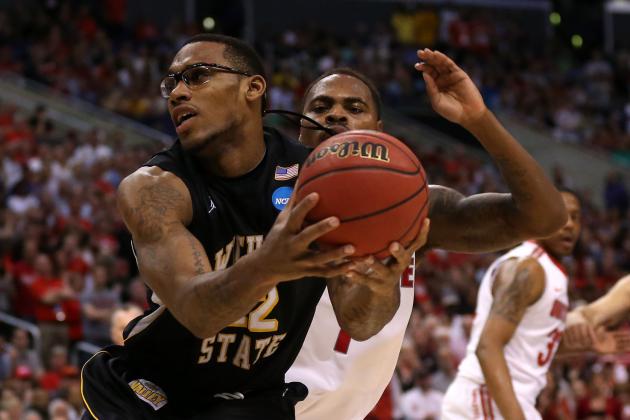 Jeff Gross/Getty Images

Measurements: 6'8", 238 pounds
Positives: Carl Hall is incredibly tough down low. He is a good rebounder, pulling down 6.9 boards per game. Hall also is a rugged post defender. He has 12 blocks in Wichita State's last three games, including six in the Elite Eight victory over Ohio State.
Negatives: Hall is a bit undersized for an NBA post player. He also does not have much range, attempting and missing just two threes all season.
NBA Comparison: Carl Landry