Michigan vs. Syracuse: Who Has the Edge in Every Matchup in Final Four Game?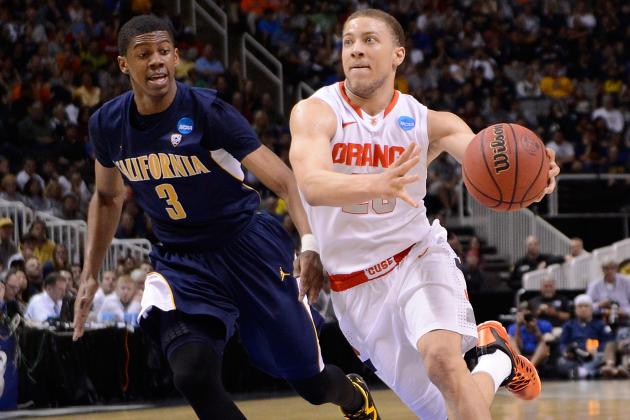 Thearon W. Henderson/Getty Images

There's no shortage of star power in the Michigan vs. Syracuse Final Four showdown, and in what's likely to be a close game, every player's contribution counts. Even the less-heralded starters in these deep, balanced lineups will need to be in top form.
One lower-profile faceoff that could have a huge effect on the outcome pits Michigan's Tim Hardaway Jr. against Orange senior Brandon Triche. Hardaway is Michigan's top defensive weapon, putting the pressure on Triche to keep the Wolverine standout from disrupting the 'Cuse offense and setting up fast breaks for his high-flying team.
Read on for more on the shooting guard duel and the rest of the crucial matchups that will decide which No. 4 seed survives and advances on Saturday.
Begin Slideshow

»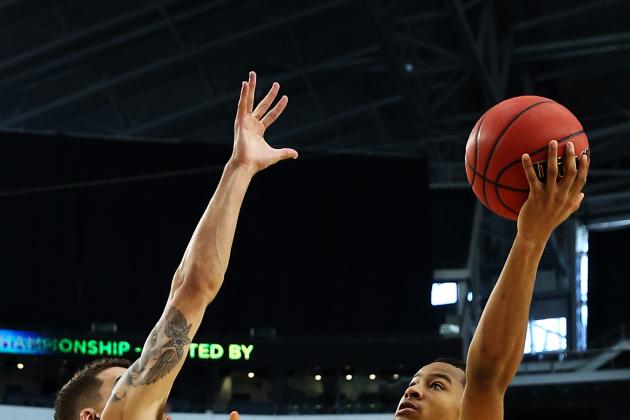 Tom Pennington/Getty Images

A finalist for the Wooden Award, Trey Burke has been one of the nation's most overpowering offensive weapons.
He scored a minimum of 15 points in every Big Ten game, he's averaging 18.8 points and 6.8 assists a night, and he's even a playmaker on defense with 1.6 steals per contest.
Michael Carter-Williams can't match Burke's scoring punch, but he led the nation in assists for a big chunk of the season.
The sophomore finished the regular season at No. 3 in assists (7.7 per game) and No. 6 in steals (2.7 a night), and even his disappointing shooting percentages haven't kept him from adding 12.1 points per contest.
Advantage: Michigan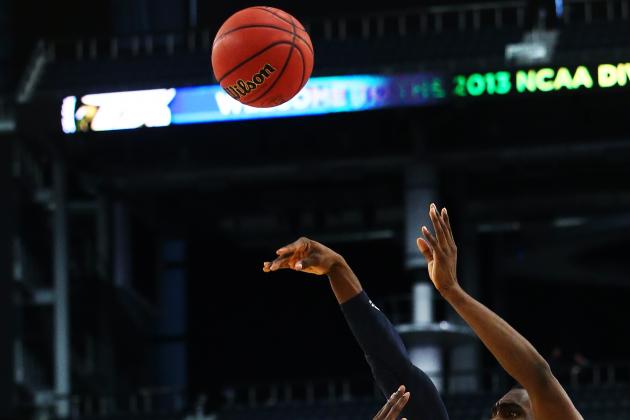 Ronald Martinez/Getty Images

One of the many reasons Michigan's offense has been so much more effective this season than it was a year ago is that Tim Hardaway Jr. has gone from a lousy three-point shooter (.283) to a very good one (.387).
That efficiency from beyond the arc rounds out an arsenal that already included outstanding finishing ability in the paint and a solid mid-range game. The 6'6" Hardaway's athleticism also makes him an intimidating defender on the wing.
Brandon Triche has undergone the reverse of Hardaway's transformation, with his three-point accuracy dropping from .350 to .292 this year.
He's still picked up his overall scoring, though, and his 3.5 assists per game make him a nice complement to Michael Carter-Williams as a secondary ball-handler.
Advantage: Michigan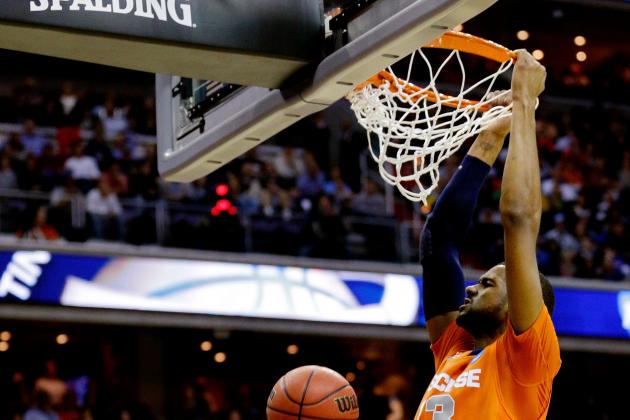 Rob Carr/Getty Images

Nik Stauskas has been the biggest surprise among Michigan's high-powered freshmen, leading the team's first-year class with 11.5 points per game. The 6'6" swingman is the Wolverines' top three-point shooter (.449), but he rarely makes an impact elsewhere.
Syracuse's own designated three-point specialist, James Southerland, has hit 83 treys at a .403 clip. At 6'8", he's also a huge factor in the success of the Orange zone, averaging 5.3 rebounds and 1.5 steals a night.
Advantage: Syracuse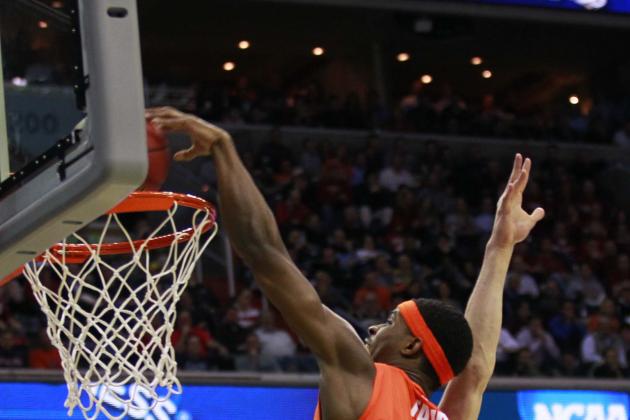 Geoff Burke-USA TODAY Sports

Throughout the tournament, Glenn Robinson III has been a target of opposing offenses because he's shoehorned into the power forward spot despite standing just 6'6", 210 pounds.
Of course, he's the one who creates mismatches when the Wolverines have the ball, whether shooting the three-ball or (more memorably) finishing alley-oops from Trey Burke.
At 6'8", 215 pounds, C.J. Fair has had far better luck facing off with opposing power forwards than Robinson has, and he has the hops to compete with even Robinson's dazzling athletic ability.
The junior leads the Orange with 14.3 points and seven rebounds per game for the season, and he shoots a staggering .475 on his admittedly limited number of three-point tries.
Advantage: Syracuse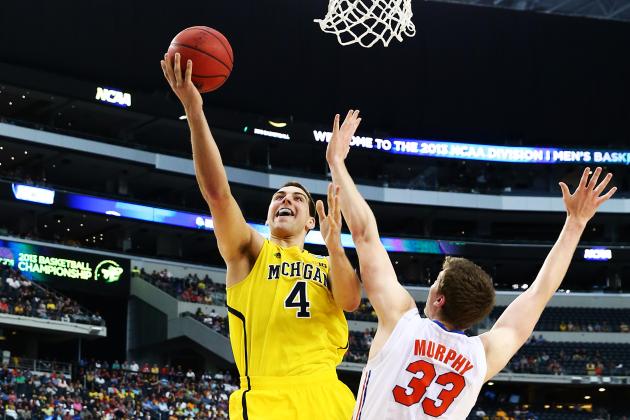 Tom Pennington/Getty Images

Mitch McGary's insertion in the starting lineup has been a revelation for Michigan. In four tournament games, McGary is averaging 17.5 points and 11.5 rebounds a night.
His boundless energy—which regularly sees him outrun his defender in transition—has been an especially big change from the powerful-but-plodding Jordan Morgan.
For his part, Rakeem Christmas is still, as a sophomore, more of an athlete than a basketball player.
The sophomore's 6'9", 242-pound frame comes with impressive strength and leaping ability, but beyond some decent shot-blocking numbers (1.8 rejections a game), his productivity in his first year as a starter has been lacking.
Advantage: Michigan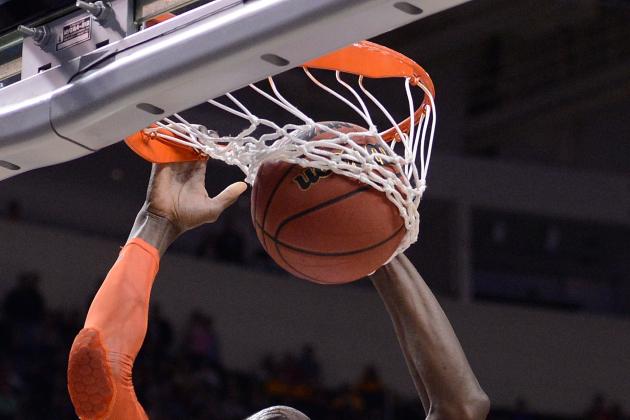 Thearon W. Henderson/Getty Images

Unsurprisingly for a team with a four-guard lineup, Michigan uses yet another guard, Spike Albrecht, as its top reserve.
The 5'11" point guard didn't put up much in the way of numbers on the season, but his quick hands helped him pile up seven points and three steals in trouncing Florida in the Elite Eight.
Needless to say, Albrecht won't be going head-to-head with 6'10" Baye Keita, the spiritual successor to Fab Melo in the middle of the Syracuse zone.
Keita's 11 points against Cal were an anomaly, but he is averaging 1.75 blocks per game off the bench in the tourney.
Advantage: Syracuse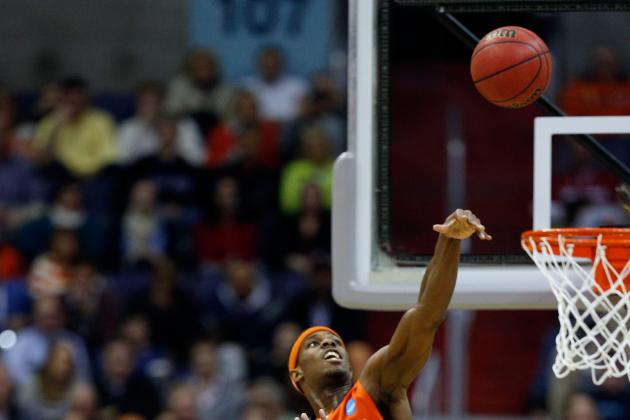 Rob Carr/Getty Images

The Wolverines have three-point shooters in abundance, but they're used to being set up by Trey Burke's penetration. Against the Orange's overwhelming 2-3 zone, that's not going to happen.
The length of C.J. Fair and James Southerland at the forward spots will make it exceedingly difficult for Stauskas (who loves the corner three-pointer) and company to get clean looks.
Much like conference rival Indiana, Michigan has the potential to disrupt the Orange defense with jump-shooting but lacks the experience against zones to execute against one that plays at Syracuse's exalted level.
Advantage: Syracuse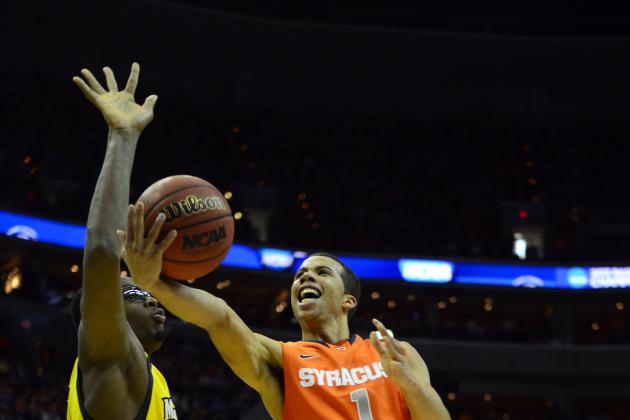 Bob Donnan-USA TODAY Sports

Without a classic post-up presence, Syracuse won't be able to pound the ball inside against Michigan as Kansas and Florida both tried to do.
However, both James Southerland and C.J. Fair will enjoy height advantages over their respective defenders (as usual), making it very difficult for Michigan to stop them from getting their share of good looks at the basket.
Michael Carter-Williams has his issues with turnovers, and Trey Burke is almost guaranteed to turn a steal or two into a fast-break layup.
On the other hand, Carter-Williams' six-inch height advantage over his opposite number will produce some easy points of its own for the Orange.
Advantage: Syracuse
Unless Michigan—the best team in the nation at avoiding turnovers this season—starts throwing the ball away as Indiana did, the Wolverines' army of jump-shooters should be able to keep the game close.
However, even accounting for Mitch McGary's huge potential for second-chance points, it's hard to imagine the Wolverines shooting a high enough percentage against the zone to outdo the Orange offense.
The Orange are most vulnerable against teams that can lock them down defensively. That's not Michigan's forte, and it won't happen on Saturday.
Winner: Syracuse