Orlando Magic vs. Houston Rockets: Postgame Grades and Analysis for Houston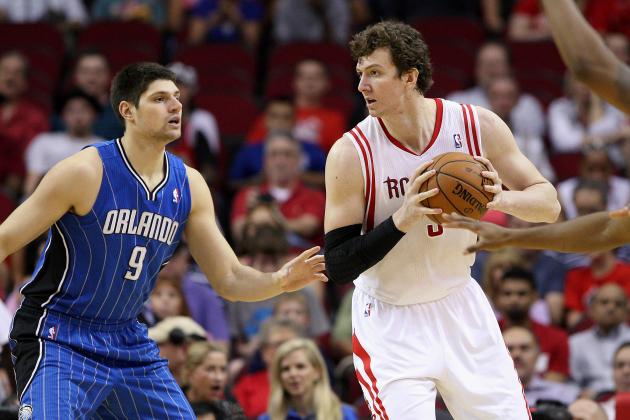 Troy Taormina-USA TODAY Sports

With playoff implications hanging on every game for the balance of the regular season, this was a game the Houston Rockets had to have.
A win over the lowly Orlando Magic would have brought them within a game of the idle Golden State Warriors for the sixth seed in the Western Conference.
But it didn't figure to come easily when the Rockets learned they'd be playing without both James Harden (foot) and Chandler Parsons (illness). That meant the up-tempo Rockets would need to compensate for the missing 41.1 points per game, 10.1 rebounds and 9.3 assists left in Harden's and Parsons' absence.
Still, the remaining healthy Rockets looked to put this game in the bag early. They sprinted out to a 27-9 run out of the gate and carried that into a comfortable 32-14 lead after the first quarter.
And the game should have never been in doubt after that. They stretched the lead 23 points at the half and had a 17-point edge heading into the game's final quarter.
Houston's bench nearly gave the game away late but still made just enough stretch for the Rockets (41-33) to salvage a 111-103 win over the Magic (19-56) thanks to a number of contributors.
Begin Slideshow

»
Without his normal running mates on the perimeter, Jeremy Lin faced the tough task of finding that delicate balance between calling his own number and creating for his teammates.
He also faced the not-so-tough task of a one-on-one matchup with Beno Udrih. And it was a matchup he exploited throughout the game.
When he was determined to put the ball on the floor, he didn't meet a driving lane he couldn't fill. He finished a number of those drives at the basket or waited until the last possible second to draw defensive attention and find an open teammate.
His perimeter shot wasn't always effective, but he used the threat of an outside jumper to pull his defender closer to him.
He torched the Orlando backcourt for 19 points (on 8-of-16 shooting) and 11 assists in less than 30 minutes of action.
Grade: A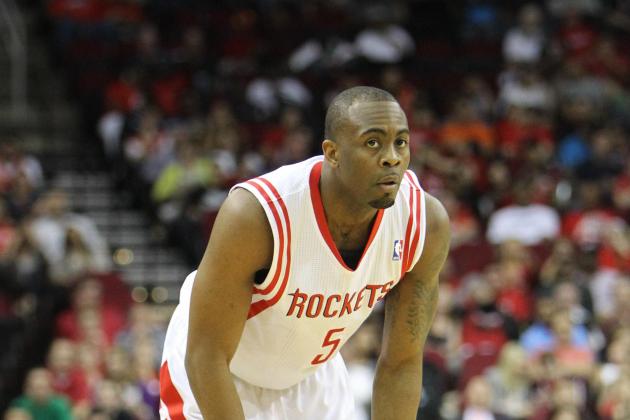 USA TODAY Sports

James Anderson built his NBA career on the strength of his outside shot, but with so many great shooters surrounding him in Houston, he's had to find other ways to make an impact on the game.
When the Rockets feel comfortable with Harden's health, he could be facing even heavier playing time than he's already logging (38.3 minutes per game).
That means there will be even fewer minutes available on the second-team's perimeter unit. And Anderson didn't build his case for more playing time in this game.
He was active on the glass (eight rebounds), but struggled to make much of a difference in any other facet of the game. His offensive game largely abandoned him (nine points, 3-of-12 from the field), but he did convert a timely tip-in late in the game when Orlando roared back against Houston's reserves.
His defense was serviceable but more a credit to some favorable matchups with more defensive-minded players.
Grade: C-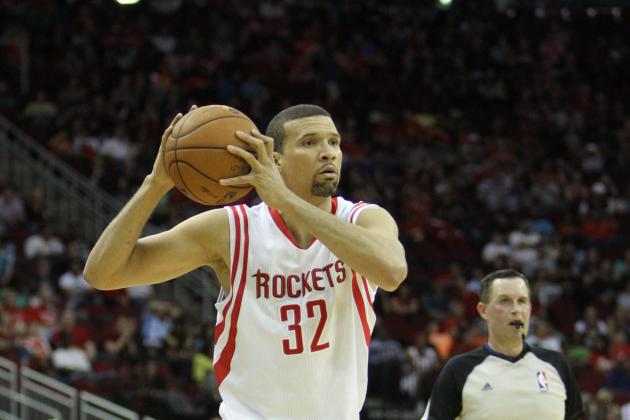 USA TODAY Sports

Francisco Garcia was the wild card in coach Kevin McHale's patchwork lineup.
He was perhaps the most well-rounded offensive player other than Lin but also had fallen out of favor with McHale of late. He had registered three DNPs in Houston's last four games entering Monday night.
He certainly built a strong case for more action going forward. He's a gifted shooter like Anderson, but he brings more to the table with his ball-handling and decision-making.
All aspects of his offensive game were clicking.
He shot a torrid 5-of-6 from the field (including 4-of-5 from three) en route to his 14 points. He dished out five assists and did not turn the ball over in his 25-plus minutes.
Defense was a little bit of a different story. He did register a team-high three blocked shots but carries at least some of the responsibility for Maurice Harkless' big night (team-high 28 points).
Grade: B+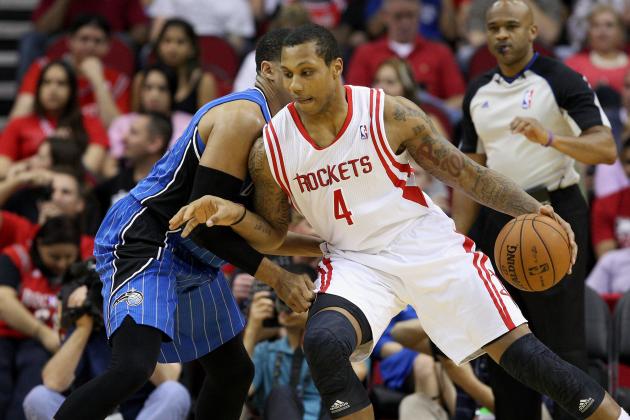 Troy Taormina-USA TODAY Sports

If Greg Smith could have avoided his foul trouble, this could have been a career night.
It was clearly apparent early on that the Magic had no answers for the bruiser.
He scored 10 points in the first nine minutes of the game before his second foul sent him to the sidelines.
It would quickly grow into a theme for Smith's night.
When he was on the floor, he gave Houston a go-to scorer at times. He bullied the undersized Tobias Harris in the paint, backing him into positions where he could be most effective. When the bigger Nikola Vucevic drew his number, Smith didn't dial back that aggressiveness.
Of course, that same aggressiveness limited him to less than 21 minutes on the night. But it also helped him compile a pair of game-saving defensive efforts as Orlando coach Jacque Vaughn shifted his attack to go right at Smith, who had five fouls.
His final numbers (12 points, four rebounds and a block) don't do his game justice. Then again, they could have been a lot better had he been able to stay on the floor for longer stretches.
Grade: B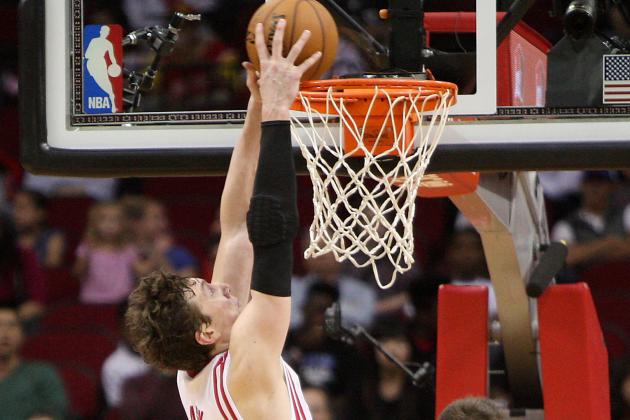 Troy Taormina-USA TODAY Sports

Omer Asik certainly benefited from McHale's inside-out attack, but his high energy level may have led to a monster effort even if he wasn't the focal point of the offense.
His teammates looked to get him involved early and often, and Asik responded with nearly every opportunity.
He needed less than 28 minutes to register his 22 points, on an incredibly efficient 11-of-13 shooting display.
He was masterful without the basketball. He rolled well off of screens, cut hard to the basket when his guards penetrated and enforced his will on the glass (18 rebounds).
He also silenced Orlando's budding star Vucevic, who shot just 5-of-19 from the floor and did most of his damage when Asik was on the sidelines.
The offensive responsibilities won't always be this great and neither will his scoring numbers. But if he continues to put forth this type of energy, he'll make Houston a tough out come playoff time.
Grade: A+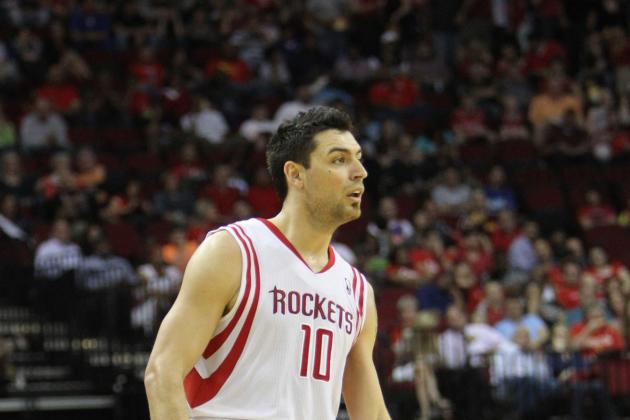 USA TODAY Sports

Against a superior opponent, Carlos Delfino would be high on the blame list for a loss.
As it is, this won't be a game he'll be adding to his highlight reel.
With Anderson and Garcia plucked from the reserve squad, Houston's second team desperately needed Delfino's scoring touch. And he just didn't have it.
He needed 15 shots for his 12 points. His three-point shot was clearly off, but he kept firing at will and finished an inexcusable 1-of-10 from deep.
Clearly he garnered more defensive attention than usual but could have done himself wonders had he put the ball on the floor more often. As dreadful as he was from deep, he did manage to shoot a respectable 3-of-5 from inside the arc.
Like Anderson, his glasswork keeps this from being an all-around disaster (six boards in 27 minutes). But he could have helped keep Houston fans from an unnecessary late-game scare.
Grade: C-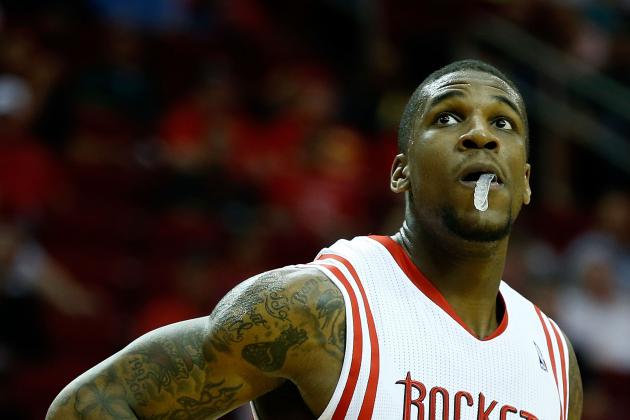 Scott Halleran/Getty Images

The size advantage wasn't lost on Houston reserves Donatas Motiejunas and Thomas Robinson, but it didn't work in their favor nearly as often.
The pair combined for 18 points but shot just 6-of-20 from the field collectively. They didn't have a lot of problems finding good shots, they just didn't convert them.
Robinson was far more effective on the glass (eight rebounds in 13-plus minutes) whereas Motiejunas struggled in that department (two in 33-plus minutes).
But they both showed flashes of their defensive potential. Motiejunas denied the athletically gifted Tobias Harris at the rim. Robinson came out to nearly half court to trap Udrih, then stripped the ball away from him and sprinted down court for a reverse flush.
Patrick Beverley continued to show off his own defensive ability, but he couldn't hide his offensive limitations (five points, 2-of-8 from the field).
Grade: C+