NBA Playoff Contenders with Most Grueling Remaining Schedule
Harry How/Getty Images
Fans anxiously awaiting the start of the NBA's second season won't be waiting quite as long as they may think.
Now that the regular-season schedule has entered its final turn in the month of April, playoff implications hang heavy on the remaining games for all playoff contenders and hopefuls.
For some teams, the road to the postseason isn't nearly as daunting as it is for others. Be it a home-heavy schedule or a slew of inferior opponents headed their direction, there are some clear on-paper advantages for these clubs.
As for the teams on this list, though, the schedule only intensifies over the coming weeks. There are remaining games with some of the league's most powerful heavyweights, an unbalanced disparity of home and road games or both.
But which team faces the most daunting task of all others?
And what does it mean in terms of playoff tickets yet to be punched or postseason positioning yet to be determined?
6. San Antonio Spurs
Ezra Shaw/Getty Images
Current Record: 55-19
Current Seed: First in the West
The San Antonio Spurs' bid to remain the Western Conference's top seed, and possibly challenge the Miami Heat for the No. 1 overall seed, was dealt a serious blow with the news that super-sub Manu Ginobili could miss a month with a strained hamstring (via ESPN.com).
And that uphill climb will only grow steeper over these final weeks of the season.
Following the Spurs' tough 92-90 loss to the Memphis Grizzlies on Monday night, they have eight games left on the schedule. Four of those are road games, with five games left against teams with a winning record.
San Antonio has two back-to-back sets still on the schedule, both of which end up on the road against current playoff teams.
On April 4, they have a road meeting with the Oklahoma City Thunder a night after hosting the Orlando Magic. Then they'll make a two-game California road trip on the season's final weekend, stopping first at the Staples Center for an April 14 showdown with the Los Angeles Lakers before heading up the coast for a meeting with the Golden State Warriors.
Not to mention their April 10 game at the Denver Nuggets may well feel like a back-to-back given the effects of the altitude and coach George Karl's up-tempo system.
5. Los Angeles Lakers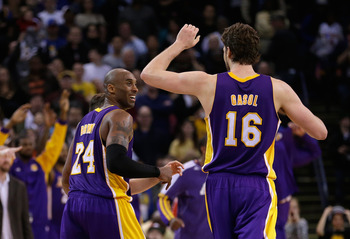 Ezra Shaw/Getty Images
Current Record: 38-36
Current Seed: Ninth in the West
The Los Angeles Lakers aren't without their own injury concerns as starting small forward Metta World Peace is effectively lost for the season, barring a miraculous playoff run, after undergoing knee surgery (via Sam Amick USA Today).
Of course, the Lakers may not even be a playoff team as their current 2-4 slide over their last six games has left them on the outside looking in at the postseason race.
But they'll have the chance to bolster their playoff hopes starting with Tuesday's game against the Dallas Mavericks, who trail the Lakers by just 1.5 games.
Defeating the Mavericks will be no small task (the Mavs have won four of their last five), and this game is a near must-win as Dallas is just one of three teams the Lakers will face that is currently not a playoff team.
The good news for the Lakers is that they have just one back-to-back set of games left on their schedule. The bad news is that the two-game stretch features the two closest guarantees on the schedule (New Orleans Hornets and Portland Trail Blazers)—and the Lakers can tell you all about how little on-paper guarantees really matter.
If there's a saving grace here, it's the fact that the Lakers only have two remaining road games and one of those (on April 7) will keep them inside of their home arena for a matchup with the Los Angeles Clippers.
Still, it's hard to place too much importance on the home games considering the Grizzlies, Warriors, Spurs and Houston Rockets are all scheduled to come to town.
4. Milwaukee Bucks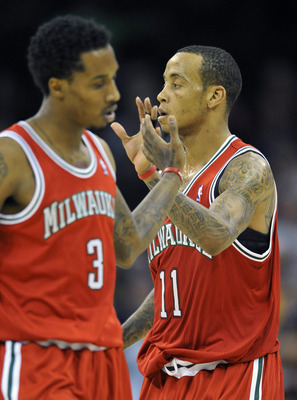 USA TODAY Sports
Current Record: 36-37
Current Seed: Eighth in the East
At this point in the season, the feeling around the Milwaukee Bucks should carry a far more appreciative tone than one of panic. After all, if not for a pair of injuries (Andrew Bynum of the Philadelphia 76ers and John Wall of the Washington Wizards), the Bucks wouldn't be anywhere near the playoff race.
It would take a monumental collapse for the Bucks not to qualify for the postseason as they hold a six-game lead over the 76ers for the eighth seed. But Milwaukee's schedule suggests that it won't be doing anything more than backing its way in to an undeserved playoff berth.
The Bucks will play six of their final nine games on the road with three of those games taking them to some of the toughest NBA venues.
They have road dates left with the Knicks, Heat and Thunder, a trio that has posted a collective 91-18 home record. They'll also travel to the Philips Arena on April 12 to face an Atlanta Hawks team that owns a 24-13 record at home as part of a grueling four-game road trip to be played out in a five-day span.
One of their three remaining home games also pits them against the Nuggets, who have won seven of their last nine road games.
3. Indiana Pacers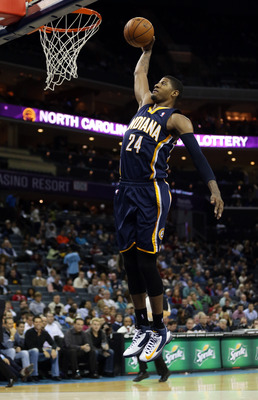 Streeter Lecka/Getty Images
Current Record: 48-27
Current Seed: Second in the East
The Indiana Pacers could not have been planning for any major contributions coming from Danny Granger considering he's played all of five games this season.
But you still have to wonder about any emotional effects surfacing now that Granger has officially been ruled out for the rest of the season (via USA Today). Even at less than full strength, he would have been a nice ace up Indiana's sleeve.
The Pacers don't have a lot of time left to strengthen their playoff position with just seven games remaining on the schedule. They're also light on breaks as they'll be pitted against some powerhouse clubs before the season's over.
Indiana faces just three more teams with a losing record: the Wizards, the Cavaliers and the 76ers. And they'll catch two of those teams (Washington and Philadelphia) on the back end of a back-to-back set starting against playoff teams (Oklahoma City and Boston, respectively).
In order for the Pacers to hold off a Knicks team breathing down their necks, they'll need to see a bit of fortune reversal over the final weeks. Indiana holds just a 2-6 record on the year against the four playoff teams left on its schedule.
2. New York Knicks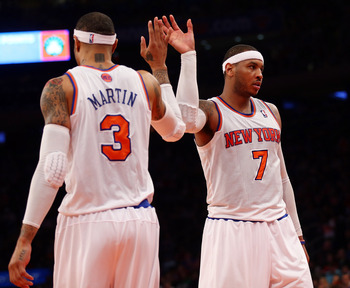 Elsa/Getty Images
Current Record: 46-26
Current Seed: Third in the East
The Knicks are still playing without Tyson Chandler, who has now missed their last 10 games with a bulging disc in his neck. And they won't be seeing Rasheed Wallace (foot), Kurt Thomas (foot) and Amar'e Stoudemire (knee) at least until playoff time, or possibly not until next season.
But thanks to some dominant basketball from J.R. Smith and Carmelo Anthony, the Knicks are officially the hottest team in the league as they'll put their eight-game winning streak on the line against the Heat on Tuesday night.
The Knicks caught a bit of a break as LeBron James, Dwyane Wade and Mario Chalmers have all been ruled out for Tuesday night's game (via Tom Haberstroh of ESPN.com).
But breaks will come few and far between over their final 10 games.
New York plays six more games away from Madison Square Garden, and seven against current playoff teams.
The Knicks still have to deal with three teams seeded no worst than second (Miami, Oklahoma City and Indiana) and a Bulls team looking to close off a four-game season series sweep.
1. Oklahoma City Thunder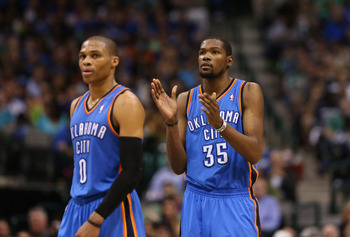 USA TODAY Sports
Current Record: 54-20
Current Seed: Second in the West
If the Thunder can overtake the Spurs for the top seed out West, they will have earned it.
No team faces a more grueling schedule over the final weeks than the defending Western Conference champs.
They don't play again until Thursday, but then face a possibly season-defining stretch of three games in four days.
Oklahoma City opens that daunting stretch with a head-to-head battle against the Spurs with obvious playoff implications overflowing from the contest. They'll leave San Antonio for a road match with the Pacers on Friday before coming home for a Sunday game with the Knicks.
The competition level lightens a bit from there, but still features a three-game road trip pitting them against two current playoff teams (Jazz and Warriors) and a Portland Trail Blazers squad that has won 22 of its 35 home games.
Finally they'll return home for a Sacramento Kings team playing some of its best basketball of the season of late (6-5 in their last 11 games) and a Bucks team that's days away from punching its own playoff ticket.
Keep Reading