WWE Raw Results and Report Card 4/1/13: The Final Raw Before WrestleMania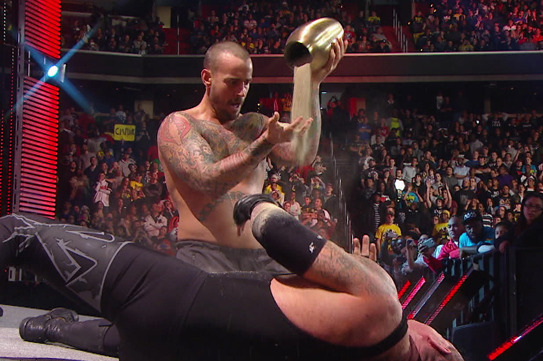 via WWE.com
There is a lot of pressure on the shoulders of the WWE creative team for the final Raw before WrestleMania. They have to explain and get over multiple angles on a single night, fully expecting viewers who may not watch religiously to tune in and see what the show is all about this year.
The answer?
Ashes. Human ashes. Remains.
They belong to Paul Bearer, Undertaker's longtime manager who passed away earlier this year. And CM Punk not only stole them from Undertaker, he actually dumped them out, all over a prone Taker and himself.
Say this for the WWE—it was inventive.
It also stole the spotlight away from the main event, The Rock versus John Cena for the WWE Championship. The two are among the biggest stars in WWE history, but on this night at least, no one will leave the arena talking about anyone other than CM Punk and Undertaker.
What about the rest of the show? I graded every segment from A-F, red pen in hand just like the most disturbed teacher at your high school, to see who passed and who failed. Disagree? Let me hear it in the comments.
Begin Slideshow

»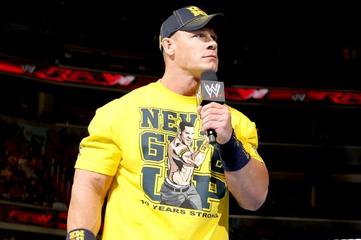 via WWE.com
John Cena comes out to his mixed response—unless my ears deceive me the boos are overpowering the cheers just a little. The WrestleMania 29 title challenger acknowledges the split house and goes on to cut a long, meandering, but passionate promo.
At this point, either you're on Cena-The Rock II or you will never be. I can't imagine a conceivable monkey wrench that would change your mind. Cena admits The Rock is the greatest WWE champion of all time, but is confident he can beat him anyway.
Key Quotes:
"I stand in the middle of a house divided. Ironically enough, here in Washington, D.C. The home of the Democrats, the home of the Republicans. But tonight's arena is filled with Cenacrats and Rockpublicans. All eyes focused on this Sunday, all eyes focused on WrestleMania." John Cena
"Those childish games are over. Because we all know that this is much much bigger...The Rock has come back. He has done every single thing he said he would do. You name it, the Rock conquered it." Cena
"Yes, Rock is the great one, but the great one will fall. The Rock's time is up, my time is now." Cena
Grade: B
Like last week, Cena's internal dialogue and self affirmations aren't working for me here. I understand they are going for a "big-fight feel," but it's still pro wrestling. It needs to be a little bigger and broader to really hit home.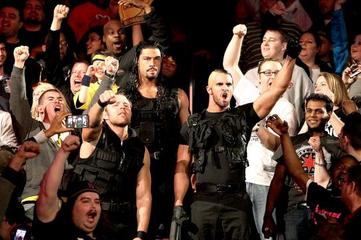 via WWE.com
Got a six-man tag team you need to build? The WWE has 3MB ready and willing to do any kind of job you need.
Competitive match? They can do it.
Take a beating in a squash match? They've got that under control, too.
The only thing they can't do, seemingly, is win a big match. And that certainly wasn't going to happen here in a match all about how well the WWE super team would work together against The Shield.
Well, if The Shield comes out with three jobbers Sunday instead of Ambrose, Rollins and Reigns, then you have your answer. The Big Show knocked out Jinder Mahal to seal the easy win.
After the match The Shield comes out—halfway. They cut a promo about how Team WWE isn't a real team—and they are right.
Key Quotes:
"They're what would happen if the Mean Street Posse went to a karaoke bar." JBL on 3MB, much to the King's delight.
"3MB reminds me of a band I used to be in. We were called the Blank Checks, but we never got signed." Jerry Lawler to crickets from his broadcast partners.
"We're going to leave you flat on your backs, looking up at the sky and wondering just what went wrong." Dean Ambrose
"Justice never lies. And we know the truth." Seth Rollins
"And the truth is, you are not a team...your team is phony." Roman Reigns
Grade: C+
Not much to see here. Would have been interesting to see Team WWE face a real test and tease some more dissension. Instead, it was Squashamania and not even the good Vader-style squash where the jobbers take a real beating.
The Shield came out afterward to cut three generic promos. The passion that fueled this confrontation a month ago seems like a distant memory.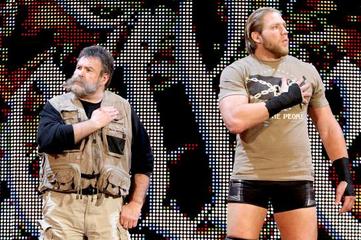 via WWE.com
Zeb Colter and Jack Swagger get a chance to deliver a classic video in Washington and don't quite live up to expectations. This angle never really got the traction the WWE hoped it might, fizzling in the mainstream.
Of course, the two looked like Jim Cornette and Ric Flair compared to Del Rio, who doesn't really seem to connect to his own lines. He and the writers just aren't clicking. Unless he gets better on the stick, or they get better with the pencil, Del Rio just isn't going to make it as a top babyface.
Key Quotes:
"Sadly to say, much like Ricardo Rodriguez's ankle, our country is broken." Zeb Colter
"Yes, the people have become weak. I know why. And deep down, whether you want to admit it or not, you know why too....at WrestleMania, real change is coming." Jack Swagger
"Alberto Del Rio, amigo, you'll witness change first hand." Swagger
"If you people don't like that, then you don't deserve to be real Americans." Swagger
"America is the land of opportunity. and one of the many great rights guaranteed by the Constitution is Freedom of Speech." Alberto Del Rio
"He's nothing but a great big pinata with a mustache that I'm about to break." Del Rio
Grade: C
This matchup is turning into a complete dud.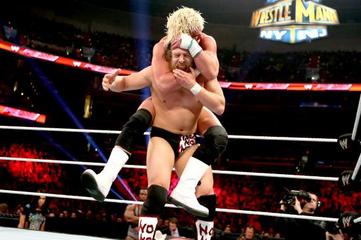 via WWE.com
Daniel Bryan and Dolph Ziggler, one-half of the tag team title match at WrestleMania, squared off in the "workrate special." Once every Raw, the WWE throws a bone to fans who actually like pro wrestling. This was that bone.
The story of this match was AJ Lee. Kane and "Big E" Langston canceled each other out. But Team Ziggler has AJ as the wild card, and that made all the difference. Ziggler pinned Bryan after the bearded one was distracted, and then, "Big E" used the power of his enormous jiggly pecs to crush Bryan and Kane after the match.
Excellent stuff.
Key Quotes:
"She's a few cards short of a full deck. 52 short." JBL on AJ Lee
"Daniel Bryan says he knows how to make a man tap in more than 100 ways." Michael Cole (That's nothing compared to Chris Jericho.)
"She's a wack job." Lawler
"She'd have to be more sane to be a wack job." JBL (tag team jokes)
Grade: A-
Always so excited to see either Daniel Bryan or CM Punk in the match that goes long enough to warrant a commercial break. This match gained half a letter grade for Lee's skipping around Kane. It distracted the Big Red Machine—and me.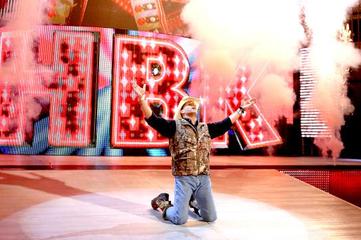 via WWE.com
Shawn Michaels knows all about retirement matches at WrestleMania. He's retired Ric Flair and been retired himself by the immortal Undertaker. So, he has some thoughts to share on the matter with his best friend HHH.
Instead of using email like a regular person, he wanted to drop his knowledge bombs live on Raw. I'll condense and paraphrase: He'd like to see HHH win because Brock Lesnar is just a money-grubbing jerk who doesn't even love the business.
Paul Heyman doesn't care for that sentiment at all and comes out, with Lesnar in tow, to give the two WWE icons a piece of his mind.
Key Quotes:
"You could hear the sound of the Game's arm breaking." Jerry Lawler (No you couldn't. No it didn't.)
"Now you didn't think we could have WrestleMania without Mr. WrestleMania did you?" HBK
"I don't think you do know what you are doing." HBK
"You never heard my opponent come out here and brag about how he ended my career because he respects me that much." HBK
"Brock Lesnar respects no one. And I know you don't respect him." HBK
"This job has become your life. At WrestleMania you didn't put your career on the line. You put your life." HBK
"I came here to tell you at WrestleMania, you had better kick Brock Lesnar's ass." HBK
"If you're not down with that, I've got..." HBK, interrupted by Brock's music
"For the record, my client has two words for you, but I don't think they are the two words either one of you is looking for." Paul Heyman
"You sir, are going to have to learn to live with all that disappointment." Heyman to HHH
"You're going to disappoint your wife, but you're probably used to that anyway." Heyman (Zing)
"You should have just walked away....but now I assure you, you won't be able to walk away." Heyman
"You'll be a beaten, battered, emasculated retiree." Heyman
Grade: A-
Shawn Michaels must really be clean, because that was one of the most coherent promos I've ever heard from him. Also, mad bonus points for HBK's crazy outfit—camo vest, cowboy hat and jeans tucked into boots beats chaps any day of the week.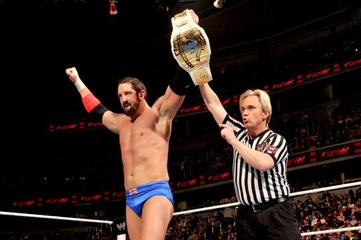 via WWE.com
The prestigious Intercontinental championship—once the belt of Shawn Michaels, Mr. Perfect, and Bret Hart—has been reduced to the opening match at WrestleMania.
And not even WrestleMania proper—the pre-show. It was a shame to think about how hard Pat Patterson worked in that famous tournament in Rio De Janeiro to see the title reduced to this.
The Miz comes out to "scout" Wade Barrett, so that means the match is just something happening in the background as The Miz talks and talks about himself and Mania. Barrett, of course, wins the match with the Bull Hammer.
Key Quotes:
"In my opinion the most important matches are the first match and the last match." The Miz (Whatever makes him feel better about being in the opener.)
"I'm getting in your head and you know it." The Miz to Wade Barrett
"Count to 100." JBL after the Bull Hammer
Grade: B-
On the one hand, there was The Miz being The Miz. On the other hand, that was actually a nifty little match. I'll meet in the middle.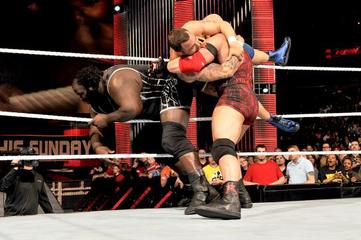 via WWE.com
Santino Marella pulled a lame April Fool's joke on Vickie Guerrero, telling her that Vinnie Mac was in the house and was steamed.
His punishment? Meet Mark Henry.
Ryback runs out after the match, but can't touch Henry because of a "no contact" provision set up by Booker T on SmackDown. Ryback, not as dumb as he looks, used Marella's lifeless corpse to batter Henry about, thus technically not touching him.
Key Quotes:
"There's the world's strongest slam." Michael Cole
"This may be the most violent strong man in WWE history." JBL
"I know you mad that you didn't break my bench press record. But that don't give you the right to come down here and so called threaten me." Mark Henry
"Tonight is not the night. There's only one thing that's going to happen tonight. And that's smile." Henry
"I didn't touch you stupid." Ryback
Grade: B
Last week, Henry avoided the "no touch" provision by using the weights to do his dirty work. Instead of a barbell, Ryback used Marella as a human battering ram. That was actually kind of brilliant.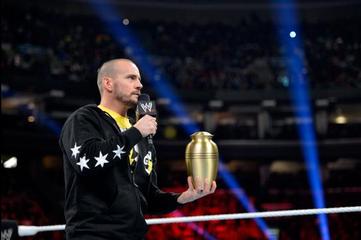 via WWE.com
Did you know CM Punk was a jerky old jerkface willing to do whatever it takes to win? If you didn't, well, you should have called somebody.
But now? Now you know.
Key Quotes:
"I think a better question is 'Do I give a damn if I'm disrespecting the memory of Paul Bearer.'" CM Punk
"Undertaker is more concerned with Paul Bearer's streak of waking up every morning and that streak is over." Punk
"At the end of this year's WrestleMania, every time somebody thinks about the grandest stage of them all is going to think of CM Punk." Punk
Grade: B
This was a short and disappointing interview, especially as Punk's final shot on the mic before WrestleMania—but the line about Paul Bearer's streak of waking every morning ending (in death I remind you) was a jaw-dropping classic. Ugly.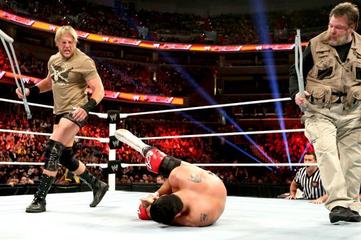 via WWE.com
Ricardo Rodriguez, crippled by Jack Swagger last month, refused to go to the back on Alberto Del Rio's request. As a result, he made things impossible for his client. Swagger stalked him, forcing Del Rio to fly to the rescue.
That left an opening for Zeb Colter who used Del Rio's crutch to whack poor Del Rio. The champion got the win, officially at least, but I doubt he felt like a winner as Jack Swagger's America beat him halfway back across the proverbial border.
Key Quotes:
"Zeb Colter, suddenly, looks scared to death." Michael Cole
"There's nothing brave about Jack Swagger stalking Rodriguez." Cole
"You love freedom of speech until somebody uses it." JBL to Cole
"Alberto Del Rio was going to come out here and fight this old man Zeb Colter? You think he deserves this? Of course he does." JBL
"We the people." Swagger to a prone Del Rio
Grade: B-
This was better than the dueling promos, but not by much. I loved the idea of Colter and Swagger, but it just didn't click the way it might have with a more charismatic sidekick for old "Dirty Dutch." Swagger has the charisma of a brick wall.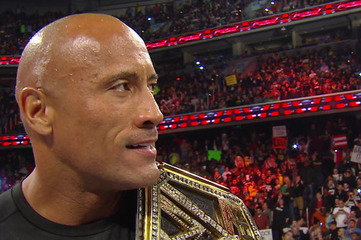 via WWE.com
Ladies and gentleman, without further ado, I give you The Rock.
Key Quotes:
"Connection. That. This. Connection. Between the People's Champ and the people is the only reason why I am standing in the middle of this ring right here, right now." The Rock
"Preach it." Man in the crowd
"This Sunday, the will of the people is for the Rock to walk down that long aisle, take his size 15 boot, and curb stomp John Cena's monkey ass all over WrestleMania." The Rock
"If the people will it, we can change the world. Because maybe, just maybe, instead of the Rock visiting this town, the Rock will have to live in this town. If the people will it, and the Rock lives in this town, then the Rock will live in a big house up the road. A big White House. And maybe, just maybe, we go from President Barack to President The Rock." The Rock
"John, you're angry and mad. Saying a lot of things you said last year. What happened? You got beat." The Rock
"Your time isn't going to be now. It's going to be never." The Rock
"John Cena, you look for redemption. The Rock has already found what he's looking for." The Rock
"You cannot deny the will of the people and you cannot beat the Rock." The Rock
Grade: B
The Rock kind of lost the crowd with the talk of winning the White House and the mention of President Obama. I guess that one was kind of guaranteed to piss off half the crowd—one way or another. It has to be noted, for the record, how enormous The Rock's arms are. Ludicrous.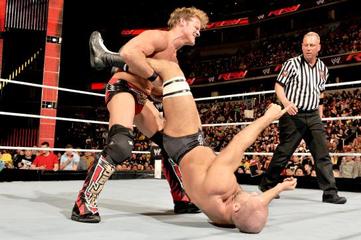 via WWE.com
A shame that Antonio Cesaro is stuck as enhancement talent, just the "opponent" in the ring while two guys try to get an angle over. But, boy, what an enhancement talent!
This was a super match, one that they were nice enough to let play out before Fandango attacked and brutally beat Chris Jericho. Jericho got the win with the Walls, but Cesaro continues to wow.
Key Quotes:
"Jerry Lawler has the hieroglyphic app for his Twitter." JBL (That's an old man joke, but one that doesn't really make sense.)
"He's like a cross between Fred Astaire and Randy Couture." JBL on Fandaaaaango
"There's still a match going on guys." Michael Cole
"Wait, there is?" Lawler (That Fandango sure makes an entrance.)
"C'mon baby!" Chris Jericho
"There goes the judge." Cole after Jericho nails Fandango
"You can't wrestle." The crowd to Fandango
"You think you're funny?" An irate Fandango to Jericho
Grade: A
The Fandango gimmick doesn't seem built for a serious angle or to express such fury. It's kind of disconcerting. I like the idea of a guy with a completely goofy angle who simply refuses to acknowledge he's a comic act.
Meanwhile, in the ring, Cesaro showed that he's one of the very best in the business. What a performer.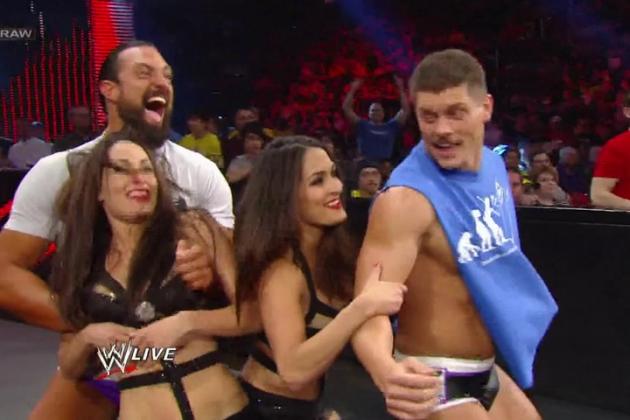 via WWE.com
Divas tag match? Between the Funkadactyles and the Bella Twins
Can I say no? I can't? I guess it's on then. The Bellas win what turns out to be a solid professional wrestling match. No, that is not an April Fool's joke.
Key Quotes:
"The round mounds of get down." JBL on Tensai and Brodus Clay
"They're like the Natural Disaster plugged into an iPod." JBL
"They look like large, in sync tomatoes." JBL (He's on fire tonight.)
"They learned that from watching us." Damien Sandow on the Bella Twins. (If he means not getting over, he's probably right.)
Grade: B
Wow. Am I crazy, or was that a pretty darn good match? Can it be both? I'm going to make both "crazy" and "a good match" my final answer.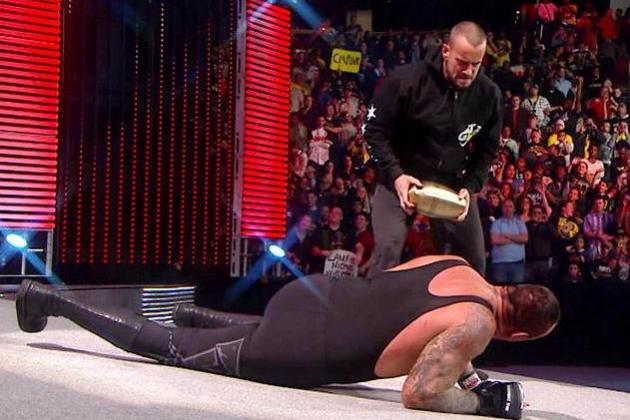 via WWE.com
Undertaker comes out to let CM Punk know exactly how he feels about his disrespectful and shameful treatment of poor Paul Bearer's urn. He cuts a promo, southern accent sneaking through at times, to let Punk know he isn't going to beat him at WrestleMania. He's going to end him—like there's going to be a second Deadman-type end to him.
And then the druids came out. And Paul Heyman. Not just Paul Heyman. Paul Heyman dressed as Paul Bearer. Again, this is not an April Fool's joke. As a furious Taker descended on Heyman, Punk suckers him and beats him with the urn.
The coup de grace was a new low, even for WWE—Punk poured what were ostensibly Paul Bearer's mortal remains all over himself and Undertaker. I swear I am not making this up.
Key Quotes:
"CM Punk, your historic title reign lasted well over 400 days. But the pain waiting for you at WrestleMania is going to last an eternity." Undertaker
"It was you who decided to make this personal. And for that, you will suffer." Undertaker
"The disrespect that you showed Paul Bearer will cause you to pay the ultimate price." Undertaker
"In my current state of mind, the streak, it may come to an end Sunday. But you will never live to talk about it." Undertaker
"Guys, I don't think this was something the Undertaker was expecting." Lawler, as monks come out chanting away.
"Come on hocus pocus. Sit up for me." CM Punk
"I did this to you. I did this to you." CM Punk
Grade: A
I vacillated between A and F. It was kind of awful and kind of genius at the same time. Heck with it. I'm all in. Was pouring Paul Bearer's ashes on himself and Undertaker a little extreme? Of course. What else would you expect from a Paul Heyman guy? What else was WWE going to do?
Their other argument of trying to talk you out of your hard earned money was that an old guy who can barely walk is going to fight a guy who looks like he works at Waffle House. I like what they did as an alternative.