Is Michigan State's Tom Izzo Recruiting the Right Way to Win NCAA Titles?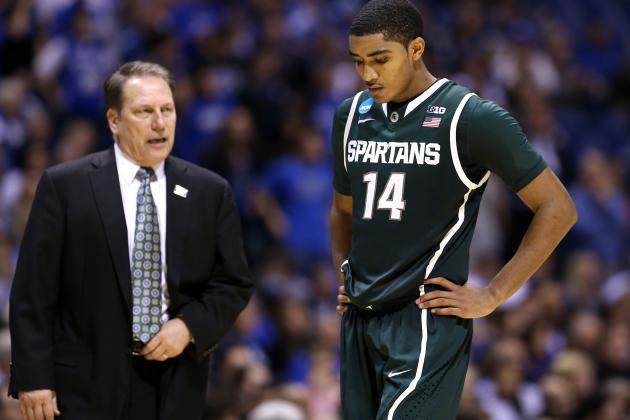 Streeter Lecka/Getty Images
Tom Izzo has landed 5-star talent during the past years, but is it the right type to win a title with?
Although Michigan State Spartans coach Tom Izzo has been to six Final Fours, he hasn't won a national championship since 2000, the year that the Mateen Cleaves-led Flintstones took out the Florida Gators in Indianapolis.
Strong guard play from Cleaves, a Flint Northern legend, was most definitely the catalyst for the Spartans' success.
In years past, a true point man has been the driving force behind Michigan State's tournament runs. Former greats like Drew Neitzel, Kalin Lucas and Cleaves epitomized an Izzo point man.
But since Lucas, the Spartans haven't really had a pure 1-guard to speak of, unless you count Keith Appling, who many view as more of a natural shooting guard.
Recruiting has ramped up for the Spartans, who have landed highly touted preps like Adreian Payne, Gary Harris, Shannon Brown and Jason Richardson during Izzo's tenure.
Brown and Richardson were dynamic scorers. Harris, a superb defender, also has the touch to find the bottom of the basket at will. And Payne, well, he's on track to be a surefire player of the year candidate in 2013-14 should he remain with the Spartans.
Getting talent to his program has never really been a problem for Izzo. Securing the 5-stars of the world doesn't always happen, but Izzo often molds perceived lesser into immensely talented collegiate leaders.
So why haven't the Spartans won a national championship since 2000? Does Izzo need to revamp his recruiting approach? Has Michigan State lost its luster to the high-end prospects?
In this slideshow, we'll examine Izzo's recruiting and evaluate whether the Spartans are getting the right men for the job.
Begin Slideshow

»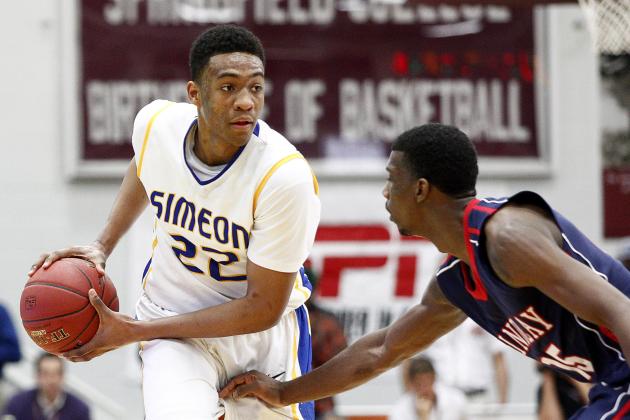 Mark L. Baer-USA TODAY Sports
Chicago Simeon star Jabari Parker would have boosted MSU's stock.
Jabari Parker was thought to be a shoo-in to attend Michigan State.
Well, that's how most Spartans fans viewed him.
After a long courtship, Parker opted for Duke over Michigan State. That was a huge blow to the 2013 class, one which doesn't have a star to speak of.
But Izzo's 2014 targets could make up for the swing and miss on Parker, the nation's No. 3-ranked player of the 2013 class. Getting the Chicago Simeon phenom would have instantly made the Spartans a favorite to win a national title. Had he joined an already stable core, Parker would have given the Spartans additional star power.
Can't blame Izzo for this one, not at all. Parker essentially lured the Spartans for as long as possible before deciding to join Duke—and Parker can't be held at fault, either. He's a teenager, and teenagers are often fickle. He made the right choice for him, and that's all that matters.
But landing Parker would have been monumental for Izzo.
Gavin Schilling developed into a sought-after big man that Izzo decided to heavily recruit.
The 6'9", 235-pound forward brings agility and scoring ability to Michigan State. So far, he's the only commit for the upcoming class.
Thomas Hamilton (Chicago Whitney Magnet) and Jerron Martin (Bishop McNamara, Forestville, Md.) are the remaining prospects for Izzo, who has a pair of available scholarships in his pocket.
Hamilton and Martin are modestly rated prospects. Hamilton, a 6'9", 240-pound center, has a touch of Derrick Nix in his game, while Martin is a speedy, 6'1", 165-pound point guard.
Neither one is a must-get, but they have the raw skills that Izzo could transform into spectacular skill sets. Getting a true point guard at Michigan State is a concern, so taking a gamble on Martin may be worth it in the long run.
At point in time, Michigan State was interested in Flint Beecher's Monte Morris, the 2013 Mr. Basketball winner (Michigan) and back-to-back Class C state champion.
However, that interest dwindled for one reason or another, and Morris, who started on varsity since his freshman year, ultimately committed to Iowa State.
Morris' senior year was as good as it gets. His leadership and selfless play has caught the eye of Flint-area basketball enthusiasts for years, and Morris was given high praise from The Flint Journal's Eric Woodyard, who closely follows the state's prep hoops scene.
Morris has to go down as one of the Flint area's greatest high school basketball players of all time. Individually, I'll admit he wasn't the most impressive. I've seen faster, more athletic and skilled players but the numbers don't lie. Morris isn't the MHSAA's all-time leader in games played (109) or the area's third Mr. Basketball recipient for no reason. He does what it takes to win games. The kid led his squads to the Breslin Center for the semifinal or championship in each of his high school seasons and he's 2-for-2 in the finals
Remember, Flint produced Izzo's greatest point guard, Mateen Cleaves. Izzo also found gold when he landed former Southwestern star Charlie Bell and Northwestern legend Morris Peterson. The talent in the area isn't as bountiful as it was in the 1990s, but Morris has been the closest thing to a "Flintstone" point guard since Cleaves.
Did Izzo miss on Morris? Should he have taken a chance on him?
Morris isn't Cleaves. No one ever will be. However, being a Flint product with great handles, floor vision, leadership and scoring ability, it's difficult to fathom exactly why Izzo didn't more seriously recruit Morris.
Mr. Basketball goes to Michigan State. Izzo has secured nine Mr. Basketball winners since 1999, the last being Matt Costello of Bay City Western. Keith Appling and Derrick Nix both won the honor in consecutive seasons. Izzo, obviously, snatched up the pair of Pershing Doughboys.
Dwuan Anderson won the award in 2011, but transferred to Wagner College due to personal reasons.
Jason Richardson was Mr. Basketball in 1999. Marcus Taylor, Paul Davis and Drew Neitzel also took home the coveted award.
There are a few exceptions, but for the most part, Mr. Basketball has ended up having a stellar career at Michigan State. Final Four runs were often sparked by the state's top high school player that chose to play for Izzo.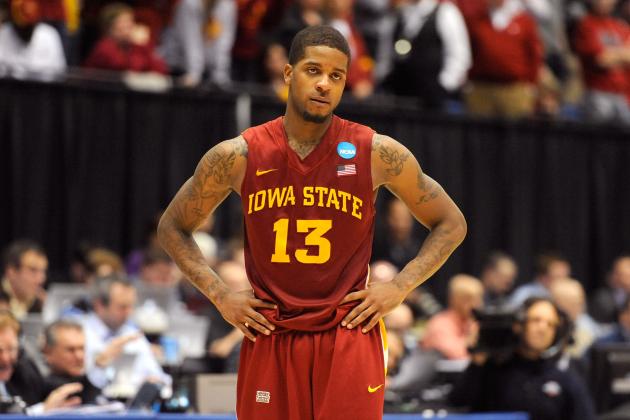 Jason Miller/Getty Images
Korie Lucious hit one of the biggest shots in MSU history, nailing a buzzer-beating 3-pointer in 2010 that downed Maryland in March Madness.
Transfers are common in college sports.
Whether it's a lack of playing time, not fitting in with the program or another reason, athletes choose to go elsewhere. That's just the nature of the beast.
For the most part, Izzo keeps his recruits until they graduate or enter the NBA draft—that's a sign of continuity.
The past handful of years have seen an increase in transfers, though: Korie Lucious and Chris Allen went to Iowa State, Garrick Sherman left for Notre Dame and Dwuan Anderson left for Wagner College before playing a minute for the Spartans.
Brandan Kearney left Michigan State in 2012 before really ever doing, well, anything. He just couldn't seem to find his niche in the Big Ten.
Sherman wasn't a Big Ten-caliber center. Allen and Lucious didn't follow program rules, so they were dismissed.
Lucious and Allen were exciting players to watch, and had they stayed with the Spartans, Izzo could have had another national title to talk about.
Keeping the core of the team intact is essential in winning it all. Izzo does that. He just hasn't reaped the benefits. He's been close—losing in the 2009 national championship to North Carolina and falling in the 2010 Final Four to Butler—but being close isn't completing the job.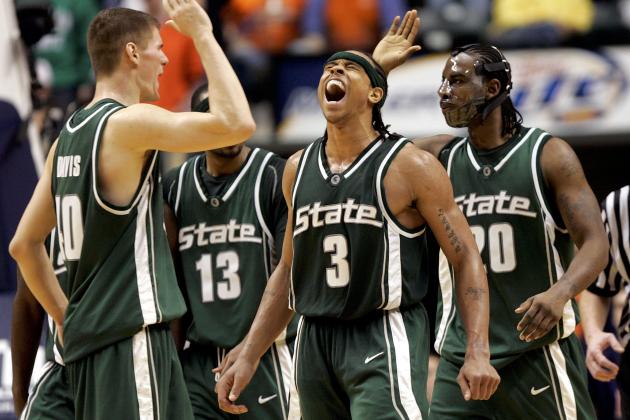 Brian Bahr/Getty Images
Paul Davis (far left) and Shannon Brown (middle) are two examples of great Izzo era stars.
Michigan State was the last Big Ten team to win a national championship.
Izzo has been to four Final Fours since then; he's getting the personnel to claim titles with—or at least make runs at titles with.
The Spartans' 5-Stars Since 2002
Note: Click this link and then choose the year. The database goes back to 2002.
2002—Paul Davis (Rochester High, Rochester, Mich.)
2003—Shannon Brown (Proviso East, Maywood, Ill.)
2004—Marquise Gray (Beecher, Flint, Mich.)
2008—Delvon Roe (St. Edward, Lakewood, Ohio)
2010—Adreian Payne (Jefferson High, Dayton, Ohio)
2011—Branden Dawson (Lew Wallace, Gary, Ind.)
2012—Gary Harris (Hamilton Southeastern, Fishers, Ind.)
Summarizing the 5-Stars
Davis was Izzo's best overall center. However, Payne will probably claim that title once he's done.
Brown, well, he was Brown. He could score just about every way possible. He's one of the greatest Izzo-era players.
Gray didn't pan out because of the way he was used—no debating that, really.
Roe had two bum knees but still played like a warrior. He's a classic case of what could have been.
Payne is an elite big man in college basketball. His development has been scary to watch. He's evolving into a complete athlete.
Dawson tore his ACL during his freshman year, disappointed as a sophomore but could still end up a star in East Lansing. The talent is there.
Harris is one of the premier defenders that Izzo's ever had. Harris has been compared to Charlie Bell, who, along with Travis Walton, is an all-time defender at Michigan State.
Follow Bleacher Report's Michigan State Spartans basketball writer Adam Biggers on Twitter @AdamBiggers81