Dear 'Canes,
Thanks.
Thanks for the best season we as fans could have hoped for as you set a school record with 29 wins—five more than any other team in school history.
Thank you for the first-ever outright regular season ACC title, the first-ever ACC tournament championship and first Sweet 16 appearance in 13 seasons.
And thanks for the memories, because they were all so great.
It only took five games to introduce yourselves to the nation with a huge win over No. 13 Michigan State by eight points. Living in Michigan, it made it extra special for me, so thanks.
You started the season 8-1, the first time a Miami team had done that in three seasons, and fans were starting to get excited. Then you lost two games; one to Indiana State. Casual and bandwagon fans disappeared following the loss, but the loyal ones stuck with you...and you made it worth our time.
Times 10.
You dominated a future Sweet 16 team in LaSalle by 17 points and went into ACC play under the proverbial radar...way under. That victory started the best winning streak us Miami fans could've envisioned, so thanks.
Though it was easy, right? The way you won 14 games in a row, including the first 13 ACC contests? Of course it wasn't, but sometimes you sure made it look that way. Down went Georgia Tech, North Carolina in Chapel Hill, Maryland and Boston College in an exciting nail-biter.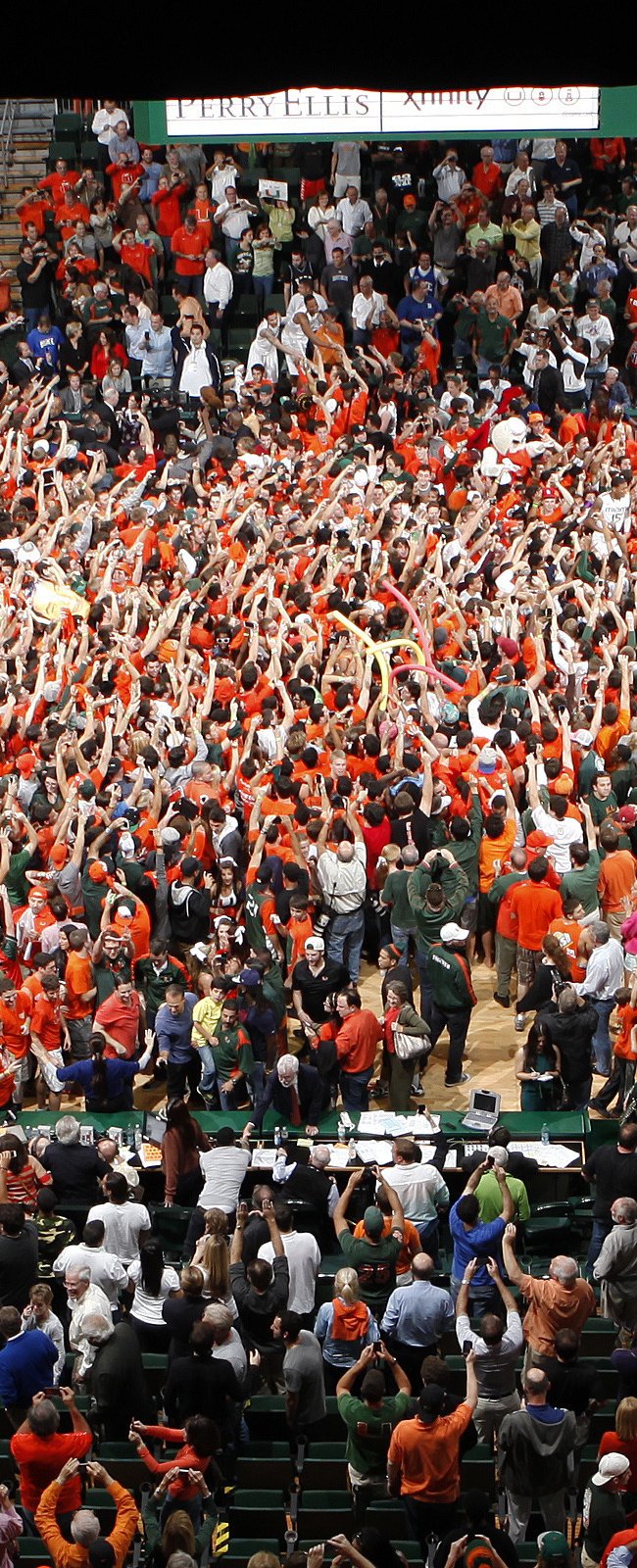 Joel Auerbach/Getty Images
After squeaking into the rankings at No. 25, you absolutely obliterated the mighty No. 1 Duke Blue Devils...by 27 points. That still remarkable game thrust you into the national spotlight, and you never looked back.
Then, you destroyed long-time rival Florida State by 24 points and kept the momentum going by beating Virginia Tech on the road. You had seven straight wins to start ACC play, but it wasn't about to get any easier. But you all recognized this, and you were ready to play preseason favorite North Carolina State.
Sure, NC State was up by 10 points in the second half, but that didn't bother you guys. It went down to the wire, and Reggie Johnson, you made a huge play with that whole game-winning tip-in thing, so thanks.
Boston College was no match for you guys the second time around, and North Carolina was merely a stepping stone due to your shooting performance at the Bank United Center that Saturday afternoon.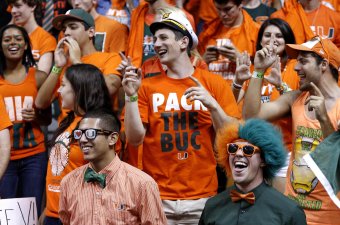 USA TODAY Sports
Miami fans packed the BUC to capacity to see that game. LeBron, D-Wade and former 'Cane James Jones even stopped by for a visit. National attention returned to Coral Gables, but it was for you guys; the basketball team.
It was for Shane Larkin, Durand Scott, Kenny Kadji, Trey McKinney Jones, Rion Brown, Reggie Johnson, Julian Gamble, Erik Swoope, Tonye Jekiri, Raphael Akpejiori, Justin Heller, Steve Sorenson, Garrius Adams—the 2012-13 Miami Hurricanes' basketball team.
Florida State tried their hardest, but couldn't quite beat you. The next two games against Clemson and Virginia may have been rough shooting nights, but Kenny and Durand, you guys stepped up to make big shots at the end of each game, so thanks.
And so what if the next four games of the regular season were a struggle? You put quite a scare into Duke at Cameron Indoor, nearly beating the Blue Devils in Durham for the second year in a row. It didn't matter, though, because you finished off Clemson for the regular season title, and the celebration began.
But it was far from finished.
Boston College, NC State and UNC each posed a unique challenge, but Shane, Durand, and Trey, none of you would let the team lose in each respective game by making the big shots all day long, so thanks.
And there it was in ACC Coach of the Year Jim Larranaga's hands; both the ACC tournament championship trophy and the net freshly cut down from the rim at Greensboro Memorial Coliseum.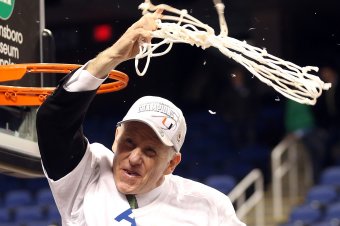 Streeter Lecka/Getty Images
The selection committee gave you a No. 2 seed, a spot that matched the highest in school history. You didn't let it go to waste as No. 15 Pacific was no match on that Friday afternoon. Illinois put a scare into the Canes' family, but Rion, thanks for stepping up beyond what we expected.
Yeah, the Elite Eight was in your sights, but missing it didn't make the season worthless...because you're not worthless to us.
The championship banners will be hoisted into the rafters at the BUC for everyone to remember how special and meaningful this team was.
You set a school record with 29 wins—five more than any other season in school history.
You won the school's first-ever outright regular season ACC title, the first-ever ACC tournament championship and first Sweet 16 appearance in 13 seasons.
You gave us the memories, the ones that were all so great. We were just along for the ride, so thanks, guys.
Oh, and before I forget. Hey, Shane? One more year, please.
~ David Kenyon
Note: Scores and rankings via ESPN.com.