The Ohio State basketball team entered the 2012-13 season with high hopes and a Top Five ranking, but it never really felt like it was a legitimate threat to win the national championship like it has in past years under coach Thad Matta.
Deshaun Thomas is a dynamic offensive weapon and Aaron Craft may be the best defender in the country, but there was no bona fide NBA talent such as a Jared Sullinger, Greg Oden or Mike Conley Jr. There was almost a "the whole is greater than the sum of its parts" feel with this season's Buckeyes.
Yes, the winning streak to close the year and the Big Ten tournament title were both impressive, but Ohio State wasn't quite in the upper echelon of the elite like a Louisville. The unpredictable nature of the tournament granted the Scarlet and Gray a clear path to the Final Four nonetheless, but they weren't able to take advantage of the golden opportunity.
So what will Matta and the Buckeyes have to do to take the next step and become a title favorite?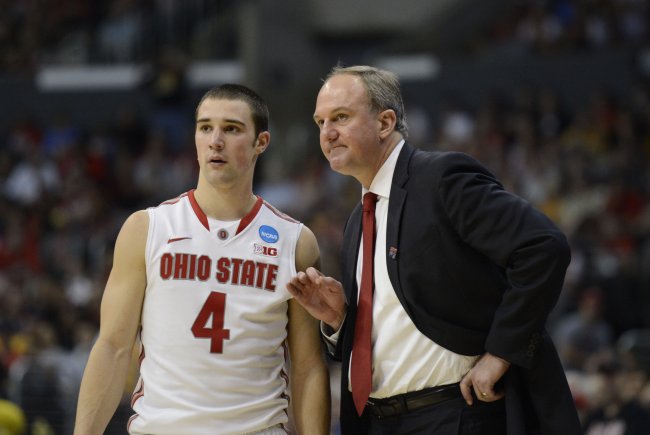 Richard Mackson-USA TODAY Sports
The first thing on the agenda needs to be establishing a reliable level of consistency. In a sport that formats its postseason in the one-and-done fashion, all it takes is one day with the switch stuck in the off position for an inconsistent squad to find itself at home the rest of March.
This is not to suggest that roller coasters aren't entertaining, but they aren't necessarily designed as metaphors for national championship-caliber hoops teams. Between the last two seasons, Buckeye fans have been on an up-and-down ride that included consecutive February swoons, which left a sense of perilous danger surrounding the team even when it was winning.
After all, for as formidable as the Buckeyes looked when they ruined Indiana's senior night and knocked off Michigan State twice this year, it was always hard to forget the absolute eggs they laid at Illinois and Wisconsin. That level of offensive ineptitude returned at the most inopportune time in the Elite Eight.
The senior leadership Matta will have in place next season may finally give Ohio State the consistency it has lacked since David Lighty—who featured a combination of poise and ability and is arguably the most underrated Buckeye that Matta has coached—left the program. Craft, Lenzelle Smith Jr. and possibly Thomas (probably not) will all be seniors the next time they don the Scarlet and Gray.
One place where that sought-after consistency can come from is improved production in the low post. It is difficult to compete in the bruising Big Ten without a formidable presence in the paint, and it is no accident that the Buckeyes were among the favorites heading into the NCAA tournament in the days of Greg Oden and Jared Sullinger.
The lack of a genuine Big Ten center led to the Buckeyes finishing 135th in the nation in rebounding, which is a stat that can be crippling in a one-and-done tournament (it almost was against Iowa State). Evan Ravenel was passable this season, but Matta is going to need Amir Williams to finally live up to his potential as a junior.
If he doesn't, Ohio State will have to wait for its much-hyped 2014 class to arrive, which already includes Dave Bell and could possibly feature the dynamic talents of consensus 5-star prospect Jahlil Okafor.
Desired post production and effective three-point shooting are often a chicken-and-egg scenario because effective post play forces double-teams down low which opens up shooters. On the other hand, hot shooting also forces the defenders to stay on the perimeter, which allows formidable big men to do work in the lane.
Ohio State has not featured this deadly combination since the days of a freshman Sullinger and senior Jon Diebler. It would almost instantly alleviate many of the offensive woes that hampered it throughout the past season. Look for freshman Kameron Williams, who is considered a dead-eye shooter, to be given an opportunity to earn early minutes for this exact reason.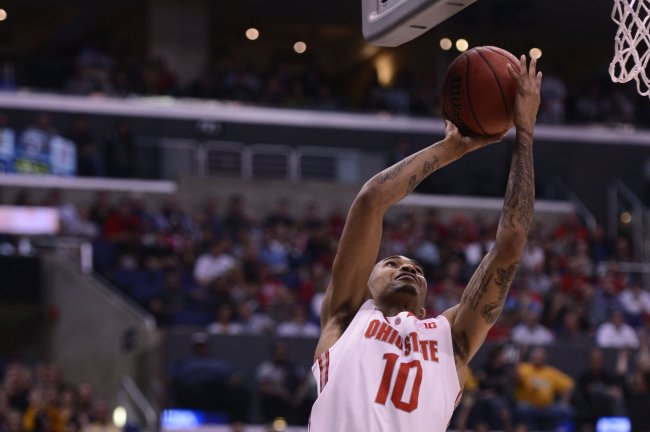 Robert Hanashiro-USA TODAY Sport
The Buckeyes shot a measly 36 percent from behind the arc this year, but Williams and the continued development of LaQuinton Ross and Sam Thompson should lead to improvement.
While much of the focus here is on offense, which was certainly one of Ohio State's primary weaknesses in 2012-13, the Buckeyes must continue to play lockdown defense. This is something that has basically been taken for granted during Matta's tenure with players such as Craft, Lighty, Oden and Mike Conley Jr., but it cannot be overstated how much it needs to continue.
Assuming Deshaun Thomas leaves, Buckeye fans may have to wait until the heralded 2014 recruiting class makes its way to Columbus to be considered a legitimate national title contender. But if the players in place makes the necessary strides in the offseason and Williams and Marc Loving add some freshmen contributions, stranger things have happened.
Ohio State can no longer be elite on just one end of the floor if a national title is the goal. If they need any help developing a blueprint for an offensive and defensive juggernaut, Urban Meyer is right down the hall.