15 Burning Questions Headed into WWE WrestleMania 29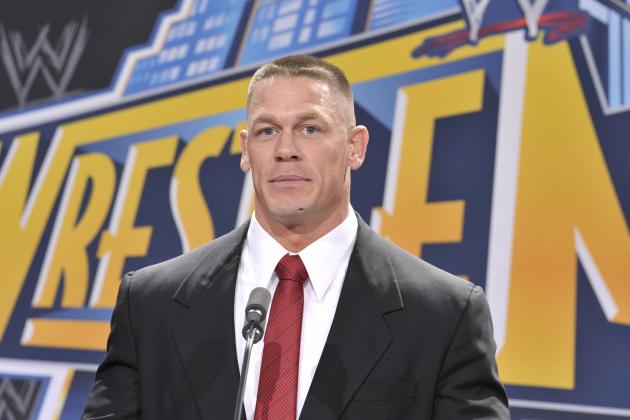 Michael N. Todaro/Getty Images

In the process of entertaining fans, WrestleMania 29 is going to answer a number of questions about the direction of several WWE stars and about where several storylines are heading.
As sure as some fans might be about their predictions heading into the big event, there has to be at least an inkling of uncertainty. Which champions will continue their reigns? Which debuting wrestlers will shine the brightest?
The following are the most intriguing questions ready to be answered on April 7. How WWE answers these will help determine just how entertaining this year's WrestleMania will be and how satisfied fans will be by the end of the night.
Begin Slideshow

»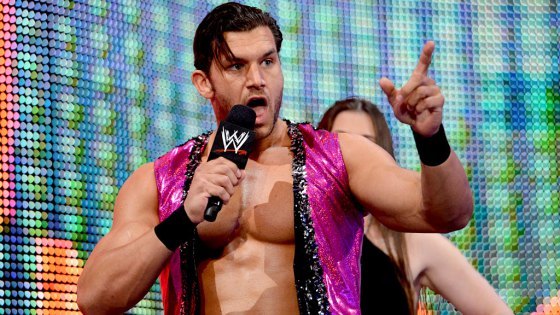 Fandangooooooooo! (Photo from WWE.com)
WrestleMania 29 features stars nearing the end of their careers in Triple H, Undertaker and Chris Jericho as well as a new crop of stars making their WrestleMania debuts.
Fandango takes on Chris Jericho in his WWE debut. Ryback makes his first appearance at The Showcase of the Immortals. Big E Langston, Damien Sandow and The Shield all make their WrestleMania debuts as well.
Sandow is in a mixed-tag match that will likely be a throwaway bout. Ryback has a shot to shine in a power vs. power match against Mark Henry.
The most intriguing of the newcomers is The Shield. Dean Ambrose, Roman Reigns and Seth Rollins have impressed with every opportunity they have been given. Can they elevate their games even higher come April 7?
Pay special attention to the newcomers appearing at this year's event. Many of them could eventually be the main event talent of future WrestleManias.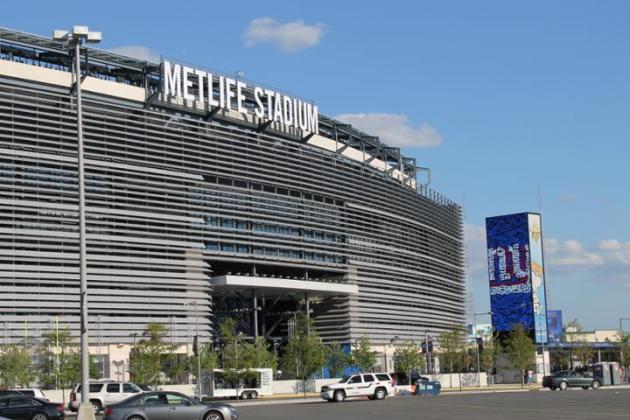 MetLife Stadium in ideal weather conditions. (Photo from MetLifeStadium.com)
Holding an outdoor wrestling event in April in East Rutherford, New Jersey has some inherent risk. While the weather is usually fine around this time, it wouldn't be shocking if things got ugly the night of the show.
Weather.com forecasts that April 7 will be cloudy with a 20 percent chance of rain with a high of 58 degrees and a low of 46 degrees Fahrenheit. That's not exactly picnic weather, but it should be manageable.
WWE officials will have to cross their fingers that it doesn't rain or that it doesn't get much colder than expected. The fans who fill up MetLife Stadium can bundle up, but the performers could have a tough time with a slick ring.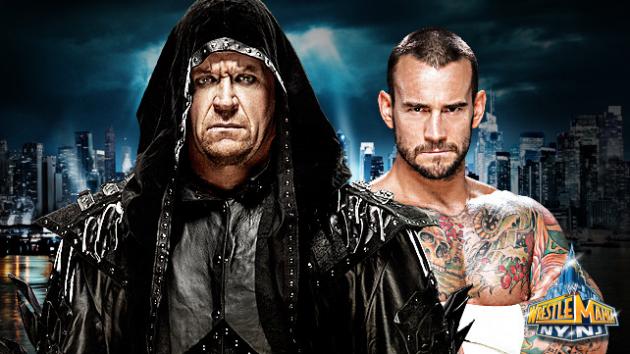 Photo from WWE.com
Betting against Undertaker at this point isn't wise.
Nobody has been able to defeat The Undertaker at WrestleMania, not Shawn Michaels, Triple H, Batista, Edge or Randy Orton. There have been 20 failures and no victors in the quest to end Undertaker's streak. Could WWE really decide to have CM Punk do what has been impossible so far?
Few could have predicted that Punk would hold the WWE title longer than a year, longer than John Cena's 380-day reign. Perhaps the company has another unlikely honor to bestow on Punk.
WWE has two options regarding the streak: have Undertaker retire undefeated or have someone beat him. It's not that Punk is better than all the men who have failed before him; it's the fact that he is the next man up that may lead to the biggest win of his career. With every Undertaker WrestleMania match, WWE officials must at least consider the possibility of the newest challenger ending the streak.
The question is whether that idea gets quickly brushed aside or do the minds behind WWE give the thought of Punk winning some serious consideration?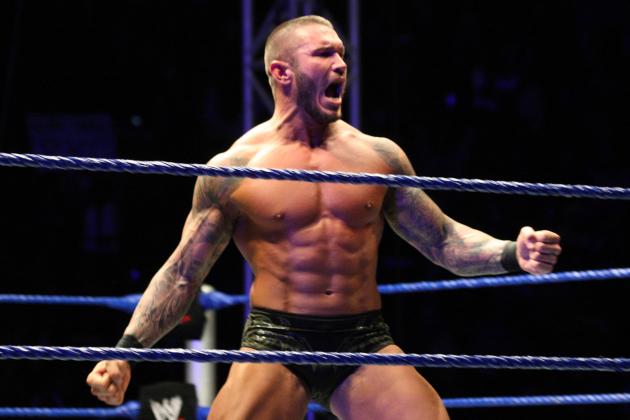 Gallo Images/Getty Images

When Sheamus teams up with Big Show and Randy Orton against The Shield at WrestleMania, it may be the latter more than the former whom he should keep his eyes on.
Rumblings suggest that this may be the time that The Viper returns to the dark side.
F4WOnline.com (via WrestlingInc.com) reported that Orton's clean loss to Wade Barrett at the 20th anniversary show of Raw was "just a part of Orton's heel turn." Orton even expressed some longing for being a heel on his Twitter account.
No, your not.RT@cutest_stalker: @randyorton the voice of reason. Really? Am I the only one who misses this guy as heel?

— Randy Orton (@RandyOrton) March 26, 2013
Villainy seems to be a more natural fit for Orton. His runs as a heel have been far more compelling, emphasizing his best strengths. If WrestleMania 29 is indeed the night that Orton turns, the other question becomes whether or not he joins The Shield.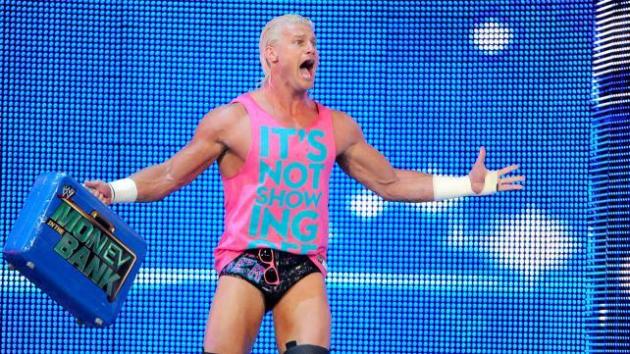 (Photo from WWE.com)
Ever since Dolph Ziggler won the Money in the Bank briefcase in June, fans have wondered when he would cash in the contract inside. Ziggler has tried and failed to do so several times now.
Alberto Del Rio prevented Ziggler from turning the briefcase into championship gold. John Cena later did the same thing to The Show Off.
Every pay-per-view has us revisit the same question: Is it Ziggler's time now? He has until July 15, 2013 before the contract he won expires.
WrestleMania offers a grand stage for him to cash in. Should Alberto Del Rio or Jack Swagger come away victorious but vulnerable, it's certainly possible that MetLife Stadium will then be alive with Ziggler's music.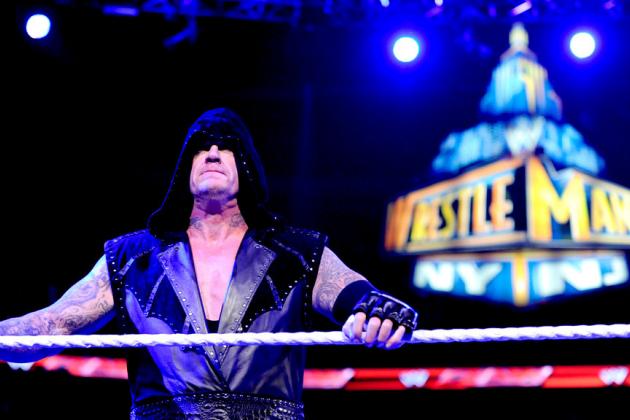 Photo from WWE.com
Will a potential show-stealing matchup be hampered by the banged-up bodies of the men performing in it?
CM Punk apparently hurt his arm during his match with Kane on the March 11 episode of Raw. As PWInsider.com reported, Punk was "working with a legitimate injury." WWE responded by lessening his pre-WrestleMania schedule (h/t CagesideSeats.org).
Undertaker is nearing 50 years old. His accumulating injuries have led him to working just a few times a year. As Jason Powell of ProWrestling.net writes, "Undertaker has been working through a severely injured shoulder in recent years."
These two men, though, have proved throughout their careers that they have been able to deliver classics in spite of being hurt. Chances are, Punk and Undertaker will give fans everything they have, regardless of how their bodies may attempt to limit them.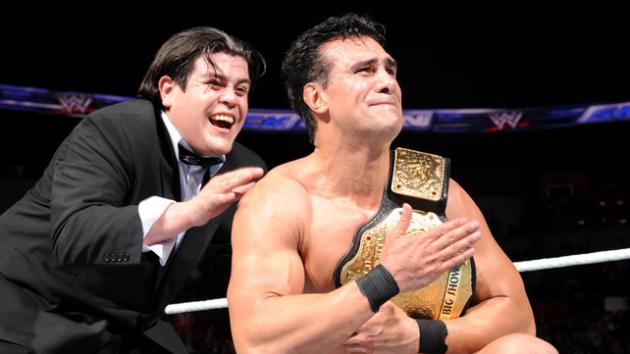 Photo from WWE.com
Besides the grudges and vendettas being settled at WrestleMania 29, the event will also host four championship matches.
The tag titles, the Intercontinental Championship, Alberto Del Rio's world title and the belt around The Rock's waist will all be up for grabs. WrestleMania 28 saw Big Show and Sheamus walk away as new champs. Who will retain this year?
Dolph Ziggler and Big E Langston have a chance to win WWE gold in their first official match together. Jack Swagger wants to win the World Heavyweight Championship in the name of "real" America. John Cena is looking for redemption, championship-related or otherwise.
Much of the excitement of the event will be centered around those championship matches. Champions will fight intensely to keep their belts as their challengers attempt to pry them away.
Paul Heyman made sure that the Triple H and Brock Lesnar match was not only a No Holds Barred match but that Triple H's career would be on the line.
Putting a semi-retired wrestler in a retirement match is a curious move.
Is this just a way for Triple H to look even stronger, one more obstacle for him to overcome, or is this his way of exiting the ring as a performer? Shawn Michaels and Ric Flair, both friends of Triple H, ended their WWE in-ring careers with losses at WrestleMania. Could Triple H really follow them?
WWE is clearly playing with that expectation. WrestleMania 29 will either feature Triple H's latest victory or perhaps his swan song.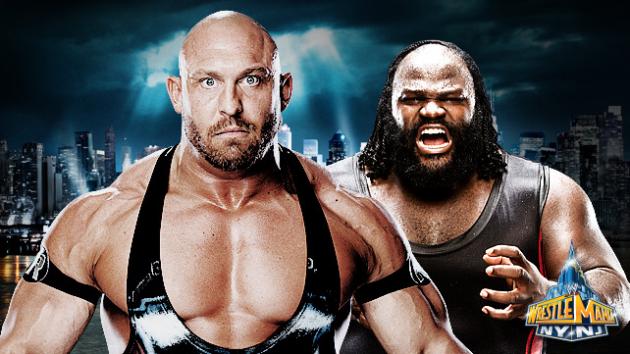 How much time will these two behemoths get to fight? (Photo from WWE.com)
Last year, Daniel Bryan fans awaited a potential classic match in his WrestleMania debut. Just 18 seconds into it, the world title match was over.
Meanwhile, Team Johnny vs. Team Teddy went on for 10 minutes and the match involving Maria Menounos went on for nearly seven minutes. With every pay-per-view, WWE must decide what matches get priority and which matches get the rush treatment.
Will the Tons of Funk match be quick and painless? How much time will the company give Fandango? Will Ryback and Mark Henry get enough time to put on the kind of entertaining match many fans are expecting?
Now that the card is set, fans have to wait to see how much the matches on that card get of the four-hour pie that is WrestleMania.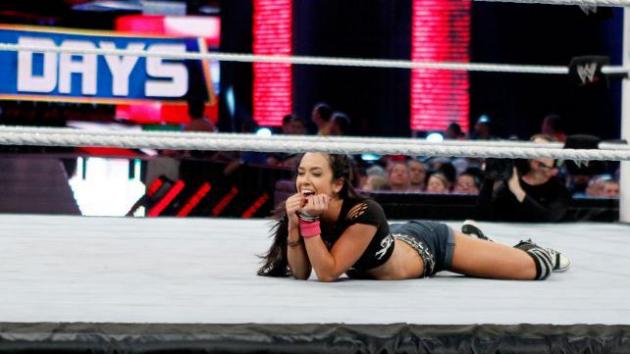 Photo from WWE.com
AJ Lee used to date Daniel Bryan and used to stalk Kane. She is now in the corner of her boyfriend, "Ziggy," and her brawny buddy Big E Langston. It seems impossible that a woman with ties to all four men in this match wouldn't play a major part in it.
AJ's presence opens a number of booking options for those behind WWE's stories.
Will she distract Bryan or Kane enough for them to lose? Will she end up getting Dolph Ziggler and Big E disqualified? Or will she be the X-factor in the title match, the extra set of hands that helps Ziggler and Big E to a victory?
Fans' eyes will be on her during the tag team title match and not just because of her attractiveness.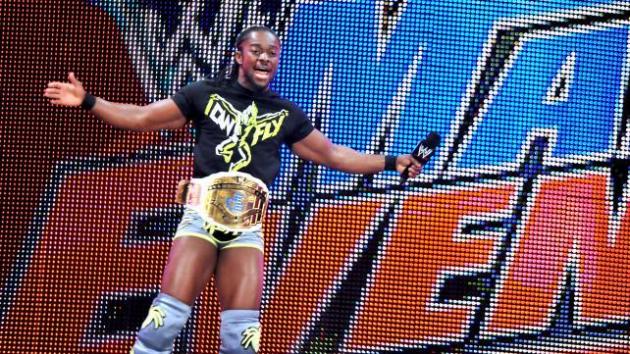 Kofi Kingston, part of the pre-show? (Photo from WWE.com)
Stephanie McMahon's announcement at South by Southwest in Austin, Texas revealed that the pre-show will be much less of an afterthought than before.
James Caldwell of PWTorch.com reported that "WWE will hold a one-hour WrestleMania 29 pre-show that will be more interactive-focused than previous pre-shows."
With a full hour at its disposal, just how will WWE shape its new pre-show?
Kofi Kingston, Antonio Cesaro and the Prime Time Players are among the biggest names as of yet without a match. It'll be interesting to see how WWE arranges its remaining pieces and just how much fans will sculpt the product.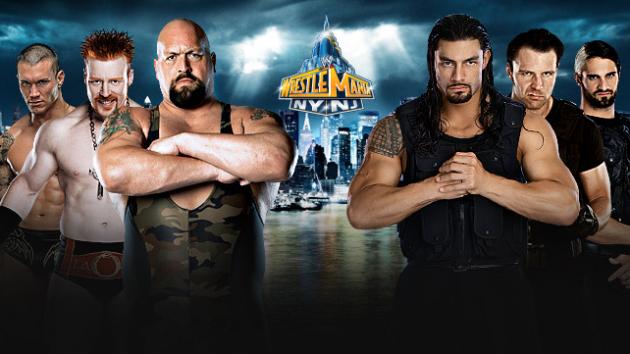 Big Show, Sheamus and Randy Orton vs. The Shield, Match of the Night? (Photo from WWE.com)
Ricky Steamboat and Randy Savage did it at WrestleMania III. Owen Hart and Bret Hart did it at WrestleMania X. Undertaker vs. Shawn Michaels did it at WrestleMania 25.
Despite not being the main event, these men put on performances that made their matches the most memorable, the most important bouts of the night.
Will Undertaker continue his run of classics at The Granddaddy of Them All? Will Ryback and Mark Henry surprise folks? Will The Shield become the stars of the show?
Every wrestler is going to bring his all and the fans will be the beneficiary, no matter which match ends up being the best.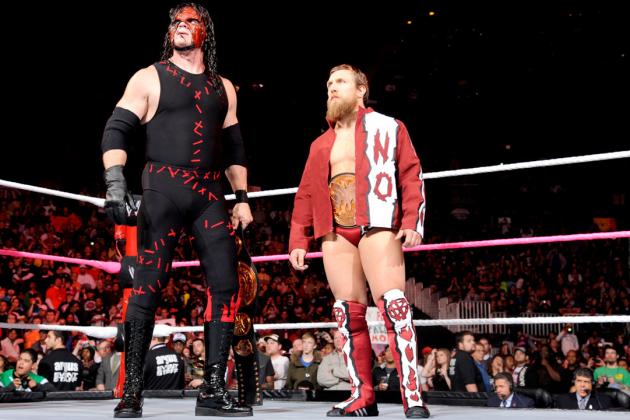 Photo from WWE.com
Kane and Daniel Bryan's partnership started on tenuous terms. They have since attacked each other in the middle of matches and have perpetually appeared at the precipice of breaking up.
Is Team Hell No's time finally up?
Bryan and Kane's relationship has been as solid as it ever has been in recent weeks. They have been far more cohesive. Is that a sign of Dr. Shelby's anger management treatment finally working or is this just WWE's way to lure fans into a fall sense of security?
Dolph Ziggler and Big E Langston are rooting for their opponents to implode. It may be the only way they score the victory over the tag champs.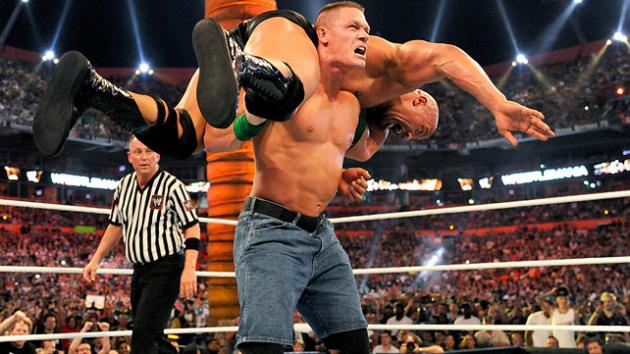 Is this how WrestleMania 29 ends? (Photo from WWE.com)
Chances are, WrestleMania 29 won't mirror the unpredictability of March Madness. WWE may have some surprises in store, but it sure seems to be an easy event to predict.
Triple H will get revenge on Brock Lesnar, Undertaker will keep his streak alive and John Cena will tie the series between him and The Rock, right?
Does WrestleMania manage to thrill fans despite fans thinking they know how it will all end? Will there be a Wichita State-level shocker in store for us?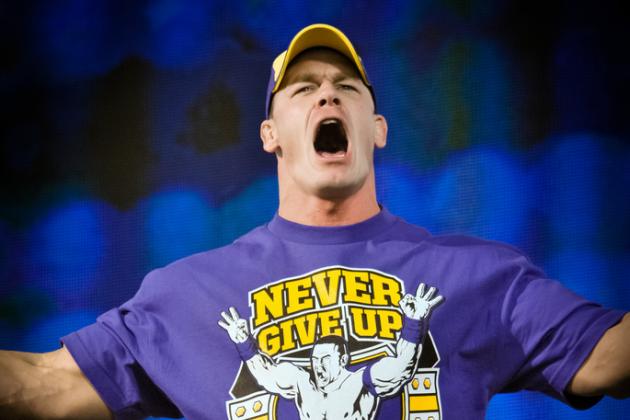 Photo by Reckless Dream Photography
John Cena seeks redemption for his loss to The Rock at last year's WrestleMania. He battles The Great One in a grueling match. He delivers an Attitude Adjustment and gets the win. Cena captures the WWE title once again.
That's the narrative most fans are expecting.
While that's certainly the scenario that is the safest best, one has to wonder if WWE has something else in mind, if WWE is cooking up something to defy expectations.
Could Cena lose? Could this be the moment where he makes the heel turn so many have suspected he might have eventually?
As obvious as it seems that Cena will win and become WWE champ for the 11th time, there will be an inkling of doubt in every fan's head until the final bell rings. WWE will either take fans on the expected journey or surprise us all.