Chelsea secured a crucial three points on Sunday against a spirited Sunderland outfit highly motivated to impress their new boss, Paolo Di Canio.
It is a significant win for the Blues, despite being against an opponent that they fully expected to beat, simply due to the window of opportunity that Rafael Benitez has upon him.
Benitez selected a strong team today despite a second leg of the quarterfinal in the Europa League still to negotiate, with the Blues travelling to Moscow for Thursday's game.
After this, Chelsea will have their semifinal in the FA Cup to tackle at the weekend before a midweek Premier League match with Fulham 10 days from now.
It poses an interesting dilemma for Benitez, who will be conscious of the fact that Chelsea fans, and presumably the hierarchy too, expect him to prioritize finishing in the top four of the Premier League above any ambitions to pad his CV by claiming one of the two trophies at his disposal.
With the Blues having won the FA Cup in three of the last four seasons and possessing a handy 3-1 lead to take into the second leg of their Europa League tie against Rubin Kazan, the three points against Sunderland now give Chelsea an opportunity to rest key players in the next two games, taking over a week off in some cases.
While it is not ideal to approach a match against Manchester City without some of your best players, something has to give in this marathon schedule the Blues face as the season comes to a close, and while I don't expect a complete B team, a marginally weakened side will certainly still have a chance of beating City at Wembley.
Benitez substituted Demba Ba at halftime as a precaution, meaning that he has a full week off now due to being cup-tied for the Rubin Kazan match. That will surely prompt Benitez, depending on Ba's fitness, to bring him back for the City game and subsequently start Fernando Torres on Thursday and then six days later in the London derby.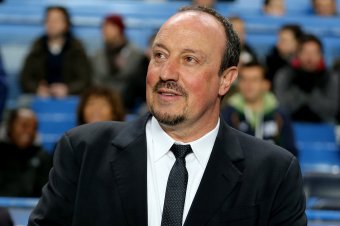 Ian Walton/Getty Images
Juan Mata and Eden Hazard—Chelsea's two most important players—were also hauled off just shy of the end of the game, and Benitez will surely base his selection around which two of the next three games he wants his two stars to feature in from the beginning.
While Chelsea fans continue to give Benitez grief, the Spaniard is vastly experienced and has encountered similar situations in the past, so the former Liverpool coach will approach the schedule in the right manner, even if fans grumble for the sake of grumbling.
Benitez will be pleased with the predicament that Chelsea find themselves in right now, joint-third, ahead of Spurs on goal difference with a game in hand, but only two points ahead of Arsenal, in fifth, having played the same number of games.
The situation is manageable.
With a favorable situation in Europe to reach the semifinals and in the semifinals of the trophy they have won with great regularity, Chelsea have as quiet of a period as they will ever receive, and the signs are that Benitez will eventually lead the Blues to a satisfactory outcome of a rather unsatisfactory season.