Questions Heading into UFC on Fuel 9: Gustafsson vs. Mousasi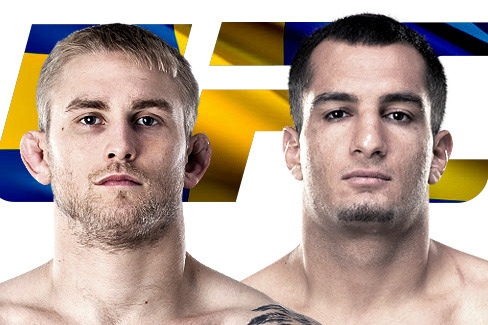 There has been a great deal of hand-wringing surrounding this card since main event fighter Alexander Gustafsson reportedly suffered a cut during training that seemingly put his bout against Gegard Mousasi in jeopardy. However, according to UFC president Dana White, as of now, the fight is still on.
As such, we'll proceed as if things are rolling along as planned, but I know that I'll still have a seed of doubt in my mind until I see both fighters enter the Octagon on Saturday, April 6 in Sweden.
The biggest questions facing the UFC right now revolve around the main event. Will the card remain intact, and if not, what's the next step for the UFC?
Can you try and find a replacement on such short notice? Will the Swedish crowd feel just a wee bit let down if hometown fighter Gustafsson is not fighting? Can the promotion even think about elevating the co-main event between Ross Pearson and Ryan Couture to main event status?
Beside those questions, here are a handful of others facing the UFC and the fighters that will compete on the April 6 UFC on Fuel 9 fight card.
Begin Slideshow

»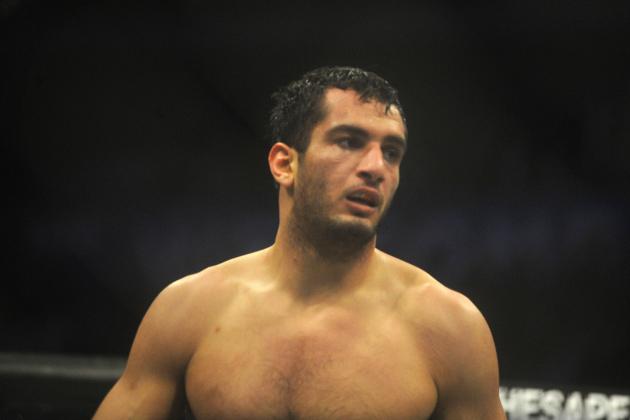 USA TODAY Sports

We sometimes forget that the UFC is a worldwide organization. Our reminder of this fact usually comes when they venture "off the grid" and put on an event that doesn't fit so nicely into the US prime-time television schedule. The upcoming UFC on Fuel 9 card is one of those cards that will fall outside the norm.
So when and where will MMA fans be able to tune in for the fight card?
The event, which will take place at Sweden's Ericsson Globe Arena will kick off on Saturday April 6 at 10:30 a.m. ET, with seven fights streaming on the UFC's Facebook page.
The six fight main card will follow at 2 p.m. ET on Fuel TV.
Set your alarms and keep in mind that if you think this is an inconvenience, it's not.

Dolly Clew / Cage Warriors
The MMA world is full of next big things that don't pan out. Fans of the sport love to heap undue pressure and elevated expectations on young fighters when they make the jump from smaller promotions to the big leagues.
The latest fighter that will look to avoid falling into the unforgiving maw of the MMA hype machine is Conor McGregor.
McGregor will enter the UFC sporting a professional record of 12-2, with his last two fights being victories in which he earned titles. In June 2012, McGregor captured the Cage Warriors FC Featherweight title with a second-round submission victory. He then followed that in December by taking the same promotion's lightweight title with a first-round KO.
From there it was onward and upward for the Irishman. McGregor will face Marcus Brimmage (6-1) in Sweden.
McGregor does not lack confidence or skill, but is it enough to justify the claims of his coach that his striking is on some kind of Anderson Silva level?
We've heard this story before. We've become caught up in this story before. We've been let down by this story before.
Will Conor McGregor be able to deliver on the hype that precedes his entrance to the Octagon?
We'll find out soon enough. If he walks away with the win, don't expect him to deliver an in-cage interview in the style of his training partner Gunnar Nelson. No, McGregor may opt to throw out some names if his hand is raised in Sweden, as he told Bleacher Report,
"Afterward, maybe I'll have a few names in mind. I don't know. I might be calling on a few people."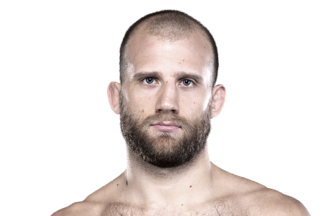 Prior to season 17 of The Ultimate Fighter UFC president Dana White revealed that there was a fighter in the house that "scared the living shit out of everyone." As the MMA world is wont to do, speculation immediately began as to who this mythical beast was.
One of the fighters that was fingered as the possible ass-kicking machine was the 15-4 Tor Troeng, a fighter that entered the TUF house with 11 finishes among those 15 wins.
We found out in the third episode of the show that Troeng was not the feared fighter. Instead it was Uriah Hall, who laid out Adam Cella with a devastating kick.
As for Troeng, his run as a potential TUF winner ended when he was KO'd by Josh Samman in Episode 6, a disappointing end to a fighter that many clearly thought would have fared a lot better.
After the loss, Troeng offered the following explanation: "I don't really know what I'm going to learn from it, but I'm hoping to find something that will make me a better as a fighter and as a person."
Months removed from that loss and the hype that accompanied his arrival on the show, one has to wonder if Troeng ever came away with the lesson that defeat taught him and if it will make him a better fighter.
You can learn a lot about a person when you find out how they respond to adversity. With that in mind, Adam Cella will be under the microscope when it comes to UFC on Fuel 9.
In case you haven't seen it, Cella was on the receiving end of one of the more brutal headkick knockouts when Uriah Hall put him down and out during season 17 of The Ultimate Fighter. It was the type of brutal knockout that sometimes defines careers for not just the fighter that delivered the knockout, but also the one that was on the receiving end.
It will be interesting to see how Cella responds in his first fight back after that loss.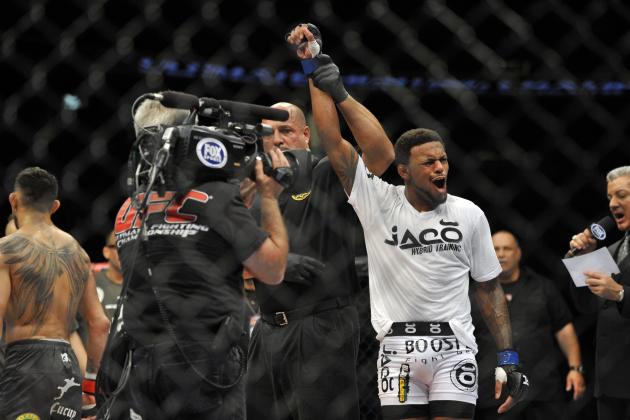 Joe Camporeale-USA TODAY Sports

For a while there it looked like Michael Johnson was one of the only members of the Blackzilian camp that could buy a win in the UFC, rolling off three consecutive victories before dropping a unanimous decision to Myles Jury at UFC 155.
The fight camp is loaded with big names, including Rashad Evans and Alistair Overeem, but the Blackzilians have struggled and they need to start putting some wins together.
Johnson, who was showing some real growth in the striking department will have a lot of pressure on him when he faces Reza Madadi in Sweden.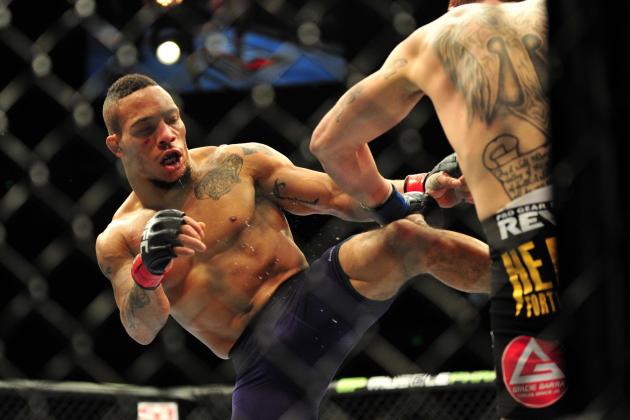 Don McPeak-USA TODAY Sports

The bantamweight division is not the deepest division in the UFC, but that doesn't mean a fighter can string together two consecutive losses and still feel that their placement in the top 10 of the division will remain safe.
When Brad Pickett and Mike Easton face off in Sweden, one of these two top 10 bantamweights will leave the Octagon with consecutive losses residing on their record.
Pickett had been riding a two-fight winning streak before losing a split decision to Eddie Wineland at UFC 155, while Easton had been unbeaten in eight straight before tasting defeat at the hands of Raphael Assuncao on the December 2012 UFC on Fox card.
A win here and the victor is probably only one or two additional victories away from a title shot. A loss and it's a pretty long road back to the (near) top.
It will be interesting to see how these two approach this fight with so much potentially on the line.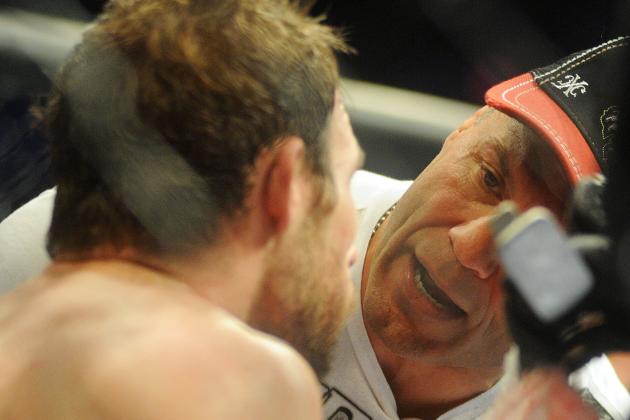 USA TODAY Sports

Ryan Couture is set to face Ross Pearson in the co-main event of the UFC on Fuel 9 card. Ryan is the son of UFC of Hall of Famer Randy Couture, a man who recently had a pretty public falling out with UFC president Dana White.
Not long after Couture inked a deal with Spike TV/Bellator, White proclaimed, "He's (Randy) not cornering him. Randy Couture can't buy a ticket to this motherf***ing event."
It will be interesting to see how this one plays out, as Randy has cornered Ryan in the past.
Joe Camporeale-USA TODAY Sports

Hands up, who thinks Ross Pearson, who is 3-3 in his last six UFC fights, and Ryan Couture, who is making his UFC debut, should be the co-main event of this card?
If you raised your hand, please justify that for me.
I understand this is a free Fuel card, but Pearson versus Couture as a co-main event doesn't scream out to me as a "must-see" UFC fight.
UFC on Fuel 8 had a co-main event of Stefan Struve vs. Mark Hunt, while UFC on Fuel 7 went with Cub Swanson vs Dustin Poirier. No offense to Pearson or Couture, but their bout will not be as talked about or anticipated as either of those contests.
A cynic would say that the UFC may be hoping to capitalize on the last name of one of the two fighters.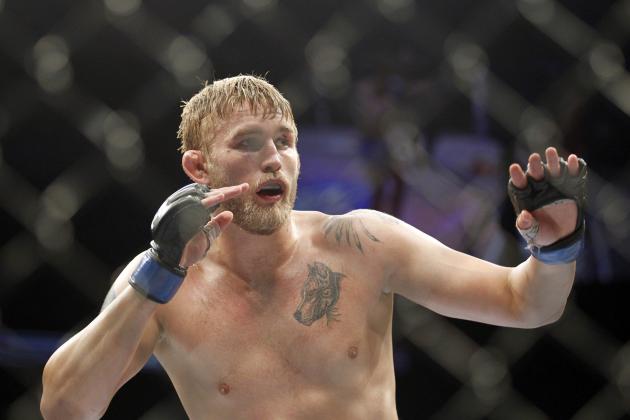 Joe Nicholson-USA TODAY Sports

As things stand, Lyoto Machida is in line to face the winner of the upcoming UFC light heavyweight title bout between champion Jon Jones and challenger Chael Sonnen.
However, it would not be a surprise to see those plans change if Alexander Gustafsson earns an impressive victory over Gegard Mousasi on April 6.
If Gustafsson is able to roll over Mousasi, the switch will be easy for the UFC to make for a few reasons. First, Machida has been beaten soundly by Jones in the past, losing via a technical submission (code for he was choked unconscious) at UFC 140.
Second, Machida's win over Henderson didn't exactly earn a ringing endorsement from UFC boss Dana White: "It wasn't a barnburner. It wasn't the most exciting fight you've ever seen. You won't be writing stories about this fight until the end of time, but Lyoto won the fight."
Third, Machida may not be willing to wait for the title fight, giving the UFC a very easy out if Gustafsson ends up as an attractive option.
Big picture: Don't be surprised to see Gustafsson getting a title shot if his hand is raised in front of the Swedish MMA fans on Saturday.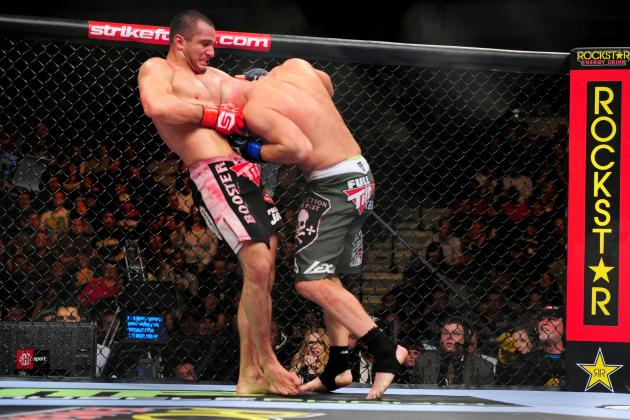 Mark J. Rebilas-USA TODAY Sports

Gegard Mousasi is one of those fighters that enters the cage with a look of sheer boredom on his face. There's not posturing, no chest pounding, no mean mugging, just a dude standing there ready to punch the clock at his job.
The understated Mousasi may be the underdog in this fight, but he can't be overlooked. He's run up a career MMA record of 33-3-2 at the age of 27 and has also done some professional kickboxing.
But he is somewhat of an unknown to fans since he will be making his UFC debut on Saturday.
Mousasi has the credentials to defeat Gustafsson, especially if Gustafsson is looking at Mousasi as a mere bump in the road to a title shot or if outside concerns, such as the much-discussed training camp cut, are weighing on the mind of Gustafsson when the cage door locks behind the two fighters.