PSG vs. Barcelona: Champions League Quarterfinal 1st-Leg Live Score, Highlights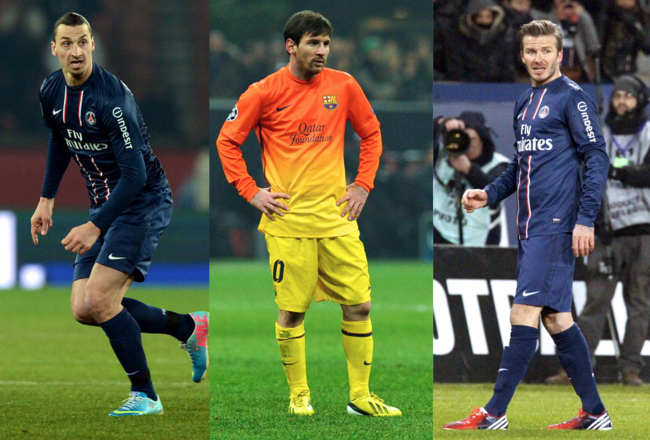 Live UEFA Champions League Quarterfinal, first-leg commentary
Paris Saint-Germain 2-2 FC Barcelona (full time result)
Leo Messi, 37' (0-1)
Zlatan Ibrahimovic, 79' (1-1)
Xavi Hernandez penalty, 89' (1-2)
Blaise Matuidi, 90+4' (2-2)
PSG: Sirigu, Jallet, Alex, Thiago Silva, Maxwell, Beckham (Verratti), Matuidi, Lucas Moura, Pastore (Gameiro), Ibrahimovic, Lavezzi (Menez).
Barcelona: Valdes, Dani Alves, Pique, Mascherano (Bartra), Jordi Alba, Xavi, Busquets, Iniesta, Sanchez, Messi (Cesc), Villa (Tello).
Right, we'll call it a night there for the live commentary, but the chat about this game is far from over. We'll have plenty of post-match reaction coming from both of these Champions League fixtures on the website over the coming hours, so stay tuned to Bleacher Report.
Thanks very much as always for joining me here tonight—and make sure you're right back here tomorrow for more Champions League coverage, where I'll be bringing you Galatasaray vs. Real Madrid. It's unmissable!
See you next time.
Full time result in the UEFA Champions League quarterfinal first leg
Paris Saint-Germain 2 (Ibrahimovic, Matuidi)
Barcelona 2 (Messi, Xavi penalty)
MOTM: Thiago Silva
What an incredible finish to an extraordinary first leg!
The referee calls time on a quite stunning end to the game, which saw three goals in the last 11 minutes.
Barcelona...well, are they happy or disappointed after that? They led twice, once with just minutes left on the clock after a last-minute penalty, but still only ended up drawing. On the other hand, they have two away goals and will surely start as favourites to go through.
Mascherano and Matuidi will be missing through suspension after yellow cards, but we await to see the state of Leo Messi after his injury at the end of the first half.
Goals were traded from Messi, Ibrahimovic, Xavi (penalty) and, right at the death, Matuidi. It leaves the tie very finely poised for the second leg back in Barcelona.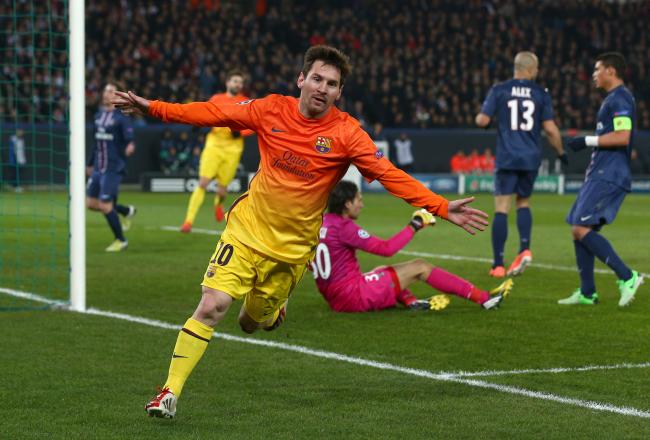 Full time result
Paris Saint-Germain 2 Barcelona 2
Incredible stuff! The very last kick of the game sees PSG back on level terms—they will go to the Nou Camp level with Barcelona. A long ball is pumped up toward Zlatan, he nods the ball down to Matuidi, 25 yards out—and he cracks a shot in which deflects slightly off Barta and beats the desperately outstretched arm of Victor Valdes. 2-2!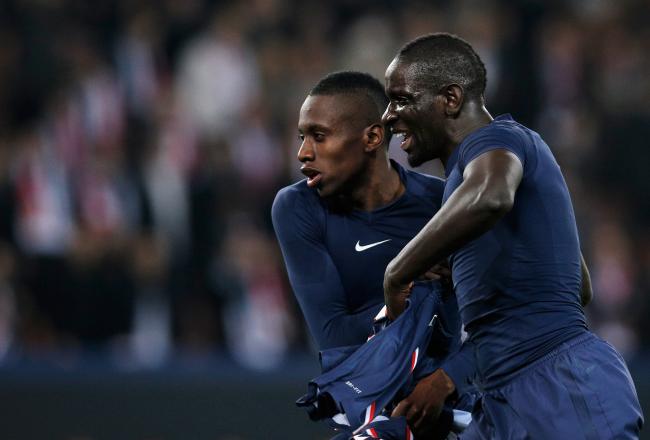 GOOOOOOOOOOOOOOAAAAAAAAAAALLLLLLL!
PSG 2 Barcelona 2
Blaise Matuidi, 94 mins
90+3'—Into the final 60 seconds of the first leg now. PSG search for one last attack, but Barcelona have numbers back now. The ball needs to go into the box.
90+1'—Zlatan bursts forward and powers the ball into the back of the net—but the offside flag is up and play is called back. Still 1-2.
Xavi puts it low and to the goalkeeper's left, and finds the bottom corner of the net. It's 2-1 to Barcelona and PSG are right back in trouble in this tie, behind and needing to win in the Nou Camp as things stand.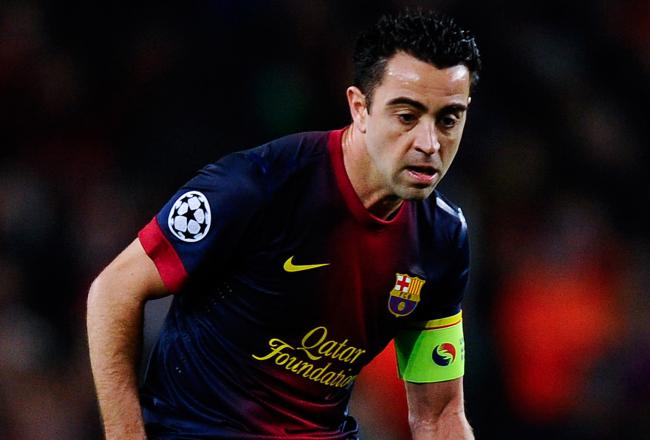 GOOOOOOOOAAAAAALLLLLLLLLLL!
PSG 1 Barcelona 2
Xavi, penalty, 89 mins
Barcelona probe their way through the back line and Alexis Sanchez is in—but Sirigu takes him down! Penalty and yellow card for the goalkeeper.
86'—PSG are almost in again behind the Barcelona defence as a bouncing ball is flicked on, but Alves does really well to get back and clear with Gameiro looking to pounce. Alba clears further as Zlatan barges through the back of him, and the Swedish forward is also shown a yellow card.
84'—The referee is irked beyond breaking point at the constant Barcelona players' protestations in this half, the latest for Alves berating the assistant, and he shows the right-back a yellow card.
83'—Mascherano is in fact being stretchered off the field at this point, as Marc Bartra comes on to replace him. Not a good ending to the evening for him.
Barcelona sub: Mascherano off, Bartra on
That's all six changes made this evening.
Barcelona sub: David Villa off, Cristian Tello on
PSG are level and Barcelona are furious once more—and no wonder.
The free kick comes over, Thiago Silva rockets a header at goal and hits the post, but Zlatan Ibrahimovic is first to the rebound and stabs home from four yards out. The reason he was first to the ball, and the reason for Barcelona displeasure, is that he was clearly about three yards offside when Thiago Silva headed the initial effort at goal! It stands though, 1-1 now.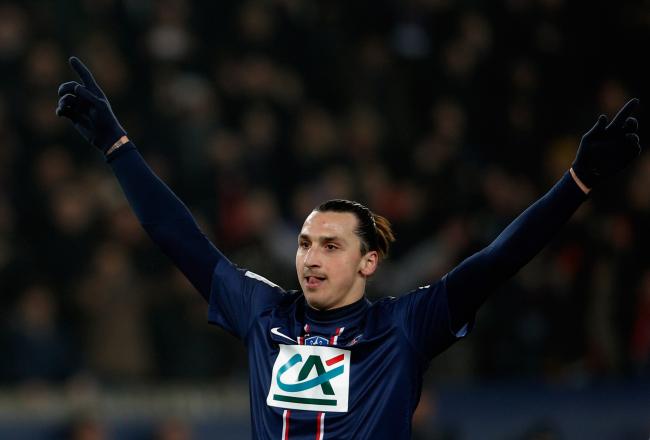 GOOOOOOOOOOAAAAAALLLLLLLLL!!!!
PSG 1 Barcelona 1
Zlatan Ibrahimovic, 79 mins
76'—Barcelona furious, PSG almost equalise! Two Barça players clash heads and are down injured in the box, the ball is played back into the box to a completely free Zlatan Ibrahimovic—and he can only shin the ball at goal, allowing Valdes to make a good block. The away players aren't happy but the ref has signalled for the corner.
74'—Mascherano is shown the yellow card and he'll be out of the second leg as well. Menez led the charge for PSG and cut back inside the centre-back, being caught by the trailing foot. Meanwhile, Dani Alves is down and needing treatment after being caught on the foot by Verratti.
PSG sub: Pastore off, Kevin Gameiro on
...just over! Xavi's free kick is deflected, wrong-foots Sirigu, and drops just over the crossbar!
73'—Xavi is lining up a free kick from range here...
70'—Finally a moment of danger for PSG. Maxwell does well down the left and cuts inside, but his right foot is a bit of a swinger and he clatters a loose shot toward the near post, which Valdes saves.
PSG sub: Beckham off, Marco Verratti on
This article is
What is the duplicate article?
Why is this article offensive?
Where is this article plagiarized from?
Why is this article poorly edited?