Who Will End the ATP 2013 Season World No. 1?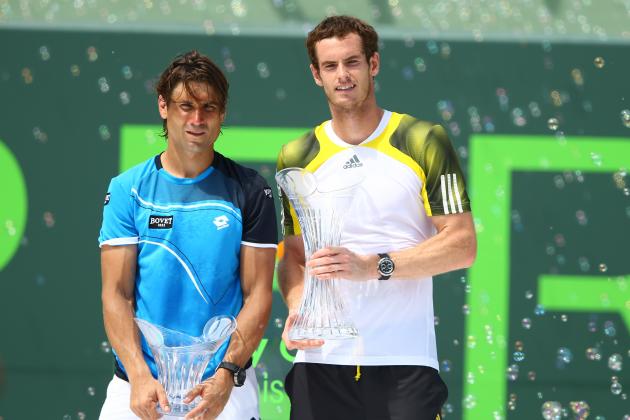 Al Bello/Getty Images
Feeling the heat - Andy Murray with Miami 2013 finalist David ferrer
ANDY MURRAY
Following his recent Miami Masters victory, many in the tennis community are tipping the world No. 2 to end the year one spot higher—but is this really going to happen?
The ATP world rankings and points tally currently stand as follows:
1. Novak Djokovic - 12,370 pts
2. Andy Murray - 8,750 pts
3. Roger Federer - 8,670 pts
4. David Ferrer - 7,050 pts
5. Rafael Nadal - 6,385 pts
Murray currently lags 3,620 ranking points behind world No. 1 Novak Djokovic. Is it likely the Scotsman will close the rankings points gap on the Serb between now and Wimbledon?
Begin Slideshow

»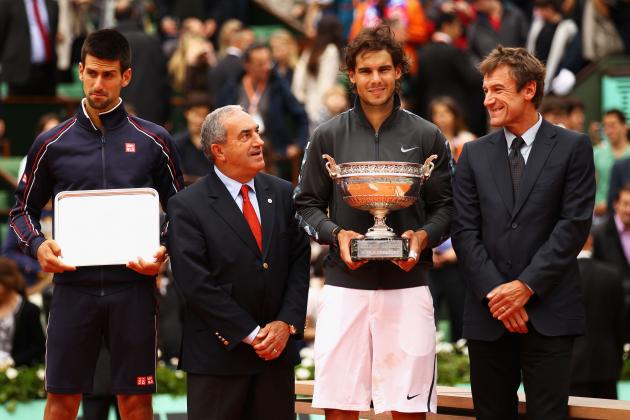 Clive Brunskill/Getty Images
2012 FRENCH OPEN FINALISTS
The April/May leg of the ATP season is held on what Murray considers to be his worst surface—red clay.
Murray will likely play the events at Monte Carlo, Barcelona, Madrid and Rome, before heading to the second Grand Slam of the season at Roland Garros.
Murray changed his schedule earlier this year, missing Dubai, to accommodate an extra training block leading into the hard court Masters events at Indian Wells and Miami. His results at these events, reaching the quarterfinals and winning the title, respectively, were a significant improvement on those of 2012 when he lost in the second round and finals, respectively.
So Murray has definitely made progress this year under the careful eye of his coach and eight-time Grand Slam champion Ivan Lendl.
Two formidable obstacles, though, stand in the way of Murray the rest of the 2013 season.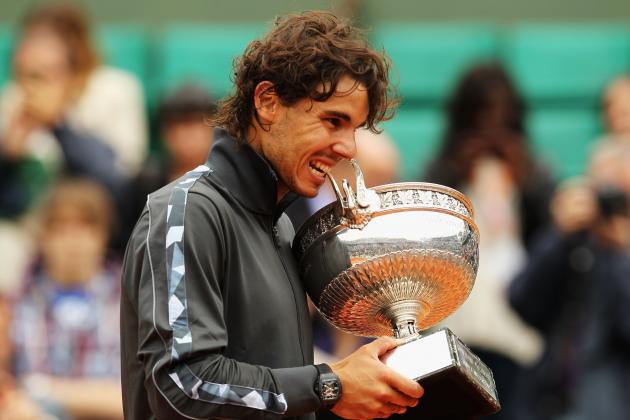 Matthew Stockman/Getty Images
Rafael Nadal
The seven-time French Open champion and undisputed greatest clay court player of all time—is back!
Following a seven-month break from the tour due to knee injury, in February the "King of Clay" announced his return to the tour; winning three of the four tournaments he's entered since.
Rafa missed Miami to rest up and prepare for the forthcoming clay court season.
2012 saw Nadal win the events at Monte Carlo, Barcelona, Rome and Paris. Though he has 4,590 points from the clay court season to defend it would be a mistake to believe he will not successfully do so.
And who could possibly stop him?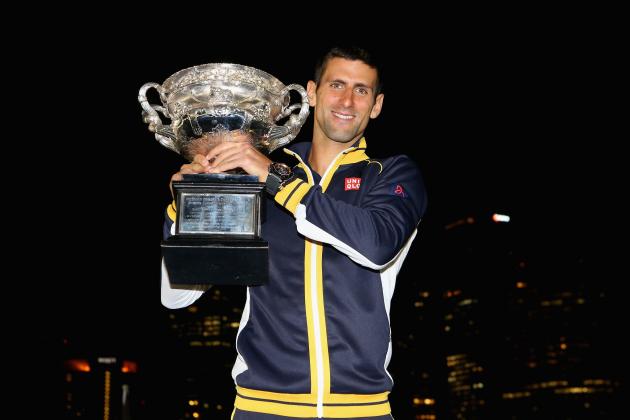 Lucas Dawson/Getty Images
2013 Australian Open champion Novak Djokovic
World No. 1 Novak Djokovic cannot be a happy man. What has happened to the "Serbinator" since beating Murray in the finals at Melbourne back in January?
Having won Dubai in February, Nole unexpectedly lost to the inspired Juan Martin Del Potro and Tommy Haas in the semifinals and fourth rounds at Indian Wells and Miami, respectively.
Novak's 2012 clay court season was decimated by the loss of his grandfather and the irresistible play of Nadal.
Unlike Murray, I do expect Djokovic to present a formidable challenge to Nadal throughout this year's clay court season, which leads us to...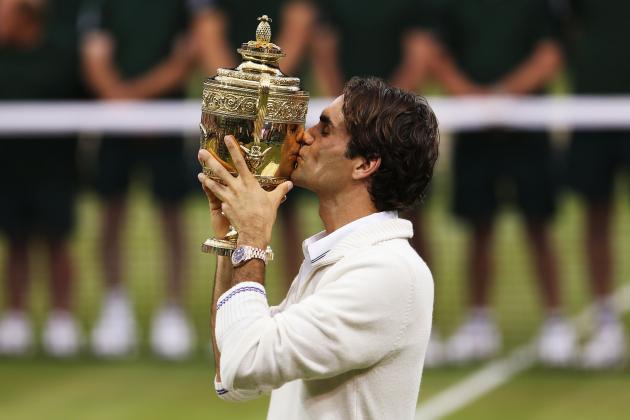 Julian Finney/Getty Images
The Greatest Of All Time
2012 saw Murray become the first British man since Fred Perry in 1936 to reach the final, where he lost in four sets to seven-time champion Roger Federer.
Nadal has won two Wimbledon singles titles, Djokovic one—I believe that 2013 could well be Murray's year.
But it could equally be Nole's or Rafa's too—I see no outright favourite at this time but think it unlikely that the GOAT will add to his record of 17 Grand Slam singles titles.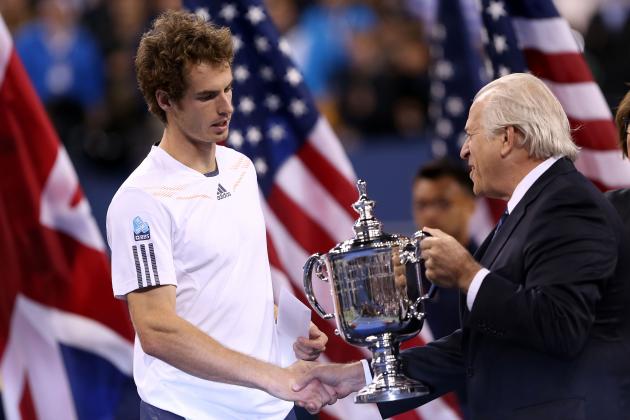 Matthew Stockman/Getty Images
2012 US Open champion Andy Murray
Flushing Meadows 2012 saw Andy Murray win his first Grand Slam title. The Scot will certainly go into the event as joint-favourite with Djokovic. Rafael Nadal, however, if injury-free, could form a considerable challenge to them both.
As for the rest for the year, if all remain fit, healthy and competitive, I expect the 2013 rankings to end as follows:
1. Djokovic
2. Nadal
3. Murray
What do you think?
Join me on Twitter @MARTINBALDRIDGE or on Facebook at Martin Baldridge
Author of the books, 'So you want to win Wimbledon? - How to turn the dream into reality' and the forthcoming, 'How to put the GREAT back into British Tennis - Dig up the grass at Wimbledon!' – available from Amazon