5 Fighters Who May Have Reached Their Peak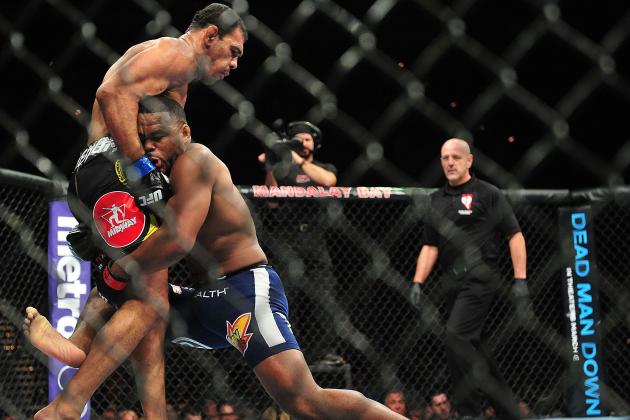 Gary A. Vasquez-USA TODAY Sports

A fighter's career is dreadfully short.
The sport of mixed martial arts batters a fighter's body over time, and nearly every professional combats the injuries and the stresses of training throughout his or respective career, resulting in a short-lived bask in the spotlight.
For many fighters, the end is abrupt and unfortunate, the result of a serious injury or a traumatic life experience.
For others, the flame simply dies out and sustaining the glory of past years becomes an impossibility.
Let us examine the latter group.
Start the slideshow to see which current UFC fighters have given fans their best and will now stroll peacefully through the gates of retirement.
Note: Ranking is determined by a fighter's recent success (or, in this case, failure) and overall demeanor. Fighters who suffered career-affecting injuries were not considered, nor were fighters with 30 or more career fights.
Begin Slideshow

»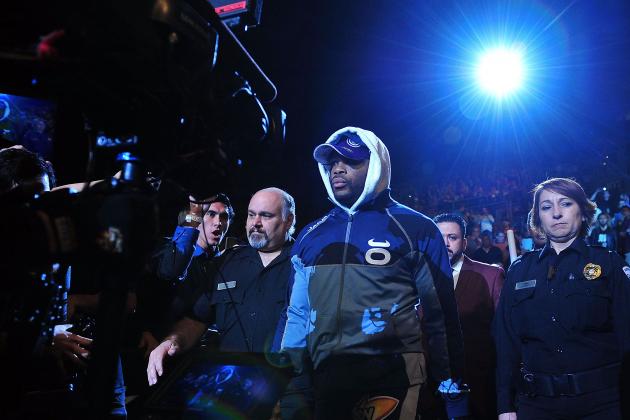 Gary A. Vasquez-USA TODAY Sports

Hello, I'm Captain Obvious. Nice to meet you.
"Suga" Rashad Evans' skill set has diminished dramatically in recent fights, and the formerly feared and explosive fighter now looks old, slow and tired inside the Octagon.
Most notably, Evans looked lethargic and uninterested against Antonio Rogerio Nogueira at UFC 156, and the performance was arguably the worst of his career.
Suga was always a personal favorite of mine, but there is no denying that he has seen his best days inside the cage.
Jayne Kamin-Oncea-USA TODAY Sports

Thanks to his ties to the glorious state of Pennsylvania, "Kos" nestled comfortably in a soft spot in my heart for the majority of his career.
The eviction notice has been issued, though.
Koscheck is still a very good welterweight, but with back-to-back losses smearing his resume, it is hard to ignore the downward spiral of his career.
Making matters worse, his most recent win, a split-decision victory over Mike Pierce at UFC 143 was hotly debatable, and I personally felt Kos lost that one as well.
While getting knocked out by Robbie Lawler and dropping a decision to Johny Hendricks is not inexcusably terrible, it is safe to say that Kos's best days in the Octagon are behind him.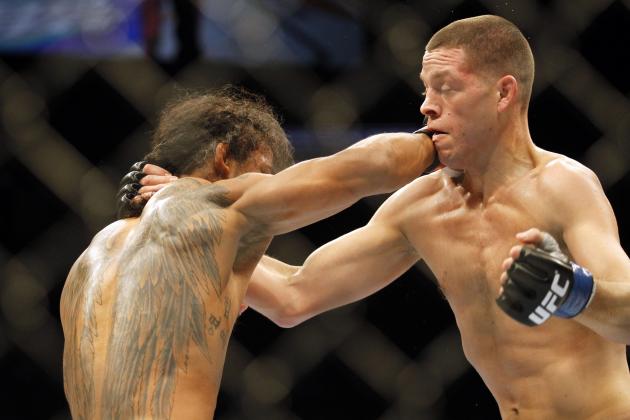 Joe Nicholson-USA TODAY Sports

Like Josh Koscheck, Nate Diaz stands out as a personal favorite of mine.
His brash personality, hilarious in-cage antics and slick submissions make him a joy to watch, but I think Mr. Diaz has put forth the best he has to offer inside the cage.
Diaz recently rattled off an impressive three-fight winning streak against top competition in Takanori Gomi, Donald Cerrone and Jim Miller, but he faltered when given the title shot against Benson Henderson.
Due to his weak wrestling base, Diaz will continue to be exposed by elite wrestlers, and the lightweight division is only getting deeper and deeper in this category. Because of this, I feel his three-fight streak that began against Gomi will stand as the high point in his career.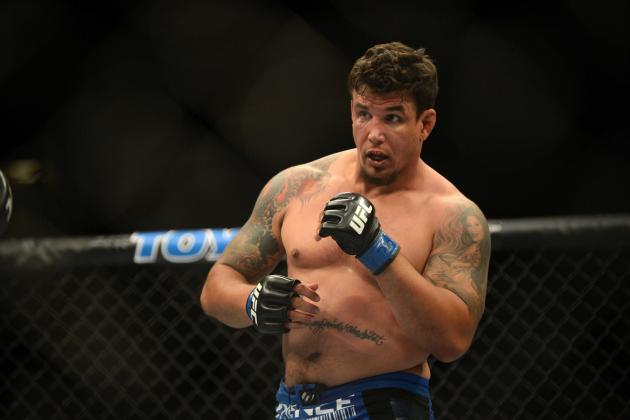 Ron Chenoy-USA TODAY Sports

Defining Frank Mir's peak is difficult. The man's career track looks like the blade of a hand saw, but I think we will finally see a steady and consistent descent from the heavyweight fighter from this point forward.
To his credit, Mir was (and still is) a phenomenal fighter. Despite suffering a career-threatening injury and falling victim to substance abuse as a result, Mir recently reclaimed his spot atop the heavyweight division and challenged for then-champ Junior dos Santos' title at UFC 146.
Mir lost the fight via technical knockout, and with his age, history and the ever-increasing depth of the UFC's heavyweight division, I think his UFC 146 tilt will stand as his final championship bout.
Adding to this, Mir has not looked much improved as of late. In fact, he was nearly knocked out by Antonio Rodrigo Nogueira at UFC 140 before securing a disgusting kimura, and he was positively lackluster against Roy Nelson before that.
Mir's submissions have always been sensational—and they will continue to be—but that alone will not help him climb his way back to the top of the heavyweight heap.
All of this considered, I think the world has seen the best version of Frank Mir.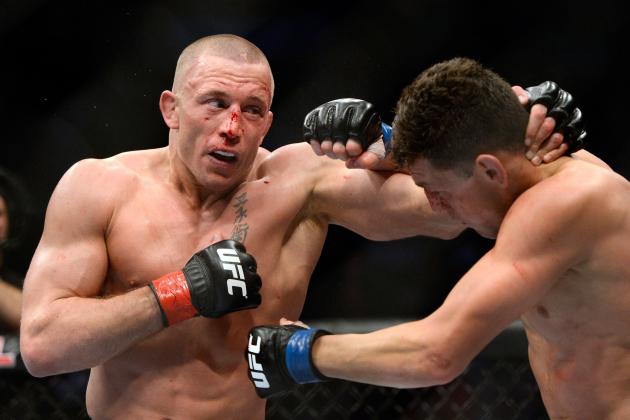 Eric Bolte-USA TODAY Sports

I saved the most controversial for last.
It would be foolish to say that Georges St-Pierre is "done," that he will not defend his title again or that he is no longer an elite athlete.
Unlike the other fighters on this list, I still see one or two wins in GSP's future, but that does not mean we haven't seen his peak.
A devastating knee injury robbed GSP of his ultra-high-level performance inside the Octagon, but his mastery of the game and calculated approach is still an impossible task for opponents.
That said, "Rush" just has not looked quite as fast, as explosive or as dangerous as of late, and I think that can be attributed to the fact that he is well past his prime. Against Nick Diaz at UFC 158, GSP faded after Round 3, and that suspect endurance was incredibly uncharacteristic for the Canadian superstar.
GSP is still the greatest welterweight in the sport by far, but he will continue to impress less and less as his career winds down.
Although the man has looked robotic in the vast majority of his UFC wins, his intense training, the injuries he has suffered and the compounding pressure of each consecutive title defense have taken their toll on GSP's human form, and the apex of his career has been surpassed.
Luckily for him, even an 80 percent GSP is still better than any other 170-pound fighter in the world.