Alexander Gustafsson vs. Gegard Mousasi Head-to-Toe Breakdown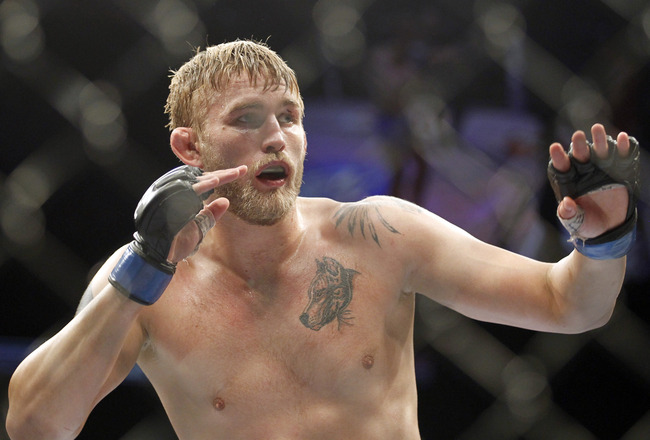 Joe Nicholson-USA TODAY Sports
Alexander Gustafsson recently suffered a cut that jeopardized his UFC on Fuel TV 9 main event bout against Gegard Mousasi. However, UFC president Dana White responded to speculation about the fight's cancellation by saying Gustafsson still wants to fight on Saturday.
For now, we'll work under the assumption that this weekend's headlining fight is still on.
If the bout does go down, it will give both Gustafsson and Mousasi a chance to separate themselves as top contenders in the race for the light heavyweight championship.
Let's take a look at each area of the fight game and break down where each fighter should have their most notable advantages.
Striking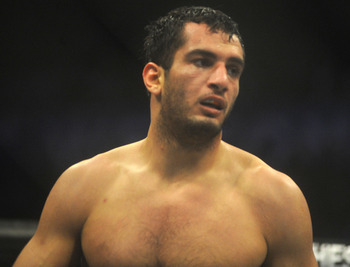 USA TODAY Sports
Stand-up Striking
Alexander Gustafsson has looked excellent on his feet in his rise toward the top of the light heavyweight division, but Gegard Mousasi is one of the most technical strikers the Swedish fighter will have fought in his MMA career.
Mousasi has 18 knockout wins on his resume and even competed in kickboxing, where he defeated former K-1 heavyweight champion Kyotaro.
While Gustafsson is certainly capable of holding his own against Mousasi when standing, having never been knocked out, he'll have a much greater chance of winning should he find a way to take his opponent to the ground.
Edge: Mousasi
Ground Striking
Neither Gustafsson nor Mousasi are known for having devastating ground-and-pound, but both light heavyweights are able to do some damage from the top position.
Mousasi is actually equally dangerous when striking off of his back, having knocked out Ronaldo Souza with an upkick years ago.
Gustafsson will need to be wary of that should he find himself on top, but he'll likely be more focused on working toward submissions than posturing up and opening himself up to strikes from the bottom man.
Edge: Mousasi
Power and Durability
While he hasn't put up the same numbers as Mousasi in a shorter career to date, Gustafsson has shown plenty of finishing ability and a solid chin.
Though neither man has ever been knocked out, there is definitely potential for either Gustafsson or Mousasi to be stopped with strikes for the first time in their careers on Saturday.
Edge: Push
Overall Striking Edge: Mousasi
Grappling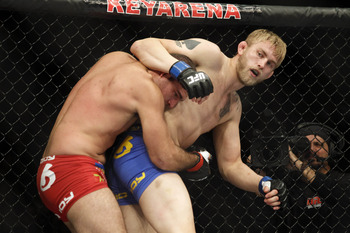 Joe Nicholson-USA TODAY Sports
Takedowns and Takedown Defense
Since joining former opponent Phil Davis at Alliance MMA, Alexander Gustafsson's ground game seems to have taken off to a new level. Following his loss to Davis, Gustafsson scored back-to-back submission wins and recently took Mauricio Rua down six times in a three-round bout.
Meanwhile, Mousasi's takedown defense has played a big part in his most recent setbacks.
Mousasi was taken down 11 times in a title fight against Muhammed Lawal and six times in a disappointing draw with Keith Jardine.
Edge: Gustafsson
Control and Escapability
Mousasi is active off of his back, but that doesn't mean he's all that great at escaping back to his feet.
If he finds himself under the physically larger Gustafsson, Mousasi could be forced to work his guard for five rounds and hope to lock up a submission.
Gustafsson isn't a smothering wrestler, but his work with Davis should have him more than prepared to control an opponent like Mousasi on the ground.
Edge: Gustafsson
Submissions and Submission Defense
While Gustafsson and Mousasi have both scored a number of submission wins in their careers, neither has forced an opponent of the other's caliber to tap in the past.
At the same time, the UFC on Fuel TV 9 headliners have gotten caught in submissions themselves. So, there is potential for either competitor to end this fight in a scramble on the ground.
Edge: Push
Overall Grappling Edge: Gustafsson
Intangibles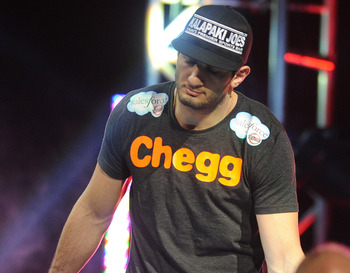 USA TODAY Sports
Experience
Although Gegard Mousasi has had 22 more fights than Alexander Gustafsson, the latter does possess one notable advantage in the experience department.
Gustafsson has already competed inside the Octagon on eight occasions. Mousasi, on the other hand, will be making his UFC debut on Saturday.
Even though he's competed in several big shows in the past, Mousasi will have to deal with the nerves that come with competing on MMA's biggest stage for the first time.
Edge: Push
Athleticism
Gustafsson is more of a natural light heavyweight and should bring a little more strength to the table than Mousasi.
However, Mousasi is less awkward in his movement and possesses greater quickness than Gustafsson as a result.
Overall, neither fighter should blow the other away in terms of physical ability.
Edge: Push
Conditioning
The UFC on Fuel TV 9 main event marks Gustafsson's first ever five-round contest.
It will be interesting to see how the Swedish light heavyweight handles himself should this fight reach the fourth and fifth stanzas.
Despite all his experience, Mousasi has only seen the fourth round once in his career, and that was in a bout that he lost to Muhammed Lawal.
Edge: Push
Overall Intangibles Edge: Push
Prediction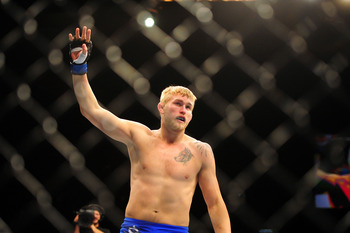 Mark J. Rebilas-USA TODAY Sports
This is an interesting matchup for Alexander Gustafsson, who has been able to use his long punches to best most opponents on his feet. That won't be nearly so easy against a talented striker like Gegard Mousasi.
While Mousasi may even have an advantage in the stand-up department, Gustafsson's edge on the ground should be much more significant.
As long as Mousasi doesn't expose some previously unexplored holes in his opponent's striking defense early on, Gustafsson should be able to control the fight along the cage and on the canvas. A statement-making submission may not even be out of the question.
Prediction
Gustafsson defeats Mousasi by unanimous decision (49-46, 49-46, 49-46).
Keep Reading