Winners and Losers from Week 10 of the 2013 NHL Season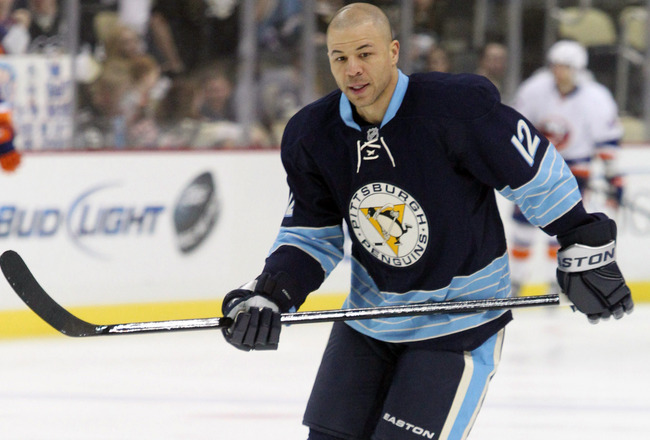 Charles LeClaire-USA TODAY Sports
We have now entered trade deadline week in the NHL. Several teams will be busy over the next few days as they attempt to improve their club by acquiring players for the postseason.
Players will only have one or two more games to impress their own teams and opposing general managers who may be targeting them in the trade market.
Teams who are on the playoff bubble also need a strong week because a few losses in a row at this stage of the season could make reaching the postseason an unrealistic goal. This is the time when the contenders separate themselves from the pretenders.
Let's look at the winners and losers from a spectacular Week 10 of the 2013 NHL season.
Winners: Pittsburgh Penguins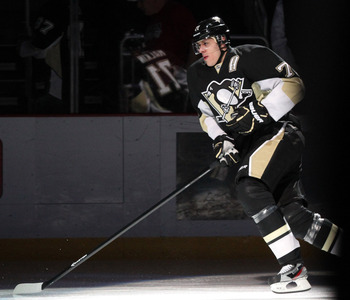 USA TODAY Sports
Pittsburgh lost Sidney Crosby and Paul Martin to injuries last week. But the Penguins did become the first NHL team to ever go undefeated in a calendar month with at least 10 games played when they defeated the New York Islanders on Saturday to finish March 15-0.
They also acquired Calgary Flames right-winger Jarome Iginla in a deal involving two college prospects and the Penguins' first-round pick in the upcoming entry draft. This was a great trade for the Penguins because they acquired a top-six forward without giving up any elite prospects.
Included in Pittsburgh's success last week were victories over the rival Philadelphia Flyers and wins against division leaders the Montreal Canadiens and Winnipeg Jets.
The Penguins now lead the East standings by seven points over the Canadiens, and they also have the conference's best goal differential at plus-39.
From an individual perspective, backup goaltender Tomas Vokoun was fantastic for the Penguins last week. He has won his last two games, both of which were shutouts, and has given Pittsburgh some important goaltending depth that the team didn't have last season.
With superstar center Evgeni Malkin returning from injury, the Penguins have a strong chance to win three more games in a row and break the NHL's record of 17 consecutive victories.
Losers: Boston Bruins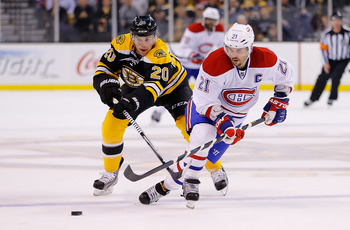 Jared Wickerham/Getty Images
Last week was one to forget for the Boston Bruins and their fans.
The team thought it had acquired Calgary Flames forward Jarome Iginla in a trade on Thursday, but the deal fell apart, and he was sent to the Pittsburgh Penguins.
On the ice, the Bruins went 1-1-1 last week, including a disappointing 6-5 shootout loss to the rival Montreal Canadiens. Boston blew two two-goal leads, and a terrible 3-1 defeat to the Philadelphia Flyers on Saturday.
The Bruins have scored more than two goals in a game just one time in their last eight matchups, and their inability to open the scoring is forcing them to play from behind way too often. Boston has not taken a lead into the second period in any of the team's last nine games. As head coach Claude Julien often says, "catch-up hockey is losing hockey."
Not only are the Bruins failing to score goals consistently, but they are also having a lot of trouble drawing penalties. Boston has been on the power play 92 times this season, which is the lowest total in the league.
For the Bruins to make a deep playoff run this year, they need to add a goal scorer or a top-tier offensive defenseman to their roster before Wednesday's trade deadline.
Winners: Toronto Maple Leafs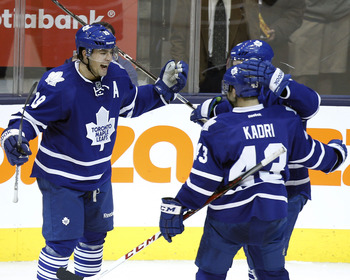 John E. Sokolowski-USA TODAY Spo
The Toronto Maple Leafs will look back at Week 10 of the 2013 season as the seven-day period in which the team ended its seven-year playoff drought. Toronto was 3-0-1 last week and outscored its opponents 15-7.
Although they have not mathematically clinched a postseason berth just yet, the Leafs now lead the eighth-place New York Rangers by seven points in the East standings thanks to a three-game winning streak. According to Sports Club Stats, Toronto has a 99.4 percent chance to make the playoffs.
First-line winger Joffrey Lupul had a brilliant week with five goals in four games, including a highlight-reel goal in which he took the puck from his own zone and worked his way past multiple Carolina Hurricanes players before scoring with a nice move in front of the net.
Nazem Kadri extended his team-leading scoring total to 39 points on Saturday with a hat trick against the Ottawa Senators, which was the Leafs' first natural hat trick in six years. He also leads all Leafs players with 17 goals this season.
With just a few more victories, Toronto will take another step closer to securing a playoff spot for the first time since 2003-04.
Losers: Buffalo Sabres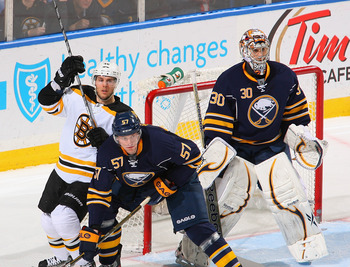 Rick Stewart/Getty Images
The Buffalo Sabres had a tremendous opportunity to climb back into the playoff race last week because many of the teams above them in the standings have struggled to win games consistently.
However, the Sabres are now winless in their last four games, and two of those losses were in a shootout after Buffalo lost a third-period lead.
Three of Buffalo's losses last week came against non-playoff teams, and the other defeat was to the Boston Bruins, whom the Sabres have already beaten twice this season.
Special teams was also a problem for the Sabres last week. They have converted on just two of their last 16 power-play opportunities, and the team's penalty kill has allowed seven goals in the last six games.
Buffalo is now in 13th place with 32 points, but the Sabres are still only five points behind the New York Rangers for the eighth and final playoff spot in the Eastern Conference.
With the trade deadline coming up, this team could undergo some major changes before the end of the week depending on which direction ownership wants to go in: Compete for the playoffs in 2013 or retool.
Winners: San Jose Sharks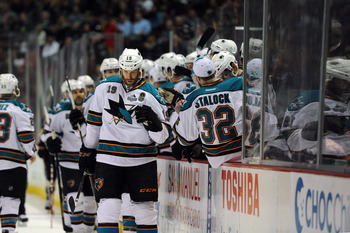 Kelvin Kuo-USA TODAY Sports
After winning just four of their first 11 games in the month of March, the San Jose Sharks have now won four straight games to move up from eighth to sixth in the Western Conference standings. This streak includes impressive victories over the Anaheim Ducks (twice), Detroit Red Wings and Phoenix Coyotes.
Scoring goals has been a problem for the Sharks this season, but their offense woke up last week by averaging 3.5 goals scored during this winning streak. That is well above the team's yearly scoring average of 2.3 goals per game (28th in the NHL).
Starting goaltender Antti Niemi has been brilliant in the team's current winning streak with a perfect 4-0 record, two shutouts and a shootout victory.
It will be interesting to see how this run of success impacts Sharks general manager Doug Wilson's plans for the trade deadline.
He has a quite a few veterans (Dan Boyle and Ryane Clowe, for example) who could be traded for draft picks and/or prospects over the next few days. But giving up important players will not be an easy decision with the Sharks playing so well and likely headed for their ninth straight playoffs appearance.
Losers: New York Rangers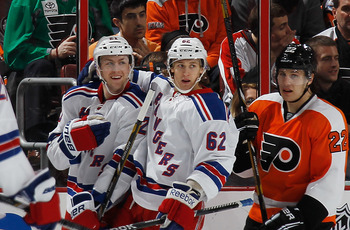 Bruce Bennett/Getty Images
The New York Rangers have lost two straight games and seven of their last 10. That has put them in a position where they will be fighting for the final two playoff spots in the Eastern Conference with several teams during the final few weeks of the season.
The Rangers sit in eighth place in the standings, and there are five teams within three points of them.
After a disappointing week, the Blueshirts now rank 30th in goals scored, 25th in power-play success and 21st in penalty killing. Saturday's 3-0 loss on the road to the Montreal Canadiens was their third defeat to the Northeast Division leaders this season. For the first time all season, the Rangers have been shut out in consecutive games.
Even though last year's Vezina Trophy winner Henrik Lundqvist is having a fine season with a .922 save percentage and a 2.19 GAA, the Rangers are failing to win games because they aren't scoring goals consistently.
General manager Glen Sather must add a goal scorer to his roster because the Rangers will not reach the postseason if their offensive struggles continue. This team has scored more than two goals in just one of its last five games.
Six of the Rangers' next seven games are against teams in a playoff spot in the East, including two matchups with the rival Pittsburgh Penguins, who have won 15 straight games. New York's success over the next week-and-a-half will likely determine if this team is able to make the playoffs in 2013.
Winners: Edmonton Oilers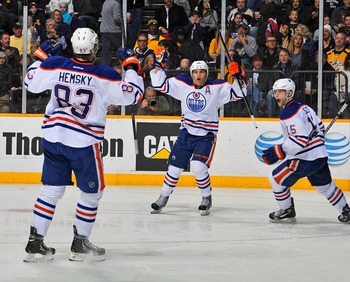 Frederick Breedon/Getty Images
If not for a three-game winning streak entering trade deadline week, the Edmonton Oilers might be among the most active sellers over the next few days.
Edmonton is only one point behind the St. Louis Blues for the eighth and final playoff spot in the Western Conference, and the team has gone 6-2-2 in its last 10 games.
The Oilers' defensive improvement over the last week is the most impressive part of their recent success. Two of their last three wins have been shutouts, and starting goaltender Devan Dubnyk is 4-1-2 in his last seven starts.
Taylor Hall took over the team's scoring lead with 34 points in 31 games thanks to his five goals and three assists in the Oilers' four games last week. His hat trick in Saturday's victory (video) over the Vancouver Canucks just 7:53 into the first period was the fastest hat trick in team history.
If the Oilers win their next game on Monday versus the rival Calgary Flames in the Battle of Alberta, they could be buyers at the trade deadline. Edmonton has a good chance to reach the playoffs for the first time since the 2005-06 season.
Losers: St. Louis Blues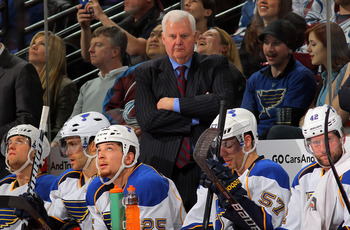 Doug Pensinger/Getty Images
The St. Louis Blues were picked to reach the Stanley Cup Final this season by many fans and journalists. That prediction might not come true because the team is having trouble just making it into the playoffs.
The Blues have lost three straight games, and they are now one point ahead of the Columbus Blue Jackets and Edmonton Oilers for the eighth and final playoff spot in the Western Conference.
St. Louis has scored an average of just 1.8 goals over its last five games, and the team's record in that span is 1-4. The Blues still rank 10th in goals scored and fourth in power-play success, but their recent struggles offensively are a genuine concern.
In addition to their inability to score goals consistently, goaltending and a lack of intensity have been problems for the Blues recently.
This team is not playing at the same level that it did last year, and veteran backup Brian Elliott is having a terrible season (3-6-1, .851 SV% and 3.65 GAA) after making the All-Star team in 2011-12. St. Louis ranks 19th in goals against just one year after leading the NHL in that category.
General manager Doug Armstrong acquired veteran defenseman and upcoming UFA Jordan Leopold in a trade with the Buffalo Sabres on Saturday (via TSN's Bob McKenzie) to add more depth to the team's blue line. He also needs to acquire a top-six forward before Wednesday, because the Blues don't have the scoring depth needed to make a deep run in the Western Conference playoffs right now.
Nicholas Goss is an NHL Lead Writer at Bleacher Report. Follow him on Twitter. He was a credentialed reporter at the 2011 Stanley Cup Final and 2012 NHL playoffs in Boston. All salary information courtesy of CapGeek.
Keep Reading