Latest Stock Up, Stock Down Update for Notable NFL Draft Prospects
Things are looking up for USC's T.J McDonald
Rich Schultz/Getty Images
For those of you who don't already know, this is not the time of year when NFL teams make many significant changes to their draft boards. With few exceptions, like a player testing positive for substance abuse or getting into trouble with the law, it's safe to say that April is not the month when in-house prospect opinions are altered much, if at all.
It's the rest of us—the less fortunate media members and draft experts—who are scrambling to watch film, collect data and formulate analysis on hundreds of players with limited resources each and every year.
So when referencing a player's stock either rising or falling in this article, keep in mind the factors which justify each prospect's noteworthy appearance.
First, I've spent the entire offseason buried in prospect game tape, cataloging data, hunting down Pro Day numbers and then trying to put it all together to make some sense of all the draft data available for those willing to do the work. Well, the data is finally coming together and is nearing completion.
This information, via film study, character developments or Pro Days, is then plugged into a draft metric system and contrasted against both my previous projections, as well as the general media's projection. The prospects with the greatest disparity or noteworthy divergence from these sources are then added to the slideshow as players whose stocks are either rising or falling.
In other words, this slideshow is primarily a reflection of changes made to my personal draft board as new information is discovered, such as game-changing Pro Day results or a noteworthy career-production score.
Note: The draft metric I'll be referencing throughout the slideshow is based off of a custom system intended to normalize data by giving every attribute and prospect nuance a numeric value from 1-10. This includes a prospect's height, weight, arm length, 40-yard dash, bench press, vertical jump, short-shuttle, 3-cone, broad jump, tape study, career production, character and, last but not least, injuries.
Once every category has a numeric grade, the information is then plugged into a position-specific, weighted-average to produce a single score, applicable across the board.
Stock Up: DE, Devin Taylor, South Carolina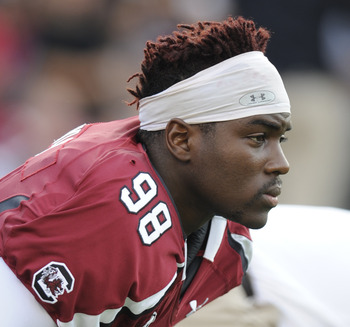 Mary Ann Chastain/Getty Images
Consensus Projected Round: 3-4
Draft Metric Grade: 7.45 (first-round value)
Devin Taylor's value has risen quite a bit throughout this draft process. This potential-heavy prospect was able to quietly wow teams without much media attention at the combine with rare physical tools.
Perhaps even more surprising than his physical gifts is his college production. He ranked fifth overall when compared with other draft-eligible edge-rushers. Touchdowns, forced fumbled and blocked kicks helped to catapult his career production grade into the top tier at his position.
Taylor also ranked among the best in pound-for-pound speed in this draft.
His combination of athleticism and production should make him one of the safest picks available after the second round. If he lasts beyond round two he should be considered quite a steal.
Stock Down: OLB, Jarvis Jones, Georgia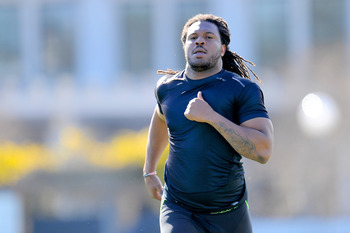 Dale Zanine-USA TODAY Sports
Consensus Projected Round: 1
Draft Metric Grade: 6.75 (third-round value)
Please understand that there's little to no chance Jarvis Jones will last into the third round of the draft. The Draft Metric grade is simply a tool to determine the risk/reward of a prospect given his draft-round projection. So essentially, what this means is that Jones is an extremely risky pick in Round 1, and perhaps even into Round 2.
How is this possible?
Jones graded out extremely poor in physical tools (4.7), which was compounded by some serious medical red flags docking his grade even lower. Though Jones actually is the most productive edge-rusher in this draft class, his game tape doesn't impress half as much as his numbers do.
It should be interesting to see if the NFL values production over athleticism in regards to Jarvis Jones. One way or the other, he should certainly fall out of the top-10 discussion.
Stock Up: RB, Christine Michael, Texas A&M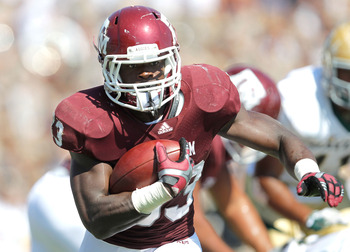 Sarah Glenn/Getty Images
Consensus Projected Round: 3-4
Draft Metric Grade: 7.41 (first-round value)
Christine Michael clearly has first-round talent; he simply needs to get his head together and learn how to conduct himself in a professional manner. This will be his greatest obstacle throughout his career.
Michael has one of the highest, if not the highest, grades (9.1) for his physical tools in the entire draft, regardless of position. These gifts happen to translate nicely onto a football field, where he also grades out pretty high (7.75) in tape study.
Any team who can grab a rare talent like Michael in the third round would be getting one heck of a bargain, that is, as long as they feel comfortable taking a player who has a history of character concerns.
Stock Down: DT, Sharrif Floyd, Florida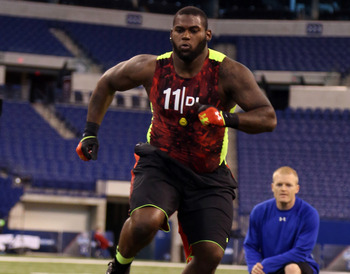 Brian Spurlock-USA TODAY Sports
Consensus Projected Round: Top 5
Draft Metric Grade: 6.83 (third-round value)
I understand that this flies directly in the face of public opinion and I'll probably receive a ton of heat for this. But the fact remains that Sharrif Floyd comes with some serious first-round risks.
With short arms (32 inch) and a disappointing explosion score, Floyd has not done enough to demonstrate top-10 physical tools as of yet. Even tape study showed some inconsistencies and seemed to mirror his average measurables.
He did have a productive college career and has a knack for putting pressure on the quarterback, but Floyd may be climbing media draft boards a bit unjustifiably. He's a risky pick anywhere in the first round considering his physical limitations and questionable ability to hold up in the trenches.
With that said, Floyd going early in the first round is basically a certainty, unless interest in him was somehow grossly over-hyped by the media, which is highly unlikely to this degree. But a top 5 pick is far too rich for my blood.
Stock Up: RB, Le'Veon Bell, Michigan State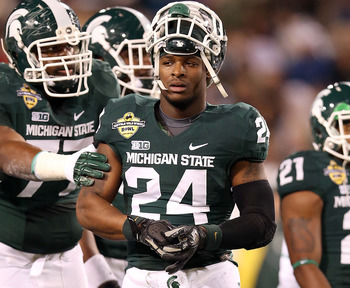 Christian Petersen/Getty Images
Consensus Projected Round: 4
Draft Metric Grade: 7.14 (second-round value)
Le'Veon Bell began his rise immediately following the NFL combine, where he put up some pretty impressive numbers and showcased that he was more than just a power back. Bell has fantastic speed for his size and is a rare athlete who can leap over men almost effortlessly.
If he manages to last into the fourth round, some team is going to get one heck of a bargain at running back.
Perhaps his average output while at Michigan State is a reason for such a low draft projection by media sources. According the draft metric, his value justifies a second-round pick.
Stock Down: TE, Zach Ertz, Stanford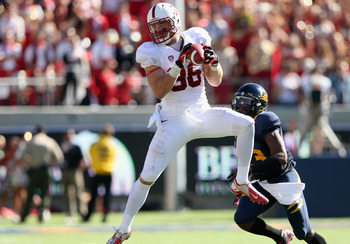 Ezra Shaw/Getty Images
Consensus Projected Round: 2
Draft Metric Grade: 6.71 (third-round value)
Many thought that when Zach Ertz arrived in Indianapolis, he was going to set the track on fire. Well, that didn't happen at all. In fact, Ertz was once considered a potential first-round pick. But now, he seems to be sliding further and further down the meter of public opinion.
Ertz had a fairly productive career in terms of numbers, but he was rarely seen making impressive catches on film. He may just need to hide his game tape as a blocker, because it lacks just about everything you want in a tight end: effort, functional strength and technique.
It's unknown if a team is willing to pull the trigger on Ertz before Round 3. But if one does, it'll likely be missing out on a tight end class with a lot of depth and athleticism.
Stock Up: CB, David Amerson, NC State

David Amerson NFL Player Comparison

Consensus Projected Round: 2
Draft Metric Grade: 7.28 (first-round value)
David Amerson is one of the more physically gifted defensive backs in the draft. He also has had a nice career at North Carolina State, building a reputation as the ultimate ball hawk.
Some speculate that Amerson will be better off playing safety in the NFL, but based on his speed, he has the ability to be a solid cornerback as well.
Amerson finished off his impressive pre-draft evaluations at his Pro Day, where he improved his broad jump from 121 inches to a very elite number of 132. Plus, he had a vertical of 38.5. These numbers scream "elite explosive athlete."
Amerson's stock seems to be pushing him right into serious first-round consideration. Don't be surprised if a team picking late in the first pencils him as its guy.
Stock Down: LB, Arthur Brown, Kansas State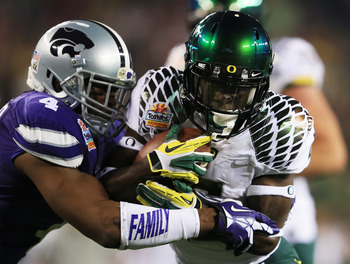 Doug Pensinger/Getty Images
Consensus Projected Round: 1-2
Draft Metric Grade: 6.49 (third-round value)
Leading up to the NFL draft, Arthur Brown was, at the very least, expected to be one of the most physically gifted linebackers available. Unfortunately, he has not lived up to expectation whatsoever.
Now, Brown's unremarkable physical attributes and average college production grade (six) are really taking a toll on his stock.
From tape study, it seems as though he has some issues making tackles, as well as standing his ground at the point of attack. Aside from his occasional shoot-the-gap mentality, Brown tends to struggle against power-run teams and blockers coming head on. He is better suited as a guy who can run sideline to sideline and cover ground fast.
One of Brown's better traits is his high character and work ethic; these elements can be a good foundation to build upon.
Stock Up: S, T.J. McDonald, USC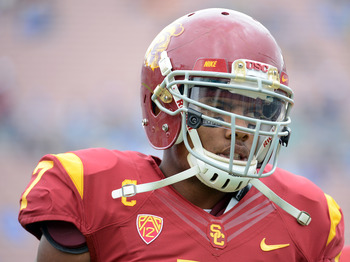 Harry How/Getty Images
Consensus Projected Round: 3
Draft Metric Grade: 7.27 (first round)
Having an NFL father as a resource is quite the perk for any college kid looking to follow in his father's footsteps. T.J McDonald may not have garnered many headlines during the draft prep season, but he did sneak himself right into the conversation as one of the best safeties in this draft.
McDonald has ideal size and speed for safety in the NFL. He's also been a highly productive player during his tenure at USC and may go as early as the second round. Having a guy like him available in the second or third round can definitely take the pressure off any team looking for a safety in the middle rounds.
But with the way his stock has been on the rise, I'd be surprised to see this kid last until the latter part of the second.
Stock Down: DT, Star Lotulelei, Utah

Star Lotulelei NFL Player Comparison

Consensus Projected Round: Top 5
Draft Metric Grade: 7.24 (first round)
At one point, Star Lotulelei was the top-rated player on my board. But that was before his heart condition was discovered, followed up shortly after by a somewhat sluggish showing on the timed drills at his Pro Day.
Lotulelei is still one of the top prospects in this draft, and he could end up climbing right back into the top five if medical personnel give him the thumbs up. Few people can make the type of plays he makes on tape, and he's one of the strongest defenders I've ever seen.
He still should garner first-round attention despite many teams taking him off their board completely.
This drop in stock is not unreasonable or overly drastic, but it's still noteworthy considering Lotulelei was once a possible No. 1 overall draft pick.
Stock Up: RB, Zac Stacy, Vanderbilt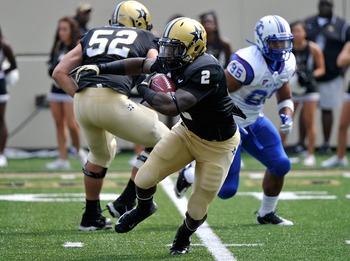 Frederick Breedon/Getty Images
Consensus Projected Round: 6
Draft Metric Grade: 7.24 (first-round value)
Zac Stacy has come out of nowhere this offseason, posting numbers that were among the best in his class. He is a hard-nosed runner who rarely gets taken down by the first tackle. And he has the speed and explosiveness to be an every-down back at the next level.
Those of you who aren't familiar with this kid need to start taking notes. He could be the next Alfred Morris, only with much better physical tools.
Surprisingly, Stacy has flown under the radar throughout this entire draft process. But it's really about time people start to take notice of a guy who is likely to have a long, productive professional career. Keep in mind that this kid has produced some pretty decent numbers against SEC defenses while on a team that never had the talent to compete against the big boys.
Teams who are looking to steal Stacy in the fourth round will probably be going home empty-handed; he should be gone before the midpoint of the third round.
Stock Down: LB, Alec Ogletree, Georgia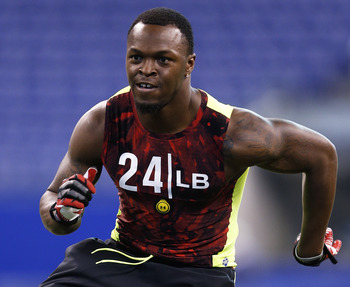 Joe Robbins/Getty Images
Consensus Projected Round: 1-2
Draft Metric Grade: 6.40 (third-round value)
Alec Ogletree failed this offseason both on and off the field. Not only did he fail to put up the impressive numbers everyone was expecting, but he also couldn't keep out of legal trouble months before the biggest day of his life.
It's hard to say what type of career Ogletree is destined to have. The possibility of him going down a path of greatness or becoming a total bust seem far too equivalent at the moment. This kind of risk makes it hard to justify him anywhere near the first round.
He has had multiple run-ins with the law over the years and also has some warts in his game tape.
When it comes to career production, Ogletree is just a middle-of-the-road-type guy. These are not the traits of a quality first-round pick and should be the reason his stock continues to plummet right out of the first round altogether.
Keep Reading