The Biggest Questions for the Saints Heading into the 2013 NFL Draft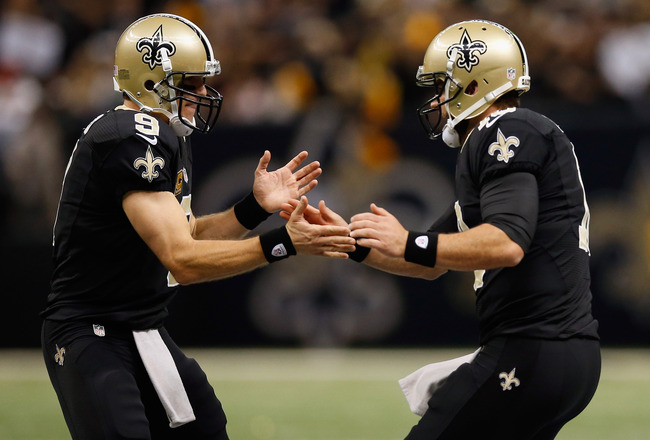 Chris Graythen/Getty Images
In one felt swoop the New Orleans Saints lost their rock at starting left tackle, Jermon Bushrod, and backup to the cornerstone of the franchise, Chase Daniel, this offseason.
As of Monday morning (12:15 AM CT), no player had been signed to replace either player. Of course, the left tackle position has potential replacements currently on the roster. The same is not true of the quarterback spot.
Clearly, who fills those two spots in 2013 is a big question mark as the New Orleans Saints enter the 2013 NFL draft. So, too, are what the team elects to do at five other positions.
1. Team Set at Nose Tackle?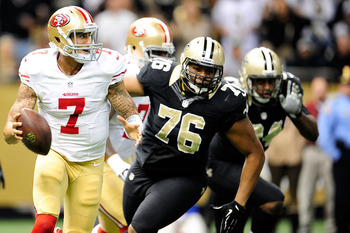 Stacy Revere/Getty Images
As of now the current Saints roster members who double as candidates for the starting nose tackle job are Brodrick Bunkley, Akiem Hicks and TBD.
Perhaps the team is more than happy with the potential of starting Hicks or Bunkley at that spot. Maybe the team is doing its due diligence with draft prospects and thinks it has a gem lined up to come in to start from Day 1.
The team must decide between now and the April 25 draft if the team is content with its options at nose tackle. If not, the Saints will obviously have a number of options to choose from in this draft.
2. What About a Developmental Tight End?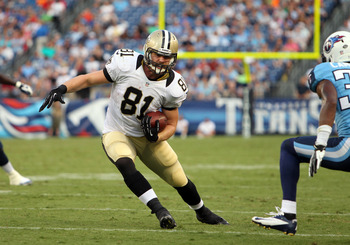 Joe Murphy/Getty Images
The Saints are content with starting tight ends Jimmy Graham and Benjamin Watson (Saints often use two tight ends). The question is simply, who will suit up, if anyone, as the third tight end in 2013?
Michael Higgins is a player the team has been grooming for over two years. But is he ready to really step up? Last season he saw action in just one contest.
If the team is not confident in Higgins (and reason tells me they are not, given how little action he saw a season ago, combined with the fact that New Orleans so quickly brought Watson in this offseason), the team could look to the draft for a "developmental" player who could double as the third tight end in 2013.
Sean Payton prefers to dress three tight ends, meaning the now-veteran Higgins may keep his job. But this draft has a few tight ends the Saints may fall in love with at different points. If the team pulls the trigger on one, don't be surprised if Higgins is sent out to the pasture.
3. Are the Saints Comfortable with Current Set of CBs?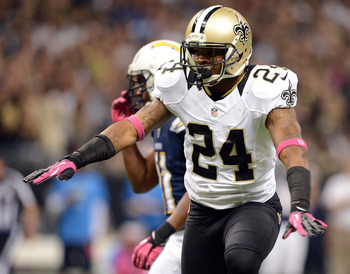 Harry How/Getty Images
The Saints' current cornerback depth chart holds these names (in no particular order): Jabari Greer, Keenan Lewis, Patrick Robinson, Corey White, Ryan Steed, A.J. Davis and Dion Turner.
The first four figure to see time this year, no matter how the final depth chart reads. The other three would need a great camp just to make the team.
The question is whether the Saints are OK going to war in the NFC South, and beyond, with that quadrant of corners. Is Nnamdi Asomugha a necessity? If not the former Raider and Eagle, how about another free agent?
If none of these, is corner a priority in the draft?
The answer should be yes, to the draft that is. This is a deep draft full of quality corners who will make it out of the first round. That said, there is a future superstar in Desmond Trufant who will probably be available at No. 15.
If the team determines it needs another corner, Trufant would be the obvious answer.
4. Draft QB of the Future or Just Find a Suitable Backup?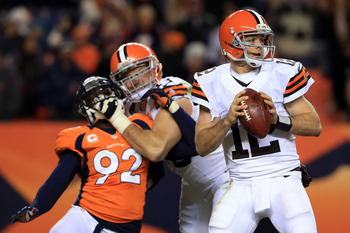 Doug Pensinger/Getty Images
The top two backup quarterbacks in free agency, Kevin Kolb and Jason Campbell, each signed with new teams this week.
That leaves the Saints with limited options in the free-agent market. If the Cleveland Browns elect to release or trade Colt McCoy, he becomes the best option among quarterbacks currently in the NFL.
Whether the Browns opt to trade/release McCoy should only affect the Saints in as much as it determines an option. The draft should also be seen as a legitimate option. In fact, it seems the draft will hold better options for potential Drew Brees replacements.
The better immediate backup, though, may come from free agency.
5. Need Another Playmaker at Receiver?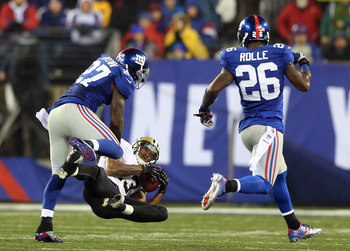 Elsa/Getty Images
It is popular to assume that the Saints need another wide receiver to add to the already overcrowded batch of playmakers on the roster.
Remember the Saints use two tight ends, two running backs and other odd combinations on a number of offensive snaps, meaning a fourth quality receiver is somewhat useless. Still, the Saints are one of the most dynamic and creative offenses in the NFL.
Therefore it is not unreasonable to think that Sean Payton could elect to bring another playmaker, especially given that his current top two receivers are over 30 years old.
This is a position that will only be added to in the draft.
6. Who Plays LT?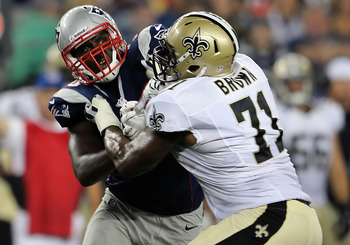 Jim Rogash/Getty Images
Charles Brown is currently the assumed starter at left tackle for the New Orleans Saints. Sean Payton apparently is not satisfied with that answer, at least as of yet.
As a result, the team is likely to select an offensive tackle for competition and depth purposes. Whether that player becomes the starter is a little less the issue. More important is what he does for the unit as a whole.
If that player makes Brown better by pushing him, it would be a win-win in year one. If Brown goes down with another injury (Payton's biggest beef with Brown), that player must be ready to step in to take Brown's job.
That should be what the Saints are looking for in this draft.
7. Is Team Content with Current Pass-Rushers?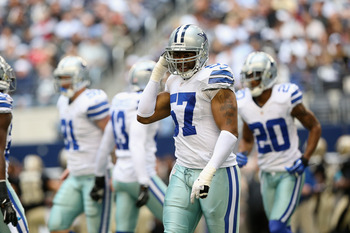 Ronald Martinez/Getty Images
Even with Thursday's addition of outside linebacker Victor Butler, it would appear New Orleans is still a little uneasy with the players it promises to trot out on opening weekend at the outside linebacker spot.
Rightfully so.
Martez Wilson and Junior Galette join Butler as the three players who will legitimately compete for two starting spots at the position. The third will undoubtedly be a key contributor, especially in nickel situations.
The question is whether any of them are actually the kind of pass-rushers who will make a difference. It's a little too early to say for sure on any of them.
House money, though, should go to the team trying to add one more player to the mix. That player should be a drafted pick who exhibits superior burst and athleticism. Those are two of the most important traits for today's superior pass-rusher.
If the team can find a guy like that, any of these three would be outstanding second-best pass-rushers.
Keep Reading

New Orleans Saints: Like this team?