The Biggest Questions for Kansas City Chiefs Heading into 2013 NFL Draft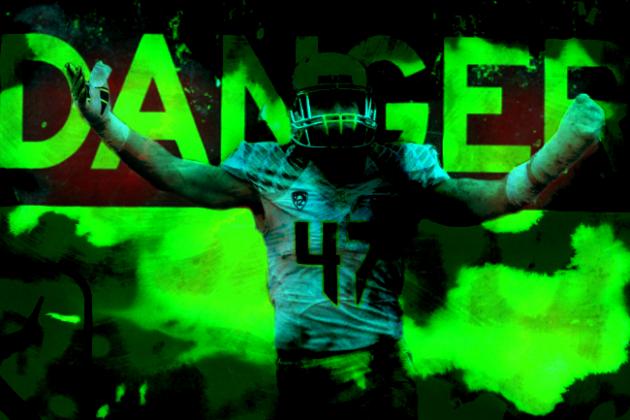 Player photo: Scott Olmos. Image created by Brett Gering.
The Kansas City Chiefs have played the role of puppeteer entering the 2013 NFL draft. General manager John Dorsey and head coach Andy Reid have essentially created a smokescreen, concealing their true intentions and sparking far more questions than answers.
The Chiefs have worked out every potential top pick under the sun. Many outsiders have pigeonholed the process as a ruse, but the new regime's offseason has been nothing if not atypical.
However, Kansas City's depth chart still reveals alarming holes that need to be addressed.
The franchise forfeited its second-round pick (No. 34 overall) in trading for quarterback Alex Smith. But, considering Dorsey's propensity for building teams through the draft, will Kansas City sacrifice the first-overall selection to resupply its collection of picks?
That question—and more of its nature—will circulate around Kansas City water coolers from now until April 25.
Begin Slideshow

»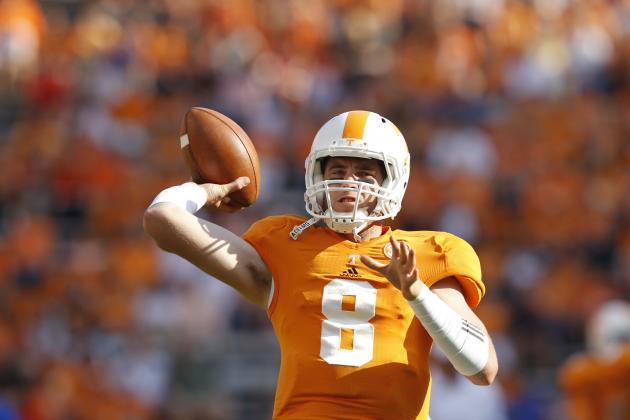 John Sommers II/Getty Images

Kansas City likely won't snag a quarterback in the first round, but that doesn't guarantee it won't in subsequent rounds.
Andy Reid generated trade interest after coaching up quarterbacks Kevin Kolb and Nick Foles, whom were both drafted after the first round.
The Chiefs might gamble on a late-round project if they feel the player could reap long-term rewards. But they would also need to feel confident in that player possessing more upside than current third-stringer Ricky Stanzi.
Tennessee's Tyler Bray may fit the bill.
As a junior, Bray declared for the draft as a relatively unpolished prospect who doesn't seamlessly fit into a West Coast scheme. But that didn't deter Reid from signing Michael Vick, and the head coach would undoubtedly tailor his offense to take advantage of the quarterback's strengths in the future.
Bray heads into the process as a rocket-launching passer who harnesses all of the tools required to be starting-caliber quarterback at the next level. But he needs a healthy dosage of coaching.
If he falls, Bray may be a candidate for Kansas City's third-round compensatory pick (via CBS Sports) or the team's early fourth-rounder.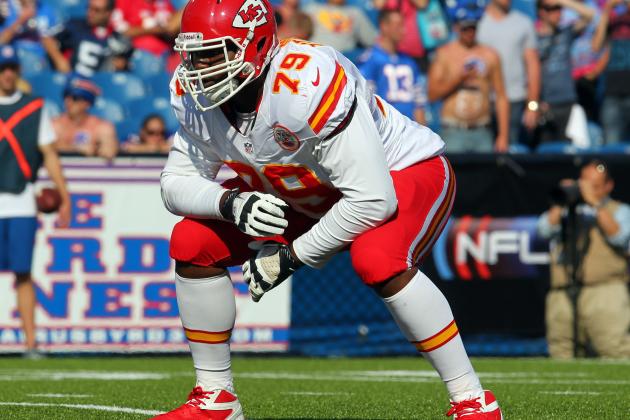 Timothy T. Ludwig-USA TODAY Sports

Following the initial shock of right tackle Eric Winston's release, Chiefs fans scratched their heads when scrolling through the list of possible replacements.
While the roster reveals a plentiful supply of candidates, none provide the credibility that Winston brings. However, the tackle's release probably traces back to his vulnerability in the passing game, which is what Andy Reid specializes in.
If Branden Albert is retained at left tackle, Kansas City could still address the need at the opposite bookend with its first pick.
But if a rookie doesn't lay claim to the position, second-year tackle Donald Stephenson and veteran newcomer Geoff Schwartz will headline the aforementioned list of replacements. If Schwartz makes his 2013 debut at right tackle, Jeff Allen will likely crack the starting lineup at left guard.
Regardless, somebody's plate is bound to be stuffed with more responsibility by the end of training camp.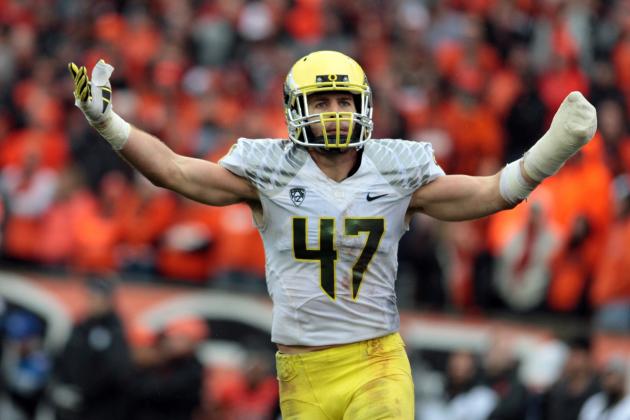 Scott Olmos-USA TODAY Sports

Prior to free agency, the Chiefs could have pursued a number of routes in filling the void at strong-side linebacker.
However, the addition of Alex Smith forfeited the rights to Kansas City's second-round selection—a potential landing spot for middle linebackers Kevin Minter, Manti Te'o or Arthur Brown.
The focus then turned to free-agent options. After jumping back to the inside and capitalizing on his starting opportunity (due to injury), the name of Green Bay Packers linebacker Brad Jones echoed throughout Kansas City media. But he eventually returned to Lambeau.
Packers announced that they re-signed LB Brad Jones.

— Adam Caplan (@caplannfl) March 21, 2013
A plethora of respected veterans—including Karlos Dansby (who played the position in the beginning of his NFL career), Brian Urlacher and Bart Scott—still remain on the market.
But the Chiefs' most sensible option may lie in Oregon inside linebacker Kiko Alonso. No. 47 only started one season at Oregon, and off-field concerns could dent his draft stock. But he's a tough-minded linebacker that bulldozes his way through defenders and exhibits rare athletic ability (relative to his position) that aids him in coverage.
Considering defensive coordinator Bob Sutton's fondness for disguising blitzes, Alonso may prove to be a name worth keeping tabs on.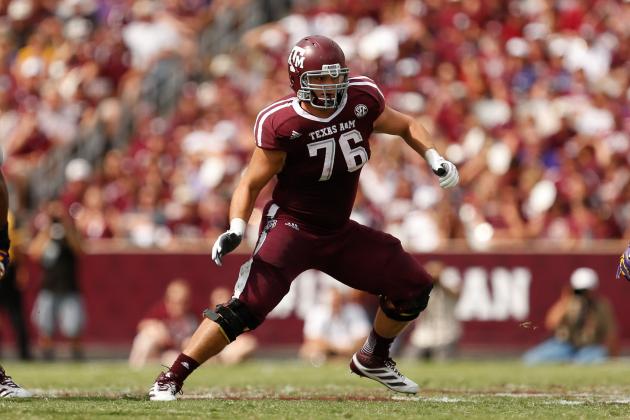 Thomas Campbell-USA TODAY Sports

Being that right arms double as throwing arms for most NFL quarterbacks, left tackles also double as highly coveted assets. That's especially true in Andy Reid's aerial-oriented offense, which has finished within the top 10 in pass attempts in each of the last nine NFL seasons (via NFL.com).
In 2012, the Philadelphia Eagles' woeful 4-12 record was largely attributed to Reid's coaching blunders and/or Michael Vick's deteriorating quarterback skills. At least, that's what many local Philadelphians would lead one to believe.
But in reality, the Eagles' skid stemmed from an injury-plagued offensive line. The team jetted out of the blocks, amassing a 3-1 record in the first quarter of the season.
However, injuries continued to wreak havoc up front, resulting in a makeshift offensive line that included only one opening-day starter by Week 9 (via NFL.com). Shoddy protection served as the snowball that denigrated Vick's abilities and triggered Reid's firing. If Kansas City's head coach learned anything, it's that steady line play and quality depth can ultimately stand between a successful season and recurring nightmare.
The Chiefs franchised left tackle Branden Albert, but the organization is also actively shopping the former first-rounder.
Chiefs want more than a second-round pick for Branden Albert wp.me/p14QSB-7Q3B

— ProFootballTalk (@ProFootballTalk) March 22, 2013
If Kansas City trades Albert, an offensive tackle—namely Luke Joeckel, Eric Fisher or Lane Johnson—will be cemented as the team's first pick. If Albert remains with the team, the Chiefs could still draft a tackle in the first round, but it would be less of a foregone conclusion.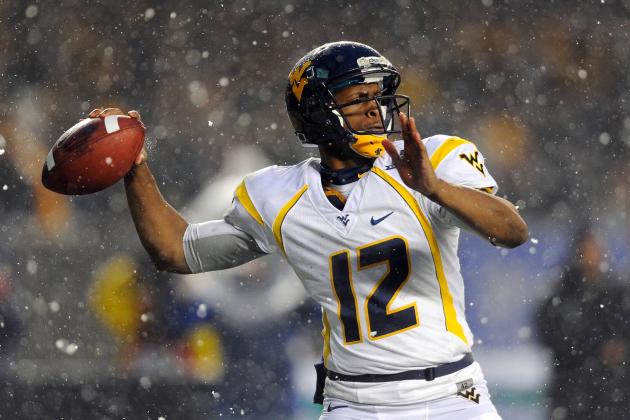 Rich Barnes-USA TODAY Sports

Every year, a handful of teams find themselves in dire need of a quarterback upgrade and hammer the panic button on draft day. And every year, a band of quarterbacks skyrocket into top-10 territory.
Kansas City beat the aforementioned teams to the punch by trading for Alex Smith. And the team likely didn't sign backup Chase Daniel with third-string intentions.
Despite that, the Chiefs have scheduled a private workout with the class' top quarterback prospect, Geno Smith.
West Virginia QB Geno Smith, projected by many to be the first quarterback drafted, is scheduled to visit the Kansas City Chiefs on Monday.

— Adam Schefter (@AdamSchefter) April 1, 2013
It's doubtful that Kansas City will pluck the former West Virginia passer from the board. But Andy Reid drools over quarterbacks, and John Dorsey was once employed by a franchise that surprised a living legend, Brett Favre, with drafting Aaron Rodgers.
That tandem of personalities, in combination with the amount of teams scouring for passers, ensures that Kansas City's war room will see no shortage of trade proposals on April 25.
Twitter: Follow @BrettGering
Email: gering.brett@gmail.com