NHL Power Rankings: Pre-Trade Deadline Edition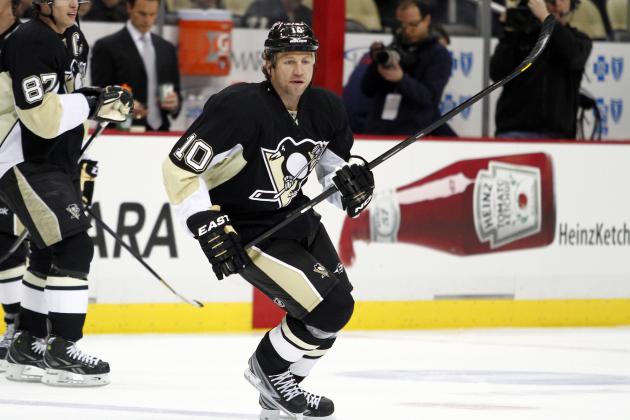 Justin K. Aller/Getty Images

It looks as if things are going to be slow right before the NHL trade deadline this year.
Not only has it crept up on everybody (ah, the good ol' shortened season, let's not make this a habit…oh wait!), but the best teams in the league appear complete and there are, once again, several clubs that sit on the playoff bubble.
The Pittsburgh Penguins have been the most active, scooping up Douglas Murray, Brenden Morrow and Jarome Iginla already and with $4.4 million left in cap space, they could still take a run at two familiar faces: Jaromir Jagr and Steve Sullivan.
The Boston Bruins missed out on the Iginla sweepstakes and could nab one of those guys or maybe a player such as Milan Hejduk or Simon Gagne (recently traded back to Philadelphia from the Los Angeles Kings) as a rental for the playoff run.
I also could see the Toronto Maple Leafs taking a long look at Roberto Luongo or Ryan Miller to put a big name in net.
Elsewhere, the East looks fairly set.
If I'm the Montreal Canadiens, I play it safe, kind of along the lines of "if it's not broken, don't fix it," knowing that this year has been a pleasant surprise. Ottawa could maybe take a jab at Derek Roy or Wojtek Wolski, two players in their prime that they could lock up long term, but they shouldn't do anything drastic.
The three New York-area teams—the Rangers, Devils and Islanders—don't know if they are in or out, so they'll probably stay put. Likewise in the Southeast, no one should consider blowing up their core just to make the playoffs.
In the West, the Chicago Blackhawks might tinker with their roster, but the team's core is solid—as evidenced by their 24-game streak at the beginning of the season in which they earned at least a point to set a league record.
The Los Angeles Kings also have found a mix that works so the two recent champions probably will keep quiet at the deadline.
The Minnesota Wild and Anaheim Ducks have reversed their fortunes and probably shouldn't mess with something that is working.
The Detroit Red Wings are in a different position. They are a virtual lock to make the playoffs every year and don't want to jeopardize team chemistry with a blockbuster move. If they add a player, it will be a Jagr or Sullivan type.
Then there is the pack of bubble teams—the Columbus Blue Jackets, St. Louis Blues, Dallas Stars, Edmonton Oilers, Nashville Predators and Phoenix Coyotes—that don't know whether they are in or out and are unlikely to mortgage the future for a No. 8 seed.
So that leaves the Vancouver Canucks and San Jose Sharks as possible candidates for a monster deal at deadline.
Both teams have been playoff regulars for the last few years, but they are beginning to see their window of opportunity close. They must decide whether to pull the trigger on a trade involving a franchise player.
For Vancouver, that player is Luongo. Are the Canucks confident enough in Cory Schneider to deal Luongo to the Maple Leafs or another team in need of a goaltender? Or do they stick with him and figure out that situation in the offseason?
For San Jose, the players in question are Patrick Marleau and Dan Boyle-both north of age 30.
Boyle is universally loved in the Bay Area, but Sharks' fans must realize his time in the NHL is coming to a close, and he's going to want to be on a contender. Marleau, meanwhile, is the most polarizing player on the team. At 33, he's past his prime and the club likely doesn't want to have his contract when it ends in 2013-14.
In the end, I'm not sure this is going to be a lively trade deadline. The best teams appear set, but here's to something crazy happening in the next few days!
Begin Slideshow

»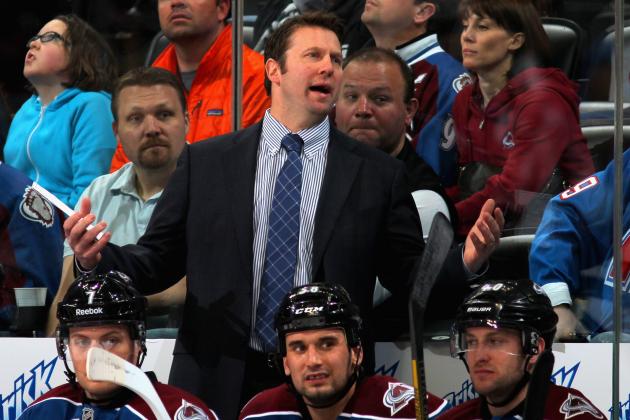 Doug Pensinger/Getty Images

Last week: 28
Record: 12-18-4 (2-8-0)
I know that Colorado is young and the organization is looking for stability, but how has Joe Sacco not gotten, ahem, sacked this season? I know it's important to give developing players a familiar voice in the locker room, but it just doesn't seem as if the message is getting across.
This team is too talented to be the worst in the West.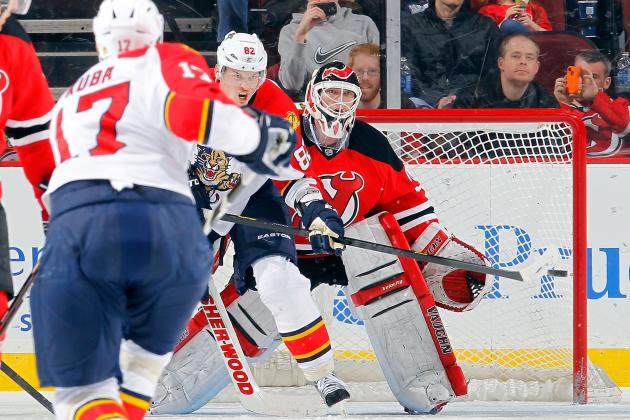 Jim McIsaac/Getty Images

Last week: 30
Record: 11-19-6 (4-6-0)
The putrid Panthers got two wins last week, which is nice, but I think those games say more about Buffalo and New Jersey (especially Jersey) than it does about the declawed Cats.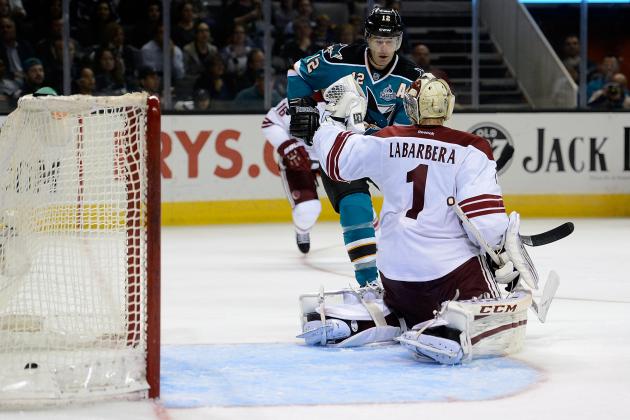 Thearon W. Henderson/Getty Images

Last week: 29
Record: 14-15-6 (2-5-3)
I'm convinced the Coyotes are just the Panthers West and vice-versa. This is a team with a small cadre of fans that is otherwise overlooked in a poor sports market that somehow won their division last year and then can't do anything this season.
But Phoenix has an outside shot at the playoffs at least.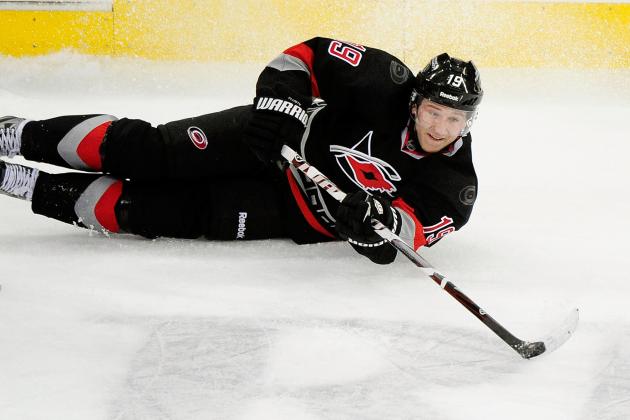 Grant Halverson/Getty Images

Last week: 22
Record: 16-15-2 (3-6-1)
I'm not sure how a team this talented loses seven in a row, but sure enough it did.
At the beginning of the year, this team could legitimately say that it had growing pains in a shortened season…but that doesn't really fly now.
That losing streak might just have cost it a playoff spot if the Southeast Division, as a whole, wasn't so bad.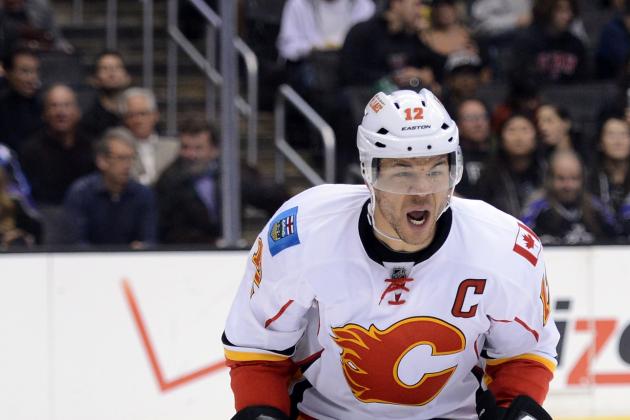 Harry How/Getty Images

Last week: 25
Record: 13-16-4 (4-6-0)
Those wins over St. Louis and Colorado are nice, but nothing to convince me that this team is going to turn things around—especially now that Iginla is gone.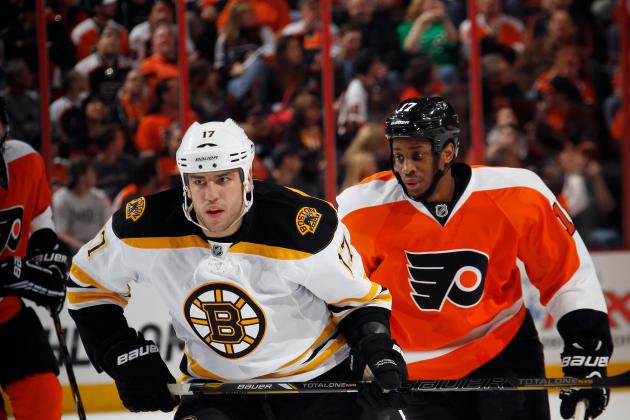 Bruce Bennett/Getty Images

Last week: 24
Record: 14-17-3 (3-5-2)
It's been a tough year for hockey fans in the City of Brotherly Love, but at least they got to see their team beat the mighty Bruins 3-1 on Saturday.
Gotta take what you can get in a season like this. And, hey, the team still is only four points out of a playoff spot.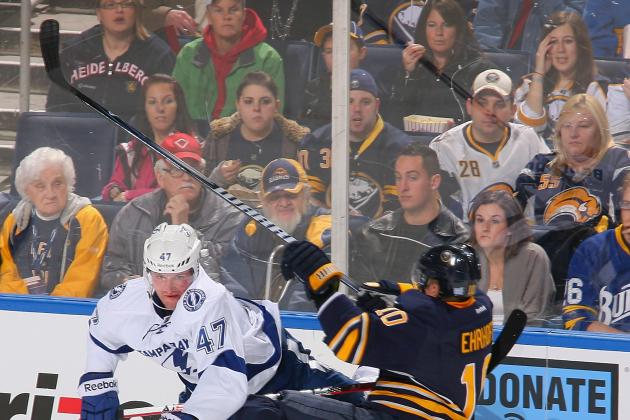 Rick Stewart/Getty Images

Last week: 18
Record: 13-16-6 (4-3-3)
The Sabres went 0-3 against three Southeast clubs—Tampa, Florida and Washington—before facing Boston on Sunday.
That's sad.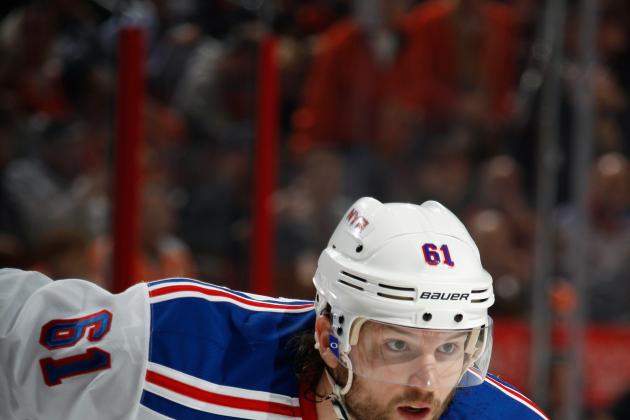 Bruce Bennett/Getty Images

Last week: 17
Record: 16-15-3 (3-6-1)
OK, who in their right mind thought the Rangers could be on the cusp of missing the playoffs while the Blue Jackets might possibly get in after Rick Nash was dealt to New York in the offseason?
I'm calling Ewing Theory on this one.
Jim McIsaac/Getty Images

Last week: 19
Record: 15-11-9 (4-2-4)
The Devils are just barely hanging on to a playoff spot right now.
I know they're on the road and they earned a point in each game, but this team has to beat clubs such as Florida and Tampa at this point in the season.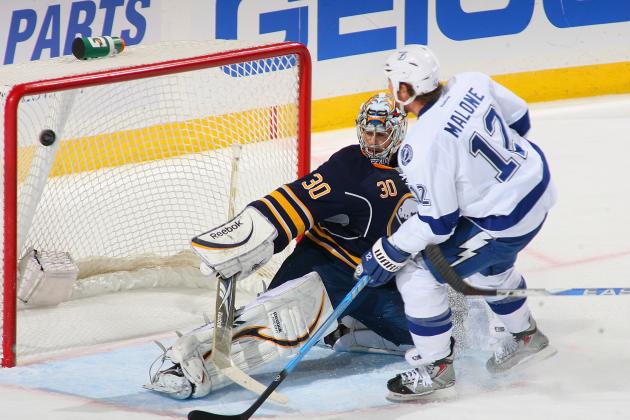 Rick Stewart/Getty Images

Last week: 22
Record: 15-18-1 (5-5-0)
There are signs of life in Tampa.
Wins over Buffalo and New Jersey are baby steps, but this team must do more if it wants to snag that No. 3 seed as the Southeast Division winner.
It is more than capable of doing so.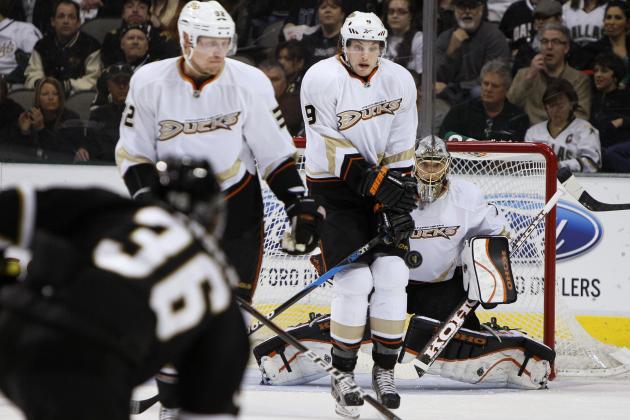 Brandon Wade/Getty Images

Last week: 14
Record: 16-15-3 (4-5-1)
The Stars have three statement games this week against Anaheim, Anaheim and, umm, Anaheim that will tell us whether this team is ready to make the playoff leap.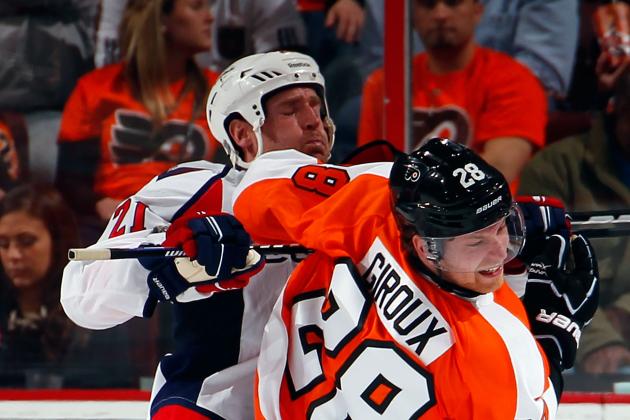 Paul Bereswill/Getty Images

Last week: 16
Record: 16-17-1 (6-4-0)
Washington had two nice wins over Winnipeg, but losses to the Islanders and especially the Flyers indicate that it probably will be on the outside looking in come playoff time.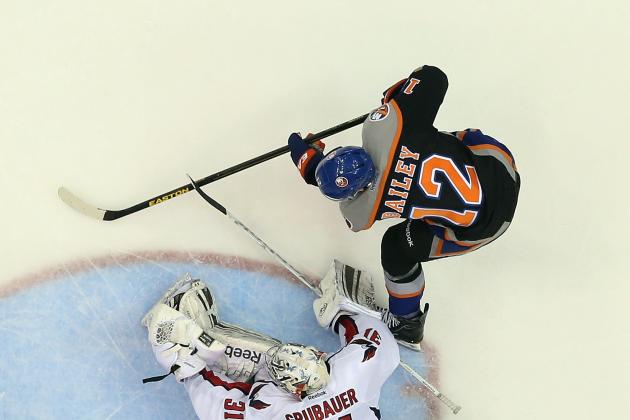 Bruce Bennett/Getty Images

Last week: 17
Record: 16-16-3 (5-5-0)
I know they lost to Pittsburgh, but those wins over Florida, Washington and Philly—three admittedly bad teams—have kept the Islanders in the playoff race.
What if the Islanders make it and the Rangers don't? Things could get crazy.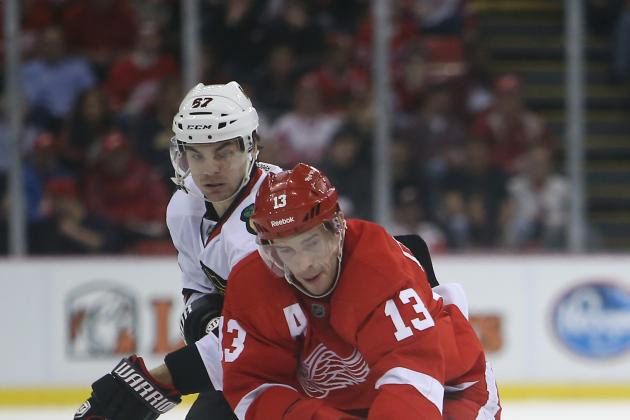 Tom Szczerbowski/Getty Images

Last week: 12
Record: 17-13-5 (5-4-1)
Gotta love the Red Wings this year.
They absolutely pummel the Ducks in the OC and then come home and get eviscerated by the Blackhawks.
Honestly, you never know what you're going to get out of this team on any given night.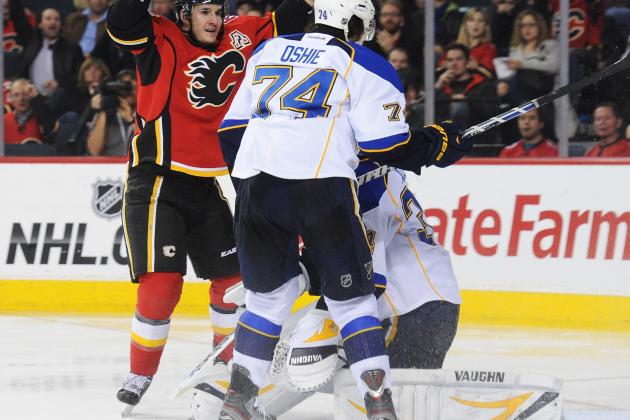 Derek Leung/Getty Images

Last week: 7
Record: 17-14-2 (5-5-0)
What is happening to the Blues?
With precious playoff points on the line, they get beat by Calgary and Edmonton?
St. Louis needs to step up its game.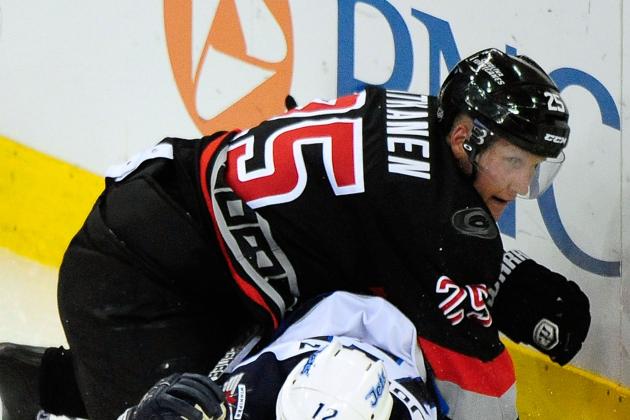 Grant Halverson/Getty Images

Last week: 10
Record: 18-16-2 (5-5-0)
Just when you start believing in the Jets, those little rascals lose to Washington twice and get tossed around by Pittsburgh and Carolina.
In the weak Southeast, however, there is still hope for a playoff berth in the 'Peg.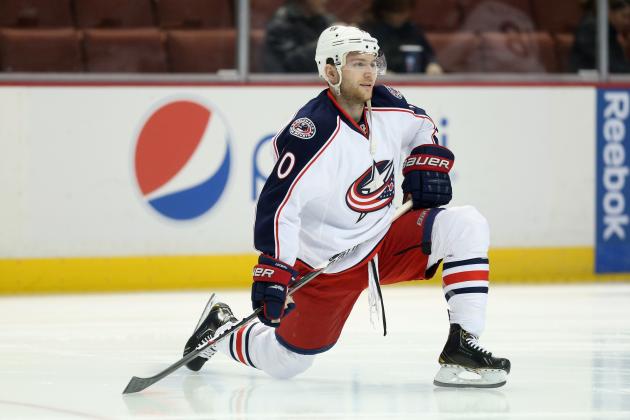 Jeff Gross/Getty Images

Last week: 13
Record: 15-14-7 (5-2-3)
After that Edmonton loss, I was questioning whether the Blue Jackets could pull off a playoff coup and then they go and beat Anaheim.
The. Jackets. Are. Going. To. Maaaaaa---ahh, I don't know if I'm ready to type that yet.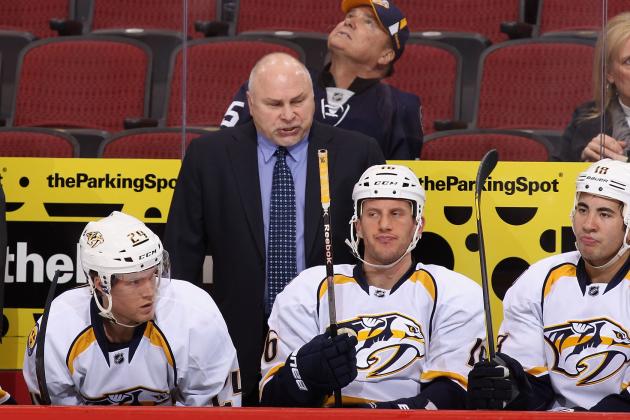 Christian Petersen/Getty Images

Last week: 21
Record: 14-14-7 (6-2-2)
Just when things seem to be going right for Nashville, it loses to Phoenix and Colorado.
You can't give up seven to the Coyotes and fail to score on the Avs and expect to make the playoffs. It's as simple as that.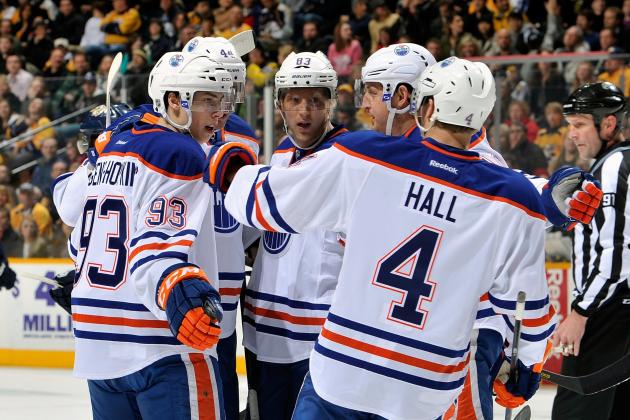 Frederick Breedon/Getty Images

Last week: 26
Record: 14-13-7 (6-2-2)
Oof, the red-hot Oilers must have read what I said about them last week and suddenly had a bit of a temper tantrum. They absolutely rolled over three potential playoff teams—St. Louis, Columbus and Vancouver—this week.
Not only that, but they get two gimmes against Calgary tonight and Wednesday.
If this team could carry that momentum into Vancouver, LA and Anaheim, it…could…maaaa—ahh, I'm not ready for that just yet.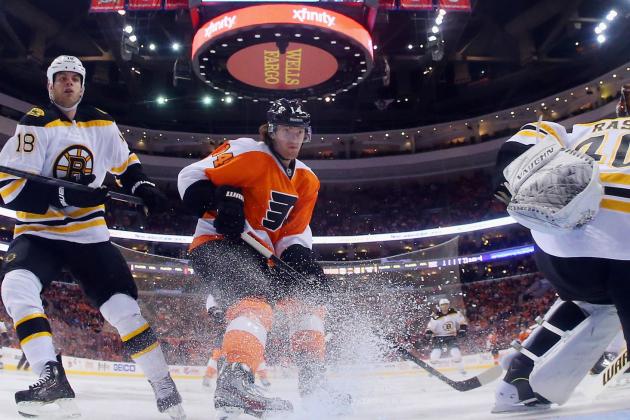 Bruce Bennett/Getty Images

Last week: 6
Record: 21-8-4 (4-5-1)
The Big Bad Bruins are slipping a little bit.
That loss in Toronto is reasonable. The Leafs should make the playoffs and as much as a shootout defeat on national television to the hated Canadiens is no fun, Montreal is solid as well.
Losing 3-1 to a struggling Flyers club in Philadelphia? That's cause for concern.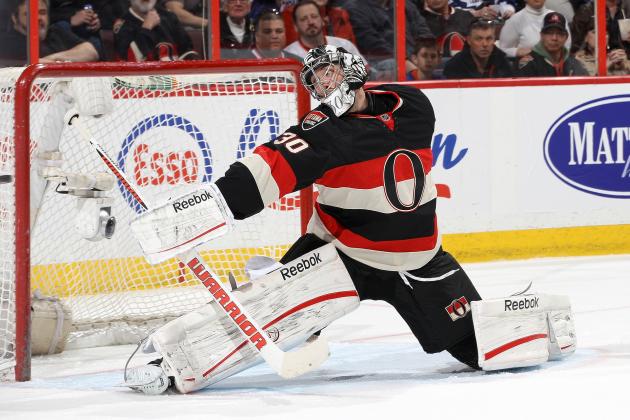 Jana Chytilova/Freestyle Photo/Getty Images

Last week: 9
Record: 19-10-6 (6-2-2)
So just when Ottawa's got a little bit of a groove going, Toronto comes in and absolutely clobbers it. Right before a massive seven-game road trip, too.
That's got to be a little bit of a kick in the gut.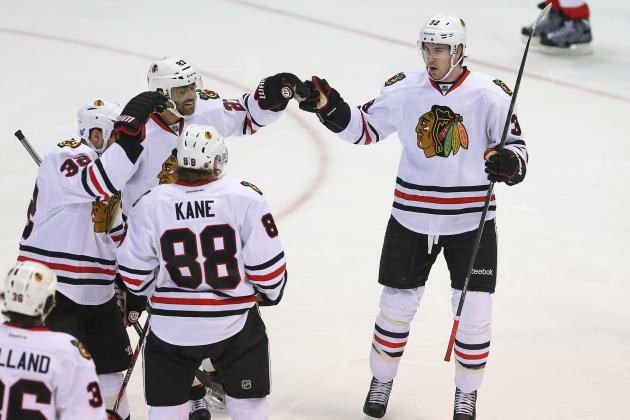 Tom Szczerbowski/Getty Images

Last week: 3
Record: 26-5-3 (5-5-0)
So…I guess the Blackhawks are a little bit better than the Red Wings.
Gotta hand it to them, the Blackhawks haven't slowed after having that streak broken, although Anaheim poses a serious threat to them in the Western Conference.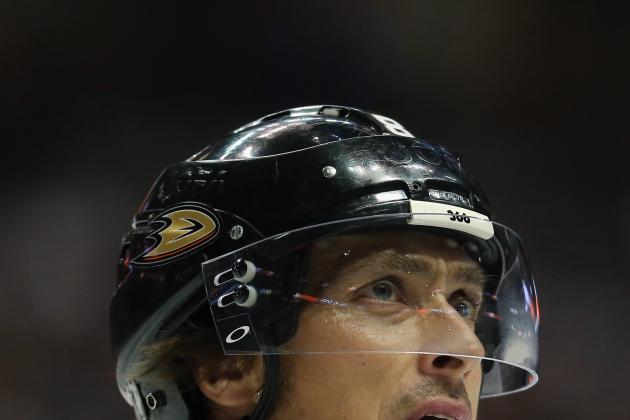 Jeff Gross/Getty Images

Last week: 2
Record: 23-7-5 (4-4-2)
OK, so during the offseason, I rip the Ducks and have all of Orange County—OK, mostly Ron Thompson—upset at me, then the Ducks go off this year, and I give them a No. 2 spot in my rankings.
And how do the Ugly Ducklings reward me?
By losing five of their last six games, including a defeat in—wait for it—Columbus!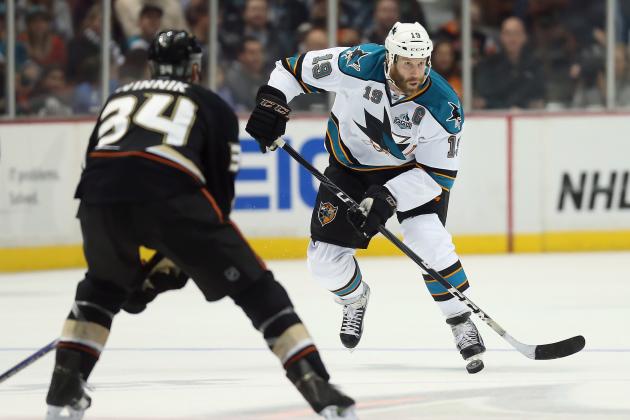 Jeff Gross/Getty Images

Last week: 27
Record: 17-11-6 (6-4-0)
Puckheads in the Bay Area have to be going nuts over those two wins against Anaheim. Not only did they come against a bitter rival, but they also gave the Sharks a little security in the playoff picture.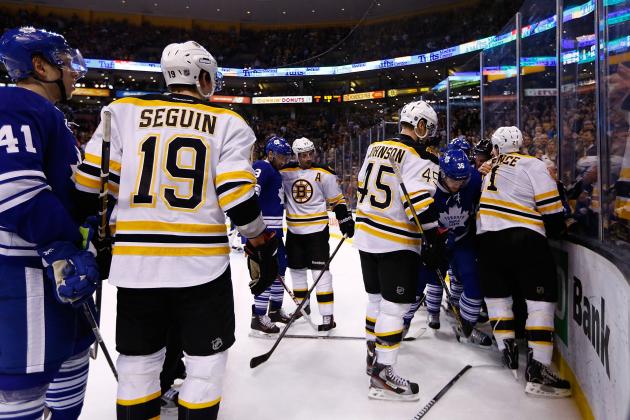 Jared Wickerham/Getty Images

Last week: 11
Record: 20-12-4 (5-2-3)
Beating Boston? Blanking Ottawa?
These Leafs are for real.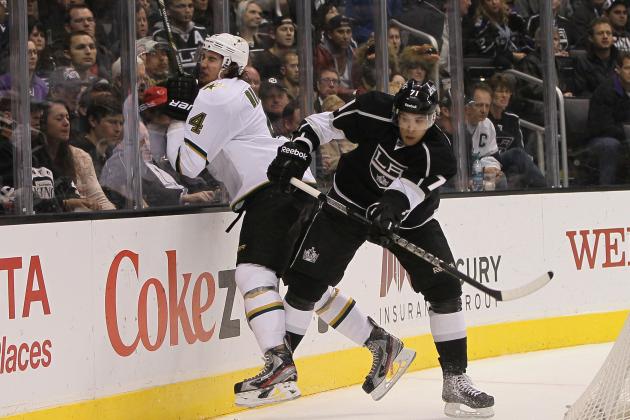 Victor Decolongon/Getty Images

Last week: 9
Record: 20-12-3 (6-3-1)
The Kings have had a successful road trip this week.
They knocked out Chicago and St. Louis in regulation before losing to a strong Wild team in a shootout.
LA rebounded and beat Dallas 3-2 the next night. It has a winnable game in Phoenix before returning to Southern California and finally look like the defending champions after a rough start to the season.
Rich Lam/Getty Images

Last week: 8
Record: 19-10-6 (7-3-0)
I don't know whether Vancouver just forgot it had to play in Edmonton on Saturday or what the deal is, but the Canuckleheads had their six-game win streak snapped by the Oilers.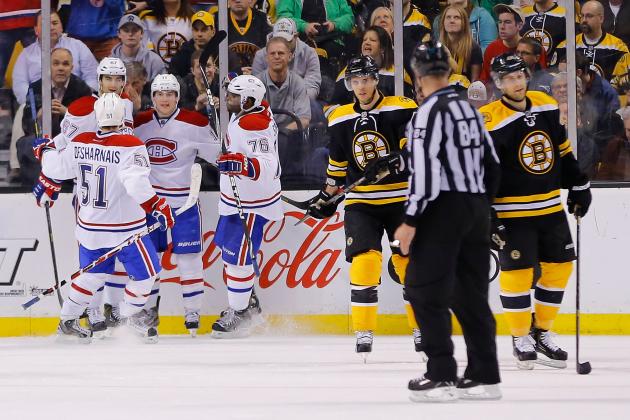 Jared Wickerham/Getty Images

Last week: 5
Record: 22-7-5 (7-2-1)
Although it won in a shootout, Montreal's victory in Boston is a statement game. This team is for real.
It's crazy to think the Habs were cellar-dwellers last year.
Hannah Foslien/Getty Images

Last week: 4
Record: 21-11-2 (8-2-0)
That loss to Dallas was ugly, but let's cut Minnesota a little slack. The Wild had won seven straight before that game and rebounded nicely with a comeback win against LA.
All is right in the State of Hockey once again.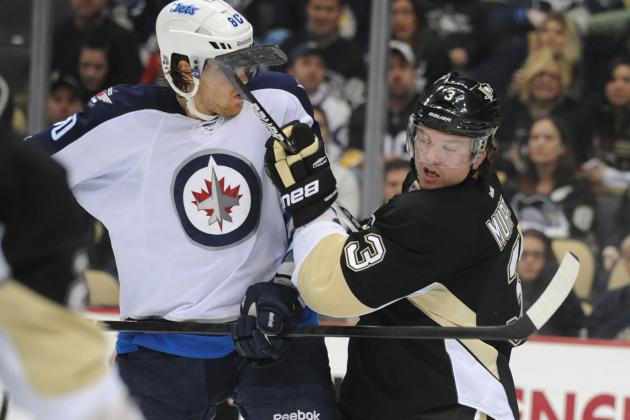 Vincent Pugliese/Getty Images

Last week: 1
Record: 28-8-0 (10-0-0)
It's been the March of the Penguins.
Not only did Pittsburgh win every game in March, but it also added Brenden Morrow, Jarome Iginla and Douglas Murray.
Morgan Freeman should be doing play-by-play for the Penguins; that's all I'm saying.
Tom Schreier writes for TheFanManifesto.com and contributes to Hockey's Future and Stadium Journey. Visit his Kinja blog. Follow @tschreier3.