The Biggest Questions for the Cleveland Browns Heading into the 2013 NFL Draft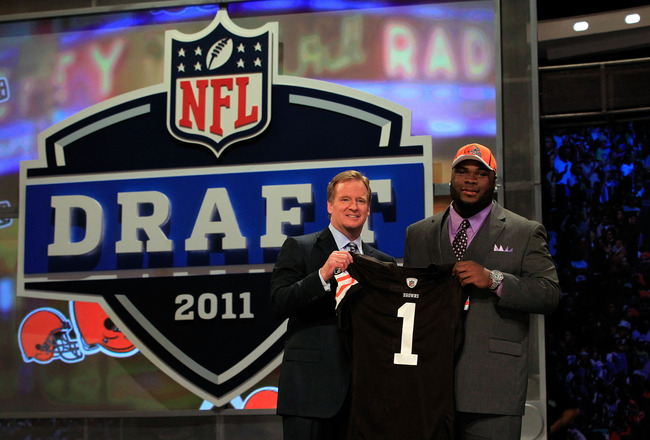 Chris Trotman/Getty Images
The Cleveland Browns have several pressing needs as the 2013 NFL draft approaches.
Besides the ever-pressing important question mark at the quarterback position, the Browns must find quality starters at several key positions as well.
Needless to say, things in Berea, Ohio, appear to be on the upswing as the franchise finally has a young nucleus of talent in place. Not only is that group talented, but it has battled together and appears to be ready to make a bigger impact in 2013.
An essential piece of franchise building is the continual selection and cultivation of talent among its ranks. This upcoming draft is crucial for the new regime, in order for the team to finally turn the corner by finishing the job that was started by former general manager Tom Heckert.
Now, the burden falls on new team president Joe Banner and GM Michael Lombardi.
Here are the biggest questions facing their staff as the draft nears closer.


Is a QB Needed to Lead Browns' Turnaround?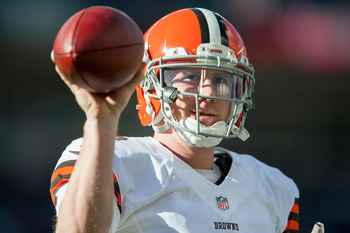 Dustin Bradford/Getty Images
Jason Campbell was recently brought in to compete for the starting quarterback position with 29-year-old signal-caller Brandon Weeden.
Despite the signing of a veteran, Weeden will reportedly be given every chance to earn the trust of this new regime. He will get the majority of the first-team snaps during the team's offseason program, according to Terry Pluto of The Plain Dealer.
While the Browns hold the No. 6-overall pick in April's draft, there are not many attractive options in this year's crop of quarterbacks that have piqued their interest.
This is simply not the year to spend a top draft pick on a quarterback. Despite having top-10 picks, the Oakland Raiders, Buffalo Bills and Arizona Cardinals have all tried to explore other options to solve their QB woes.
When all is said and done, the Browns could draft a mid-to-late round QB. From the look of things, though, they will choose between Campbell and Weeden.
Will Joe Haden Be Enough to Keep Opposing WRs in Check?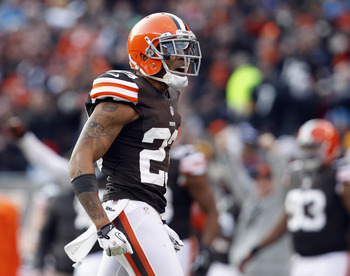 Matt Sullivan/Getty Images
Next up for the Cleveland Browns is whether or not to draft a cornerback during the opening rounds of the draft. Without a second-round pick, they may have to entertain the idea of using the No. 6-overall selection on a CB.
Sure, Joe Haden was a top-10 pick, but the team doesn't currently have another viable starter opposite of him.
Buster Skrine, who was embattled by penalties and missed assignments during relief duty in 2012, is more suited for a nickel and dime role.
The team made a couple of offseason signings, bringing in CBs Chris Owens and Kevin Barnes. Neither of those two have proven to be able to be effective starters on the outside during their young NFL careers.
If the draft falls in their favor, Alabama's Dee Milliner may be available when the Browns are on the clock. That will give them a big bargaining chip if they wish to trade down, or the ability to pick the best cover corner in the draft.
What will they do? With offensive tackle already solidified and outside linebacker addressed in free agency, they might just take a chance and add another potentially elite cornerback to their suddenly stout defensive unit.
How Early Will the Browns Look for an Interior Lineman?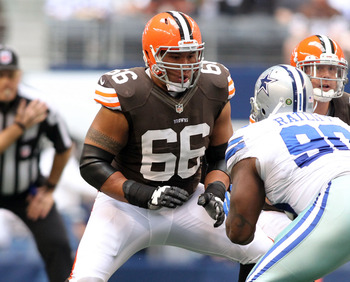 Tim Heitman-USA TODAY Sports
The Cleveland Browns' offensive line received high grades from Pro Football Focus after their performance in 2012. In fact, the site's analysts ranked the group as the fifth-best in the NFL with a primary strength of pass protection.
Its weakest link in pass protection, though, was right guard Shawn Lauvao. Lauvao struggled with penalties and with strong and quick interior defensive linemen with quick hands. He was blown up on more than a few occasions, resulting in less-than-desired outcomes.
There is a clear need for an upgrade at the position, especially with the uncertainty surrounding the return of Jason Pinkston after a medical condition sidelined him for all of 2012.
Reserve John Greco filled in nicely for Pinkston, but the team could definitely use a bulldozer lineman who can both pave the way for Trent Richardson and hold his own in pass protection.
Two first-round options include Chance Warmack and Johnathan Cooper, both of whom could be an instant upgrade over Lauvao. Selecting either one of them is certainly a possibility, but would likely happen as a result of a trade-down scenario.
It is hard to imagine them picking an interior lineman with the sixth pick in the draft.
Is the first round the right place to make this improvement, considering all of the other needs on the team's roster?
What Ball-Hawking Safeties Can Do It All?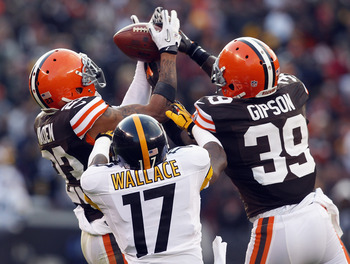 Matt Sullivan/Getty Images
T.J. Ward has established himself as an impact player in the Cleveland Browns secondary. He was somewhat of a surprise pick for the Browns after injury concerns from college pushed him off of some teams' draft boards.
Those problems have followed him to the NFL, though, and the team could be looking for more than one safety in the upcoming draft.
Other than Ward, the Browns have several late-round or undrafted free agents filling out its back line. Hard-hitting and ball-hawking safeties are keys to the success of Ray Horton's attack-first defense.
If Cleveland can, it must use one of its earlier or mid-round picks on a safety who can step up and lay the lumber and also drop back and play center fielder to take away the middle of the field.
Youngsters Tashaun Gipson and Eric Hagg certainly have some potential, especially the former. The new staff's input will be crucial as to how soon and how important the position is for an upgrade.
I think that a duo of Gipson and Ward wouldn't be a horrible choice for opening day. But, the team could be looking for a bigger impact from the position and try to upgrade it on the first or second day of the draft.
Draft a FB and Kicker or Wait Until the Smoke Clears?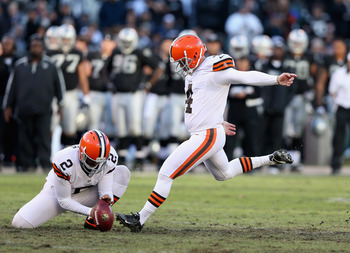 Ezra Shaw/Getty Images
Phil Dawson's departure has created a whole new need for the Cleveland Browns in 2013. They have previously had the luxury of avoiding addressing the placekicker position thanks to 14 seasons of loyal service from Dawson.
Also, the team currently has former fourth-round Stanford standout Owen Marecic currently in its backfield to pave the way for Trent Richardson. Marecic, though, has taken more concussions than he has given and has been incredibly inept in the pass game during his two seasons in Cleveland. Marecic was also sat in favor of tight end Alex Smith, who transitioned to the fullback role in Pat Shurmur's offense last season.
Both fullback and kicker are positions teams can and frequently do address through the latest rounds of the draft and then by signing whoever is left in the end. That doesn't mean the Browns should avoid adding either one, or both, of these positions given the immediate need on the team's roster.
Have another key question the Browns must answer during this year's draft? Let us know in the comments below and follow Mike Hoag on Twitter to continue the discussion:
Keep Reading

Cleveland Browns: Like this team?