Queens Park Rangers: 10 Key Plays That Will Lead to QPR's Inevitable Relegation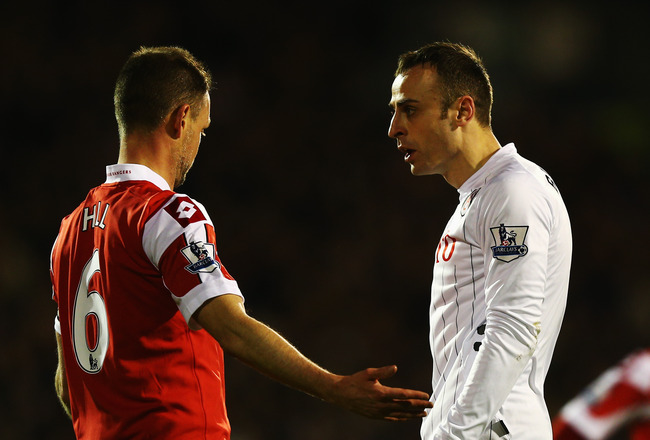 Clive Rose/Getty Images
Queens Park Rangers are all but relegated. Mathematically there is still a chance, and the most optimistic fans still believe their team can pull themselves away from this mess. But seven points adrift will probably prove too much come May.
Although the loss to Fulham on Monday night pretty much secured Championship football for the Rs next season, there have been other key plays in key games that will be seen as the downward turning points in their abysmal Premier League year.
The Mark Hughes era cannot be blamed forever, although it certainly helps fans come to terms with their predicament. And Jose Bosingwa also cannot be made a scapegoat for much longer. So ultimately, it is down to missed chances, wasted opportunities and disgraceful defending.
And there have been a lot of moments in matches in the 2012/13 season that could have made this list based on that.
However, here are the 10 key plays that I feel have caused the Rangers to get ready to withstand the almost certain drop. Let me know below if you have any to add.
All references to matches taken from BBC.co.uk
Nice to Michu
As Julie Andrews says, let's start at the very beginning. From the very first day of the Premier League, hope and excitement gave way for disappointment and misery for Queens Park Rangers fans.
If possible, all five of Swansea's goals on August 18 would have been listed in this article, but that would have left no room for any other plays, and so one goal had to be selected. And the goal which started it all off won through.
The static defense, the lackluster midfield and Rob Green's poor decision making all combined for Swansea's first goal, and the arrival of Michu onto the EPL stage.
You know it's going to be a bad day when you get out of bed on the wrong side. And QPR's bad day continued for weeks as they were haunted by the ease with which Swansea sliced through their defense.
Stephane Mbia Sees Red

Stephane Mbia sees red at 1:40

It could be argued that this event, which occurred much earlier in the season, did not cause QPR's current decline towards the Championship, but it was a game in which Rangers were out-performing their opposition at times. Until they went down to 10 men.
Stephane Mbia showed David Beckham-esque annoyance after Thomas Vermaelen had barged him over in an attempt to clear the ball. And that red card put Rangers on the back foot and ultimately lost them the game.
Such poor discipline was a more regular occurrence for the team last season, but that sending off cost Queens Park Rangers a point at The Emirates, and who knows, perhaps more.
Brett Holman: The Early Bird
December 1 saw the beginning of the "we created chances but were unlucky" patter from Harry Redknapp.
Yes, QPR may have hit the woodwork twice and seen Shaun Wright-Phillips push another shot past the post, but their current string of poor first-half performances all began when Brett Holman's 20-yard effort found its way into Rob Green's goal.
The goalkeeper could have done better with the save, but it was Stephane Mbia's failure to close down Holman which allowed him to take the shot in the first place that was to blame.
Conceding early was to become a habit for QPR, and although they managed an equalizer in this game, it was this half-hearted defending which has been seen for the remainder of the season that has cost Rangers dearly.
Harry's Bad Boxing Day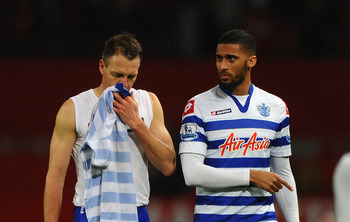 Laurence Griffiths/Getty Images
The Boxing Day clash against West Brom was marred by poor refereeing, and led to Harry Redknapp giving this incredulous interview after the game.
Stephane Mbia's header was blocked by Liam Ridgewell in the box. Or to be more precise, was blocked by Liam Ridgewell's elbow in the box
No penalty was given, and instead a corner was signaled, and Clint Hill rose above the Albion defenders to head home what he thought was the equalizer. However, Ben Foster saved brilliantly and WBA held on for a crucial win.
Another point which could have seen QPR in a much happier position in the table, but thanks to some dodgy refereeing decisions and Foster's go-go-gadget arms, Rangers' Christmas Day hangover was made all the worse thanks to a loss at home to the Baggies.
Nice to Michu...Again
The second mauling from the Swans came six months later, but it took Michu the exact same amount of time to break the hapless Rangers defense.
Scoring against QPR on eight minutes is starting to become a habit for the Spaniard, and it set in motion the same falling domino effect on the opposition as it had done at Loftus Road.
Harry Redknapp's side had had quite a happy New Year until their trip to Wales, five unbeaten, including that win against Chelsea, and there was even talk of coming away from Swansea with something. That something, however, turned out to be a thrashing, and the first-half heebie-jeebies struck down each QPR player once more.
Nathan Dyer's long range effort saw Julio Cesar parry the ball into the path of Michu. And what did the QPR defense do? Raise their hands in a feeble offside attempt. Nobody was tracking back, and nobody was covering Michu's run. This saw Swansea take the momentum, and QPR's defenders struggled to take hold of the Swans' long necks as they ran riot once more.
Loic Remy: Better from Open Play Than from the Spot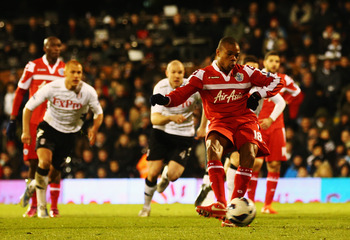 Clive Rose/Getty Images
The first mention of QPR's most recent loss to Fulham has made it into the article.
With the score at 3-1, Loic Remy was handed the chance on a lily-white platter to make it 3-2. The penalty was weak. The save fairly easy. And the look on the Frenchman's face said it all. He knew he had just blown a great chance to get QPR back into the game.
He did of course score minutes later, but 3-3 makes a lot more nicer reading than 3-2. And Rangers may well have been able to push on and get a winner. But this poor penalty meant that Remy's goal from open play still left them with a lot of work to do, and they couldn't quite find that equalizing goal.
Jose Bosingwa Takes a Woodwork Class

Jose Bosingwa rattles the woodwork on 0:20

In the 6-pointer between Aston Villa and QPR on St Patrick's weekend, the whole "creating chances" patter filled the post-match press conference once more. Harry Redknapp told Sky Sports:
We should have been three or four goals up at half-time we were so much the better team it was almost embarrassing. ... They could have been dead and buried at half-time, they should have been dead and buried.
Of those chances two fell to Chris Samba in quick succession, but the most guilt-edged of those "three or four" in the first half fell to Jose Bosingwa with a free kick.
After lifting the ball over the wall (an impressive feat for any QPR dead ball situation), he only managed to rattle the post, rather than ripple the back of the net.
If that had gone in, then at 2-0 up the game could have taken a very different direction.
Adel Taarabt Pays the Penalty
At 0-0 at home to Norwich, and after being awarded a penalty, Queens Park Rangers fans could almost smell victory. And it seems that Adel Taarabt had already imagined himself smiling in celebration before he struck the ball.
His arm was already half way in the air to wheel away and greet the Loft End as their savior, but instead his arm ended up behind his head wondering how he had missed.
A match where Norwich were only seven points off relegation themselves in February was termed a "must-win," and those three points would have been vital to QPR at this stage of the season. But instead it was a 0-0 draw, and a draw which could prove costly come May.
Don't Leave Christian Benteke Home Alone

Benteke scores the winner at 2:20

It's a criminal offense really. Christian Benteke has been a beast up front for Aston Villa with 14 goals in 26 Premier League matches. And by leaving him wide open in the box, QPR deserved to concede.
After the number of chances QPR missed in the first half, they should have been clear of the Villans on March 16. But Paul Lambert's side pulled themselves back into the game, and Andreas Weimann pulled the ball back into the center of the box for Benteke to smash home.
There were no hooped shirts near him. Nobody tracked his run, and Benteke was left alone at home inside the box. He doesn't need asking twice to put the ball in the back of the net.
Dimitar Berbatov Shows What He Can Do with All the Time in the World
Clive Rose/Getty Images
Another criminal offense, and the one which will see Queens Park Rangers sentenced to at least one year in the Championship.
After the aforementioned loss to Aston Villa before the international break, the Fulham game was a must-win to close the gap to four points and give themselves a fighting chance of staying up. And when a game is a must-win, then the opposition's star striker is a must-mark.
However, Dimitar Berbatov was given freedom to run, freedom to move and freedom to shoot and ultimately score. And when a player of that quality is given all that, then the team only have themselves and Chris Samba to blame.
It may be the most important play in QPR's fight to avoid relegation thanks to being the most recent. But at this stage in the season, it is do or die. And that second goal killed the game for QPR, despite their second half retaliation. And their Premier League hopes have just died a death.
Not meaning to be morbid of course.
Keep Reading