Philadelphia Phillies vs. Atlanta Braves: MLB Opening Day Live Score, Analysis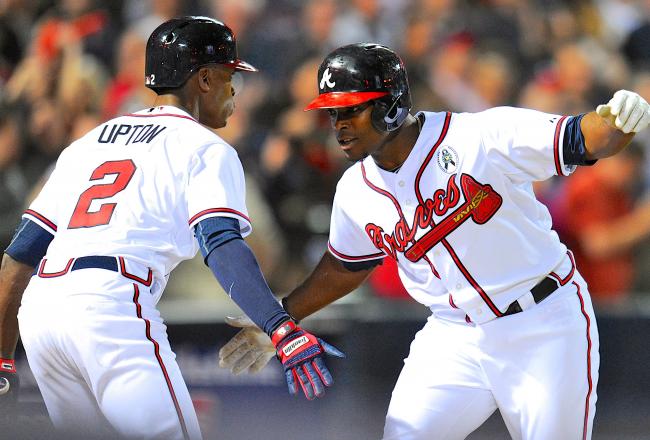 Final Score: Atlanta Braves 7
Philadelphia Phillies 5
WP: Luis Avilan (1-0)
LP: Cole Hamels (0-1)
S: Craig Kimbrel (1)
After an off day tomorrow, these two teams will square off again on Wednesday at 7:10 p.m. ET. The Braves are scheduled to send Paul Maholm to the mound while the Phillies will send out last year's Opening Day starter Roy Halladay.

Cole Hamels pitched five innings and gave up five earned runs and seven hits while striking out five batters. Four of those earned runs came off of home runs.
The Phillies matched the Braves hit total, while Chase Utley was a double away from hitting for the cycle. Every starter besides Ryan Howard and Michael Young had at least one hit. The Phillies couldn't, however, produce enough offense to overcome the seven earned runs given up between Hamels and Chad Durbin.
Game 1 is in the books as the Braves used home runs from Freddie Freeman, Dan Uggla and Justin Upton, as well as three total RBI from Freeman, to seal a 7-5 victory against the Phillies.
Tim Hudson pitched 4.1 innings, striking out three and giving up three earned runs while taking a no-decision.
Utley pops up to shortstop and Ryan Howard flies out to left field to end the game. Kimbrel uses 16 pitches to pick up his first save of the season and seal the Braves first win.
Chase Utley needs a double to hit for the cycle in this game.
Kimbrel goes from 96 mph to 88 mph to strikeout Rollins after getting behind 2-0.
Phillippe Aumont only threw seven strikes but managed to get out of the eighth inning without giving up a run.
Jimmy Rollins, Chase Utley and Ryan Howard are about to face Braves closer Craig Kimbrel down two runs.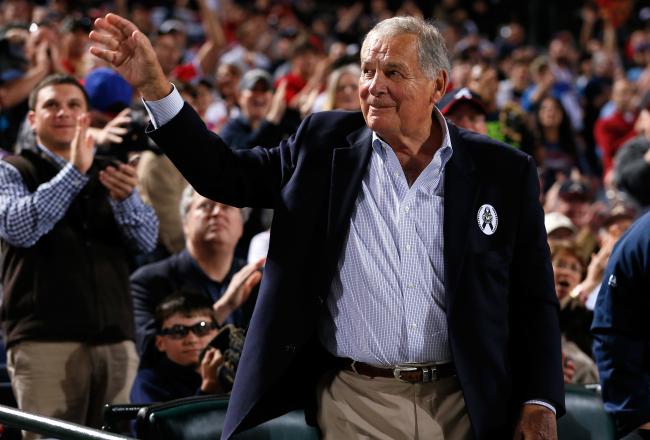 Chipper Jones isn't the only Braves legend in the stadium for the team's home opener.
Walden strikes out Revere after a questionable called second strike. ESPN pointed out that home plate umpire Tim Welke hasn't been questioned too much in this opener.
Erik Kratz drives in John Mayberry Jr., who doubled off Walden and advanced to third on a wild pitch. Phillies trail 5-7.
Kratz advanced to second on another wild pitch from Walden.
How exactly does Jordan Walden pitch like that?
Horst just might be the first pitcher to strike out both Upton brothers in the same inning.
Jeremy Horst is making that 17.18 early spring ERA look like it was years ago.
Ryan Howard grounds out to first, scoring Chase Utley. "Howard drives in Utley" is something that Phillies fans hope they hear a lot throughout the season.
Chase Utley looks like he's very happy to be back in the Opening Day lineup for the first time since 2010.
Kind of a close play at third base though.
Not that it was close, but a triple play there would've salvaged at least some momentum for the Phillies.
Gerald Laird's single drives in Dan Uggla to put the Braves ahead now 6-3.
Three batters, no outs and Durbin is replaced by Jeremy Horst. It doesn't appear as if Durbin's spring training performances, which led to a 5.11 ERA, got off all the rust for the start of the season.
Looks like the Braves are about to see a familiar face on the mound.
Phillies seven, eight and nine hitters are currently 1-8. The one hit belongs to Cole Hamels, who was just pinch hit for by Kevin Frandsen.
Cole Hamels now has five strikeouts to just one walk, but has given up seven hits and three home runs.
Justin Upton is getting his Braves career off on the right foot. His home run pads the Braves lead, keeping them ahead 5-3.
Chad Durbin is warming up for the Phillies.
Luis Avilan relieves Tim Hudson and strikeouts Ryan Howard before getting Domonic Brown to ground out to second to end the inning. The Phillies have climbed back into this one, trailing 4-3.
The game may soon be a battle of bullpens. The Braves boast one of the best in the league, while the Phillies will get their first look at whether their bullpen has improved since last season.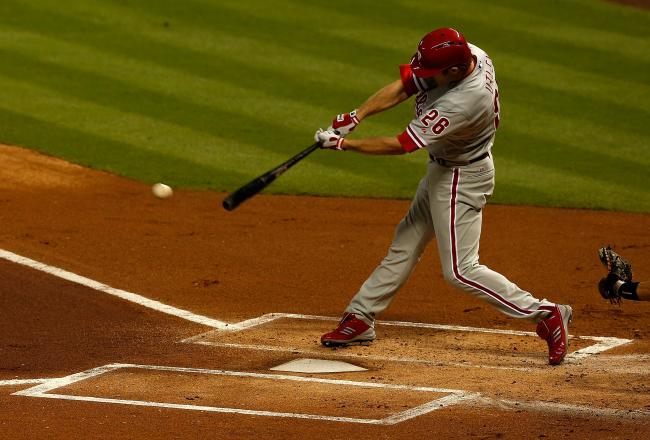 Utley comes through with a huge two RBI single and advances to second on the throw. The single knocks Tim Hudson out of the game after 90 pitches.
Huge opportunity here for Chase Utley and the Phillies. Utley has already hit one homer this game.
Ben Revere has a great at-bat and works a walk. Let's see if Rollins takes advantage of a first pitch strike.
Hudson has done an outstanding job of throwing first pitch strikes. Phillies should try to take advantage as his pitch count approaches 80.
This article is
What is the duplicate article?
Why is this article offensive?
Where is this article plagiarized from?
Why is this article poorly edited?