The Elite Eight is in the books with the NCAA tournament's entire final four exhibiting their dominance in the regional semifinals.
Louisville, Wichita State, Michigan and Syracuse all finished with double-digit wins, with two of regional winners closing on 20-point victories, the first time that happened in more than a decade.
How did the 2013 Final Four pull it off? Scroll down for in-depth highlights and recaps of the Elite Eight.
East: No. 4 Syracuse over No. 3 Marquette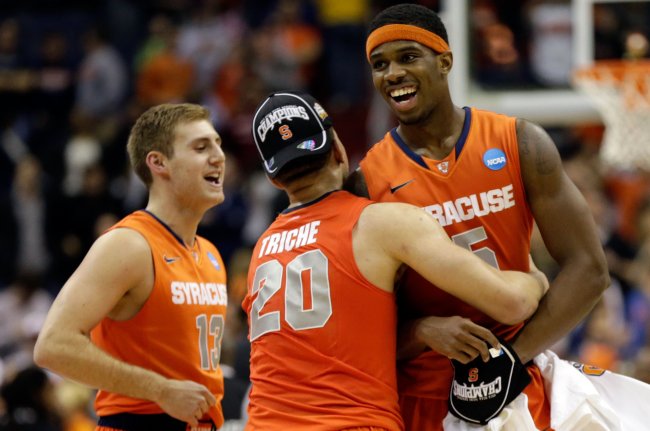 Win McNamee/Getty Images
The Big East turned into a defense-heavy conference this season, and there was no bigger indication of that than Syracuse and Marquette battling for the Final Four.
" frameborder="0" width="620" height="430">
The two familiar foes clashed in the nation's capital and points were hard to come by.
Flustered by Syracuse's zone pillared by its long athletic bodies, Marquette could only muster 39 points, a record-low in the regional final
Michael Carter-Williams led the Orange defensive effort by blanketing Vander Blue at the top of the 2-3 zone, while James Southerland provided an offensive spark with 16 points.
West: No. 9 Wichita State over No. 2 Ohio State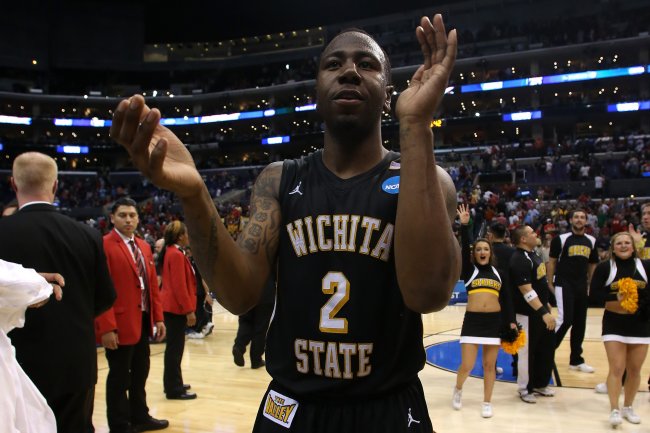 Jeff Gross/Getty Images
The Shockers made their way to the Final Four and it never felt like an upset.
Cleanthony Early and Co. took a 13-point lead at halftime and held that advantage through the final whistle. Held on, though, is exactly what they did.
" frameborder="0" width="620" height="430">
Wichita State had stretched the lead to 20 points with 11 minutes left, only to see it dwindle to just three. LaQuinton Ross and Deshaun Thomas led the Buckeyes' charge and held all the momentum, until Tekele Cotton drained a three-pointer with 2:20 to go. The Shockers held serve the rest of the way.
Wichita State's Carl Hull paced the team's interior defense, which held Ohio State to 25 percent shooting in the first half. Freshman Fred Van Vleet contributed crucial baskets down the stretch as well.
South: No. 4 Michigan over No. 3 Florida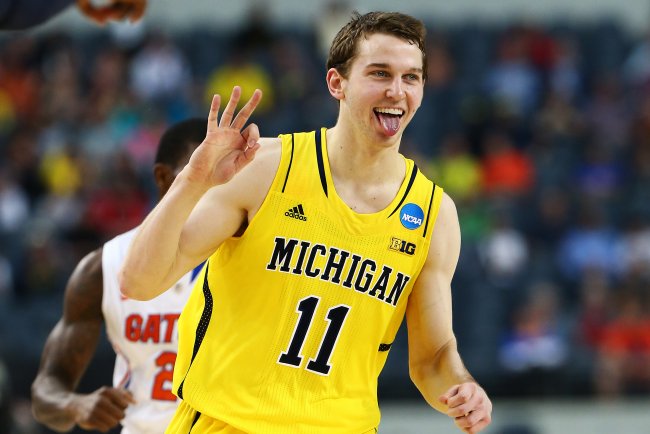 Tom Pennington/Getty Images
The Wolverines started the game red hot with 13 unanswered to start the game and raced out to a 22-point lead in the first half.
A scorching Nick Stauskas first-half performance, 6-of-6 from three-point land, fueled the Wolverines early.
" frameborder="0" width="620" height="430">
The Gators brought the deficit down to 12 points on multiple occasions, but silly mistakes followed. Michael Frazier II fouled Nick Stauskas on a last-ditch three-point attempt to end the half and a faulty inbounds play were lowlights.
Trey Burke went only 5-of-16 but added eight assists and seven rebounds to lead the Wolverines' attack.
Even with so much experience coming out of Gainesville, Michigan's overall talent shined through.
Midwest: No. 1 Louisville over No. 2 Duke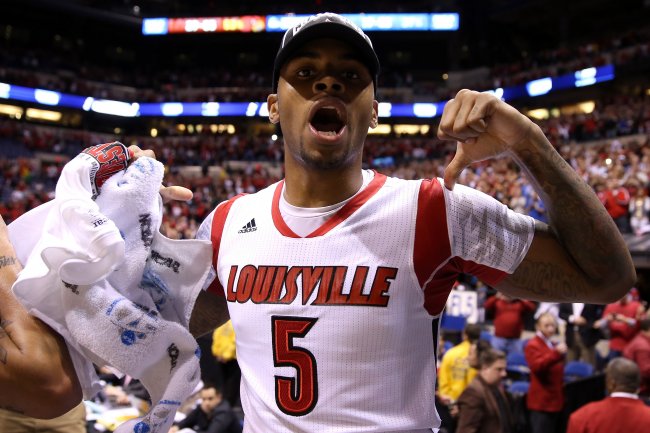 Andy Lyons/Getty Images
Emotionally torn from teammate Kevin Ware's injury, the Louisville Cardinals responded with an explosive second half to oust Duke.
" frameborder="0" width="620" height="430">
Ware suffered a gruesome leg injury late into the first half, eliciting tears from the Cardinals players as a stretcher was needed to carry him off the court.
Rick Pitino's squad made sure they would finish the game well for their fallen teammate. The backcourt of Russ Smith and Peyton Smith led the team with a combined 39-point effort.
Link to Printable PDF
Link to Live Bracket
Follow all the exciting NCAA tournament action with March Madness Live
Mike Shiekman is a Breaking News Writer for Bleacher Report. Follow his March Madness coverage on Twitter.