WrestleMania 29 Results: Live Reaction, Analysis and Review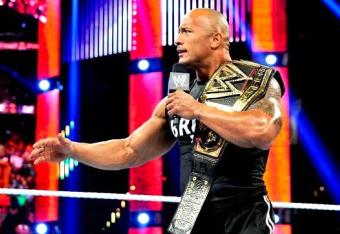 Welcome, everyone, to the Bleacher Report live WWE WrestleMania 29 coverage. This is your destination for all things WrestleMania this weekend.
Here is where you will get all your pre-show coverage, live results and analysis as well as coverage of the post-show following the event.
Wade Barrett vs.

Miz

:

pre

-show;

IC

title (Winner and new IC champ-Miz)
Tons of Funk and

Funkadactyls

vs. Rhodes Scholars and The

Bellas

Team Hell No vs. Dolph

Ziggler

and Big E Langston: Tag Team titles (Winners: Team Hell No)

Ryback

vs. Mark Henry (Winner: Mark Henry)
Chris Jericho vs. Fandango (Winner: Fandango)
Brock

Lesnar

vs. Triple H: No Holds Barred; Triple H's career is on the line (Winner: Triple H)
Undertaker vs. CM Punk (Winner: Undertaker)

Sheamus

, Randy Orton and Big Show vs. The Shield (Winners: The Shield)
Alberto Del Rio vs. Jack Swagger: world title (Winner: Alberto Del Rio)
The Rock vs. John

Cena

:

WWE

title (Winner: John Cena)
Follow me on Twitter @BR_Doctor
I want to thank everyone for coming to the Bleacher Report live WrestleMania 29 coverage for all your live results and media from the show.
I also owe a Thank You to Adam Hirshfield, Kenny Dorset and Tristan Thornburgh for all their contributions to the blog tonight from B/R headquarters.
The show will certainly have a lot of people debating the overall quality of the event. What did you think of what happened at WrestleMania 29? Sound off in the comments section and feel free to debate the other readers in a friendly way, as well.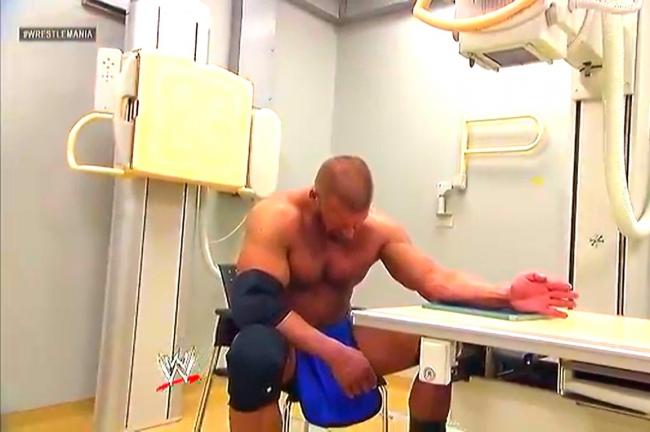 Triple H is shown being looked at by Doctors after the match he had with Lesnar. Did he break his arm again?
It looks like Chris Jericho has laid out a challenge for Fandango for tomorrow on Raw.
Scott Stamford, Kofi Kingston, Jim Ross and Dusty Rhodes give us a quick recap of the events.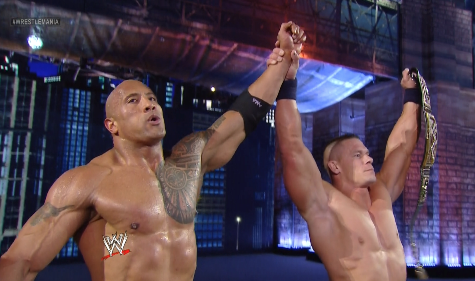 Cena and the Rock pose at the top of the ramp.
Cena salutes Rock on stage, they pose one final time. I see salute as "Thank you Rock for increasing our business for 3 yrs". #wrestlemania

— Arda Ocal (@arda_ocal) April 8, 2013
Stick around for updates from WWE's special post-show.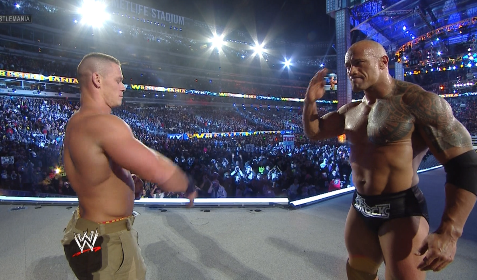 Cena and Rock meet up on top of the ramp one more time and pose for the crowd as fireworks go off.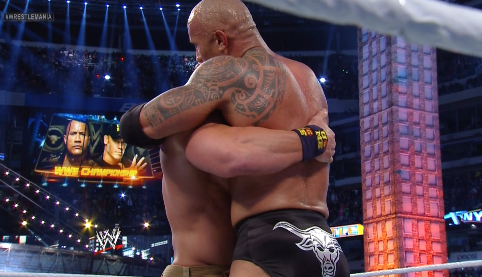 Cena and Rock stand there talking to one another for awhile before they shake hands, hug and then Cena leaves with his new title belt.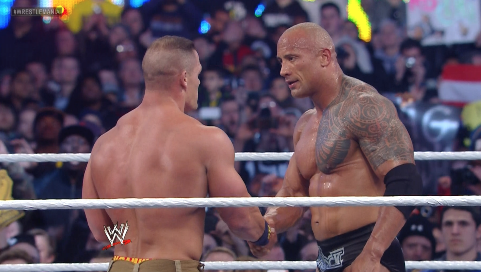 Cena and Rock shake hands in the ring after.
John Cena with the Attitude Adjustment on The Rock. 1... 2... 3... He is now the new WWE Champion.

— NISSI ICASIANO (@Nissi_Icasiano) April 8, 2013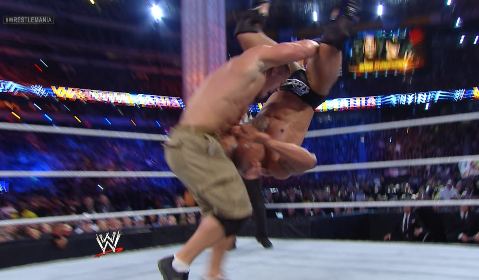 Cena with the AA to win.
After another back and forth series of counters, too many it would seem, Rock finally hits a DDT to Cena.
Rock focuses in on Cena as he slowly gets up. Cena counters The Rock Bottom and hits the AA and finally gets the pin and the win.
Winner and New WWE Champion: John Cena
They both get up and begin to trade shots again. The crowd is really into it now.
Rock tries for the Rock Bottom and Cena counters into a Rock Bottom of his own for a close two count.
Cena looks at Rocky as he is down on the mat and he smiles. He goes for the People's Elbow like he did last year.
Cena holds the ropes and suckers The Rock in, but when he goes for the AA Rock counters and hits the Rock Bottom again for yet another near fall.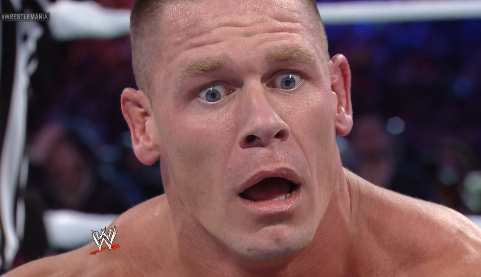 Cena with the Rock Bottom and he can't believe the Rock kicked out.
Cena and Rock begins to trade shots in the middle of the ring. Rock comes off the ropes and Cena catches him, but Rock counters into another Rock Bottom for another close two count.
Rock looks at the crowd, who is firmly behind him. The Rock sets up for the 5KS, but Cena pops up and hits the AA and almost ends the match in the exact opposite way it ended last year.
Now the crowd is beginning to wake up again.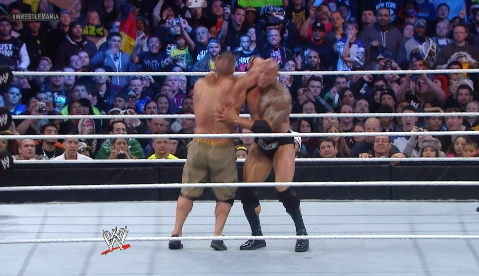 Rock Bottom on Cena but he kicks out.
Cena doesn't even wait for the ref to get close to the 3 count. He just kicks out at 2 like it's no big deal. #WrestleMania

— WrestlingINC.com (@WrestlingInc) April 8, 2013
The Rock hits a Spinebuster, but Cena reverses the People's elbow into an STF The Rock rolls over and then he tries to pry Cena's hands off.
The Rock breaks the hold with sheer strength and he hits The Rock Bottom as Cena comes over to him. He gets a near fall and now both men are down.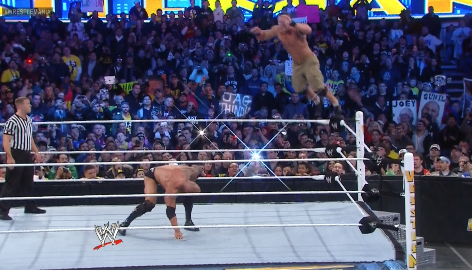 Cena hits the AA out of nowhere to get a near fall of his own.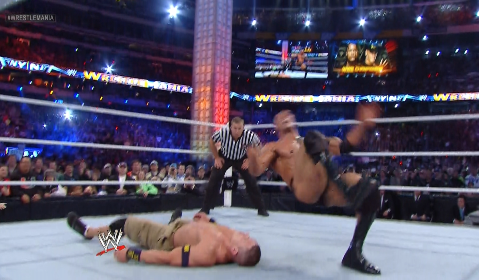 Cena goes up top but he misses the leg drop from the top rope and Rock follows up with the People's Elbow for another two count.
Rock. Spinebuster.CROWD! AWAKE! ....Cena reverses...CROWD! DEAD! ...I'm not even kidding haha. #wrestlemania

— WrestlingNewsSource (@WNSource) April 8, 2013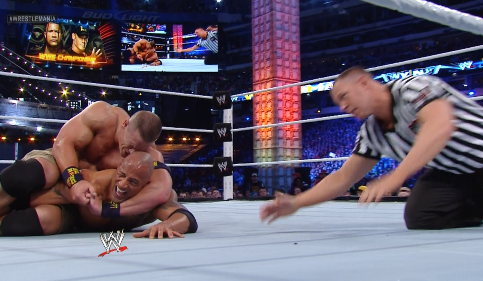 The Rock ends up locking in the Sharpshooter, but Cena rolls through and counters out. Cena lines up for the 5-Knuckle Shuffle and Rock moves and hits a DDT.
The Rock is back up and he is waiting on Cena to get up. Cena counters a Rock Bottom and he locks in a Cross Face, not an STF Michael Cole.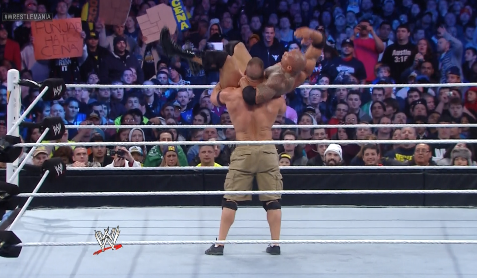 The Rock rolls it through for a two count. Cena slingshots Rock into the turnbuckle and then he hits the 5KS the second time.
This article is
What is the duplicate article?
Why is this article offensive?
Where is this article plagiarized from?
Why is this article poorly edited?